Podcast: Play in new window | Download (Duration: 25:00 — 25.2MB)
Happy birthday to me! For my birthday, we're all going to learn about octopuses, including a mysterious gigantic octopus (maybe)! Thanks to Wyatt for his question about skeletons and movement that is a SURPRISE SPOOKY SKELETON SEGMENT of the episode, or maybe not that much of a surprise if you read this first.
Further reading:
How octopus arms make decisions
Octopus shows unique hunting, social and sexual behavior
Kraken Rises: New Fossil Evidence Revives Sea Monster Debate
The larger Pacific striped octopus is not especially large, but it is interesting and pretty: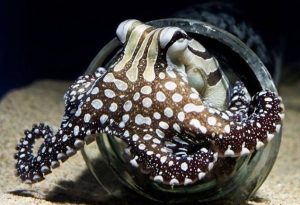 The giant Pacific octopus is the largest species known. It even eats sharks, like this one: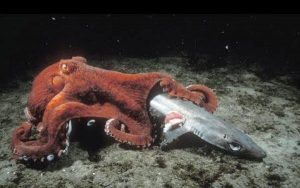 Show transcript:
Welcome to Strange Animals Podcast. I'm your host, Kate Shaw.
Today happens to be my birthday, and not just any birthday. It's a significant birthday that ends with a zero. That's right, I'm TWENTY! Or maybe a little bit older than that. So for my birthday celebration, and one week closer to Halloween, let's learn about the octopus. The episode was going to be about possible giant octopuses, but as I researched, octopuses in general turned out to be so interesting and weird that that's what the episode is about. But we will talk about some mystery gigantic octopuses at the very end.
The first thing to know about the octopus is what the correct plural is. Sometimes people say octopi but that's actually technically incorrect, although it's not like you'll be arrested if you say octopi. The correct plural of octopus is octopuses, although octopodes is also correct. No one says octopodes because that sounds weird.
But who cares about that, because we're talking about awesome creepy weird cephalopods! The octopus lives in the ocean but it can come out of the water and walk around on land if it wants to, although it usually only does so for a matter of minutes. The octopus breathes through gills but it can also absorb a certain amount of oxygen through its skin, as long as its skin stays moist. Generally people don't see octopuses come out of the water because most octopuses are nocturnal.
Most octopuses spend their time on the ocean floor, crawling around looking for food. When it's threatened or frightened, though, it swims by sucking water into its body cavity and shooting it back out through a tube called a siphon, which allows it to jet propel itself quickly through the water headfirst with its arms trailing, so that it looks like a squid. But most of the time the octopus doesn't swim like this, because when it does, the heart that pumps blood through most of the body stops. The octopus has three hearts, but two of them are only auxiliary hearts that move blood to the gills to make sure the blood stays oxygenated.
Octopus blood is blue because it's copper-based instead of iron-based like the blood of mammals and other vertebrates. This allows it to absorb more oxygen than iron-based blood can. Since many octopuses live in cold water that doesn't contain very much oxygen, they need all the help they can get.
The octopus also uses its siphon to release ink into the water when it's threatened. Of course it's not ink, but it is black and resembles ink. Also, people have used octopus ink to write with so, you know, I guess maybe it is sort of ink. Anyway, when the octopus releases ink, it can choose to mix it with mucus. Without the mucus, the ink makes a cloud of dark water that hides the octopus while it jets away, and it may also interfere with the predator's sense of smell. With the mucus, the ink forms a blob that looks solid and in fact looks a lot like a dark-colored octopus. This is called a pseudomorph or false body, and the octopus uses it to confuse predators into thinking it's still right there, when in fact the octopus is jetting away while the predator attacks the false body. Researchers have found that young sea turtles who attack the false body thinking it's the real octopus later ignore real octopuses instead of trying to eat them.
In addition to their ninja-like ability to disappear behind a smoke screen, or ink screen, the octopus can also change its color and even its texture to blend in with its background. Its skin contains cells with different-colored pigments, and tiny muscles can change both the color and the texture of the cells. Think of it like being able to shiver to give yourself goosebumps whenever you want, but at the same time you can change the color and shape of the goosebumps. An octopus species that lives in shallow water and is active during the day generally can camouflage itself better than a species that lives in deeper water and is nocturnal, and small species are typically better at camouflage than large ones. Some species mimic rocks or algae with six arms and use the other two arms to creep along the ocean floor, inching away from a potential predator without it noticing.
But the octopus doesn't just use its ability to change colors to hide from predators. It also communicates with other octopuses by changing colors. And some species have a special threat display of bright colors that warns predators away. This is especially true of the blue-ringed octopus that lives in the Pacific and Indian Oceans, which will display bright blue spots if it feels threatened. Since the blue-ringed octopus has the strongest venom of any octopus, if you see this particular threat display, swim away quickly. I don't know why I'm assuming my listeners include sharks and whales. Actually, the place you're most likely to encounter a blue-ringed octopus is in a shallow tide pool on the beach, so watch where you step.
You probably already know what an octopus looks like, but I haven't actually mentioned it yet. The octopus has a bulbous body with two large eyes, eight arms lined on the bottom with suckers, and in the middle of the arms, a mouth with a beak. The beak looks sort of like a parrot's beak and is made of chitin, a tough material that's similar to keratin. Inside the mouth, the octopus has a radula, a tongue-like structure studded with tiny tooth-like bumps.
Until about ten years ago, researchers thought that only the blue-ringed octopus was venomous. The blue-ringed octopus is tiny but super venomous. Its venom can kill humans, although that's extremely rare. But now we've learned that all octopuses appear to have venomous saliva, most of it relatively weak, but enough to kill mollusks and other small animals. The octopus eats anything it can catch, for the most part, including crabs, shrimp, small fish, mollusks, and so forth. Its suckers can attach so firmly to a bivalve's shells that it can pull the shells apart. If it can't manage this, though, it will cover the shells with its toxic saliva. The toxin dissolves tiny holes in the shell and kills the mollusk, allowing the octopus to open the shells easily and eat the animal inside. It can also inject the toxins into crabs to paralyze them, then uses its beak to bite the shells open without the crab being able to fight back.
The octopus can regrow an arm if it's bitten off or otherwise lost. Some species will even drop an arm like some lizards can drop their tails in order to distract a predator. In the case of the lizard, its tail thrashes around after it's detached, while in the case of an octopus arm, the arm continues to crawl away and tries to escape from being hurt. This is creepy to the extreme, especially when you realize the arm acts this way because it contains a sort of brain of its own.
An octopus's brain doesn't fully control its arms. In fact, the arms contain about twice the number of neurons that the brain contains, which means they can act autonomously in a lot of ways. Basically, each octopus arm processes information the same way that a brain does, without involving the actual brain. The arms have an excellent sense of touch, naturally, and the suckers have chemical receptors that act as a sense of taste as well. When an arm touches something, the arm decides whether it's food, or if it's dangerous, or if it's in the way, or so forth. Then it decides what it should do about it. The arms use the peripheral nervous system, again not the brain, to make decisions that require arms to work together. The result is that the arms can all work at different tasks, together or separately, while the central brain is processing other information, primarily from its eyes. But also as a result, the octopus doesn't have a good sense of where its body is in space at all times. You don't have to see your arms to figure out where they are in relation to your body, but the octopus does.
This is all very different from the way our brains work. Researchers study the octopus to determine how its brain works with the arms to help the octopus navigate its environment. Some researchers point out that the octopus's intelligence is so different from the intelligence of other animals we've studied that it's as close as we can come to studying intelligent life from another planet.
The main reason why the octopus has such a different nervous system is that it's an invertebrate. Humans and other mammals, birds, reptiles, and fish are all vertebrates, meaning they have a backbone of some kind. The backbone contains a spinal cord that is the main pathway for the nervous system, connecting the brain with the rest of the body. The brain processes everything that the body does. But invertebrates and vertebrates started evolving separately over half a billion years ago, and while most invertebrates don't demonstrate a lot of what we would consider intelligence, the octopus does. Instead of a central spinal cord of nerves, the octopus, like other invertebrates, has concentrations of neurons throughout its body, called ganglia. The ganglia form a sort of neural net. This actually means the octopus can process information much more quickly than a human or other vertebrate can.
And the octopus is intelligent, probably as intelligent as parrots, crows, and primates. An octopus can learn to recognize individual humans and solve complex puzzles, can learn from watching another octopus solve a problem, and many species use tools in the wild. Some species of octopus spend the day in dens that they make out of rocks, including a rock door that they close after they go inside. The veined octopus will collect pieces of coconut shells, stack them up, and carry them around. If it's threatened, or if it just wants to take a nap or rest, it uses the coconut shells as a hiding place.
Octopuses in captivity can cause a lot of trouble because they're so intelligent. They will dismantle their tanks out of curiosity or just escape. An octopus in an aquarium in Bermuda escaped repeatedly in order to eat the fish and other animals displayed in nearby tanks. A common New Zealand octopus named Inky, kept at the National Aquarium, was famous for causing mischief, and one day in 2016 he managed to move the lid to his enclosure just enough to squeeze out. Then he walked around until he found a small pipe. He squeezed into the pipe, and fortunately for him it was a pipe that led directly outside and into the ocean.
The reason that octopuses can squeeze through such tiny openings is that they have NO BONES. There is not a single bone in the octopus's body. The only hard part of the body is its beak. As long as the octopus can get its beak through an opening, the rest of the body can squish through too.
And that brings us to a surprise spooky SKELETON SECTION, thanks to a suggestion by Wyatt!
[spooky scary skeletons song!]
Wyatt wants to know how bones work and move, which is a good question and will help us learn about octopuses too. Bones have many purposes, including making blood cells and protecting the brain—that would be the skull part of the skeleton, of course—but mainly bones help your body move. Muscles are attached to bones, and when you contract a muscle, it moves the bone and therefore the rest of that part of your body. Without muscles, your bones couldn't move; but without bones, your muscles wouldn't do much. Also, you'd look sort of like a blob because bones provide structure for your body.
But if you need bones to move, how does an octopus move? An octopus has no bones! Do I even know what I'm talking about?
The octopus's muscles are structured differently than muscles in animals with bones. Our muscles are made up of fibers that contract in one direction. Let's say you pick up something heavy. To do so, you contract the fibers in some muscles to shorten them, which makes the bone they're attached to move. Then, when you push a heavy door closed, you contract other muscles and at the same time you relax the muscles you used to pick up something heavy. This pulls the arm bone in the other direction.
But in the octopus, the fibers in its muscles run in three directions. When one set of fibers contracts, the other two tighten against each other and form a hard surface for the contracted fibers to move. So they're muscles that also sort of act like bones. It's called a muscular hydrostat, and it actually can result in muscle movements much more precise than muscle movements where a bone is involved.
There are exceptions to the "bones and muscles work together" rule, of course. Your tongue is a muscle. So is an elephant's trunk, or at least it's made up of lots and lots of muscles that aren't attached to bones. Tongues and elephant trunks and worms and things like that all use muscular hydrostatic functioning to move.
The octopus has a lifespan that seems abbreviated compared to other intelligent animals. It typically only lives a year or two and dies soon after it has babies. After the female lays her eggs, she stops eating and instead just takes care of the eggs, which she attaches to a rock or other hard surface. It usually takes several months for the eggs to hatch, and all that time the female protects them and makes sure they have plenty of well-oxygenated water circulating around them. She dies about the time the babies hatch. As for the male, he doesn't take care of the eggs but after he mates with a female he starts showing signs of old age and usually dies within a few weeks. That's if the female doesn't just decide to eat him after mating. Most male octopuses stay as far away as they can from a female while mating, and uses one of his arms to transfer a packet of sperm into her mantle, which she uses to fertilize her eggs.
At least one octopus species has been observed to brood its eggs for four and a half years, guarding them from predators and keeping them clean. Researchers studying life in an area of Monterey Bay called Monterey Canyon, off the coast of western North America, regularly survey animals in the area. In May of 2007 they saw a female octopus on a rocky ledge about 4,600 feet, or 1,400 meters, below the surface. She had distinctive scars so the researchers could identify her, and she didn't leave her eggs once during the next four and a half years. She also didn't appear to eat or even be interested in the small crabs and other delicious octopus food within easy reach of her. As the years went by she became thinner and paler. She and her eggs were still there in September of 2011 but when the researchers returned in October, she was gone and her eggs had hatched.
Babies are teensy when they're first hatched, typically only a few millimeters long. The babies drift with the currents and eat tiny animals like zooplankton as they grow. One exception is the same deep-sea octopus species that spends so long protecting its eggs, Graneledone boreopacifica. Because they develop in the egg for so long, babies of this species are much larger than most baby octopuses and can even hunt for small prey immediately.
Another exception to the usual octopus habit of only reproducing once before dying is the larger Pacific striped octopus, which lives in the eastern Pacific Ocean in warm, shallow water. Not only is it gregarious, instead of mostly solitary like other octopus species, it can reproduce repeatedly without dying. Mated pairs sometimes live and hunt together and even share food. Despite the word "larger" in its name, the larger Pacific striped octopus only grows to about three inches across, or 7 cm. It is striped, though. It's quite attractive, in fact. And its many differences from other octopus species show just how little we know about octopuses.
So how big can an octopus grow? We don't actually know. The species that grows the largest is called the giant Pacific octopus, and the biggest one ever measured had an armspan of about 30 feet, or 9 meters.
But there are always rumors and sightings of octopuses of colossal sizes, often referred to as the gigantic octopus or the colossal octopus. In 2002 a fishing trawler brought up the incomplete carcass of a dead octopus near New Zealand, and estimates of its armspan when it was alive are around 32 feet, or 10 meters. In 1928 a man named Robert Todd Aiken reported seeing six octopuses off the coast of Oahu, Hawaii with armspans of nearly 40 feet, or 12.5 meters. In 1950, also off the coast of Oahu, a diver named Madison Rigdon reported seeing an octopus with each arm alone measuring almost 30 feet, or over 9 meters.
But because octopuses are soft-bodied animals that are eaten by so many predators, and because the biggest ones typically live in deeper water, we just don't know that much about how big they can get. When we do find a big dead octopus, its size is difficult to estimate since cephalopods actually shrink quite quickly after they die.
We only have a few remains of ancient octopuses, mostly body impressions and fossilized beaks. In 2009, paleontologists working in Lebanon reported finding five specimens of fossilized octopus that date to 95 million years ago. The specimens are remarkably well preserved, too, which allows researchers to determine that the octopuses belong to three different species that appear to be unchanged from their modern counterparts. In 2014 the impressions of cephalopod beaks dated to around 80 million years ago were found in Hokkaido, Japan. The impressions were well preserved and paleontologists have determined that all but one belonged to an extinct species related to the vampire squid, that we talked about in episode 11. They estimate its body to have been about two feet across, or 60 cm, without the arms. The other beak impression was from a different species, one related to modern squid.
If you listened to episode 86 about ammonoids and nautiloids, which are related to octopuses, you may remember that some extinct species grew enormous, probably over 19 feet long, or 6 meters. Since those species have shells, we have a lot more fossilized remains.
But we have almost no remains of ancient octopuses, so we have no way of knowing how big some species once grew. The colossal squid was only determined to be a real animal a matter of years ago (and we talked about it and giant squid in episode 74). I wouldn't be one bit surprised if the colossal octopus was one day found to be a real animal too.
Let's finish with an ancient cephalopod mystery. The octopus is a messy eater, so sometimes researchers can identify an octopus's territory by the way it leaves shells lying around. Some species of octopus arrange shells and other items in heaped-up patterns around its den. In 2011 a pair of paleontologists named Mark McMenamin and Dianna Schulte McMenamin examined an unusual pattern of ichthyosaur remains in Nevada and suggested that they might have been arranged by an octopus after eating them. But since the nine ichthyosaurs are 45 feet long, or 14 meters, the octopus would have had to be equally enormous. Dr. McMenamin and other Dr. McMenamin think the octopus might have killed the ichthyosaurs by either breaking their necks or drowning them, or both. In 2013 the team investigating the site found what may be part of a fossilized cephalopod beak, further backing up the theory. Then again, that species of ichthyosaur, Shonisaurus, ate squid and other cephalopods, so it's possible the beak was actually inside an ichthyosaur stomach when it died and that a giant octopus or other cephalopod had nothing to do with the deaths. Still, it's fun to think about, and it might be true!
You can find Strange Animals Podcast online at strangeanimalspodcast.blubrry.net. That's blueberry without any E's. If you have questions, comments, or suggestions for future episodes, email us at strangeanimalspodcast@gmail.com. We also have a Patreon if you'd like to support us that way.
Thanks for listening!