Podcast: Play in new window | Download (Duration: 10:37 — 12.7MB)
This week we finish out Invertebrate August with some mysterious jellyfish, including a suggestion by Siya!
Further reading:
Mystery giant jellyfish washes up in Australia
New jellyfish named after curious Australian schoolboy
Mysterious jellyfish found off the coast of Papua New Guinea intrigues researchers
Newly discovered jellyfish is a 24-eyed weirdo related to the world's most venomous marine creature
Rare jellyfish with three tentacles spotted in Pacific Ocean
A mystery jellyfish washed up on an Australian beach [photo by Josie Lim]: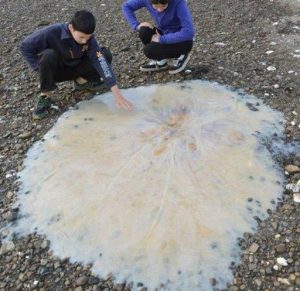 The tiny box jellyfish found in a pond in Hong Kong:
The very rare Chirodectes: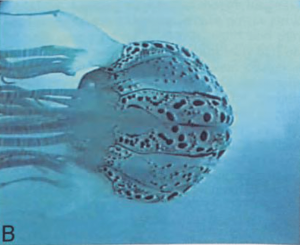 The mystery jelly that may be Chirodectes or a close relation: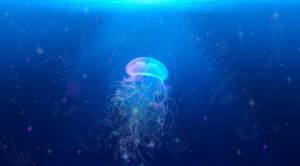 A mystery deep-sea jelly with only three tentacles: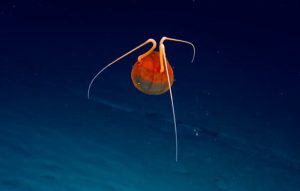 Bathykorus, a possible relation of the three-tentacled mystery jelly: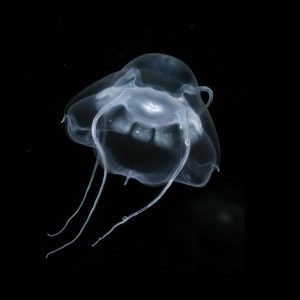 Show transcript:
Welcome to Strange Animals Podcast. I'm your host, Kate Shaw.
It's hard to believe Invertebrate August is already ending, so let's finish the month out with some mystery jellyfish, including a recent suggestion from Siya!
When you visit the beach, it's pretty common to find jellyfish washed ashore. They're usually pretty small and obviously you don't want to touch them, because many jellies can sting and the stings can activate even if the jelly is dead. Well, in February 2014, a family visiting the beach in Tasmania found a jelly washed ashore that was a little bit larger than normal. Okay, a lot larger than normal.
The jellyfish they found measured almost five feet across, or 1.5 meters. It had flattened out under its own weight but it was still impressive. The family was so surprised at how big it was that they sent pictures to the state's wildlife organization, who sent scientists to look at it. The scientists had heard reports of a big pink and white jellyfish for years, and now they had one to examine. Dr. Lisa-ann Gershwin thought it might even be a new species of lion's mane jelly.
New species of jellyfish are discovered all the time. Dr. Gershwin has described over 200 new species herself. One example is a jellyfish discovered by a nine-year-old.
In 2013, a nine-year-old boy in Queensland, Australia was fishing in a canal with his dad and a friend, when he noticed a jellyfish and scooped it up with a net. Its bell was only about an inch long, or 2.5 cm, and the boy thought it was really cute and interesting. He wanted to know what kind of jellyfish it was, so after some pestering on his part, his dad helped him send it to the Queensland Museum for identification.
Dr. Gershwin was the jellyfish expert at the museum at the time, and she was as surprised as the boy's dad to discover that the jellyfish was new to science! The boy's name was Saxon Thomas, and to thank him for being so persistent about getting his jellyfish looked at by a scientist, the jellyfish was named Chiropsella saxoni. It's a type of box jellyfish, which can be deadly, but this one is so small that it's probably not that dangerous to humans. You still wouldn't want to be stung by one, though, I bet.
In 2022, a diver visiting Papua New Guinea got video of several really pretty jellyfish. He sent the video to Dr. Gershwin, who realized the jelly was either a very rare jelly called Chirodectes, or it was new to science.
Chirodectes was only discovered in 1997 and described in 2005. It's a type of box jellyfish and only one specimen has ever been collected, caught off the coast of Queensland, Australia near the Great Barrier Reef after a cyclone. Its bell was about 6 inches long, or 15 cm, but if you include the tentacles it was almost 4 feet long, or 1.2 meters. It's pale in color with darker rings and speckles on its bell.
The 2022 video appears to show a jellyfish without speckles or other markings, and it's also larger than the single known Chirodectes specimen. Its bell appears to be about the size of a soccer ball, or a football if you live in most of the world. However, Dr. Gershwin and other experts who have studied the video say that it's similar in many ways to Chirodectes and may be a close relation. Since all we have is the video, there's no way to tell for sure if it's a species new to science.
Most box jellies live around Australia and New Guinea, but in 2020 scientists in Hong Kong studying organisms living in an intertidal shrimp pond noticed a jellyfish they didn't recognize. It was tiny, even smaller than Saxon's little box jelly, with a bell barely half an inch long, or about 15 mm. There were hundreds of the little jellies in the pond, which connects to the ocean with a narrow tidal channel, and they appeared to be eating the tiny shrimp living in the pond. Close study of the jelly determined that it was indeed a new species.
The box jelly gets its name from its bell shape, which is shaped sort of like a cube. Most species are transparent to some degree, with tentacles that hang down from the corners of its cube-shaped bell. Most box jellies are fast swimmers, able to use jet propulsion to move around. Some species, including the newly discovered Tripedalia maipoensis from Hong Kong, even have paddle-like structures at the end of their tentacles to help them swim. Tripedalia probably isn't dangerous to humans, but the scientists who studied it don't know for sure because no one wanted to volunteer to be stung by it.
In 2015, the Ocean Exploration Trust was conducting an expedition in the Pacific Ocean, pretty much as far away from land as it's possible to get, when they saw a mysterious little jellyfish. It was brown in color, but it only had three tentacles—and those tentacles emerge from the top of its bell, not from underneath. Then, in June 2023, another Ocean Exploration Trust expedition spotted the same type of jelly. It's only the second time it's been seen, and we know almost nothing about it.
The mystery jelly swims with its tentacles pointing forward, and scientists think that it hunts other jellies and small animals. When its tentacles touch an animal, it grabs it. But that's pretty much all we know about it so far. Researchers think it might be related to the deep-sea hydrozoan Bathykorus, which was only described in 2010.
Bathykorus is sometimes called the Darth Vader jellyfish, because the shape of its bell kind of resembles Darth Vader's helmet. Unlike Darth Vader, though, Bathykorus is mostly transparent and has eight tentacles. Four grow from the top of its bell, four grow from the bottom, and it holds the top tentacles up while it swims. It's been found as deep as 8,200 feet below the surface of the Arctic Ocean, or 2,500 meters. And that's pretty much all we know about this jelly, even though scientists have been able to carefully capture a few specimens and keep them alive for a few days in specially constructed tanks that mimic conditions found in the deep sea.
Let's finish with a suggestion from Siya, the immortal jellyfish. It's tiny, barely more than 4 mm across as an adult, and lives throughout much of the world's oceans, especially where it's warm. It eats tiny food, including plankton and fish eggs, which it grabs with its tiny tentacles. Small as it is, the immortal jellyfish has stinging cells in its tentacles. It's mostly transparent, although its stomach is red and an adult jelly has up to 90 white tentacles.
The immortal jellyfish starts life as a larva called a planula, which can swim, but when it finds a place it likes, it sticks itself to a rock or shell, or just the sea floor. There it develops into a polyp colony, and this colony buds new polyps that are clones of the original. These polyps swim away and grow into jellyfish, which spawn and develop eggs, and those eggs hatch into new planulae.
Polyps can live for years, while adult jellies, called medusae, usually only live a few months. But if an adult immortal jellyfish is injured, starving, sick, or otherwise under stress, it can transform back into a polyp. It forms a new polyp colony and buds clones of itself that then grow into adult jellies.
This is all really interesting, and scientists are studying the immortal jellyfish to learn more about how it manages this incredible feat. It's the only organism known that can revert to an earlier stage of life after reaching sexual maturity. But only an individual at the adult stage, called the medusa stage, can revert to an earlier stage of development, and an individual can only achieve the medusa stage once after it buds from the polyp colony. If it reverts to the polyp stage, it will remain a polyp until it eventually dies. However, it will bud off clones of itself that develop into medusae.
In other words, an immortal jellyfish isn't technically immortal, but it can certainly prolong its life in an extraordinary way. It's also really cute.
You can find Strange Animals Podcast at strangeanimalspodcast.blubrry.net. That's blueberry without any E's. If you have questions, comments, or suggestions for future episodes, email us at strangeanimalspodcast@gmail.com. We also have a Patreon at patreon.com/strangeanimalspodcast if you'd like to support us for as little as one dollar a month and get monthly bonus episodes.
Thanks for listening!