Podcast: Play in new window | Download (Duration: 12:14 — 14.5MB)
Sign up for our mailing list! We also have t-shirts and mugs with our logo!
Thanks to my brother Richard for suggesting one of the fish we talk about this week–fish that can walk! (Sort of.)
Further watching:
Further reading:
Walking shark moves with ping-pong paddle fins
Walking sharks discovered in the tropics
The Hawaiian seamoth (the yellowy one is a larval seamoth, the brighter one with the snoot the same fish as a juvenile, both pictures by Frank Baensch from this site):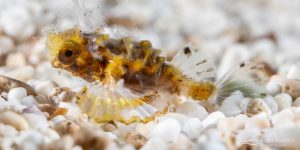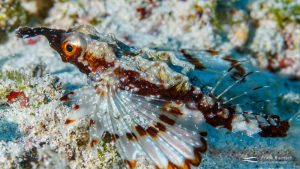 The slender seamoth (an adult, photo from this site):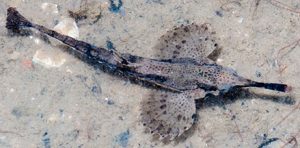 A flying gurnard with its "wings" extended: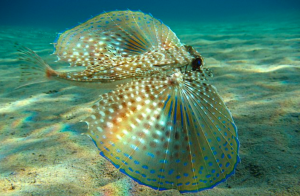 A flying gurnard with its "wings" folded, standing on its walking rays: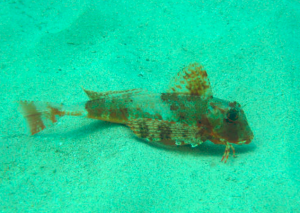 An eastern spiny gurnard standing on its walking rays: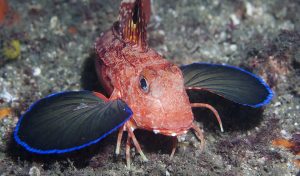 A mudskipper's frog-like face: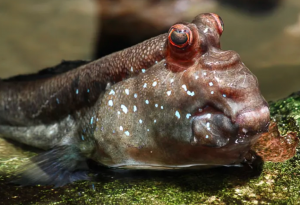 Mudskippers on land: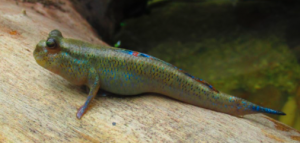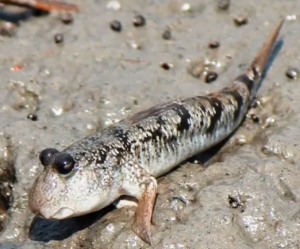 Walking sharks: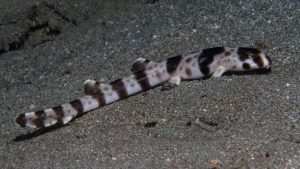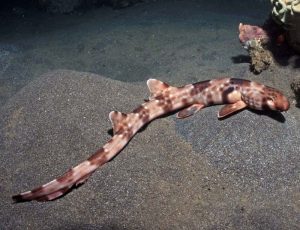 Show transcript:
Welcome to Strange Animals Podcast. I'm your host, Kate Shaw.
This week we're going to look at some weird fish, specifically fish that use their fins to walk. Well, sort of walk. Thanks to my brother Richard for suggesting one of these fish.
Before we get started, let's learn the terms for a fish's two main pairs of fins. Different types of fish have different numbers and locations of fins, of course, but in this episode we're focusing on the pectoral fins and the pelvic fins. Pectoral fins are the main fins in most fish, the ones near the front on each side. If a fish had arms, that's roughly where its arms would be. The pelvic fins are near the tail on either side, roughly where its legs would be if fish had legs. If you remember that people lift weights with their arms to develop their pectoral muscles in the chest, you can remember where pectoral fins are, and if you remember that Elvis Presley was sometimes called Elvis the Pelvis because he danced by shaking his hips, you can remember where the pelvic fins are.
So, let's start with the seamoth, which lives in shallow tropical waters of the Indo-Pacific Ocean and the Red Sea, including around Australia. We don't know enough about it to know if it's endangered or not, but since it's considered a medicine in some parts of Asia, it's caught to sell as an aquarium fish, and its habitat is increasingly impacted by bottom trawling and coastal development, it probably isn't doing great. It's never been especially common and doesn't reproduce very quickly. Researchers think it may even be a social fish that forms a pair bond with its mate, since pairs are often found together.
The seamoth doesn't even look that much like a fish at first glance. It's covered with bony plates that act as armor, including bony rings around its tail. It even has to shed its skin as it grows larger.
The seamoth has a long, pointed snout with a tiny mouth underneath, but it can protrude its mouth out of its…mouth–okay that doesn't make sense. Basically it's able to extend its mouth into a tube that it uses like a straw to slurp up worms and other small animals from the sea floor.
It can change colors to match its surroundings too. If all this makes you think of seahorses and pipefish, the seamoth is related to both, but it looks very different because of its fins.
The seamoth's pectoral fins are so large they resemble wings, and its modified pelvic fins are stiff and more fingerlike than fin-like so that it can walk across the sea floor with them. It spends most of its time walking on the sea floor, only swimming when it feels threatened and has to move faster. Sometimes a seamoth will cover itself with sand to hide from a predator. During breeding season, males develop brightly colored patterns on their pectoral fins.
The seamoth is a small fish, with the largest species growing about five inches long, or 13 cm. One species of seamoth, the little dragonfish, sheds its armor in one big piece—not just once or twice a year, but as often as every five days or so when it needs to rid itself of parasites. Its body is flattened but broad, which makes it look kind of like a piece of shell from above.
The flying gurnard is similar in some ways. It lives in warm coastal waters where it spends most of its time on the sea floor, looking for small animals to eat. We've talked about it before, in episode 101, but let's go over it again in case like me you haven't listened to episode 101 since it came out over three years ago.
The flying gurnard is a bulky fish that grows more than a foot and a half long, or 50 cm. It has a face sort of like a frog's and can be reddish, brown, or greenish, with spots and patches of other colors. But most importantly, its pectoral fins are extremely large, looking more like fan-like wings than fins. The so-called wings are shimmery, semi-transparent, and lined with bright blue. They sort of look like butterfly wings and can be more than 8 inches long, or 20 cm. The fins actually have two parts, a smaller section in front and the larger wing-like section behind. The front section is stiff and makes the fish able to walk along the sea floor. It's possible the flying gurnard can also use its wing-like fins to glide above the water for short distances like a flying fish, but at the moment we don't know for sure.
The flying gurnard hasn't traditionally been recognized as being related to the seamoth despite their similarities, but DNA studies suggest that they might actually be related after all. The flying gurnard may be related to the true gurnards, too. Both the flying gurnard and the true gurnard have a special muscle that beats against the swim bladder to make a drumming sound, and they look and act alike in many other ways too.
The gurnard is the fish my brother Richard recommended. There are actually a lot of different gurnards and they're all kind of weird. Gurnards in the family Triglidae are bottom dwellers that grow around 16 inches long, or 40 cm. Some species have armor plates that make their heads so strong that a gurnard will occasionally ram snorkelers with its forehead if they get too close. Like the flying gurnard, the gurnard has pectoral fins that are divided into a front section and a rear section, with the rear section being larger and the front section highly modified, called walking rays, used by the fish to walk across the sea floor.
Walking rays look more like long, thin, stiff fingers than a fish's fins, although they're also bendy. The gurnard has three walking rays on each side of the body, and they have special muscles that allow the fish to actually use them as little legs. It's really disturbing to watch an otherwise pretty ordinary fish crawl forward on what look like invertebrate legs.
The mudskipper is another fish that uses its fins to walk, but not like the fish we just talked about. Instead of having walking rays, its pectoral fins are muscular and allow it to climb out of the water and onto land. In fact, it can climb into low branches and can even jump.
It's so good at living on land the mudskipper is actually considered semi-aquatic. It lives in mudflats, mangrove swamps, the mouths of rivers where they empty into the ocean, and along the coast, although it prefers water that's less salty than the ocean but more salty than ordinary freshwater. It only lives in tropical and subtropical areas because it needs high humidity to absorb oxygen through its skin and the lining of its mouth and throat.
The mudskipper is a fish, but it looks an awful lot like a frog in some ways, due to convergent evolution. It has a wide mouth and froglike eyes at the top of its head and will often float just under the water with its eyes above water, looking for insects it can catch. The largest species grows about a foot long, or 30 cm, and while it has some scales, its body is coated with a layer of mucus to help it retain moisture. It spends most of the day on land, hunting for insects and other small animals. Not only can it absorb oxygen through its skin, it keeps water in its gill chambers to keep the gills wet too. It even has a little dimple under its eye that holds water, that helps keep its eyes moist.
The mudskipper also takes a big mouthful of water with it when it climbs on land, but not to breathe. It uses the water to hunt with. When it encounters an insect or other small animal on land, it carefully rotates its mouth–you heard me right, it can rotate its mouth–so that it's just above the animal. Then it spits out the mouthful of water onto the insect and immediately sucks the water back into its mouth, carrying the insect with it. When it catches an animal underwater, it opens its big mouth quickly, causing suction that sucks the animal right into its mouth that way. It also has sharp teeth, so when an animal is in its mouth, it's not getting out again.
The mudskipper's pectoral fins look like little arms, complete with an elbow. The elbow is actually a joint between the radial bones, which in most fish are hidden within the body but which stick out of the mudskipper's sides a short distance, and the actual fins. This helps it move around on land more easily. Its pelvic fins are also shaped in such a way that they act as little suction cups on land.
Another bottom-dwelling fish that uses its fins to walk on the sea floor is the walking shark. There are several species known but they're not very big, only around four feet long at most, or 107 cm. It lives in shallow coastal waters, often around reefs, and spends most of the time swimming just above the sea floor or using its pectoral and pelvic fins to walk on the sea floor while it searches for small animals to eat. It doesn't walk like gurnards do, and it doesn't skip or climb the way mudskippers do. Instead, it wriggles like a salamander as it uses its fins to push itself along.
At least one species of walking shark can also walk on land. That's right: land shark. Don't worry, it's harmless to humans. (Still: land shark.) Because the walking shark often lives in really shallow water, including in tidal pools that sometimes dry up completely between high tides, it has to be able to reach water by walking on land. The walking shark can also survive in water with low oxygen content for short periods of time. Four newly identified species of walking shark were announced in January 2020, all from around New Guinea and northern Australia.
The really interesting thing is that the walking shark's pectoral and pelvic fins are different from other shark fins. Not only are they strongly muscled, they can rotate to make it easier for the shark to use them as legs. Researchers think that this type of locomotion may have given rise to land animals in our far, far-distant ancestors. In other words, we're all land sharks if you think about it.
You can find Strange Animals Podcast at strangeanimalspodcast.blubrry.net. That's blueberry without any E's. If you have questions, comments, or suggestions for future episodes, email us at strangeanimalspodcast@gmail.com. If you like the podcast and want to help us out, leave us a rating and review on Apple Podcasts or Podchaser, or just tell a friend. We also have a Patreon at patreon.com/strangeanimalspodcast if you'd like to support us for as little as one dollar a month and get monthly bonus episodes.
Thanks for listening!