Podcast: Play in new window | Download (Duration: 6:52 — 5.2MB)
New frog just dropped.
Happy birthday to Finn and Oran this week! Have a great birthday, both of you!
Further reading:
Frog with tapir-like nose found in Amazon rainforest, thanks to its "beeping" call
Meet the tapir frog: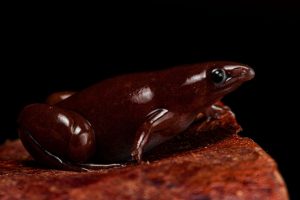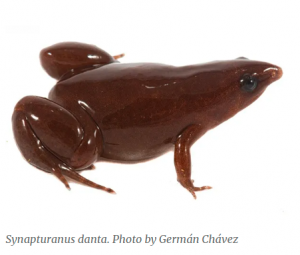 Looks kind of like the South American tapir, but frog: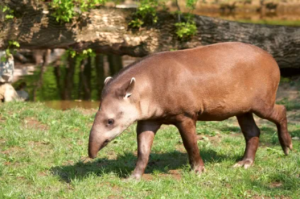 Show transcript:
Welcome to Strange Animals Podcast. I'm your host, Kate Shaw.
This week we have a short episode about the recent discovery of a mystery frog in Peru–but first, we have TWO birthday shout-outs! That's twice the fun!
Happy birthday to both Finn and Oran! I hope your birthdays are amazing! Maybe you should each have two birthday parties, one for yourself and one for the other, even though you don't know each other and your birthdays are actually on different days.
Peru is a country in western South America, and it's home to the Amazon Basin rainforest and many other habitats. Frogs are common throughout the Amazon, naturally, since there's a whole lot of water and rain, and it's warm all the time. One particular genus of frog, Synapturanus, is especially widespread but is hard to find because it spends most of its time underground.
A team of scientists researching the Amazon's diversity of animals and plants, especially those organisms that are mostly hidden for various reasons, heard about a particular Synapturanus frog known to the people of the area. The frog is nocturnal and lives underground in burrows it digs in the Amazon peatlands.
Peat is wet soil made up mostly of partially decayed vegetation. It's the first step in the formation of coal beds, but the coal takes millions of years to form whereas peat only take thousands of years to form. Peatlands are really important to the ecological health of the entire earth, because they store so much carbon and absorb so much water.
The scientists knew from locals that this particular frog existed. The next step was to actually find it so they could learn more about it. A small team of scientists from Peru and other countries traveled to the area, and local guides took them to sites where the frog was supposed to live.
Because the frog is nocturnal, they had to go at night to find it. But because the frog also spends most of its time underground, they couldn't just walk around shining flashlights on frog-shaped things in hopes of finding a new species of frog. Instead, they had to listen.
Many new frog species are only discovered after a frog expert hears a call they don't recognize. That was the case for this frog. The male makes a loud beeping noise, especially after rain. Whenever one of the scientists heard one, they'd immediately drop to the ground and start digging with their hands. I can't even imagine how muddy they must have gotten.
It was around 2am on the last night of the search when their digging paid off. A little brown frog hopped out of its disturbed burrow and all the scientists scrambled around in an excited panic to catch it carefully before it got away.
This is what the frog sounds like:
[tapir frog beeping]
The locals call the frog rana danta, which means tapir frog. The tapir, as you may remember from episodes 18 and 245, among others, is a sort of pig-shaped animal with a short trunk-like snoot called a proboscis. It's distantly related to rhinoceroses and horses. It uses its proboscis to gather plants and spends a lot of time underwater, and will even sink to the bottom of a pond or stream and walk across it on the bottom instead of swimming.
The tapir most common around the Amazon in Peru is the South American tapir. It's dark brown in color with a tiny little stub of a tail and a shorter proboscis than other tapir species. Its proboscis looks less like a little trunk and more like a long pointy nose.
The tapir frog is chocolate brown in color, has no tail of course because it's a frog, and while it has a chonky body sort of life a tapir, its nose draws out to a blunt point. It looks remarkably similar in shape to a South American tapir, but in frog form.
The team ended up catching several of the frogs, and genetic studies determined that it is indeed a new species. They described the new frog in February of 2022 and named it Synapturanus danta. Danta is the local word for tapir.
While we still don't know much about the tapir frog, it probably lives only in the Amazon peatlands and eats worms and small insects it finds underground. The discovery is important because it's yet another animal endemic to this part of the Amazon. Conservationists are working to preserve the Amazon peatlands habitat from development in order to save all the unique plants and animals that live there. Development is just a fancy term for habitat loss.
The Putumayo Corridor is a proposed conservation area that follows the Putumayo River across Ecuador, Colombia, Peru, and Brazil. Its goal is to keep the river from being dammed and protect it from logging and other invasive development, while allowing local people to manage the land in traditional ways as they have for thousands of years. Hopefully the peatlands will remain undisturbed and the little tapir frog will continue to beep from its underground home for a very long time.
You can find Strange Animals Podcast at strangeanimalspodcast.blubrry.net. That's blueberry without any E's. If you have questions, comments, or suggestions for future episodes, email us at strangeanimalspodcast@gmail.com. If you like the podcast and want to help us out, leave us a rating and review on Apple Podcasts or Podchaser, or just tell a friend. We also have a Patreon at patreon.com/strangeanimalspodcast if you'd like to support us for as little as one dollar a month and get monthly bonus episodes.
Thanks for listening!