Podcast: Play in new window | Download (Duration: 7:52 — 9.1MB)
This week let's learn about a mystery that was solved by science!
Happy birthday to Zoe!
Further reading:
The kunga, as depicted in a 4500-year-old mosaic: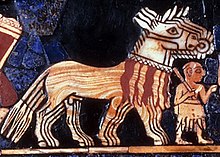 The Syrian wild ass as depicted in a 1915 photograph (note the size of the animal compared to the man standing behind it):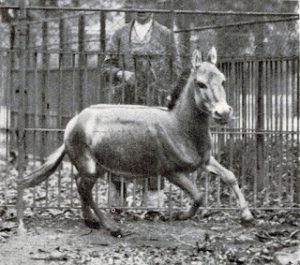 Domestic donkeys: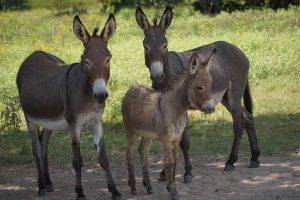 Show transcript:
Welcome to Strange Animals Podcast. I'm your host, Kate Shaw.
As this episode goes live, I should be on my way home from Dragon Con, ready to finish moving into my new apartment! It's been an extremely busy week, so we're just going to have a short episode about a historical mystery that was recently solved by science.
But first, we have another birthday shout-out! Happy birthday to Zoe, and I hope you have the most sparkly and exciting birthday ever, unless you'd rather have a chill and low-key birthday, which is just as good depending on your mood.
This week we're going to learn about an animal called the kunga, which I learned about on Dr. Karl Shuker's blog. There's a link in the show notes if you'd like to read his original post.
The mystery of the kunga goes back thousands of years, to the fertile crescent in the Middle East. We've talked about this area before in episode 177, about the sirrush, specifically Mesopotamia. I'll quote from that episode to give you some background:
"These days the countries of Iraq and Kuwait, parts of Turkey and Syria, and a little sliver of Iran are all within what was once called Mesopotamia. It's part of what's sometimes referred to as the Fertile Crescent in the Middle East. The known history of this region goes back five thousand years in written history, but people have lived there much, much longer. Some 50,000 years ago humans migrated from Africa into the area, found it a really nice place to live, and settled there.
"Parts of it are marshy but it's overall a semi-arid climate, with desert to the north. People developed agriculture in the Fertile Crescent, including irrigation, but many cultures specialized in fishing or nomadic grazing of animals they domesticated, including sheep, goats, and camels. As the centuries passed, the cultures of the area became more and more sophisticated, with big cities, elaborate trade routes, and stupendous artwork."
The domestic horse wasn't introduced to this area until about 4,000 years ago, although donkeys were common. The domestic donkey is still around today, of course, and is descended from the African wild ass. Researchers estimate it was domesticated 5- or 6,000 years ago by the ancient nomadic peoples of Nubia, and quickly spread throughout the Middle East and into southern Asia and Europe.
But although horses weren't known in the Middle East 4,500 years ago, we have artwork that shows an animal that looks like a really big donkey, much larger than the donkeys known at the time. It was called the kunga and was highly prized as a beast of burden since it was larger and stronger than an ordinary donkey. It was also rare, bred only in Syria and exported at high prices. No one outside of Syria knew what kind of animal the kunga really was, but we have writings that suggest it was a hybrid animal of some kind. This explains why its breeding was such a secret and why it couldn't be bred elsewhere. Many hybrid animals are infertile and can't have babies.
If the artwork was from later times, we could assume it showed mules, the offspring of a horse and a donkey. But horses definitely weren't known in the Middle East or nearby areas at this time, so it can't have been a mule.
The kunga was used as a beast of burden to pull plows and wagons, but the largest individuals were used to pull the chariots of kings. Fortunately, the kunga was so highly prized that it was sometimes sacrificed and buried with important people as part of their grave goods. Archaeologists have found a number of kunga skeletons, together with ceremonial harnesses. Unfortunately, it's actually difficult to tell the difference between the skeletons of various equids, including horses, donkeys, zebras, and various hybrid offspring like mules. All scientists could determine is that the kunga most closely resembled various species and subspecies of donkey.
In January 2022, the mystery was finally solved. A genetic study of kunga remains was published that determined that the kunga was the offspring of a female domesticated donkey and a male Syrian wild ass.
The Syrian wild ass was native to many parts of western Asia. It was barely more than three feet tall at the shoulder, or about a meter, and while it was admired as a strong, beautiful animal that was sometimes hunted for its meat and skin, it couldn't be tamed.
Because the Syrian wild ass was a different species of equid from the domesticated donkey, and because it couldn't be tamed and was hard to catch, breeding kungas would be difficult. Male wild asses had to be captured, probably when young, and kept with female donkeys in hopes that they would mate eventually and offspring would result. Obviously the kunga showed what's called hybrid vigor, where a hybrid is stronger than either of its parents, but because it was also infertile, the largest and strongest kungas couldn't be bred together. Each kunga had to be bred from a pairing of wild ass and domestic donkey. No wonder it was expensive!
When the horse was introduced to the Middle East, it took the place of the kunga quickly and before long everyone had forgotten what the kunga even was.
Sadly, we can't try to breed a kunga today to see what it was really like, because the Syrian wild ass went extinct in 1927. But the endangered Persian wild ass was introduced to parts of the Middle East starting in 2003, including Saudi Arabia, Iran, and Israel, to take the place of its extinct Syrian relation, and its numbers are increasing.
You can find Strange Animals Podcast at strangeanimalspodcast.blubrry.net. That's blueberry without any E's. If you have questions, comments, or suggestions for future episodes, email us at strangeanimalspodcast@gmail.com. If you like the podcast and want to help us out, leave us a rating and review on Apple Podcasts or Podchaser, or just tell a friend. We also have a Patreon at patreon.com/strangeanimalspodcast if you'd like to support us for as little as one dollar a month and get monthly bonus episodes.
Thanks for listening!