Podcast: Play in new window | Download (Duration: 16:36 — 16.8MB)
Here's another in the 2018 series of out-of-place animals, this time ABCs–alien big cats: big cats where there shouldn't be any big cats. Like the British Isles, where no one should find a lynx or puma wandering around these days. But not only do people see big cats in Britain, they sometimes catch or kill them too.
The Eurasian lynx: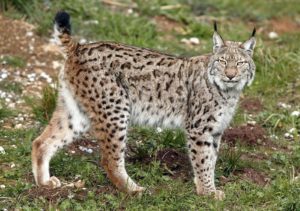 The European wildcat: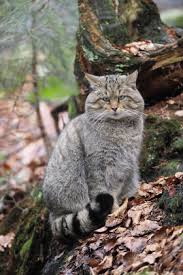 The puma: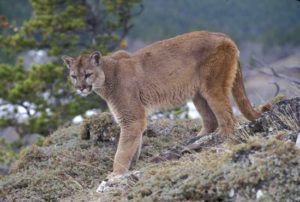 A photo of the Beast of Bodmin Moor: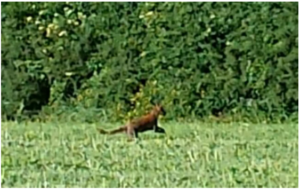 Mr. Tinkler's unexpected serval: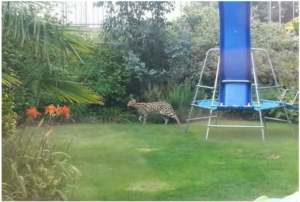 The Kellas cat: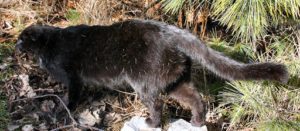 Show transcript:
Welcome to Strange Animals Podcast. I'm your host, Kate Shaw.
This week's episode is about some more out of place animals, but a specific type. There are so many reports of big cats in places where big cats should not be, especially black panthers, that cryptozoologists have a term for them: ABCs, or Alien Big Cats. Thanks again to Maureen for the topic suggestion!
There are whole books written about ABCs, so I won't be able to do more than touch on the highlights in this episode. Big cat reports from Great Britain are especially common, so that's what I'll focus on this time.
Many reports of black panthers turn out to be large domestic cats seen at a distance, where tricks of perspective and poor light contribute to the cat looking much bigger than it really is. Some big cat reports turn out to be real animals that escaped from captivity, but other reports are not so easy to explain away.
The British Isles only fully separated from mainland Europe about 8,000 years ago as the land rose due to isostatic rebound after the weight of glaciers was gone and due to rising sea levels from melted glaciers. Before that, it was connected to what is now Denmark and the Netherlands via a large area of marshland for several thousand years. We know one European big cat crossed into Britain during that time: the Eurasian lynx, which only went extinct in Britain about 1,500 years ago. Other ice age big cats went extinct long before, around 25 to 30,000 years ago, or 12,000 years ago in the case of the cave lion.
Of all the big cats that once lived in Britain, only the Eurasian lynx is still around. It now lives in parts of Asia and Europe on up to Siberia. It's larger than the related North American bobcat and the Canadian lynx, but still nowhere near as big as tigers and lions. The Eurasian lynx stands about 28 inches tall at the shoulder, or 70 cm, and is heavily built with thick spotted fur and a short bobtail. The tip of its tail is black although the rest of the animal is mostly buff to orangey-brown with darker brown spots, and it has long black tufts of fur on the tips of its ears. It's a distinctive animal.
There is one other wild cat that we know still lives in Britain, the European wildcat. It used to live throughout the British Isles but now only remains in Scotland, although it also lives in parts of Europe. At first glance the wildcat looks like a domestic cat with tabby markings, but it's a little larger and more heavily built than most domestic breeds. But since it can and does interbreed with the closely related domestic cat, it can be hard to tell the wildcat apart from a feral domestic tabby. It's also very rare. Only a few hundred remain in the Scottish highlands at most, possibly only a few dozen. In the last few years, Scotland has worked hard to protect the remaining wildcats. An active program to neuter all feral domestic and hybrid cats in the West Highlands has helped reduce the number of crossbreedings, and more land has been designated as a wildcat haven.
There are very old stories of a vicious big cat in Britain, with the first mention in a Welsh manuscript dating to some time before 1250, called the Black Book of Carmarthen. It's a collection of histories and legends told in verse. A fragment of a poem frequently referred to as Pa gur after the first two words of the first line, or more descriptively, Arthur and the Porter, is about King Arthur and probably dates to around 1100. The Cath Palug is mentioned in the stanza right at the end before the rest of the poem is lost due to damage. I'll quote an English translation of the last few lines, because I was an English major and will use any excuse to read poetry out loud.
"Cei the fair went to Mona
To devastate Lleown.
His shield was ready
Against Cath Palug
When the people welcomed him.
Who pierced the Cath Palug?
Nine score before dawn
Would fall for its food."
Kay was Arthur's foster-brother, but in this poem he's described as Arthur's nephew. Lleown possibly means lions, and Mona is Ynys Môn, or Anglesey. The cat was a monster that had already killed 180 men when Kay finally defeated it. But the Cath Palug appears in other Arthur legends, and from them we can learn a bit more about it. In some stories it was the offspring of Henwen, the great white sow, who was chased into the sea and gave birth to a black kitten. The kitten swam to the island of Ynys Mon where the sons of Palug raised it, only for it to turn into a monster. In other versions of the story, a man fishing in a lake swore to dedicate his first catch to God, but broke his oath. On his third cast he caught a black kitten, which he kept and raised. But it grew enormous and killed him, his family, and anyone else who came near the lake. Sir Kay, or Arthur in other versions of the story, polished his shield so the cat would attack its reflection and not the man.
The Cath Palug was probably not a real cat but an animal of folklore. There's always a possibility, of course, that the stories were based on the European lynx. But the lynx is not black even as a cub, and it's not a dangerous animal to humans the way tigers sometimes are.
The first modern report of an Alien Big Cat in Britain comes from about 1770. The writer William Cobbett described seeing a gray cat the size of a Spaniel dog when he was a boy. It climbed into a hollow elm tree near Waverley Abbey, a ruin in Surrey. Later in his life, while traveling in Canada, he saw a wild gray cat, possibly a lynx, and thought it looked like the cat he saw in England.
Lynxes are occasionally killed or captured in Britain. In 1903 a lynx was shot and killed in Devon after it killed two dogs. The animal was taxidermied and given to a local museum, which labeled it as a Eurasian lynx—but a study of the animal published in 2013 proved that it was a Canadian lynx that had been kept in captivity for at least part of its life. In 1927 newspapers reported a lynx caught in Scotland. I found a copy of the article from the Sunday Post dated the 16th of January 1927, which I'll quote part of:
"Shepherds reported having seen an animal like a leopard, but without spots on its coat, stalking the sheep in the heather. A farmer who set a steel trap on a mountainside was astonished to find the following morning that he had captured a large, fierce, yellow animal of unknown species. He obtained a gun and, cautiously approaching it, shot it. The body was sent to the London Zoo, where it was identified as that of a lynx… Two other specimens have been killed in Scotland recently. How they reached there is unknown, but it is believed that they must have escaped from some traveling menagerie."
Unfortunately the article doesn't give much information about the animal. It's only called large, fierce, and yellow, and the shepherds who'd seen it before it was trapped said it looked like a leopard without spots. That's strange if this really was a lynx, because while some individual lynxes may have spots that don't show up well against the background coat, all lynxes have spots. They also have bobtails and the distinctive black ear tufts, but those details aren't reported.
It's possible the poor cat wasn't a lynx at all but a puma. The puma, also called a cougar or mountain lion, is native to the Americas. It's bigger than a lynx, standing almost three feet tall at the shoulder, or 90 cm, and is usually tawny in color with lighter belly, and has a long tail that may show some faint ringing. You'd think that the London Zoo expert who examined the animal would know the difference between a long-tailed puma and a short-tailed lynx, though, so who knows what it really was? But in 1980 an honest-to-goodness puma was captured in Scotland. The puma spent the remainder of her life at the Highland Wildlife Park zoo, where they named her Felicity, and after she died was taxidermied and is now in the Inverness Museum. Felicity was probably an escaped or released pet, since the zoo director reported that she liked being tickled. Wild animals don't typically like to be tickled.
Many other large cats of various species have been killed or captured in Britain. In most, if not all, cases the animals were probably exotic pets that were either released when they became too difficult to manage, or escaped and weren't reported because the owners didn't have a license to own the animal in the first place. But there are many other sightings of more mysterious large cats.
The Surrey Puma is one of the earliest cases. The first sightings were made in the 1930s around the Surrey/Hampshire border, but since this is the same area where William Cobbett saw his Spaniel-sized gray cat, many people think that 1770 account is the earliest known. In 1955 a woman walking her dog saw a puma-like cat slinking away from a dead calf, which it had evidently been feeding on. Many reports followed through the 1960s. Naturalists who examined paw prints discovered in the area identified the prints as made by dogs. Occasionally someone would snap a photo, but they were always too blurry to be conclusive—until 2014. One quiet Friday morning a man named Allan Tinkler, from Molesey in north Surrey, was eating breakfast with his children when he saw a strange cat in his garden. It stayed in the yard for over half an hour and was definitely not a domestic cat. I've got one of the pictures he took in the show notes, and it clearly shows a small wildcat called a serval.
The serval is a long-legged, large-eared African cat with spots over most of its body and some stripes along the neck and shoulders. It turned out that this particular serval was an escaped pet, and its owner retrieved it safely and took it home. They also had a license to keep it. Servals are frequently kept as pets and will sometimes cross-breed with domestic cats, producing tame kittens with serval-like markings. This hybridization is the basis of the domestic cat breed called the Savannah cat.
Obviously that serval wasn't the cause of sightings going back decades or even centuries, but with no clear photos or captured animals, we can't guess what the Surrey Puma might really be.
The Beast of Bodmin Moor is another case that received a lot of attention starting in the late 1970s. Bodmin Moor is in Cornwall, England, and over the years people have reported seeing big cats in the area, brown or black in color and about the size of a German shepherd, with long tails. One persistent rumor is that in 1978, when a circus owner named Mary Chipperfield had to close her zoo in Plymouth, she released three pumas onto the moor rather than give them to Dartmoor Zoo. Supposedly the Beast of Bodmin Moor is a descendant of these pumas.
In 1994, after something killed a number of sheep on the moor, the local MP called for an official investigation into the beast. A biologist and a zoologist headed the investigation. They looked at the sheep supposedly killed by a big cat, at tracks, photographs, and video footage, and conducted a search of the moor. Their conclusion, after six months, was that there was no evidence for any big cats of any type living on the moor. The tracks were made by dogs, the sheep carcasses did not show signs of being killed or eaten by cats, and the photos and videos showed domestic cats seen in places where scale was hard to judge.
Locals weren't at all appeased. Many people were convinced big cats lived on the moor. A few days after the official report, a boy found the skull of a big cat near the River Fowey. But the Natural History Museum in London, which examined the skull, determined that it was from a leopard that had been prepared for taxidermy after death, and was probably taken from a leopard-skin rug.
Mysterious big cats have been spotted all over Britain, and considering how many exotic cats have been caught and killed over the years, it's clear something is going on. It's unlikely that any exotic species have successfully established breeding populations in Britain, but it's not completely out of the question. But there is one other possibility.
For a long time the Kellas cat, or cait sìth, which means 'fairy cat,' was thought to be a Scottish folktale. It was a big black cat flecked with white, and with a white spot on its chest, that was supposed to be an omen of doom or even a type of evil spirit. Then a gamekeeper caught one in a fox snare in 1984, and in the following years a few more were shot or captured. It turns out that the Kellas cat is a landrace population of hybrids between European wildcats and domestic cats. A landrace is a locally adapted animal—not a subspecies, although in some cases it could eventually develop into one, but not really a separate breed of animal, although traits of a landrace population can be standardized into a breed through selective breeding. In the case of the Kellas cat, it's black with a white spot on the chest, and has long white guardhairs that give it a flecked appearance.
While the Kellas cat is not much bigger or heavier than a domestic cat, it's possible that at least some sightings of mysterious big cats are actually Kellas cat sightings. And honestly, if I had the choice between seeing an escaped exotic pet and seeing a fairy cat, I'll take the fairy cat every time.
You can find Strange Animals Podcast online at strangeanimalspodcast.com. We're on Twitter at strangebeasties and have a facebook page at facebook.com/strangeanimalspodcast. If you have questions, comments, or suggestions for future episodes, email us at strangeanimalspodcast@gmail.com. If you like the podcast and want to help us out, leave us a rating and review on Apple Podcasts or whatever platform you listen on. We also have a Patreon if you'd like to support us that way.
Thanks for listening!