Podcast: Play in new window | Download (Duration: 13:11 — 13.4MB)
I mention convergent evolution occasionally, but what is it really? This week we learn about what it is and some animals that demonstrate it. Thanks to Richard E. and Llewelly for their suggestions this week! Jaguars and leopards look so similar I'm not 100% sure this picture actually shows one of each: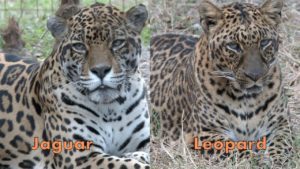 The adorable sucker-footed bat from Madagascar: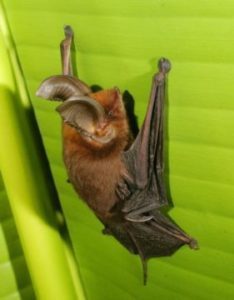 The equally adorable TOTALLY UNRELATED disk-winged bat from South America: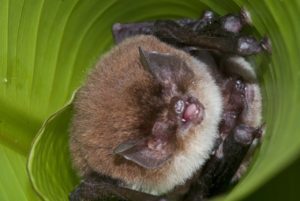 Metriorhynchus looked a lot like a whale even though it was a crocodile ancestor: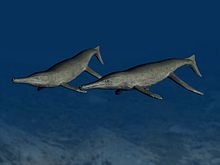 Show transcript:
Welcome to Strange Animals Podcast. I'm your host, Kate Shaw.
This week we're going to learn about some animals that represent convergent evolution. That's a term that I mention every so often, so it's time to really dig into it and see what it's all about. We'll start with animals that are fairly closely related, then work our way backwards to those that aren't related at all.
Basically, when unrelated organisms develop similar form, structure, or functions as each other, that's called convergent evolution. One simple example is bats and birds. They're not related, but both can fly using forelimbs that have been modified into wings.
This topic idea was sparked by an idea from Richard E., who suggested an episode about evolution and how it doesn't "improve" anything, just adapts. That's an important distinction. Evolution is a reactive force, not a proactive. Sometimes we use terms like advanced to describe certain animals, and primitive to describe others with traits that haven't changed in a long time. That implies that some animals are "better" than others, or better adapted. In actuality, one trait is not better or worse than another, as long as both traits help the animal survive and thrive. If an animal has traits that haven't changed in millions of years but it's still doing well, it's as adapted as it needs to be. An animal that's extremely specialized to an environment can sometimes be much more vulnerable to environmental change than a more generalized animal, too.
From a scientific point of view, while it may look like species become more advanced as time goes on, all it means is that a lot of animals have evolved to occupy specific ecological niches. One example Richard gives is the panda, which we talked about in episode 42 about strange bears.
The panda is an extremely specialized animal. It's a bear that is no longer a carnivore, for one thing, and not only does it not eat meat, or hardly any meat since it will eat small animals and bird eggs when it finds them, it mostly just eats one type of plant. That plant, of course, is bamboo, which is low in nutrients. The panda has adapted in all sorts of ways to be able to digest bamboo, and one of the most obvious adaptations is what looks like a sixth toe on its forefeet. It's not a toe but a projecting sesamoid bone that acts as a toe and helps the panda grasp bamboo.
But the panda's sixth toe evolved because of selective pressures, because pandas born with the toe were able to eat more bamboo and were therefore healthier and more likely to have babies than pandas without the toe.
Richard also mentioned the similarities between jaguars and leopards. They are related, but not closely. The jaguar is more closely related to the leopard than to the lion, but the leopard is more closely related to the lion than to the jaguar. That's not confusing at all. But both cats look very similar, tawny or golden in color with black spots called rosettes, and both frequently demonstrate an all-black coloring called melanism. But the jaguar lives in the Americas while the leopard lives in Asia and parts of Africa. Why do they look so similar?
In this case, a big part of the similarities between jaguars and leopards are that they share a common ancestor that lived around three and a half million years ago. The jaguar migrated from Africa into Europe and then into North America on the land bridge Beringia, while the leopard mostly stayed put but expanded its territory into Asia. New research into feline genetics suggests that the jaguar interbred with lions at some point, which gave it a heavier build and stronger jaws than the leopard.
But leopards and jaguars look very different from other big cats, and very similar to each other. This is where convergent evolution comes in. Leopards and jaguars live in similar habitats, dense forests and jungle where light is dim and filtered through leaves. A spotted animal is harder to see where there's a lot of dappled shade, and an all-black animal is harder to see when there's not a lot of light. Melanistic jaguars, those that are all-black, are extremely common, and melanistic leopards are more common in populations living in thicker forests than in populations that live in more open forests with more light.
Leopards and jaguars share a genus, Panthera, which means they're pretty closely related. But Llewelly suggested we talk about sucker-footed and disk-winged bats, and while they're both microbats, they're much less closely related than jaguars and leopards. And they share a really weird adaptation for climbing on smooth leaves.
The sucker-footed bat lives in Madagascar, the big island off the coast of Africa that's full of lemurs. Madagascar is also home to a tree called the traveler's palm, although it's not actually a palm tree. It's an amazing tree with huge leaves that grow in a fan shape. I don't mean the tree has a lot of leaves growing in fan shapes, I mean the main part of the tree is one giant fan of enormous leaves. The leaves can be 36 feet long, or 11 meters, and some trees can grow 100 feet high, or 30 meters. It's supposedly called the traveler's palm because the fan tends to grow along an east-west line so it gets the most sun, or possibly because the stems catch and hold rainwater that thirsty travelers could drink. Its white flowers are pollinated by ruffed lemurs and it has bright blue seeds. But the traveler's palm also has extremely smooth leaves, and the sucker-footed bat roosts on the leaves. But the leaves are so slick and smooth that most insects can't even hold on to them. How does a bat manage it?
As you may have guessed from the name, the sucker-footed bat has little cuplike pieces of skin on its thumb joint and its feet that excrete lots of sweat-like fluid. The bat presses the cups against the leaf and they act just like suction cups, although the main suction comes from wet adhesion. You know how a suction cup holds better if you lick it first? That's pretty much how it works. Also, hey kids, don't lick suction cups, they're dirty. Also don't drink rainwater out of leaves, that sounds clean but it's full of dirt and drowned bugs.
The sucker-footed bat roosts head-up instead of hanging upside-down, only one of six species known to roost head-up. It's about two inches long, or 5 cm, and eats insects. Because it mostly only roosts in the traveler's palm and is mostly solitary, it doesn't carry any parasites in its fur or on its skin. Parasites can't walk across those slick leaves.
The disk-winged bat, meanwhile, lives in the tropical parts of Central and South America. Like the sucker-footed bat, it has cuplike discs made of skin and cartilage on its thumbs and feet that act as suction cups. It roosts head-up in smooth curled-up leaves, generally in small groups. But its suction cups are different from the sucker-footed bat's. They actually use suction to stay in place, whereas the sucker-footed bat's suction cups mostly just use wet adhesion from the sweat it produces, with the actual suction being weak and not really necessary.
So let's back it up some more and look at two animals that have evolved in similar directions that aren't related. Like crocodiles and whales, or at least a crocodile relative and modern dolphins.
Metriorhynchids [met-ree-oh-rink-id] were croc relatives that lived around 150 million years ago, about 100 million years before whales and their relatives evolved. Metriorhynchids were marine animals, and while we don't know a whole lot about them since we don't have very many fossils, we do know that they grew up to ten feet long, or three meters, and lived in the ocean.
Metriorhynchus ate fish, ammonites, and whatever else it could catch, and it was a fast swimmer. It was streamlined with a long snout, smooth skin instead of armored, and even had a finned tail sort of like a shark's that probably provided its propulsion through the water. It had four long flippers to help it maneuver.
In other words, in a lot of ways it looked like a dolphin, because it was so well adapted to live in the same environment. Whales and their relations have streamlined shapes, smooth bodies to reduce drag in the water, fluked tails, and flippers. Even the shape of metriorhynchus's snout mirrors the longer rostrums that some dolphins have evolved to help them catch prey.
Finally, let's look at convergent evolution between two animals that look totally different, are totally unrelated, but which share one similar feature. If you guessed primates and parrots, you are correct!
Specifically, this is about how the brain manages higher-order processing. In other words, intelligence. Primates, including humans, have an enlarged section of the brain called the pontine nuclei that transfers information between the brain's cortex and cerebellum, allowing primates to process information in a more sophisticated way than most other mammals studied. But parrots and a lot of other birds are also intelligent, and researchers have recently discovered how their brains do the same thing.
Instead of a big pontine nuclei, birds use a part of the brain called the medial spiriform nucleus that performs the same transfer of information from the cortex and the cerebellum. In intelligent birds like parrots, that part of the brain is very large, five times larger than it is in chickens. I'm sorry, chickens, you're very pretty birds and taste delicious, but you're not known for your high-level reasoning abilities.
So convergent evolution is more than just two animals that evolve to look or act similar because they live in the same environment. In fact, there's so much to convergent evolution that there's no way I can do more than brush along the surface of the topic in a single episode. It might be a fun topic to revisit now and then.
In the meantime, now you know a little bit about what convergent evolution is. Just remember that if you explain it to a parrot, it's processing your information with a totally different part of its brain than you are. That's pretty awesome.
You can find Strange Animals Podcast online at strangeanimalspodcast.com. We're on Twitter at strangebeasties and have a facebook page at facebook.com/strangeanimalspodcast. If you have questions, comments, or suggestions for future episodes, email us at strangeanimalspodcast@gmail.com. If you like the podcast and want to help us out, leave us a rating and review on Apple Podcasts or whatever platform you listen on. We also have a Patreon if you'd like to support us that way.
Thanks for listening!