Podcast: Play in new window | Download (Duration: 9:10 — 10.2MB)
Thanks to Zola for suggesting this week's topic, the red panda!
Further reading:
Study Reveals Key Differences in Skulls of Red and Giant Panda
A red panda: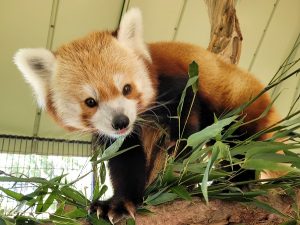 A red panda asleep in a tree [photo by By Aconcagua – Own work, CC BY-SA 3.0, https://commons.wikimedia.org/w/index.php?curid=2169002]: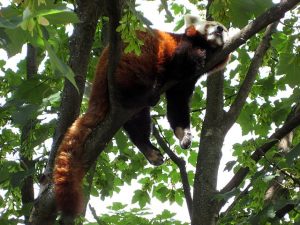 Not exactly a real red panda but pretty darn cute (from the Disney/Pixar movie Turning Red):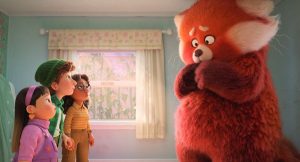 Show transcript:
Welcome to Strange Animals Podcast. I'm your host, Kate Shaw.
Happy new year! I'm still getting over covid but feeling much better and have mostly regained my sense of smell and taste. I'm still coughing, though, so apologies that my voice doesn't sound great (at least, I don't think it does).
One of my goals for this year is to really clear out the backlog of suggested topics. So many people have sent me such great ideas for episodes, and while I really do try to get to as many of them as possible, some people have been waiting literally years for me to cover their suggestion. So I'm just going to pick one every week until we're more or less caught up.
We'll start with someone who's probably used to being at the end of the line when you have to line up alphabetically. Zola suggested the red panda and I have no idea why we've never talked about this amazing animal!
The red panda lives in parts of the Himalaya Mountains in various countries, including China, India, Tibet, Myanmar, and Nepal, where it mostly lives in high elevations where there's plenty of water and bamboo. When it gets really cold, it can lower its metabolism and enter a torpid state something like hibernation, although only for short amounts of time, and it also wraps itself up in its big fluffy tail to stay warm. It's mostly nocturnal and spends a lot of time in trees, although it's perfectly comfortable on the ground too, although it almost always sleeps in a tree.
The red panda is about the size of a dog but with short legs. It's bigger than a raccoon but resembles one superficially, including a bushy ringed tail and a dark stripe across the eyes that continues down the cheeks. It's mostly reddish-brown or orangey in color, with white markings on the ears and face and darker red or black belly and legs. Its tail is almost as long as its body, around 19 inches long for a big male, or 48 cm, while its head and body is about 25 inches long, or 63 cm. It has a round head with a short muzzle and big triangular ears.
The red panda has a lot in common with the giant panda, and that has caused a lot of confusion in the past and even today. We talked about the giant panda in episode 42, including its extra toe. It's not really a toe although it acts like a thumb. The giant panda's front paws have five toes just like all bears, and also a modified wrist bone that juts out from the base of the paw and helps the panda hold bamboo stalks as it eats the leaves.
The red panda has a false thumb too, also formed from a projecting wrist bone. It's not as dexterous as the giant panda's false thumb, but both animals use it to help it hold bamboo. In the red panda's case, though, the false thumb probably originally evolved to help it climb trees. It also has flexible joints in its legs that allow it to climb more easily, including straight down a tree head-first, and it has semi-retractable claws.
The red panda even lives in some of the same places as the giant panda. Researchers weren't sure how the two species could live in the same places and eat the same foods without one species out-competing the other. The red panda mostly eats bamboo just as the giant panda does, and both are considered carnivores even though they hardly eat anything but plants, but a study published in 2014 determined that the two animals actually eat different parts of the bamboo plant. The red panda is able to climb up to eat the smaller, more tender leaves and stems while the giant panda has a stronger jaw that allows it to eat larger, tougher leaves and shoots.
But is the red panda closely related to the giant panda? Scientists still aren't completely sure. The red panda was known to science long before the giant panda was, and was just called the panda. After the giant panda was discovered, scientists thought that it had to be related to the red panda, which they started calling the lesser panda or red panda to differentiate it from the giant panda. The two animals eat the same thing and have some traits in common, so it made sense that they were related. But that was before the giant panda was well understood.
Once scientists figured out that the giant panda is actually a type of weird bear, they reclassified it and determined that the red panda was probably more closely related to procyonids, which includes the raccoon and the coatimundi we talked about a few weeks ago. After genetic studies, currently the red panda is placed in its own family and is probably most closely related to the family Mephitidae, which includes skunks, but is also closely related to procyonids like raccoons and mustelids like weasels and otters. While it is distantly related to the giant panda, its false thumb and other similarities to the giant panda are probably due to convergent evolution.
In the wild red pandas seem to be mostly solitary except during breeding season, which is in winter, although it's difficult to observe in the wild so we don't know for sure. In captivity it's more sociable and will play-fight with its friends. While it mostly eats bamboo, it will also eat flowers, bird eggs, berries, and leaves from other plants.
The female red panda gives birth to three or four cubs in summer, and while they're born with fur they need their mother's care for several months before they can start to learn independence. They're usually old enough to leave their mother at around 7 or 8 months old, at which point they set off to find small territories of their own.
The red panda is endangered by habitat loss, pollution, competition with livestock, and poaching for its fur. This is despite the animal being a protected species everywhere it lives. Fortunately, more and more people in the countries where it lives are helping to protect the red panda's habitat. In Nepal, for instance, lots of schoolchildren have learned about the red panda and are helping with conservation efforts, including putting up fences to keep livestock out of bamboo forests. Red pandas also do well in captivity and are popular zoo exhibits because one thing I haven't mentioned is that they're completely adorable!
The third Saturday in every September is International Red Panda Day to raise awareness and money for conservation efforts. You have approximately 9 and a half months to prepare for International Red Panda Day 2023.
This is what a red panda sounds like:
[red panda sound]
You can find Strange Animals Podcast at strangeanimalspodcast.blubrry.net. That's blueberry without any E's. If you have questions, comments, or suggestions for future episodes, email us at strangeanimalspodcast@gmail.com. If you like the podcast and want to help us out, leave us a rating and review on Apple Podcasts or Podchaser, or just tell a friend. We also have a Patreon at patreon.com/strangeanimalspodcast if you'd like to support us for as little as one dollar a month and get monthly bonus episodes.
Thanks for listening!