Podcast: Play in new window | Download (Duration: 15:02 — 15.0MB)
Subscribe: RSS
This week let's learn about some lesser-known Australian animals. A heat wave and dry conditions have led to many terrible bush fires in Australia, with many animals and people left hurt, killed, and homeless. Fortunately, there are ways you can help!
Check out the Animal Rescue Craft Guild for patterns and other information about crafting pouches, beds, and other items needed for injured and orphaned animals, and where to send the items you make.
Animals to the Max has a great episode about the fires and a long list of places where you can donate money where it's needed most.
Some rescued joeys chilling in their donated pouches: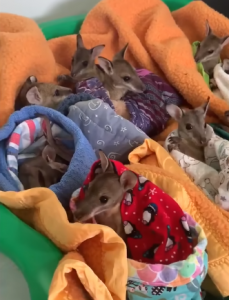 An Eastern banded bandicoot: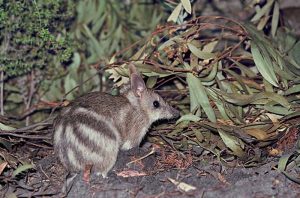 A bilby: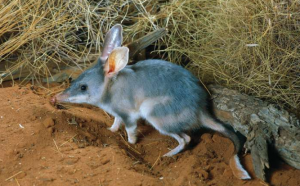 A long-nosed potoroo:
The woylie, or brush-tailed bettong: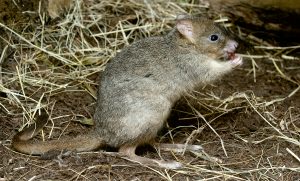 The numbat: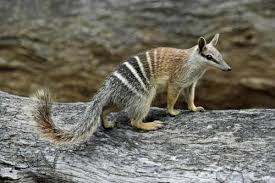 Show transcript:
Welcome to Strange Animals Podcast. I'm your host, Kate Shaw.
As you've probably heard, there are terrible fires sweeping through many parts of Australia right now amid a record-breaking heat wave. Both the fires and the heat have killed an estimated half a billion animals in the last few months. This week we're going to learn about some lesser-known Australian animals and also talk about ways you can help the people in Australia who are helping animals, even if you don't have any money to spare.
A Facebook group called the Animal Rescue Craft Guild is the resource for anyone who wants to make needed items for injured or orphaned animals. I'll put a link in the show notes. The group shares what items are needed, patterns to make them, information about what fabrics and what fibers are appropriate for which items, and where to send them.
In the last week I've been knitting and crocheting nests for small animals, and this weekend my aunt Janice and I will be sewing pouches for larger animals. Well, Janice will be doing the sewing, I'll cut out the cloth pieces for her to use. Many of the animals rescued from the fires are young marsupials, called joeys, whose mothers died, so the pouches are for joeys to live in until they're old enough to be on their own. Being in a pouch makes the joey feel safe because it feels like being in its mother's pouch. Rescue groups in Australia need all sizes and kinds of pouches, because there are so many different species of marsupial animals in Australia. So let's learn about a few you may not have heard of.
One Australian marsupial that a lot of people don't know much about is the bandicoot. There are a number of different species that live in parts of Australia and New Guinea. Some are exclusively herbivorous while some are omnivores. For instance, the Eastern barred bandicoot lives on the island of Tasmania and has recently been reintroduced into its historic range in Victoria in southeastern Australia. It's still quite rare and threatened by introduced predators like foxes and by diseases. It's an active animal and a fast runner, and makes a happy grunting noise when it finds food.
The Eastern barred bandicoot is about the size and shape of a rabbit but with shorter ears and a long nose that it uses to probe into the soil to find worms and other small animals that it then digs up. You can tell where one has been because it leaves a series of little holes in the ground called snout pokes. It's light brown with darker and lighter stripes on its rounded rump, and has a short mouse-like tail. The Western barred bandicoot is a little smaller than the eastern but looks and acts very similar. Both are nocturnal and solitary, and spend the day sleeping in a nest lined with grass and leaves. When it rains, the bandicoot pushes dirt over its nest to help keep it dry. It eats plant material like seeds and roots as well as small animals like insects, worms, and snails. If something startles it, it will give a big jump, and as soon as it comes down it digs a burrow to hide in. Its pouch faces backwards so dirt won't get into it when it digs.
Scientists are still working out what other animals the bandicoot is closely related to and how the different species are related to each other. It doesn't help that many bandicoot species are already extinct. We do know that the bandicoot is most closely related to an animal called the bilby.
The bilby looks even more like a rabbit than the bandicoot does, and in fact sometimes it's called the rabbit-bandicoot or the rabbit-eared bandicoot. Its fur is silky and slate gray on the back with white underneath, and it has a long nose, long ears, little pink paws, and a long tail. It grows to about 22 inches long, or 55 cm, not counting the tail, which is another 11 inches long, or 29 cm. Males are generally considerably larger than females. It even hops sort of like a hare.
There used to be two species of bilby, but the lesser bilby went extinct in the mid-20th century. The greater bilby is vulnerable due to habitat loss and introduced animals likes foxes and cats, but conservation efforts are underway with captive breeding programs and reintroduction of bilbies into areas where they used to live. There's also a push to educate people about the bilby, and instead of chocolate Easter bunnies, a lot of people in Australia have started giving each other chocolate Easter bilbies.
The bilby is an omnivore and eats seeds, fruit, plant bulbs, insects, worms, and other small animals. Its large ears contain lots of blood vessels close to the surface. As blood travels through the ears, it radiates heat and returns to the heart much cooler than before, which helps cool the whole body.
The bilby sleeps in a burrow during the day, usually alone or with a few other bilbies, and it digs tunnels to connect different burrows throughout its territory. Like the bandicoot, its pouch faces backwards so dirt won't get in it. Some bilbies may have a dozen burrows and will dig a new one every few weeks, which is helpful to other species of animal too since other animals may move into old bilby burrows.
The potoroo is another animal that people outside of Australia may not know about. It's related to kangaroos and wallabies, but looks more like a rodent with a long, thin snout that curves downward. It's brown with small ears and a thin tapering tail, and its hind legs are longer than its front legs so that it hops like a little kangaroo with its front feet tucked to its chest.
All species of potoroo are endangered even though when European settlers first arrived, it was a common animal all over Australia. Gilbert's potoroo is so critically threatened that it's estimated that only 70 are still alive today. In fact, it was suspected to be extinct until a small population was discovered in 1994. The long-footed potoroo was only discovered when one was caught in a trap in 1967. The long-nosed potoroo is less endangered than the other two species, but it's still threatened by habitat loss, fires, and introduced predators like foxes, cats, and dogs.
The long-nosed potoroo grows to about 15 inches long at most, or 38 cm, with a tail about nine inches long, or 24 cm. Like the bandicoot and bilby, it's nocturnal, solitary, omnivorous, and digs for a lot of its food. When it's foraging, it sniffs the ground while moving its head side to side, and when it smells something it wants to eat, it digs to find it. It eats seeds, fruit, flowers, some leaves, and insects and other invertebrates, but it especially likes fungi like mushrooms.
Another little-known Australian marsupial is the bettong, also called the rat kangaroo. It's related to potoroos and therefore to kangaroos, and looks similar. There are five species, all of them about the size of a rabbit. It hops on its hind legs and has a tail about the length of its body, specifically up to 15 inches, or 38 cm. Its fur is grey or brown, sometimes reddish. It's nocturnal and solitary and sleeps in a nest during the day, much like the bandicoot. But since it has a prehensile tail, it actually carries its nesting material to the nest with its tail. Since it often lives in desert areas, it digs a warren of burrows and tunnels to stay out of the heat. Like the potoroo, it especially likes to eat mushrooms, but it will eat a lot of plant materials as well as invertebrates.
The woylie, or brush-tailed bettong, is one of the rarest species. It sometimes collects seeds of the Australian sandalwood tree to eat later, burying them in shallow holes. Like squirrels burying acorns, sometimes the woylie forgets where it hid the seeds and they germinate to grow into new trees.
Several species of bettong are threatened by habitat loss, fire, and introduced predators, but there are conservation plans in place to protect the bettong and its habitat.
The last animal we'll learn about today is the numbat, which sounds like a Pokemon but which is a marsupial related to the extinct thylacine. It's brown, gray, or reddish with white stripes over its back and rump, and a black streak through its eye, which also has a white ring around it. It grows to almost a foot long, or 29 cm long, with a long bushy tail that adds another eight inches to its length, or 21 cm.
The numbat eats termites and only termites. Termites are soft, so although the numbat has lots of little peg teeth—fifty of them, although sometimes less—it doesn't need them. Its jaw is weak as a result but it has a long tongue with sticky saliva to lick up termites, and the roof of its mouth is ridged to scrape the termites off its tongue. Then it just swallows them.
The numbat needs to eat up to 20,000 termites every single day. Most marsupials are nocturnal, but the numbat is active during the day since it needs to be awake when the termites are active. It has good eyesight too, unlike many marsupials. It hunts termites by both sight and smell, and digs into the shallow tunnels termites dig outside of their nests. A termite's nest is too tough for the numbat's small claws to damage, but the tunnels leading away from the nest are easy for it to uncover.
At night the numbat sleeps in a burrow or sometimes in a hollow tree. Its burrow is usually a long tunnel that ends in a cozy round nesting chamber that it lines with grass, leaves, feathers, flowers, and other soft items. Its rump is protected by especially thick skin, and if a predator tries to get into its burrow, it will block the entrance with its rump. It can also climb trees with its sharp claws.
Male numbats have a scent gland on the chest that starts exuding a smelly oil during the summer, which it uses to mark its territory. The smell attracts females and warns other males away. Babies stay in their mother's pouch for six months or so, until they're so big the mother can't walk properly. At that point she dumps them in the nest although she continues to nurse them. A few months after that the babies start to eat termites instead of just milk.
Like the other animals we've talked about today, the numbat is threatened by habitat loss and introduced predators, especially foxes and cats. But conservation programs have helped its numbers increase, and it's been reintroduced into areas where it once lived.
Australia cares about all its animals, little and big, and I know that you care about animals too, or you wouldn't be listening to this podcast. It's easy to feel helpless when you hear the news about so many animals dying in fires. But there are ways you can help. Even if you don't know how to sew, knit, crochet, or do woodworking, you probably know someone who does. Just ask them to teach you how. You'd be surprised at how easy it is to learn, and the patterns posted on the Facebook group I link to in the show notes are all quite simple. For the lining of most pouches, you can use old flannel sheets or even cotton t-shirts, as long as it's clean, soft, and has no frayed or pilled areas. The outer layer of the pouches can usually be ordinary cloth, and some of the outer pouches can be knitted from regular old acrylic yarn.
If you aren't able to craft, or you don't have access to craft materials, you can raise money to donate to wildlife rescue groups in Australia. Check with any groups you may already belong to, like your place of worship, book clubs, gaming groups, your school or college, even your employer. Many groups may be interested in holding a bake sale or yard sale, or just gather donations from members to send to Australia. Last week's episode of the great podcast Animals to the Max had an interview with an Australian wildlife expert, so I've linked to it in the show notes so you can listen if you haven't already, and because that episode's show notes have lots of great links where you can send donations.
Whatever you do to help, the people and animals of Australia appreciate it! Even if all you can do is learn about Australian animals so you can share that knowledge with other people, everything helps.
You can find Strange Animals Podcast online at strangeanimalspodcast.blubrry.net. That's blueberry without any E's. If you have questions, comments, or suggestions for future episodes, email us at strangeanimalspodcast@gmail.com. We also have a Patreon if you'd like to support us and get twice-monthly bonus episodes.
Thanks for listening!