Podcast: Play in new window | Download (Duration: 15:38 — 16.1MB)
Subscribe: RSS
Thanks to Adam for the great suggestion of synchronous fireflies! Let's learn about lightning bugs (or fireflies) in general, and in particular the famous synchronous fireflies!
Further reading:
How Fireflies Glow and What Signals They're Sending
Further watching:
Synchronizing Fireflies in Thailand (it shows an experiment to encourage the fireflies to start blinking by the use of LEDs)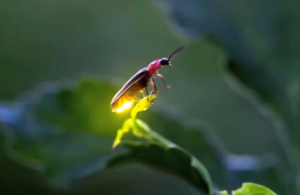 Show transcript:
Welcome to Strange Animals Podcast. I'm your host, Kate Shaw.
This week we're going to learn about a bioluminescent insect, the firefly, also called the lightning bug, but we'll especially learn about a specific type of various species called synchronous fireflies! This is a suggestion from Adam, so thank you, Adam!
Fireflies are beetles and they're common throughout much of the world. I actually call them lightning bugs, but firefly is faster to say so I'm going to use that term in this episode. They're most common in temperate and tropical areas, especially around places with a lot of water and plant cover, like marshes and wooded streams. This is because the firefly spends most of its life as a larva, and it needs to be able to hide from predators and also find the tiny insects, snails and slugs, worms, and other small prey that it eats. Adults of some species don't eat at all and may not even have mouths, while adults of other species may eat nectar, pollen, or other insects.
There are probably two thousand species of firefly, with more being discovered all the time. While they vary a lot, all of them emit light in one way or another. We'll talk about how they produce the light in a minute, but first let's talk about why they light up. In many species, the larvae can light up and do so to let predators know they taste bad. The larvae are usually called glowworms, although that name is also applied to other animals.
Some firefly species don't light up at all as adults, but many species use their lights to find a mate. Every species has a distinct flash pattern. In some species, the female can't fly but will sit on the ground or in foliage and watch for her species' flash pattern from males flying around. When she sees a male she likes, often one whose light is brightest, she signals him by flashing back. Sometimes a pair will flash back and forth for hours, sometimes just minutes, but eventually the male will find the female and they will mate.
As a result, the firefly is sensitive to light pollution, because it needs to see the flashing of potential mates. If there's too much light from buildings and street lamps, fireflies can't find each other. They're also sensitive to many other factors, so if you have a lot of fireflies where you live, you can be proud to live in a healthy ecosystem. But overall, the number of fireflies are in decline all over the world due to habitat loss and pollution of various kinds.
So how does a firefly light up? It's a chemical reaction that happens in the lower abdomen in a special organ. The organ contains a chemical called luciferin [loo-SIF-er-in] and an enzyme called luciferase [loo-SIF-er-ace], both of which are found in many insects that glow, along with some other chemicals like magnesium. The firefly controls when it flashes by adding oxygen to its light-producing organ, since oxygen reacts with the chemicals to produce light.
Female fireflies in the genus Photinus, which are common in North America and other areas, can't fly and instead look for potential mates to fly by. When a male sees a female's answering flash, he lands near her. But sometimes when the male lands, he's greeted not by a female Photinus but by a female Photuris firefly. Photuris females often mimic the flash patterns of Photinus, and they do so to lure the males close so they can EAT THEM. Photuris is sometimes called the femme fatale firefly as a result. Some species of Photuris will also mimic the flash patterns of other firefly species, so they don't specifically pick on Photinus. Also, these names are way too similar. Photuris will even grab and eat fireflies that are caught in spiderwebs, stealing from the spider. I like to imagine these femme fatale fireflies with tiny guns and slinky 1950s-era dresses.
But the really interesting thing is that these femme fatale fireflies aren't just hungry. They belong to species that can't manufacture the toxic compounds that other fireflies do. After a female Photuris has mated, she needs this compound to protect her eggs when she lays them, so she gets it by eating fireflies that do produce the compound.
Fireflies vary in size, but they're generally quite small, with the biggest only about an inch long, or 2.5 cm. They're usually brown or black, sometimes with orange, red, or yellow markings on the head and yellow streaks on the wing covers. They also have a weird smell, which is probably related to this toxic compound. It's a type of steroid that's chemically similar to the toxins excreted by some poisonous toads. In one fantastic article I found online, which I link to in the show notes, the writer says, "A colleague of mine once put a firefly in his mouth—and his mouth went numb for an hour!" In other words, don't eat fireflies even if you're a frog or a bird.
In many areas, larval fireflies hibernate during the winter, in underground burrows or under tree bark. Once a larva pupates and transforms into an adult, it only lives a matter of weeks. It mates, lays eggs, and dies.
There is an exception, of course. The winter firefly lives in much of North America and actually overwinters as an adult. It lives in tree bark in the winter, coming out in early spring. But the adult winter firefly doesn't light up. It's not even nocturnal like most other species. It comes out during the day and the male finds a mate by following the trail of pheromones released by the female. It eats tree sap and is especially attracted to sap buckets when people are tapping maple trees to make maple syrup, which is why it's also sometimes called the sap bucket beetle. It mates and lays its eggs in spring, then dies. Larvae pupate in late summer so that new adults have several months to build up energy reserves to get them through the winter.
Synchronous fireflies are native to Southeast Asia and the eastern United States, from Georgia to Pennsylvania. There are several famous sites in the United States for synchronous fireflies, including one that's very close to me, at Elkmont in the Great Smoky Mountains National Park. There are 19 species of firefly in the park, but only one, Photinus carolinus, flashes synchronously. So many people want to see the display that the park has to have a lottery to see who gets tickets. I've never been to see the synchronous fireflies, but I have seen synchronous fireflies, at a spot only a five-minute drive from my house.
WHAT?, you may be thinking, if you know anything about synchronous fireflies. There are only like three spots in the United States where these fireflies live! But this actually isn't the case. In 2015 another species was discovered in East Tennessee, specifically in the Oak Ridge Wildlife Management Area. I remember reading an article about it and contacting the scientist quoted in the article, because I already knew of some synchronous fireflies near my house. No one else seemed to know about them but me.
I looked for the email I got in response, but unfortunately I must have deleted it at some point. This was way before I'd started the podcast so I didn't think I'd ever need to refer to it. All I remember is that the scientist's last name was also Shaw and that he said he's sure there are lots of small pockets of the synchronous fireflies in East Tennessee and surrounding areas, and that they were a different species from the ones in the Smokies, with a different flashing pattern.
And indeed, there are two species of synchronous fireflies in the United States, Photinus carolinus and Photuris frontalis. Photuris is the one I've seen. But there's also a third species of synchronous fireflies in the United States, but it's only found in Arizona. The species is Photinus knulli, but it's rare and doesn't congregate in huge numbers.
The synchronous fireflies found in mangrove forests and other forested areas in southeast Asia are much more common than the species found in the United States, and flash year-round instead of for only a few weeks in summer. I have a couple of links to synchronous fireflies in the show notes, one of them in Tennessee and one in Thailand. The Thailand video is better since you get a better idea of how in synch the fireflies are. In that case, as the video shows, the fireflies were encouraged to start their light show by an experiment with computer-controlled LEDs hidden in a few trees.
So the videos are good, but what do synchronous fireflies really look like when you're there in person? I mean, it's easy to say that all the fireflies light up at once and it's beautiful, but I've seen them and this doesn't even start to explain how amazing it looks. The videos are accurate but let me try to describe my experience.
The ones I've seen live in a very small part of the local watershed, on the hillside above a stream called Clear Creek. They only live on one side of the stream, which fortunately is the side where there's a hiking trail. It's amazing because you can look across the creek and see just ordinary fireflies flashing, then turn around and see a spectacular lightshow. And even though it's literally a few minutes' walk from a little parking lot, I don't think anyone but me has ever noticed.
They only flash in mid-June when the days are long, so you have to be out late to see them, around 10pm or later. The first time I saw them I was out hiking and went farther than I'd intended, so it was dark when I was approaching the parking lot.
In East Tennessee on a summer evening, it's dark under the trees but the sky still holds a little light, so that when you look up through the tree canopy you see patches of dark blue. On this particular stretch of trail, it's dangerous to walk too fast because there are lots of roots and rocks that you can trip over in the dark. So imagine you're walking along with just enough light from the sky to tell where the trail is. Clear Creek is to your left, broad and shallow here. You can hear it gurgling over rocks. To your right, the ground rises steeply—not too steep to climb if you wanted to, but too steep to bother.
It's a summer evening, so of course there are fireflies. You don't pay any attention until you notice something unusual to your right, on the hillside beneath the trees.
That's funny, three or four fireflies flashed at exactly the same time. But now that your attention is on the hillside, you see another flash as dozens of fireflies light up at the same time. And a few seconds later, when it happens again, you realize that it's ALL the fireflies on the entire slope—hundreds of them!
At a distance, the flashing looks like a gold-tinted glitter of light, not a glow. Hundreds of tiny glittering lights blink on and then immediately off, so that the entire hillside looks like it's covered with tiny electric bulbs winking on and off. The flashes come in groups, two or three flashes in a row over the course of several seconds, then a pause, then more flashes. The fireflies on one side of the hill are slightly out of synch with those on the other side of the hill so that the flashing seems to travel in a wave across the hillside. It's so beautiful you can hardly believe what you're seeing. It doesn't even seem real.
One thing I've noticed, after being lucky enough to witness this amazing sight several summers in a row, is that the flashing doesn't fully synchronize until it's really dark. If I get there too early, I can see the fireflies are trying, but they aren't quite in time yet. It has to be dark enough for them to really be able to see each other.
So why do some fireflies synchronize their flashing while most don't? Researchers aren't sure, but the best guess is that by flashing all together, it's easier for females to compare males and choose which male they want to mate with. The males may also be trying to keep other males from flashing before they do, which means they eventually all synch up.
It really is an amazing sight. If you're ever going to be in East Tennessee in June, let me know and I'll take you out to see my fireflies, or you can sign up to see the really big displays in the Smokies or other areas. Until then, hopefully my description will help you imagine it.
This is what a firefly sounds like. HA, fooled you, they don't make any noise at all.
You can find Strange Animals Podcast online at strangeanimalspodcast.blubrry.net. That's blueberry without any E's. If you have questions, comments, or suggestions for future episodes, email us at strangeanimalspodcast@gmail.com. If you like the podcast and want to help us out, leave a rating and review on Apple Podcasts or wherever you listen to podcasts. We also have a Patreon at patreon.com/strangeanimalspodcast if you'd like to support us that way.
Thanks for listening!