Podcast: Play in new window | Download (Duration: 10:41 — 11.2MB)
I got to meet some listeners this week to see the synchronous fireflies, so thanks to Shannon, Diana, Derek, and Autumn for hanging out with me! This week we'll learn about a different kind of lightning bug as well as a shark mystery!
Derek's photography, Enchanting Ectotherms
Further reading:
A shark mystery millions of years in the making
I suspect this is a doctored image but it's gorgeous so here it is anyway, supposedly some blue ghost fireflies: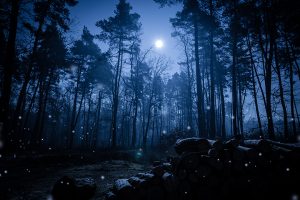 This is a real photo, no photoshop, taken by Derek Wheaton during our trip. The long line of light in the middle is a blue ghost moving with its light on during a long exposure: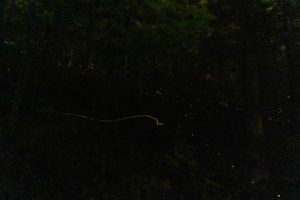 A synchronous firefly on Derek's hand (photo by Derek Wheaton):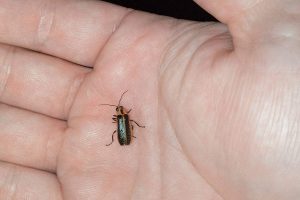 A tiny blue ghost firefly on Derek's hand (photo by Derek Wheaton):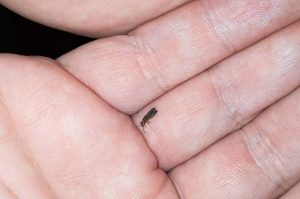 Show transcript:
Welcome to Strange Animals Podcast. I'm your host, Kate Shaw. It's been an amazing week for me because I got to take some people to see our local synchronous fireflies! The fireflies put on a brilliant show for us and the weather was perfect, and it was so much fun to meet Shannon and Diana! Then, two nights later, I also took Derek and Autumn out to see the fireflies. In between, I started research on the blue ghost firefly, since I had originally thought it was just another name for the synchronous firefly, but it's not. So this week we're going to learn about the blue ghost firefly, along with some interesting breaking news about a shark mystery.
The blue ghost firefly only lives in parts of the eastern and central United States. In most places it's rare, but like the synchronous fireflies that all flash together, the blue ghost fireflies are actually pretty common in the southern Appalachian Mountains. The reason why people don't see them more often is that these days, most people don't spend much time in the woods at night.
Like other fireflies, the blue ghost lives in forests with deep leaf litter where there's a lot of moisture in the ground. The female lays her eggs in the leaf litter and when the eggs hatch, the larval fireflies eat tiny insects and other invertebrates like snails.
The blue ghost firefly is different from other firefly species in several ways. First, it doesn't flash. The male stays lighted up for around a minute at a time while he flies low over the ground watching for a female to light up too. Its glow also appears bluish-white to human eyes, at least in the distance and when it's really dark out. Up close, it looks yellow-green like other firefly lights. Researchers think it only looks blue because of the way human eyes perceive color in low light.
In the daytime, blue ghost fireflies don't look like much. They're small, around 7 mm long, and males are all brown. The females don't have wings, and in fact they never metamorphose into the adult form and still look like larvae as adults. The female crawls to the end of a twig or blade of grass and glows to attract a mate.
When I was doing my research to learn about blue ghost fireflies, I kept seeing articles comparing its size to a grain of rice. I looked up the average size of a grain of rice, and that's where I got 7 mm. I didn't think too much about it.
When Shannon, Diana, and I were watching the synchronous fireflies, we noticed some fireflies that didn't flash, just stayed glowing while they drifted along low over the forest floor. After I started researching blue ghost fireflies, I realized that was what had seen! So I was especially excited to go back out with Derek and Autumn and confirm it.
Derek works for a nonprofit that breeds endangered fish for conservation projects, which is awesome, but he's also a photographer, so he brought his camera to try and get pictures and video of the fireflies. His photographs are amazing so if you want to see them I've linked to his Facebook page, EnchantingEctotherms, in the show notes. He does a lot of snorkeling so a lot of the animals he photographs are fish or other water animals like turtles and snakes, and he gives information about them in his posts.
Anyway, he wanted to get close-up pictures of a synchronous firefly and a blue ghost firefly, so we all spent some time trying to catch one of each—gently, of course, and without leaving the trail. We didn't want to hurt ourselves in the dark or disturb the fireflies' habitat. Derek caught a synchronous firefly first, and it looks like an ordinary firefly that I'm used to, the common eastern firefly, which grows to about 14 mm long. That's half an inch long. Then, eventually, he also caught a blue ghost. It was so small that at first we thought he might have caught some other beetle by accident, until we looked more closely and saw the telltale head shape of a lightning bug. I took a photo myself and put it in the show notes so you can see just how small it is.
From my own observation, the blue ghosts are much dimmer than other fireflies, which makes sense since they're so much smaller. The light does look faintly blue-white in the distance, but when it's closer to you it looks like an ordinary firefly's light. They do indeed fly very low to the ground while lit up, but they're also cautious. We had trouble catching one because when we got too close, the firefly would fly down to the ground and put his light out.
Naturally, after photographing our lightning bugs we let them go again. I'm happy to report that the synchronous fireflies have expanded their range a lot since I first stumbled across them about ten years ago, and the blue ghosts seem reasonably common too. They live in a protected area of our local watershed so they'll be safe and sound forever, hopefully.
This is good, because blue ghosts in particular are vulnerable to habitat loss. Since the female can't fly, she can't travel far to lay her eggs. During mating season, some state and national parks in the southern Appalachians close some trails to protect the blue ghost and other fireflies, especially from light pollution from flashlights.
The synchronous fireflies and blue ghosts are only active for a few weeks in June, which is their mating season. We'll probably be just about at the end of this year's display by the time you hear this, but if you're going to be in East Tennessee and want to go out and see them with me next summer, just let me know. As we talked about in episode 180, they only live a few minutes' walk away from a small parking lot but no one but me seems to know about them.
Next, let's learn about a shark mystery that's 19 million years old but that scientists only learned about recently. This month, June of 2021, a team of researchers published results of a shark study in the journal Science. The team had decided to graph the number and diversity of shark species known from the fossil record so they'd have a baseline to compare modern shark diversity to. But they discovered something really surprising.
Nineteen million years ago, there were over ten times as many sharks in the oceans as there are today. They were an important part of the ocean's ecosystems, especially in the open ocean. And then…they disappear from the fossil record. Over 90% of the world's sharks died, with shark diversity decreasing by more than 70%. Not only that, sharks never fully recovered from whatever happened.
So what did happen? We don't know yet. There was a small extinction event called the Middle Miocene extinction peak five million years after the sharks vanished, which researchers think was due to global cooling leading to climate change. The cooling period was caused by a lot of factors, but a big cause was changes in ocean currents and air currents as the continents moved into new positions. Before that, though, the world was comfortably warm for millions of years and the shark population was overall quite stable. Researchers have found no reason why sharks suddenly started dying in such huge numbers, especially in the open ocean instead of in coastal waters.
The leader of the study, Elizabeth Sibert, says that there might have been a climate event of some kind that was disastrous to sharks but that was over relatively quickly, leaving very little evidence behind except for the fossil remains of way more sharks than usual and a lack of sharks afterwards.
Other scientific teams have already started studying the open ocean ecosystem from 19 million years ago and earlier for clues as to what happened, whether other animals were affected, and why sharks never regained their supremacy in the world's oceans afterwards. That's how science works: someone makes a discovery and that inspires lots of new studies, which lead to more discoveries. When we do learn more about the great shark die-off of the Miocene, I will keep you posted.
You can find Strange Animals Podcast at strangeanimalspodcast.blubrry.net. That's blueberry without any E's. If you have questions, comments, or suggestions for future episodes, email us at strangeanimalspodcast@gmail.com. If you like the podcast and want to help us out, leave us a rating and review on Apple Podcasts or Podchaser, or just tell a friend. We also have a Patreon at patreon.com/strangeanimalspodcast if you'd like to support us that way, and don't forget to join our mailing list. There's a link in the show notes.
Thanks for listening!