Podcast: Play in new window | Download (Duration: 14:12 — 14.3MB)
Thanks to Kaiden who suggested we learn about mosquitoes this week! You know what eats a lot of mosquitoes? Bats! If you don't already listen to the excellent podcast Varmints!, jump on over to it to listen to last week's episode about bats! I cohosted with Paul and had a great time, and I know you'll like the episode and the podcast in general. It's family friendly and lots of fun!
Further reading:
The Paleobiologist Who Inspired the Science in 'Jurassic Park'
SMACK SMACK SMACK SMACK: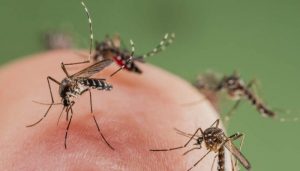 Mosquito larvae: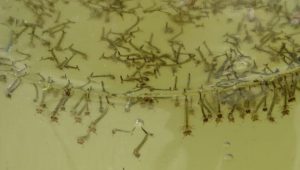 An elephant mosquito in amber: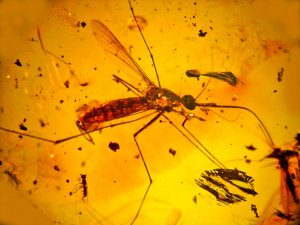 Show transcript:
Welcome to Strange Animals Podcast. I'm your host, Kate Shaw.
This week we have a great listener suggestion from Kaiden, who wants to learn about mosquitoes! This is especially great because last week I was a guest co-host on the awesome podcast Varmints!, and we talked about bats! As you may know, bats eat a LOT of mosquitoes. I'll put a link to the Varmints! page in the show notes in case you don't already subscribe. I think you'd like it.
The mosquito is a common insect that lives all over the world, except for Antarctica and Iceland. There are something like 3,500 species of mosquito known. In areas where it gets cold in winter some species of mosquito may hibernate, but most enter a state called diapause. This basically means that any eggs and larvae delay their development until it warms up, then develop into adults normally.
The mosquito is a type of fly, and like other flies it only has one pair of wings. Most mosquito species are only 3-6 millimeters long, gray or black in color, with long, extremely thin legs and narrow wings. The largest known species of mosquito is called the elephant mosquito, which can grow up to 18mm long. That's almost three-quarters of an inch. Its wingspan is even larger, 24 mm, which is just shy of a full inch across.
The mosquito eats nectar. Oh, sorry, that's the male mosquito. The female mosquito is the one who drinks blood, and she needs the blood to develop her eggs. But in fact, the female mosquito also eats nectar too, and mosquitoes even help pollinate some flowers. Some species of mosquito can develop eggs without blood, but most need the extra protein and nutrients that blood provides. In some species, the female can produce one clutch of eggs without blood, but she has to have blood to develop more eggs.
The female mosquito has a long, thin proboscis that she uses to pierce the skin of an animal and suck its blood, although the process is a lot more complicated than it sounds. The proboscis is made up of a sheath that protects the other mouthparts, including a pair of mandibles and a pair of maxillae. The mandibles and maxillae are actually the parts that cause the bite. If you look at a mosquito that has landed on your arm and is biting you, it looks like the proboscis must be stuck in your skin like a teensy hypodermic needle, but what you're seeing is the proboscis sheath. The mosquito touches the sheath to your skin and bends it back slightly, which exposes the mouthparts and acts as a guide as the mouthparts bite you. The mandibles are the pointy ones and the maxillae have flattened ends. The mosquito moves her head slightly back and forth to lever them all into your skin, and the only reason this doesn't hurt like crazy is because they're so incredibly tiny, plus it happens very quickly.
Once the mouthparts have pierced the skin, the mosquito injects saliva, which contains proteins that act as an anticoagulant so the blood continues to flow without clotting. The itching and swelling associated with a mosquito bite are due to this saliva, which your body reacts to as a foreign substance, which of course it is.
This biting and saliva injecting process actually takes place very quickly, and then the mosquito sucks the blood up. She can hold up to three times her weight in blood. Not only that, but if she's not disturbed, she will start digesting the blood quickly and will eject as much of the liquid as possible to make room for more blood, since she doesn't need the liquid part of the blood.
Vampire bats do this too, if you've listened to our vampire bats episode or the new Varmints! episode about bats. They digest the blood they drink quickly, then pee out the excess liquid so they're light enough to fly. But in the case of the mosquito, she just needs as many nutrients from the blood as possible to develop her eggs. That's why a single mosquito may bite you numerous times. She needs to fill her stomach with the nutritious solids in the blood while excreting as much extra liquid as she can.
Once she has all the blood she needs, the mosquito will hide somewhere for a few days while her eggs develop. Then she'll fly out to find a good place to lay them.
Mosquitoes lay their eggs in water, usually stagnant water like small ponds. The larvae stay in the water after they hatch. You may have seen mosquito larvae, since they're distinctive. They're only a few millimeters long and skinny, with a bristly-looking head. The larvae come to the surface to breathe through a siphon in the abdomen, so they will hang head downward just under the water's surface. If something startles them, the larvae will curl up and sort of jerk their way through the water. Mosquito larvae eat algae and other tiny food.
Even after a larva pupates, it can still move around in the water. It doesn't eat, but it needs to breathe, so it will hang just under the water with the breathing siphon in its abdomen at the surface, just as it did as a larva. After a few days, the pupa splits open and the adult mosquito emerges. Females fly off but the males stay in a group, and female mosquitoes join the group to find a mate.
The mosquito's feet are adapted to allow it to stand wherever it likes. Its feet have microscopic hairy pads like those found on gecko toes that allow it to stick to smooth surfaces, and it also has microscopic hooks that help it stay in place on skin. And it also has feathery scales on its feet that are only a few microns across that allow it to stand on water. Since some species of female mosquitoes lay their eggs directly into water, being able to stand on the water's surface is useful.
Mosquitoes spread a lot of diseases, which get injected along with the anticoagulant saliva. These include malaria, West Nile virus, zika, yellow fever, dengue fever, and many others. An estimated two million people die of mosquito-spread diseases every year, which makes the mosquito the deadliest animal in the world.
Because mosquitoes are such disease spreaders, people keep trying to figure out better ways to kill them off or at least stop them from spreading disease. One way to stop mosquitoes from spreading is to make sure there is no stagnant water around your house to breed new mosquitoes. A female mosquito will lay her eggs in even small amounts of water, such as an empty drink can that has collected rainwater, so getting rid of trash helps. In the past, people tried poisoning water or spraying insecticides, but this isn't always very effective against mosquitoes and also kills other insects that may be beneficial.
But as genetic engineering becomes more sophisticated, scientists have discovered new ways to help stop mosquitoes from spreading disease.
For example, let's talk briefly about dengue fever. I won't go into symptoms or anything like that, don't worry. It's mostly a tropical disease found primarily in parts of Asia, Africa, and Central and South America, and it's spread by the yellow fever mosquito, which also spreads many other diseases. People do die from dengue fever but most recover and are fine, but of course no one wants to get sick. There's a vaccine as of 2016, but it's not fully effective and has some side effects.
To help stop the spread of dengue fever, people have tried releasing animals into standing water that eat mosquito larvae, such as guppies native to the area. This has actually helped. In northern Vietnam, copepods that eat mosquito larvae were introduced into water storage tanks and did such a good job that the yellow fever mosquito was actually eliminated in the area for years. Some species of elephant mosquitoes, which you may remember from a few minutes ago are the largest mosquitoes in the world, don't drink blood at all. Its larvae eat the eggs and larvae of other mosquito species, which gives it enough nutrients as an adult to lay plenty of eggs. One species of elephant mosquito specializes in eating the larvae of the yellow fever mosquito and has been introduced into some areas to help control its population.
Genetically modified male yellow fever mosquitoes have been introduced into the wild to mate with ordinary female mosquitoes in many places. The males contain a gene that causes larvae to die before reaching adulthood, and it has helped quite a bit. The yellow fever mosquito population has been reduced by over 90% in the places where the males were released, but it doesn't affect other mosquito species that don't carry the diseases. The problem is that genetically modified males have to be continuously bred and released in order for the program to keep working.
Very recently, as of January of 2020, scientists have engineered an antibody for the yellow fever mosquito. It basically stops the dengue virus from replicating in the mosquito, which means it can't be passed to a human. There have been attempts to do this before, but it was only effective for one or another strain of the dengue virus. This new antibody is effective against all strains of the virus. This will help people while not killing the mosquitoes. The team is also working to engineer an antibody for other mosquito-borne viruses.
So, is it true that some people get targeted by mosquitoes more than others? As someone who seems to be a mosquito magnet when I go outside in the evening when mosquitoes are most active, I would say yes–and science agrees with me. Mosquitoes are attracted to some people more than others. The mosquito has a good sense of smell and can track animals by smelling their sweat and the carbon dioxide they exhale. They also tend to prefer people with type O blood and high body heat, but how attractive a person is to a mosquito depends on genetic traits too.
Some species of mosquito prefer some types of animals over others too. Some feed almost exclusively on birds, for instance. But in a pinch, a female mosquito will bite just about any animal, and it doesn't even need to be warm-blooded. Mosquitoes will bite reptiles, amphibians, and even fish if they're partly out of water. Some mosquitoes will even bite caterpillars. Caterpillars don't have blood, but they do have hemolymph, which is just as nutritious to the mosquito.
Occasionally mosquitoes are found in amber, which as you may recall from episode 108 is fossilized tree resin. The oldest known was found in 79-million-year-old amber, so that means that yes, it could have bitten a dinosaur. But even if it still contained genetic material from dinosaur blood, and even if scientists were able to extract the dinosaur genetic material, it would be damaged DNA. Without a full genome of that particular dinosaur to compare against, we wouldn't be able to repair the DNA sufficiently to actually clone a dinosaur. But we might be able to clone the actual mosquito and compare it to modern mosquitoes to learn more about them! It's not as exciting as a dinosaur, but on the other hand there's not a lot of danger of being stomped on or eaten by a mosquito.
You can find Strange Animals Podcast online at strangeanimalspodcast.blubrry.net. That's blueberry without any E's. If you have questions, comments, or suggestions for future episodes, email us at strangeanimalspodcast@gmail.com. If you like the podcast and want to help us out, leave us a rating and review on Apple Podcasts or just tell a friend. We also have a Patreon at patreon.com/strangeanimalspodcast if you'd like to support us that way.
Thanks for listening!