Podcast: Play in new window | Download (Duration: 10:31 — 12.0MB)
Sign up for our mailing list!
This week let's look at a scientific mystery: what caused the golden toad to go extinct, and is it still alive after all?
Further reading:
A deadly fungus is killing frogs, but the bacteria on their skin could protect them
The male golden toad: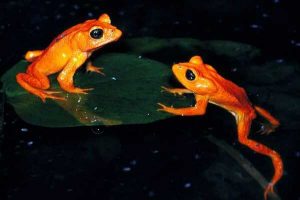 The female golden toad (photo by Mary Crump):
Monteverde Cloud Forest Reserve is gorgeous and hopefully still hides some golden toads: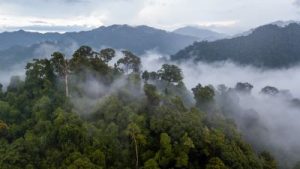 Show transcript:
Welcome to Strange Animals Podcast. I'm your host, Kate Shaw.
This is our 250th episode, not counting the various bonus episodes, and I should have prepared a special show as a result but I didn't notice until just now. But let's pretend this is a special episode 250 show. It's all about the golden toad.
The golden toad is from a tiny area of Costa Rica in Central America. I really do mean a tiny area. North of the city of Monteverde is the Monteverde Cloud Forest Reserve, and the toad was only known from one small part of the reserve that was less than two square miles in size, or about four square kilometers. Specifically, it's from a single ridge in the nature reserve.
A cloud forest is a type of high altitude rainforest. Because temperatures tend to be much cooler than in an ordinary rainforest, a cloud forest can look very different and sometimes wonderfully strange. Cloud forests are foggy a lot of the time and the trees are often covered in thick mosses. In some cloud forests the trees are quite small while ferns and other plants can grow extremely large.
The Monteverde Cloud Forest Reserve is home to thousands of plant and animal species, many of them found nowhere else in the world. That includes the golden toad.
The golden toad gets its name from the male's coloring. The males are a beautiful golden orange while the females are mostly gray or black with yellow, red, or green markings. As in many frogs and toads, females are larger than males, with a big female growing over two inches long from nose to butt, or about 5.5 centimeters.
The golden toad was only discovered by scientists in 1964 and described in 1966. The last golden toad was a male observed in May of 1989 during what should have been the mating season, but he was all alone. The golden toad was declared extinct in 2004 after repeated searches turned up no toads at all.
It's easy to think that because the golden toad was restricted to such a small area, it was inevitable that it would go extinct, but the toads were actually common throughout their range until suddenly they weren't. We're not sure what happened. Here's the story.
When the toad was first discovered, researchers estimated that there were around 1,500 adult toads living on the ridge. Most of the time the toads were hard to find, since during the dry season, or when they weren't actively hunting the insects they ate, they'd stay in underground burrows where it was always nice and damp. But when the spring rains started, the males would hop out and gather around shallow puddles at the base of trees. Females would join the males, and because there were always more males than females, they'd all try to be the one to fertilize her eggs. During this time researchers were able to observe and count the toads, which they described as looking like living jewels.
The female golden toad laid her eggs in the pools of rainwater. The eggs hatched quickly but the tadpoles needed to live in their pool for at least four more weeks until they metamorphosed into toadlets that lived on land. If there was too much rain, the pools would overflow and the tadpoles were in danger of being washed out to die. If there wasn't enough rain, the pools would dry out and the tadpoles would also die. But most years conditions were pretty good and lots of tadpoles lived to grow up. Until 1987.
A behavioral ecologist who specializes in amphibians, Martha Crump, was studying the golden toads in 1987. In April things seemed normal. The females laid their eggs in the shallow pools as usual, but then the rains stopped. The pools dried out and the eggs and tadpoles all died. When it rained again in May, the females laid more eggs and Dr. Crump counted them, because scientists do a lot of counting. She counted about 43,500 toad eggs. But the pools dried up again, and it was sadly easy for Dr. Crump to count how many tadpoles survived. It was only 29.
The next year, in 1988, there were only ten adult golden toads found. In 1989, one golden toad. In 1990 and beyond, zero golden toads.
The unusually dry spring of 1987 was a devastating blow to the golden toad population, but the adults weren't affected. They had their nice damp burrows to live in and lots of insects to eat. Dry conditions happen every so often but not every year. Obviously something else happened between 1987 and 1988 to kill off almost all the adult toads too.
Researchers couldn't figure out what might have happened. One hypothesis was that drought caused by the El Niño weather pattern was unusually severe in 1987 and killed off the adults as well as that year's eggs and tadpoles. Another was that pesticides had found their way into the environment and killed the toads. Many researchers hoped that the toads were actually still alive, just hiding in their burrows until conditions improved, and every spring for many years toad experts waited to see if the living jewels would emerge during the spring rains. But they never did.
At the same time, though, toads, frogs, and other amphibians around the world were declining in numbers and going extinct. A veterinarian named Lee Berger, who was working toward her doctorate degree, discovered why in 1998. It's a disease called chytridiomycosis, which is caused by a fungus. The disease infects the animal's skin, and since amphibians absorb water, oxygen, and some essential minerals through their skin, the disease kills them rapidly.
Chytridiomycosis doesn't kill every frog. Some species are more or less immune to the disease's effects, but when infected frogs are taken to other places by people, as pets or food or whatever reasons people have for moving frogs around, the disease spreads rapidly. By the time Dr. Berger identified the cause, dozens of species of amphibian had already gone extinct as a direct result of the disease, and it's continued ever since. The fungus spreads through water, so if a healthy frog moves into an infected pond, it's likely to contract the disease.
There's no cure for chytridiomycosis and treatment isn't always effective. It doesn't mean all amphibians are doomed, though. Studies of species that show natural immunity reveal that some amphibians have beneficial bacteria on their skin that stops the fungus from infecting it. Frogs from parts of Costa Rica show various levels of resistance to the fungus even though Costa Rica is particularly hard-hit when it comes to the disease.
The fungus especially thrives in cooler areas in high elevations—exactly the kind of place where the golden toad lived. Even so, the golden toad might have survived and developed a resistance to the disease, except for the bad luck of a drought year that killed off all the eggs and tadpoles at the worst possible time.
But while researchers have searched for the golden toad for years without luck, it might still be around. In 1991 one farmer reported seeing a pool full of healthy golden toads in a remote part of the cloud forest, including young toads. Other people have reported sightings too.
The important thing is that the Monteverde Cloud Forest Reserve is still protecting the golden toad's habitat, along with all the other animals and plants in the reserve. If the golden toad is still hanging on, hopefully with individuals that have developed a resistance to chytridiomycosis, it has a safe place to increase in numbers.
You can find Strange Animals Podcast at strangeanimalspodcast.blubrry.net. That's blueberry without any E's. If you have questions, comments, or suggestions for future episodes, email us at strangeanimalspodcast@gmail.com. If you like the podcast and want to help us out, leave us a rating and review on Apple Podcasts or Podchaser, or just tell a friend. We also have a Patreon at patreon.com/strangeanimalspodcast if you'd like to support us for as little as one dollar a month and get monthly bonus episodes.
Thanks for listening!