Podcast: Play in new window | Download (Duration: 17:56 — 18.4MB)
Thanks to Lorenzo and Page for suggestions used in this week's episode, and a belated thanks to Ethan for last week's episode! Let's learn about some of the cutest invertebrates out there!
Further reading:
Photosynthesis-like process found in insects
Mystery of the Venezuelan Poodle Moth
Further viewing:
Dr. Arthur Anker's photos from his Venezuela trip, including the poodle moth
The pea aphid, red morph and regular green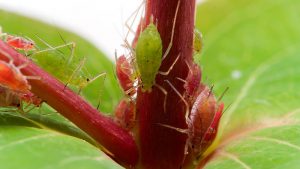 So many ladybugs: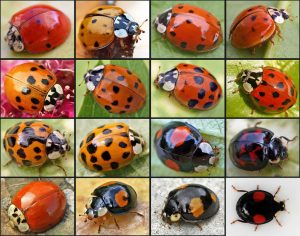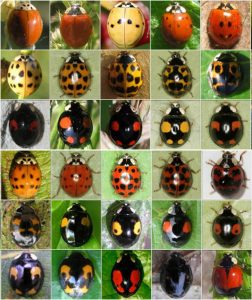 The sea bunny is a real animal, but it's not a real bunny: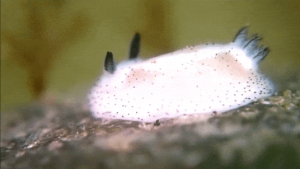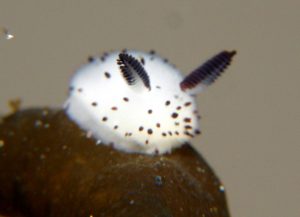 A larval sea bunny is SO TINY that fingertip looks like it's the size of a BUILDING: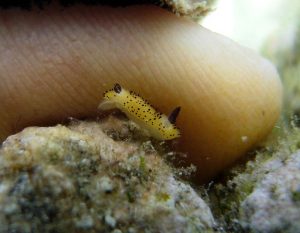 The bobtail squid not hiding (left) and hiding (right):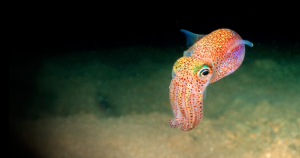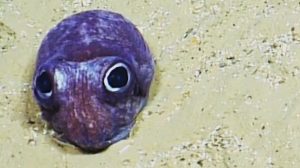 The bobtail squid is SO CUTE I MIGHT DIE: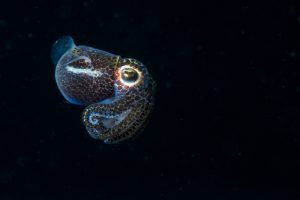 The Venezuelan poodle moth: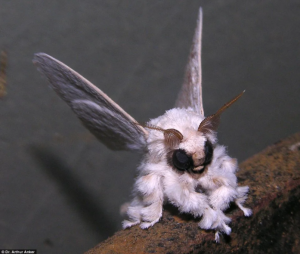 Not a Venezuelan poodle moth–it's a female muslin moth from Eurasia: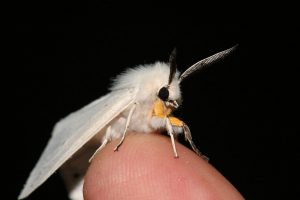 Not a Venezuelan poodle moth–it's a silkworm moth from Asia: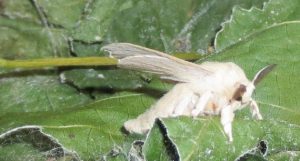 The dot-lined white moth: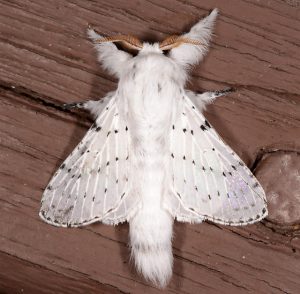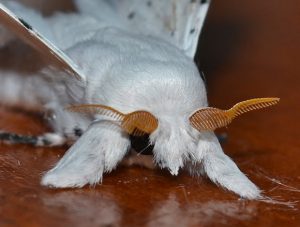 Show transcript:
Welcome to Strange Animals Podcast. I'm your host, Kate Shaw.
This week I promised we'd cover a cute, happy animal to make up for last week's extinction event episode, but instead of mammals let's look at some cute invertebrates! One of them is even a mystery animal. Thanks to Page and Lorenzo for suggesting two of the animals we're going to cover today!
We'll start with Lorenzo's suggestion, the pea aphid. Years and years ago I spent a slow day at work making a list of cute foods with a coworker, and peas were at the top of the list. Blueberries were second and I don't remember the rest of the list. Generally, cuteness depended on how small the food was and how round. Aphids are really small and peas are round, so the pea aphid has to be adorable.
The pea aphid, however, is not round. It's shaped sort of like a tiny pale-green teardrop with long legs, long antennae, and teeny black dots for eyes. It's actually kind of big for an aphid, not that that's saying much since it only grows 4 mm long at most. It's called the pea aphid because it likes to live on pea plants, although it's also happy on plants related to peas, such as beans, clover, and alfalfa. Cute as it is, farmers and gardeners do not like the pea aphid because it eats the sap of the plants it lives on, which can weaken the plant and can spread plant diseases.
During most of the year, all pea aphids are females. Each adult produces eggs that don't need to be fertilized to hatch, but instead of laying her eggs like most insects, they develop inside her and she gives birth to live babies, all of them female. An aphid can have up to 12 babies a day, called nymphs, and the nymphs grow up in about a week or a little longer. Then they too start having babies. Even though lots of other insects and other animals eat aphids, as you can see, they will always be numerous.
As the summer turns to fall and the days become shorter, some of the baby aphids are born with wings. Some are also born male, and sometimes the males also have wings, although they might not have mouths. These males and winged females mate and the females fly off to lay their eggs on clover and alfalfa plants, assuming they aren't already on clover or alfalfa plants. The eggs don't hatch until spring, and all the resulting nymphs are female.
Sometimes winged females are born if the plants where the aphids live get too crowded. The winged females can fly away and find new plants.
If you've ever had a garden, you're probably familiar with aphids. They spend most of the time on the undersides of leaves, drinking sap through specialized mouthparts called stylets. You may also have noticed that when you try to smush the aphids, all of them immediately drop to the ground. This protects them not just from being smooshed by a gardener's thumb, but from being eaten along with the leaves when a deer or other animal browses on the plants where they live.
Sometimes, instead of being leaf green, pea aphids are a pale reddish color. This is called the red morph. Red morph pea aphids are more likely to live on certain plants while the ordinary green pea aphids are more likely to live on others, although many times you can find both varieties on a single plant.
The red coloration of red morph pea aphids is due to larger quantities of a chemical called carotenoid [kerOTenoid] in its body. All pea aphids contain carotenoids, though, and it's not just used for coloration. Research suggests that the carotenoids absorb sunlight and produce energy that the aphid can use. It's a limited form of photosynthesis—you know, that thing that only plants do.
Not only that, the pea aphid produces the carotenoids in its body. Every other animal that needs carotenoids absorbs them from plants it eats, with the possible exception of a type of mite. The genetic sequence that allows the pea aphid to make its own carotenoids originally came from fungi. Somehow the aphid captured the genetic material from fungi, probably after eating it, and passed those genes down to its descendants. This is called lateral gene transfer and scientists aren't sure exactly how it works or how common it is.
Pea aphids also contain beneficial bacteria that produce nutrients it needs that it doesn't get from the sap it eats. The aphids can't live without the bacteria, and the bacteria can't survive outside of the aphids.
Even though the pea aphid is really common just about everywhere these days, it's actually an invasive species in most places. It's native to temperate parts of Eurasia but has spread to the rest of the world on cultivated plants. For small infestations of aphids, some people release certain species of ladybugs into their gardens, because many ladybugs love eating aphids.
Ladybugs, of course, are another cute invertebrate, specifically a family of beetles. They're also small and round, although not as small as aphids. A typical ladybug grows about 10 mm long at most. Depending on the species, a ladybug can be red, orange, yellow, or brown, usually with black spots but sometimes with black stripes, or it may be mostly black with red or yellow spots. Most eat tiny insects and other animals, but some species eat plant material.
The ladybug's bright coloring warns birds and other predators that it contains a toxin that makes it taste nasty. This even affects humans. I mean, obviously don't eat ladybugs, but sometimes if there are ladybugs on grapes used to make wine, and the ladybugs end up crushed along with the grapes in a wine press, the whole batch of wine will end up tasting bad. It's called ladybird taint so winemakers try to make sure any ladybugs are removed from the grapes before they're crushed.
In many cultures around the world, ladybugs are supposed to bring good luck. In some places, if you see a ladybug you should make a wish. We've talked about ladybugs before, most recently in episode 203, so let's move on to our next cute invertebrate.
This one lives in the ocean. It's called the sea bunny or sea rabbit, a type of nudribranch [noodi-bronk] that lives along the coastline of the Indian Ocean, especially in tropical waters. Nudibranchs are a type of mollusk that are sometimes called sea slugs. Many are brightly colored with beautiful patterns. Compared to some, the sea bunny is a little on the plain side. It's white, yellow, or rarely green, with tiny brown or black speckles. It looks fuzzy because it's covered in little protuberances that it uses to sense the world around it, as well as longer, thinner fibers called spicules. It also has two larger black-tipped protuberances that look for all the world like little bunny ears, although they're actually chemoreceptors called rhinophores. It really is amazing how much the sea bunny actually resembles a little white bunny with dark speckles, which would make it cute right there, because bunnies are cute, but it's also really small. It barely grows an inch long, or 2.5 cm.
Like other nudibranchs, the sea bunny is a hermaphrodite, which means it produces both eggs and sperm, although it can't fertilize its own eggs. When it finds a potential mate, they both perform a little courtship dance to decide if they like each other. After mating, both lay strings of eggs in a spiral pattern. The eggs hatch into larvae that are free-swimming, although the adults crawl along the ocean floor looking for small animals to eat. Some nudibranch larvae have small coiled shells like snails, which they shed when they metamorphose into an adult, but the sea bunny hatches into a teeny-tiny miniature sea bunny.
Cute as it is, don't pet a sea bunny! It's toxic! One of the things that sea bunnies especially like to eat are sponges, and many sponges contain toxins. The sea bunny absorbs these toxins to protect it from predators. Even its eggs are toxic.
Next we'll talk about another intensely cute marine animal, the bobtail squid. It's only a few inches long, or up to 8 cm at most, with a rounded mantle and short little arms. Small and round, the hallmarks of cuteness. It's also sometimes called the dumpling squid, which is extra cute and potentially delicious. Basically, it's no longer than your thumb and smaller around than a golf ball.
The bobtail squid lives along the coast of the Pacific Ocean and parts of the Atlantic and Indian oceans, and it's not just one species. It's an entire order containing around 70 species. The oceans are full of adorable little squids.
The bobtail squid has a symbiotic relationship with a type of bacteria, much like the pea aphid and its beneficial bacteria, but in the bobtail squid's case, the bacteria don't provide nutrients, they provide light. The bacteria are bioluminescent and help the squid hide from predators. You may be thinking, "Wait a minute, how does it help the squid hide to be lit up from within like a tiny squid-shaped lamp?" but that just proves that you're a land animal and not a water animal. If you're a big fish on the hunt for yummy bobtail squid to eat, you're probably hiding in deep water where the squid can't see you in the darkness, looking up for the telltale shadowy outline of a squid against the surface of the water. Day or night, the water's surface is much brighter than the water underneath it because it's reflecting sun, moon, or starlight, but if the squid is glowing faintly, instead of showing up as a dark shape against the brighter surface, it blends in. The light only shines downward and the squid adjusts it to be brighter or dimmer to match the amount of light shining on the water.
The bobtail squid is mostly nocturnal and will hide in the sand during the day or if it feels threatened, using its arms to pull sand over its body. All squids have large eyes, but the bobtail squid's eyes are especially large in comparison to its small body, which makes it even cuter. It eats small animals and especially likes shrimp. It can also change colors to blend in with its surroundings and communicate with other squid.
Let's finish with Page's suggestion, the Venezuelan poodle moth. I was going to start the episode with this one because it's so fuzzy and cute, but when I started research I realized that there's a mystery associated with this insect. I like to end episodes with a mystery if I can. I want to keep everyone guessing.
In late 2008 and early 2009, a zoologist named Arthur Anker was in southeastern Venezuela in South America, and photographed a fuzzy white moth he found. He didn't know what it was so he labeled it as a poodle moth when he posted the picture online. I've put a link in the show notes to all the photos he posted from his trip, including the poodle moth, and they're absolutely gorgeous. He has a lot of moth photos but the poodle moth was the one that went viral in 2012.
There are other cute, fuzzy moths that sometimes get called poodle moths, such as the silkworm moth. Silkworm moths are native to Asia and are one of the few domesticated insects in the world, together with the honeybee. If you've ever had a silk shirt, that silk probably came from the domestic silkworm, which has been raised for at least 5,000 years in China and other places.
Silk comes from the cocoons the silkworm moth larva spins. Each cocoon can contain up to a mile of silk fiber, or 1.6 km, in one long, thin thread. The problem is, to harvest the silk properly, you have to kill the silkworm inside, usually by throwing the cocoon into boiling water. If the silkworm is allowed to mature, it releases enzymes to break down the silk so it can get out of the cocoon, and that weakens any fabric made from the silk. You can get silk made from cocoons of silkworms that weren't killed, though, sometimes collected from wild moths.
Domestic silkworm moths have been bred so that they don't produce pigments, since that means the silk won't have any pigments either and can be dyed more easily. Domestic silkworms differ from their wild relatives in other ways too. Their cocoons are bigger, they no longer have any fear of predators, and they can no longer fly because their wings are too small for their bodies. The moth is covered in short white hairs that make it look fuzzy and cute, with black eyes. The larvae eat the leaves of the white mulberry tree or related trees, but adult moths don't eat at all and don't even have functional mouths.
So the silkworm moth is definitely a cute invertebrate, but what's going on with the Venezuelan poodle moth? What's the big mystery?
Well, no one knows what species it is. Some people have even accused Dr. Anker of making it up completely. Considering how many thousands of moths live in Venezuela, and how many new moth species are discovered every year, it's likely that the poodle moth is new to science. The trouble is that no one has seen it since. Anker wasn't on a collecting trip and he didn't realize the poodle moth might be something new to science, so he just took a picture of it and left it alone.
The best guess by entomologists who've examined the picture is that the poodle moth is a member of the genus Artace, possibly a close relation of the dot-lined white moth. The dot-lined white moth is white and fuzzy with tiny black dots on its wings. It mostly lives in the southeastern United States but there have been sightings in Colombia, which is a country in South America just west of Venezuela.
There are other fuzzy white moths in the world that are known to science, including the muslin moth that's equally small and cute. Female muslin moths are white and fuzzy with some gray or brownish-gray speckles on the wings, while male muslin moths are dark gray and fuzzy with black speckles on the wings. They live mostly in Eurasia.
Hopefully soon a scientist can find and capture a Venezuelan poodle moth and solve the mystery once and for all. Hopefully that scientist will also take lots of pictures so we can verify that it's just as cute as it looks in its first picture.
You can find Strange Animals Podcast at strangeanimalspodcast.blubrry.net. That's blueberry without any E's. If you have questions, comments, or suggestions for future episodes, email us at strangeanimalspodcast@gmail.com. If you like the podcast and want to help us out, leave us a rating and review on Apple Podcasts or just tell a friend. We also have a Patreon at patreon.com/strangeanimalspodcast if you'd like to support us that way.
Thanks for listening!