Podcast: Play in new window | Download (Duration: 18:12 — 20.8MB)
Sign up for our mailing list! We also have t-shirts and mugs with our logo!
We're down to the last few days to back our Kickstarter!
We've got a slightly different type of episode this week. Follow along as I try to find out more about the giant jellyfish that nearly sank a ship!
Further reading:
A lion's mane jellyfish: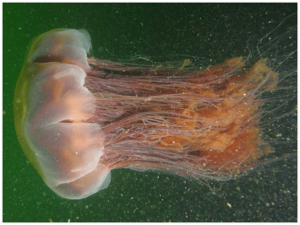 A giant squid: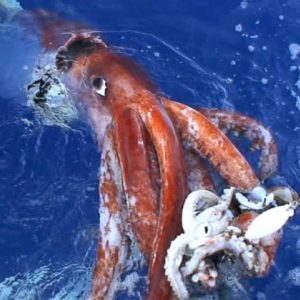 The first photo ever taken of a giant squid: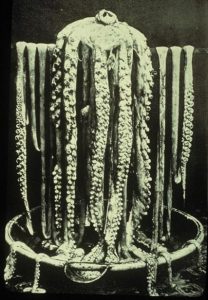 Show transcript:
Welcome to Strange Animals Podcast. I'm your host, Kate Shaw.
Halloween is behind us and we're all now ready to head into winter, if we live in the northern hemisphere, or summer, if we live in the southern hemisphere. This week's episode is a little different, but hopefully you'll like it.
Before we get into this week's topic, let me give you the very last Kickstarter update, I promise! From here on out you'll only get updates through the Kickstarter page if you backed the project. If you're listening to this episode within a day or two of its release on November 1, 2021, you still have time to back the Beyond Bigfoot & Nessie book! The campaign ends on Nov. 5, but at 12:03 am eastern time, and one of the many things I've learned about running a Kickstarter is maybe don't launch the project at midnight because then it ends at midnight. Remember that if we reach 100 backers before the end, I'll release a second bonus episode from the audiobook. I'm really late getting this episode done so it's actually Halloween as I record this, and we currently have 67 backers, which is amazing! Remember, we have a $1 tier if you just want to pitch a dollar in.
That reminds me, after the campaign is over I'm going to update the first bonus episode and take out the ten minutes of Kickstarter talk that starts it. Thanks again to everyone who's backed the project. I'm blown away by everyone's support! If you want a copy of the book but not right now, it'll be available to buy from your regular book-buying places but only after all the Kickstarter backer rewards are sent.
As it happens, this week's episode is connected with the Beyond Bigfoot & Nessie book. Specifically, I decided to add a chapter about the giant jellyfish we talked about in episode 16, but to do that I needed to do a lot more research.
That story has actually bothered me for a long time. When I first started the podcast, I wasn't always as diligent in my research as I am now. If a story came from a source I trusted or had enough realistic-sounding details, I'd assume it was accurate. This story met both criteria but whenever I thought about it, something felt off. So I was glad to dig in and find out more.
This episode is about the research process I went through, which will give you a little bit of a behind-the-scenes look at how I approach each episode. We'll also learn about a couple of other weird events where a ship or boat was seemingly attacked by a sea monster.
Let's start with the story as I reported it in episode 16. I think you will appreciate how much better our audio quality is these days. Here it is:
"In 1973, the Australian ship Kuranda collided with a huge jelly in the South Pacific while traveling through a storm on her way to the Fiji Islands. The jelly was so enormous that the deck was covered in jellyfish goo and tentacles up to two feet deep [61 cm]. One crew member died after getting stung. The weight of the jelly was so great, an estimated 20 tons [18 metric tons] that it started to push the ship nose-down and the captain, Langley Smith, sent out an SOS. The salvage tug Hercules arrived and sprayed the Kuranda's deck with a high-pressure hose, dislodging the jelly. Samples were sent to Sydney and tentatively identified as a lion's mane jelly."
My first step was to find where I got that story. I was pretty sure it was from Karl Shuker's blog but when I looked, it wasn't there. I checked his books that I own and it wasn't there either. A quick internet search turned up the story in a lot of places with more or less identical wording, but no one said where they'd found the story—except one site, which referenced a book called Mysteries and Monsters of the Sea.
I looked it up and discovered it was a 1998 book, also published as Mysteries of the Deep, made up of articles from FATE Magazine. One of those articles is titled "Giant Jellyfish" and is by Karl Shuker.
The story appeared in the March 1994 issue of FATE, so my next step was to find the article. Karl Shuker is a zoologist who writes a lot about mystery animals, and he's very good about sharing his sources.
FATE Magazine is still around and isn't giving its old issues away for free. Then, in one of those amazing, wonderful coincidences, I found an ebay auction for that very issue that had nice clear photographs of several pages to show how good a condition it was in. One of those pages just happened to be the one I needed. I grabbed a screenshot and enlarged it so I could read the text. Shuker writes, "One of the most dramatic cases on record was documented by James Sweeney in Sea Monsters (1977), and took place in January 1973."
Bingo! Now I just had to find a copy of that book. I found a used copy online that wasn't very expensive and ordered it, but a little more searching online led me to a digitized version that I was able to access by logging in to the Internet Archive.
I found the story on pages 73-76. It has lots of details that should be easily corroborated, although unfortunately there isn't a specific date. My next step was my newspapers.com account to see how the event was reported at the time.
This is where I came up against a blank wall. There was nothing in any of the hundreds of digitized newspaper archives available. I searched for the name of the ship, the Kuranda. I searched for the name of the captain, Langley Smith. I couldn't find a single mention of either, never mind an encounter with a gigantic jellyfish.
It wasn't looking good for the story, but I had one more clue. The account starts out in Sweeney's book:
"One of the strangest, and probably best documented, sea monster stories to be found anywhere is recorded in the Colonial Secretary's File of the Archives, State Library, Melbourne, Australia. Written testimony submitted by the officer of the watch and others tells clearly what happened to the steamer Kuranda."
Melbourne is in Victoria, so after some searching online for the archives mentioned in the book and not finding them, I used the Ask a Librarian feature on the State Library Victoria website. I got a response only a few hours later asking for a little more information, which I supplied. I gave the gist of the story, including the details of the ship's name, the captain's name, and so forth, and I even gave the link to the digitized version of Sweeney's book.
A few days later I got a response from a librarian named Jane. I'll break it down for you.
Jane discovered there were two ships named Kuranda. One was broken up in 1936, the other wrecked in 1969.
In 1973, when this story was supposed to have taken place, there was no longer a colonial secretary in any Australian state. Therefore there is no Colonial Secretary's File of the Archives from 1973 or after.
And there are no records of a Langley Smith who is a ship's captain.
At this point I decided, reluctantly, that the story is probably fiction. I actually dug around looking at the table of contents of various 1970s magazines that might have published a fictional story about the giant jellyfish and claimed or implied it was real. I even thought about finding Sweeney's email and just asking him if he remembered where he learned about this story. Sadly, it turns out that he died in 2019.
According to his obituary, Sweeney worked as a forest ranger for most of his life and was also a voracious reader. I don't want to believe that a forest ranger who likes to read could possibly stretch the truth so I assume he read about the giant jellyfish somewhere, thought it was a true story, and added it to his book. This was long before the internet so he couldn't just look stuff up online like I'm doing.
Just to make sure, though, let's take a look at something else Sweeney mentions in his book. He writes, "Perhaps those aboard Kuranda were luckier than they realized. For the Times of London carried a story somewhat similar. Unfortunately, it ended in absolute horror."
Back I went to newspapers.com, and by the way, a big thanks to the podcast's Patreon supporters whose contributions allow me to subscribe. The Times isn't listed on the site, which mostly focuses on American newspapers, but when I did a search for the name of the ship given in Sweeney's book, the steamer Strathowen, during the 1870s when he reported it occurred, I got lots of hits.
Here's an excerpt from The Freeman's Journal of Dublin, Ireland from July 2, 1874.
"The octopus is likely to lose none of its popularity in the Brighton Aquarium, if we are to believe a strange story which comes from India. The master of the screw steamer Strathowen, on his way to Madras, observed a little schooner lying becalmed, and between him and her what he at first thought to be a bank of weed. The mass was perfectly quiet, but after a time began to move towards the schooner. Suddenly it struck her, and sunk her to the bottom. The master of the Strathowen put about, dropped boats, and saved five men from the sunken ship. James Floyd, the master, was rescued, and he tells his story in the most circumstantial fashion. The Pearl schooner, 150 tons, was bound from the Mauritius to Rangoon. On the 10th of May about five in the evening he observed a great mass rising slowly out of the sea. It remained stationary, and looked like the back of a huge whale. In a hapless moment he took his rifle and hit the monster, which began to lash about furiously. … All the men were then ordered up, and knives and hatchets and cutlasses were grasped, and all awaited the advent of the terrible stranger. The narrator proceeds: 'We could now see a huge oblong mass moving by jerks just under the surface of the water, and an enormous train following; the oblong body was at least half the size of our vessel in length, and just as thick. The wake or train might have been 100 feet long. In the time that I have taken to write this, the brute struck us, and the ship quivered under the thud; in another moment, monstrous arms like trees seized the vessel, and she heeled over. In another second the monster was aboard, squeezed in between the two masts…. [T]he brute holding on by his arms, slipped his vast body overboard, and pulled the vessel down with him on her beam ends." The general opinion amongst the sailors is that the big bank of sea-weed was an octopus, but we dare say a little confirmation of the story would be welcomed by us all whether naturalists or not."
This is actually a brief and measured account of the story that appeared in the Times and which later hit the American papers. The longer account reads very much like fiction. The Dublin paper's tone of interested skepticism matches what I feel, but the story does corroborate what Sweeney wrote in his book about sea monsters, so at least Sweeney wasn't making stuff up.
I found a 2019 article in Skeptical Inquirer that did all the research about the octopus or squid sinking the Pearl. According to the author, there's no record of a ship named the Strathowen or a captain named James Floyd. The author also points out that Jules Verne's novel Twenty Thousand Leagues under the Sea was published in 1869, only five years before, and included an attack on the submarine by giant cephalopods.
Before you get too discouraged, though, the Skeptical Inquirer article also talks about a giant squid attacking a small boat, and that one actually happened.
In October 1873 in Conception Bay, Newfoundland, two fishermen and a boy were crossing the bay in a rowboat and noticed something floating in the water. As they neared it, it grabbed the boat with two tentacles and pulled so hard that the boat started to take on water. Luckily there was a hatchet in the boat, and the boy grabbed it and chopped off the tentacles. Later he sold the longer tentacle to a minister who lived nearby and who was interested in squid, which were often referred to as devil-fish back then. The minister, Moses Harvey, wrote about it later and reported that the partial tentacle was as thick as a man's wrist and measured 19 feet long, or almost 6 meters.
Only a few weeks later Harvey bought a giant squid that had been tangled in a fishing net and hauled ashore. He arranged to get a photograph of it because he knew a lot of people wouldn't believe how big it was otherwise, and his photo was the very first one taken of a giant squid. It wasn't until 2004 that the first photographs of a living giant squid were taken.
We talked about the giant squid in episode 74 and we talked about some other types of huge squid in episode 235. I'm willing to bet that there are even larger squid living their quiet squid lives in the depths of the ocean, just as there are probably jellyfish larger than any human has ever seen. Let's just hope they leave ships and boats alone.
You can find Strange Animals Podcast at strangeanimalspodcast.blubrry.net. That's blueberry without any E's. If you have questions, comments, or suggestions for future episodes, email us at strangeanimalspodcast@gmail.com. If you like the podcast and want to help us out, leave us a rating and review on Apple Podcasts or Podchaser, or just tell a friend. We also have a Patreon at patreon.com/strangeanimalspodcast if you'd like to support us for as little as one dollar a month. This month's Patreon episode is about two hikers in the Pyrenees Mountains who heard a ferocious, terrifying roar out of the darkness near their camp.
Thanks for listening!