Podcast: Play in new window | Download (Duration: 8:56 — 9.9MB)
Thanks to Dean for suggesting this week's topic, the marmot!
Thanks also to Al-Ka-Lines Studio for the beautiful bat pin! You should definitely visit their online shop, because all their jewelry is hand-made by the two of them.
Further reading:
The secret to longevity? Ask a yellow-bellied marmot
The yellow-bellied marmot doing a sit [By Inklein, CC BY-SA 3.0, https://commons.wikimedia.org/w/index.php?curid=2675916]: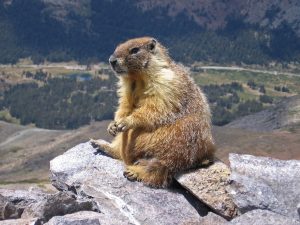 A groundhog keeping an eye out for danger: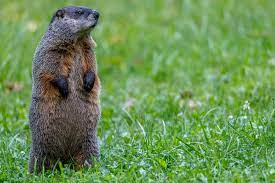 Show transcript:
Welcome to Strange Animals Podcast. I'm your host, Kate Shaw.
This week we're going to have a short little episode about a short little animal suggested by Dean, although I don't know if Dean is short and/or little. Probably not. The name Dean makes me think of a tall person, probably someone who plays sports and can run really fast, so basically completely unlike a marmot. Dean suggested the marmot, specifically the yellow-bellied marmot.
Before we get started, two quick notes. First, thanks so much to Kathi and Alex of Al-Ka-Lines Studio for the gorgeous bat pin! They make hand-crafted leather jewelry and while they usually sell wholesale to shops, I checked with Kathi to see if it was okay to link to their shop and they said that yes, they sometimes sell to individuals too. I've put a link in the show notes in case you're interested in seeing what they have for sale. They recently started listening to the podcast in order from the first episode and so far they're not sick of my voice yet.
Second, I'll be at Furry Weekend Atlanta this coming weekend, assuming you're listening to this episode when it comes out on May 8, 2023. If you're going to be there too, let me know and we can meet up. I went to way too many conventions last year so this one and Dragon Con at the end of August are the only ones I have planned this year, and I'm not on any programming on either. I just plan to look at people's amazing costumes and attend interesting panels and have fun dancing in the evenings. Also, I'll probably eat a lot of pizza.
Now, on to the marmots!
If you live in North America, you may have seen a marmot without realizing it. I didn't realize that the groundhogs that are pretty common where I live in the eastern United States are a type of marmot. Similarly, if you live in the western part of North America, especially in mountainous areas, you may have seen the yellow-bellied marmot. Other species of marmot live in Asia, Europe, and other parts of North America. One interesting thing is that the groundhog of eastern North America is actually more closely related to the marmots of Europe and Asia than it is to the other North American marmot species.
Marmots are big rodents related to squirrels, and in fact they're considered a type of ground squirrel along with the closely related chipmunks and prairie dogs. They dig burrows and mostly eat plant material, and can grow quite large. The largest species is probably the Olympic marmot that only lives in the state of Washington in the Pacific Northwest of North America, which can weigh up to 18 lbs, or 8 kg. That's its summer weight, though, when it's had time to eat lots of food. All marmots hibernate and during that time they survive on the fat reserves they build up in warm weather. Basically all marmots are about the size of a cat, but they're big chonks with short legs, short tails, little round ears, and a blunt muzzle. Its thick fur makes it look even larger than it really is.
The yellow-bellied marmot mostly lives in higher elevations and, like all marmots, it's well adapted to cold weather. It's a social animal that lives in small colonies and spends most of its time underground when it's not out finding food. It's mostly brown with yellowish markings underneath and a spot of white between its eyes. It usually digs its burrow among rocks and can have multiple burrows in its territory, so if it spots a predator it doesn't have far to run to get safely underground. It digs an especially deep burrow to hibernate in, sometimes as much as 23 feet deep, or 7 meters. Since it spends as much as eight months hibernating every year, it needs to stay comfortable. It lines its sleeping chamber with dried leaves and even digs a little side burrow that acts as a latrine.
In a study released in March of 2022, a team of scientists studying yellow-bellied marmots discovered that when it hibernates, an adult marmot's body basically stops aging. The marmot exhibits true hibernation where its body temperature drops almost to the air temperature and its breathing and heart rate slow dramatically. It will hibernate for a week or two, wake up slightly for about a day so it can stretch and rearrange itself more comfortably, and then will go back into hibernation for another few weeks. This goes on for almost three-quarters of the year and during that time, the yellow-bellied marmot doesn't eat or drink anything. It just lives off its fat reserves, and because its metabolic rate is so low it hardly uses any energy on any given day, only burning about a gram of fat. A small paperclip weighs about a gram, to give you a comparison. As a side effect, the marmot basically only ages during the summer when it's active. The scientists think this may be the case for all animals that hibernate.
Like other marmots, the yellow-bellied marmot starts its mating season as soon as it emerges from hibernation around May. Males may have several mates and they all live together with him. Females give birth to around four babies during the summer, which like kittens and puppies are born without fur and with their eyes still sealed shut. They stay in the mother's nesting burrow for the next six weeks, at which point they can see and have grown fur, so they can go outside with their mother. The babies stay with their mother for up to two years.
Most marmot species are social like the yellow-bellied marmot, but the groundhog is different. It's mostly solitary, although it's still part of a complex social network of all the groundhogs in a particular area, and sometimes it will share a burrow with other groundhogs. It also prefers lower elevations while most marmots prefer high elevations. It lives throughout most of the eastern United States and throughout much of Canada.
Because the marmot is a relatively big, common animal, it's an important food source for many animals. Bears will sniff out marmot burrows and dig them open, and badgers, foxes, coyotes, and mountain lions eat lots of marmots in North America. In Europe and Asia, marmots are frequently eaten by foxes, wolves, snow leopards, and hawks. People will eat them too. In parts of Mongolia where marmots are common, it's been a food source for thousands of years, traditionally prepared on special occasions by putting hot stones into the dead animal's body cavity and letting the heat cook the meat slowly. But the marmot can carry diseases that humans can catch, including the plague, so these days a dead goat is often used instead of a marmot.
After I learned this, I naturally got distracted and started reading about other traditional Mongolian foods, and now I suddenly remember that I haven't eaten anything today but trail mix and toast. So I'll leave you with a final marmot fact. When a marmot sees a predator, it will whistle to warn other marmots, and the whistle sounds like this:
[marmot whistle]
Now I'm going to go make myself dinner. But it won't be marmot.
You can find Strange Animals Podcast at strangeanimalspodcast.blubrry.net. That's blueberry without any E's. If you have questions, comments, or suggestions for future episodes, email us at strangeanimalspodcast@gmail.com. If you like the podcast and want to help us out, leave us a rating and review on Apple Podcasts or Podchaser, or just tell a friend. We also have a Patreon at patreon.com/strangeanimalspodcast if you'd like to support us for as little as one dollar a month and get monthly bonus episodes.
Thanks for listening!