Podcast: Play in new window | Download (Duration: 8:18 — 9.9MB)
Thanks to Max for suggesting one of our slightly spooky amphibians this week!
Further reading:
New crocodile newt discovered in Vietnam
Further watching:
Brave Wilderness Giant Screaming Frog!
The new Halloween-y crocodile newt discovered in Vietnam [photo by Phung My Trung and taken from the article linked above]: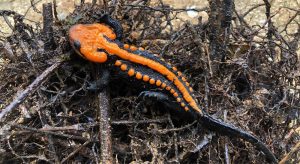 A smoky jungle frog: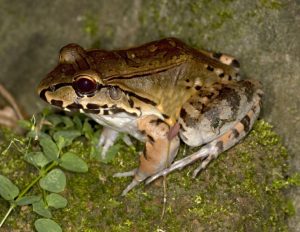 A screenshot from the video linked above: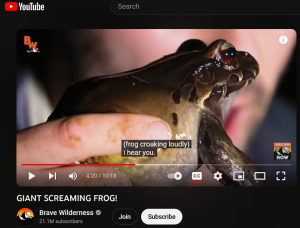 Show transcript:
Welcome to Strange Animals Podcast. I'm your host, Kate Shaw.
It's the end of September and you know what that means: we're about to start Monster Month! This year I have so many awesome ideas for episodes that we're starting monster month early, with a non-spooky episode about two sort of spooky-looking amphibians. Thanks to Max for suggesting one of the animals we're about to talk about!
Instead of rating the monster month episodes on a spookiness scale from one to five ghosts, this year we're rating them on a spookiness scale of one to five bats, which seems more appropriate. This episode is only one bat, meaning even our younger listeners shouldn't find it scary.
But first, a quick correction. Thanks very much to Mary for catching a mistake I made in last week's rhinoceros episode. I said that black rhinos can weigh 18 kilograms, when I should have said 1800 kilograms. 18 kg is about 40 pounds, so I think you can agree that I made a BIG mistake.
Now, on to the "spooky" amphibians.
Lots of amphibians live in southeast Asia, many of them never seen by scientists. In 2018, a team of scientists were studying crocodile newts in Vietnam when they discovered one that didn't look like any of the many other crocodile newts that live in Asia. Since there are over 30 species known, with new ones being discovered all the time, including seven others from Vietnam alone, they suspected this might be a species new to science.
The new newt lives in high elevations in the central highlands in Vietnam, much farther south and in much higher elevations than the other known crocodile newt species. After the initial finding in 2018, the lead scientist, an amphibian and reptile expert named Phung My Trung (apologies because I probably pronounced his name wrong) spent four years searching for more specimens and learning about them before he described it as a new species.
One thing I love is that he was quoted as saying that the adult newts "were so beautiful that I was shaking and could hardly believe I was holding a live specimen in my hand." And it is absolutely a gorgeous animal. It's black with orangey-red markings on its back, lovely Halloween colors, and in fact the markings sort of look like the skull, backbone, and ribs of a cartoon skeleton. Females are bigger than males, and a big female can grow as much as 3 inches long, or 7.5 cm, from snout to vent, not counting its tail that's almost as long as its body.
That's pretty much all we know so far about this newt. Because it appears to have such a restricted range, it's most likely endangered due to habitat loss and climate change, but now that we know it's there, scientists and conservationists can work to keep it and its habitat safe.
Our other amphibian this week is one suggested by Max. Max, by the way, is an incredible artist who specializes in making reptiles and amphibians out of clay. Max asked specifically about the giant screaming frog, which definitely sounds like a Halloween-themed animal.
The giant screaming frog isn't the actual name of the frog, or at least I couldn't find a frog with that specific name. I think it's from an awesome video posted in 2017. I'll put a link in the show notes if you want to watch the video, which is a YouTube channel called Brave Wilderness. In the video, a man called Coyote Peterson catches a giant frog called the Smoky Jungle Frog. When he does, the frog makes this sound:
[screaming frog!]
That doesn't actually sound all that spooky. But it is a warning call so I bet other smoky jungle frogs think it's terrifying!
The smoky jungle frog lives in tropical and subtropical areas of Central and northern South America, where it lives in swamps, ponds, and even rivers, especially in rainforest environments. It's a bit unusual in that males are larger than females, although only slightly. Both males and females grow about 7 inches long from snout to vent, or 18 cm, and are a mottled brown with darker spots and stripes that help them blend in with dead leaves on the forest floor.
The smoky jungle frog is nocturnal, and during the day it stays hidden in a burrow or buries itself in fallen leaves. At night it comes out to find food, and because it's such a big, strong frog, it eats animals much larger than insects. It's been observed eating small birds, especially baby birds, bats, snakes up to 19 inches long, or 50 cm, lizards, and sometimes even other frogs, including poison dart frogs. How embarrassing would that be if you were a bat, with strong wings and the amazing ability to echolocate, and you got eaten by a frog.
When a frog feels threatened, it has several ways to deter potential predators. It can make itself look even bigger by puffing its body up and standing up higher on its legs instead of sitting in a typical frog squat. It also secretes a toxin through its skin, which not only makes it really slippery but also makes it taste awful. It's not dangerous to humans but can result in a painful burning sensation and rash if the toxin gets into a cut on the skin. If any of the mucus gets into your eyes, they will swell up painfully for hours.
The frog will also give its alarm call if something grabs it. Let's listen to it again:
[frog 'screaming']
During mating season, the male develops little spikes near his wrists and on his chest. This helps him grasp a female without slipping off so he can fertilize her eggs as she lays them. The male uses his back legs to churn up the water and mix it with mucus and sperm to create a foamy nest for the female's eggs, which protects the eggs from predators and makes sure they won't dry out. The eggs hatch a few days later, and the tadpoles stay in the nest at first where they eat…well, they eat each other. The tadpoles that hatch first eat the other eggs, and the bigger tadpoles eat the smaller tadpoles. Soon, though, rain washes them out of the nest into open water, where they spend the next month or so eating small insects and algae until they metamorphose into little frogs that live on land. Unlike many frogs, the toes of the smoky jungle frog aren't webbed since they don't spend much time in the water.
So many times in this podcast I have to explain that an animal is endangered, so I'm happy to report that the smoky jungle frog is doing just fine. It's a common animal throughout its range.
You can find Strange Animals Podcast at strangeanimalspodcast.blubrry.net. That's blueberry without any E's. If you have questions, comments, or suggestions for future episodes, email us at strangeanimalspodcast@gmail.com. We also have a Patreon at patreon.com/strangeanimalspodcast if you'd like to support us for as little as one dollar a month and get monthly bonus episodes.
Thanks for listening!