Podcast: Play in new window | Download (Duration: 19:49 — 20.5MB)
This week is our first two-parter ever! I don't intend to do that often but there was just too much to go over for one episode. This week we'll talk about humans: where we come from, how we evolved, and who our closest cousins are–Neanderthals and Denisovans.
Some young humans. Humans can do many surprising things, including surfing, making stained glass, and repairing helicopters. Most humans like the color blue and enjoy listening to music.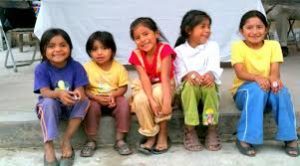 The bracelet found with Denisovan bones in a Siberian cave. Humans didn't make or wear this lovely thing, Denisovan people did.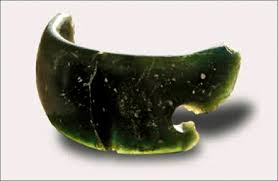 Further reading:
How to Think Like a Neandertal by Thomas Wynn and Frederick L. Coolidge
Show transcript:
Welcome to Strange Animals Podcast. I'm your host, Kate Shaw.
This will be our first two-part episode. There's so much to cover with this topic that I decided to split it into two. This week we're going to investigate an unusual family of great apes: both the living representative and their extinct relatives—and I don't know why I'm saying "their extinct relatives," because the great apes in question are known as Homo sapiens.
Humans tend to view ourselves as separate from the natural world. Some of us see ourselves as special, above other animals and better than them. Some of us see ourselves as despoilers of nature who can't be trusted at all. But in reality, we're neither angels nor devils. We're animals too, and we fit neatly in the world because we evolved to live here, just like every other animal did too.
Humans have two major things going for us. First of all, we're really smart. We're only now learning the ways other animals show high intelligence, but even so, hands down we are the brightest apes in the circus. Our intelligence allows us to invent amazing things to make our lives more comfortable, like beds and shoes and medicine and umbrellas and podcasts. Unfortunately, our intelligence also lets us invent things that aren't so nice, like bombs, because like our close cousins the chimpanzees, we can be real jerks.
But besides our intelligence, which is an obvious plus, we've got something very few other animals have: stamina, and the ability to shed heat efficiently, which makes us tireless hunters. In fact, that combined with our ability to make and use tools made early humans pretty much unstoppable.
Persistence hunting is only practiced by a few species of animal, like grey wolves, spotted hyenas, and humans. Humans aren't especially fast runners compared to horses and deer and other prey animals, but we can just run on and on, sweating to cool ourselves, while our prey has to rest to cool down. One downside to this is that we can drive ourselves to heat exhaustion without realizing it, when conditions are just too hot to be constantly active.
I just looked this up, because I just realized I didn't know if other female animals menstruate like human women. It turns out that female chimps do, along with a few other primates—and bats, for some reason. Solidarity with our bat girlfriends.
Actually, all placental mammals prepare a womb lining periodically, but when it turns out they don't need it because they're not going to have babies, they just reabsorb the material. Only a few species shed it, and even in humans we reabsorb most of it. Some researchers think we menstruate because it's actually easier on the body to just dump the last of that unused stuff rather than spend extra energy absorbing it.
Now that we all know a few things about humans that we might not have known before, here's a somewhat simplified overview of how humans evolved.
Humans and our ancestors are called hominins collectively. There were some apes 6 or 7 million years ago that were probably somewhat bipedal, and which are considered the earliest known hominins. We're not sure which of the several species is our direct ancestor and which is our last shared ancestor with gorillas and chimpanzees.
Bipedalism is a defining trait of hominins. It took a long time to develop because there are a lot of skeletal and other changes needed to make it work effectively. By about 3 or 4 million years ago, the Australopithecines had evolved, and we know they walked upright at least part of the time because we have a fossilized track.
But why did bipedalism develop in the apes at all? Of all the apes, only humans developed bipedalism, and it actually still gives us a lot of problems: weak backs that are subject to injury, for instance, and even increased difficulty in childbirth, since the human pelvis had to change so much to adapt to walking upright. The cause was probably habitat change.
If you look at a map of Africa, you'll see what looks like a string of lakes on the eastern side of the continent. Those lakes, and the volcanoes scattered around the area, including Mount Kilimanjaro, are caused by the East African Rift. Researchers are still working out what exactly is causing the rift, but we do know what's happening in general. The tectonic plate Africa sits on, which is naturally known as the African Plate, is splitting in two.
This sounds alarming, especially if you happen to live there, but it's a ridiculously slow process from our point of view. The rift widens barely seven millimeters a year. But that adds up when you're talking millions of years, and the rift started at least ten million years ago and will continue for another ten million years until the plates separate completely and those lakes become part of the ocean.
Around the time the rift started forming, the East African plateau rose up, accompanied by a lot of volcanic activity. This caused a major change in the local habitats. What had once been thick forest and lush jungle became open woodland and savanna. Grasses grew tall, there wasn't as much cover, and the animals that evolved and moved into the area were fast runners. It wasn't a great area to be a knuckle-walker like other apes, but it was ideal for apes who could stand and walk upright.
The rift is where we've found so many important hominin fossils, including that of Lucy. Lucy was an Australopithecus who lived 3.2 million years ago. In Ethiopia, where the partial skeleton was found, she's known as Dinknesh, which means "you are marvelous" in the local language.
That kind of makes me want to cry a little. Lucy wasn't just some ape who could walk upright part of the time while carrying things. She was our great-great-great-a million times-great grandma.
[oops copyright infringement hahahahahahahahahahaha]
By around two and a half million years ago, Homo habilis had evolved. Homo habilis probably still looked a lot like an ape, but was also getting recognizably human. They walked upright all the time and made stone tools. Then, a little less than two million years ago, Homo erectus appears in the fossil record.
Homo erectus was definitely human-looking, with a human-like nose, ordinary human-sized height, and very little hair except on the head. And Homo erectus had dark skin, which is linked to the loss of body hair.
By a little less than one million years ago, Homo erectus was wearing clothes, cooking their food, and were adept in making and using stone tools. If you went back in time and met a Homo erectus, you'd think you were just meeting a really weird-looking person—and you would be right. Also, where did you get the time machine and can I get a ride in it?
By 200,000 years ago, modern humans, Homo sapiens, had fully evolved. If you could go back in time and meet those early humans, they would look, act, and think like the people you see around you today.
Of course, evolution isn't as cut and dried as it sounds here. When one species evolves over long, slow generations into another, that doesn't mean the population it evolved from vanishes. You may have heard the so-called argument against evolution: if humans evolved from monkeys, why are there still monkeys?
Well, first of all, apes and monkeys are different animals entirely. Both monkeys and apes, and all the other primates, evolved from a distant ancestor that wasn't a monkey or an ape, but which had the characteristics that made it distinctly primate instead of feline or canine or hippopotamine…that's not a word.
Second of all, species evolve because of environmental pressures, and those same pressures may not be present in all parts of the species's range. Homo erectus survived well into the era of modern humans, and in fact we probably killed them off, either directly (because remember, we can be jerks) or indirectly by outcompeting them in the same habitats.
At some point, humans started moving out of Africa into other parts of the world, maybe about 55,000 years ago although we're not really sure yet. Researchers are still working it all out, but some research suggests there might be more than one wave of migration, or that the migration started much earlier than 55,000 years ago.
The hominins I've mentioned so far weren't the only ones around. Those were only our direct ancestors. There were others who split off from our ancestors and evolved separately, and if they hadn't all died out (again, thanks to us, Homo sapiens jerkuses), we'd have populations of living cousins who are much more closely related to us than the other great apes. So let's learn about some of them!
I've actually been putting off doing this episode because right now, we're in the middle of a golden age of hominin discoveries. I kept thinking that if I just waited a few more weeks or months, new findings might very well be announced. In fact, right after I started research, sure enough, new information was published about a recently discovered Denisovan baby tooth.
There are two known groups of hominins who aren't direct human ancestors to Homo sapiens, Neanderthals and Denisovans. They were around at the same time as modern humans for at least a while, but not usually in the same places.
Neanderthals spread throughout parts of northern Europe and Asia, and the Denisovans spread into Asia and down through the Malay Archipelago and into Australia. Again, I need to stress that these were not direct human ancestors. While they could and did interbreed with Homo sapiens, and many modern populations carry traces of Neanderthal and Denisovan DNA, there is no practical genetic difference in a human from one continent or background and a human from a different continent or background. We're all human.
Around 1.8 million years ago, a population of Homo erectus migrated into Eurasia, where they gave rise to Neanderthals and Denisovans. When humans later migrated into the same areas, they encountered their close cousins and lived alongside them for possibly as long as 10,000 years before the human population increased to the point that…those other guys? They had to go.
The first Neanderthal fossils were discovered in 1829 in Belgium, but it's the 1856 discovery of fossils in a cave in Neader Valley in Germany that gave us their name. "Thal" [pronounced like the word tall] means dale or valley in German, spelled with a TH, which is why so often the name is pronounced Neander-thal. It doesn't really matter how you pronounce it.
Anyway, there's still a lot of controversy regarding whether Neanderthals are a subspecies of Homo sapiens or a separate species in their own right. One incredibly "clever" and just precious suggestion in 1866 was that the group be named Homo stupidus. In fact, Neanderthals were probably as smart as humans and were definitely bigger and stronger than us (so don't make jokes about them). They were well adapted to the cold with a barrel chest, relatively shorter limbs than humans, and an overall more robust build. They probably had better eyesight than we do too. Genetic evidence suggests that some populations may have had light skin and red or blond hair.
But it's possible they weren't as socially adept as humans. The average Neanderthal social group consisted of a close family unit—mother, father, and kids, or brothers and their mates, who were not related to one another, plus their kids—rather than extended relatives and related families, as is typical among humans. It's likely that several family groups sometimes came together to share particular bonanzas in food. Neanderthals frequently killed mammoths, and a full-grown mammoth could feed a whole lot more than one family before the meat spoiled.
Grandparents probably weren't usually part of most family groups not because no one liked their Grandma back then, but because Neanderthals had short, brutal lives. They speared mammoths at close range to kill them. That is metal as heck, but it's also really hard on the body. It was rare for a Neanderthal to survive past 30, and by then he or she would look like an old, old person due to all the injuries sustained while hunting.
The authors of the marvelous book How to Think Like a Neandertal, which I'm drawing from quite a lot here, point out that Neanderthals and rodeo cowboys show similar patterns of injury over their lifetimes. And Neanderthals didn't have hospitals and doctors they could visit.
While Neanderthals did make stone tools and use fire, analysis of their campsites shows sometimes interesting compared to human campsites. There's no central fire pit. Almost every individual had their own fire where they did their own thing. In prehistoric human campsites, way back 25,000 years ago and even more, there's generally one central fire that everyone gathers around. We still do this the world over. Can you even imagine going to summer camp and every kid spends the evening alone, tending their own little campfire and not singing camp songs, not spelling spooky stories, not eating s'mores together?
In addition, while there have been some controversial theories over some findings, as far as we can determine, Neanderthals didn't make art. Some perforated seashells have been found at two Neanderthal sites in Spain that researchers think may have been worn as pendants, and we have evidence that Neanderthals, like other hominins for at least 300,000 years, used mineral pigments as body decoration. But they didn't appear to use ceremonial items, didn't create clothing beyond rough hide blankets or wraps, and they only had the barest minimum of funerary rites. Neanderthals may have been strong and smart, but they don't appear to have been especially creative by our standards.
One old man Neanderthal, who was probably not more than 35 when he died, was so injured that he could probably not walk or do much of anything else by the final years of his life. He had lost most of his teeth and wouldn't have been able to eat. But he lived for years, because someone helped him. Someone brought him food. Someone probably chewed it for him. And when he died, someone tucked him in a shallow hole and scattered dirt over his body. So however different Neanderthals were from us, they were also people.
By about 40,000 years ago, Neanderthals were extinct. That was probably too long ago to have left any traces in human collective memory, but that's something I'll bring up in part two of this episode next week.
We still don't know much about the Denisovans because we only discovered the first specimen, a fragment of a finger bone, about ten years ago. The bone is from a young woman who lived about 41,000 years ago and was found in the Denisova Cave in Siberia, in the mountains not far from China and Mongolia. Since then, scientists have also found some teeth from two different adult males, and a baby tooth from a little girl who lived much earlier than the others.
According to DNA testing done on the finger bone, Woman X, as the finger's owner is called, was neither a modern human nor a Neanderthal, although she was related to both and could interbreed with both. Denisovan DNA has been found in some populations of humans. Not only that, Woman X contained some Neanderthal DNA and DNA from an ancient human lineage that we don't yet recognize. So there's at least one other hominin we haven't yet discovered. A toe bone has also been found that may be from a hybrid Denisovan-Neanderthal, but we don't know for sure yet, since studies are still ongoing.
We don't know what the Denisovans looked like, but just going from Woman X's finger bone, which is much thicker than even a big human's finger bones, we can guess they were pretty robust people. They may have looked a lot like Neanderthals. Some fossils thought to belong to Neanderthals may actually be Denisovan, so I bet a lot of museum and university collections are being examined closely right about now.
The Denisova Cave was used as a home by humans, Neanderthals, and Denisovans at different times going back some 125,000 years, and as recently as the 18th century, when a Russian hermit named Denis lived there. A bracelet discovered in the same layer of soil where Woman X's finger bone was found has been dated to about the same time as the bone and is not a human artifact as far as archaeologists can tell.
It's a green chlorite bracelet, carefully carved and beautifully polished. It was probably worn on the right wrist. It's delicate, fragile, and probably belonged to someone important who wore it on important occasions. In other words, Denisovans wore and probably made jewelry. Unlike Neanderthals, they probably had important occasions.
A marble ring was found at the same time as the bracelet, but no information on it has been released yet. Hopefully, it won't be long before we learn more about these new cousins of ours. They seem like interesting people.
That's it for part one of our episode on humans. Next week we'll take a look at some less closely related and more mysterious human relations, especially ones known as Hobbits for their small stature. Maybe by then you'll have gotten that Toto song out of your head.
You can find Strange Animals Podcast at strangeanimalspodcast.blubrry.net. That's blueberry without any E's. If you have questions, comments, or suggestions for future episodes, email us at strangeanimalspodcast@gmail.com. If you like the podcast and want to help us out, leave us a rating and review on Apple Podcasts or Podchaser, or just tell a friend. We also have a Patreon at patreon.com/strangeanimalspodcast if you'd like to support us for as little as one dollar a month and get monthly bonus episodes.
Thanks for listening!