Podcast: Play in new window | Download (Duration: 17:04 — 17.1MB)
Carolus Linnaeus was a botanist who worked out modern taxonomy and binomial nomenclature, but there are two mystery animals associated with his work. Let's find out about them!
Rembrandt sketched this elephant whose skeleton is now the type specimen of the Asian elephant: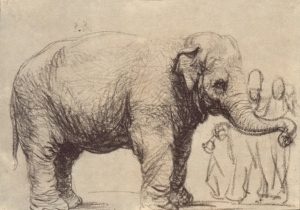 Linnaeus's original entry about Furia infernalis:

Further reading:
Ewen Callaway, "Linnaeus's Asian elephant was wrong species"
Karl Shuker, "Linnaeus's Hellish Fury Worm – The History (and Mystery) of a Non-Existent Micro-Assassin"
Show transcript:
Welcome to Strange Animals Podcast. I'm your host, Kate Shaw.
This week let's learn a little something about binomial nomenclature, which is the system for giving organisms scientific names. Then we'll learn about a couple of mystery animals associated with the guy who invented binomial nomenclature.
That guy was Carlolus Linnaeus, a Swedish botanist who lived in the 18th century. Botany is the study of plants. If you've ever tried to figure out what a particular plant is called, you can understand how frustrating it must have been for botanists back then. The same plant can have dozens of common names depending on who you ask.
When I was a kid, the local name for a common plant with edible leaves that tasted deliciously tart was rabbit grass. I've never heard anyone anywhere else call it rabbit grass. Maybe you know it as sourgrass or false shamrock or wood sorrel.
There are over a hundred species of that plant throughout the world in the genus Oxalis, so it's also sometimes just called oxalis. The species that's most common in East Tennessee where I grew up is Oxalis dellenii, but all species look pretty much the same unless you get down on your stomach and really study the leaves and the flower petals and the stems. So if you were a botanist wanting to talk to another botanist about Oxalis dellenii back in the early 18th century, you couldn't call it Oxalis dellennii. Not yet. You'd have to say, hey, do you know what rabbit grass is? And the other botanist would say, why no, I have never heard of this no doubt rare and astounding plant; and you'd produce a pot full of this pretty little weed that will grow just about anywhere, and the other botanist would look at it and say, "Oh. You mean sourgrass." But imagine if you weren't right by the other botanist and didn't have the plant to show them. You'd have to draw it and label the drawing and write a paragraph describing it, just so the other botanist would have a clue about which plant you were discussing. Nowadays, all you have to do is say, "Hey, are you familiar with Oxalis dellenii?" and the other botanist will say, "Ah yes, although I myself believe it is the same as Oxalis stricta and that the differences some botanists insist on are not significant." And then you'd fight. But at least you'd know what plant you were both fighting about.
Before Linnaeus worked out his system, botanists and other scientists tried various different ways of describing plants and animals so that other scientists knew what was being discussed. They gave each plant or animal a name, usually in Latin, that described it as closely as possible. But because the descriptions sometimes had to be really elaborate to indicate differences between closely related species, the names got unwieldy—sometimes nine or ten words long.
Carl Linnaeus sorted this out first by sorting out taxonomy, or how living creatures are related to each other. It seems pretty obvious to us now that a cat and a lion are related in some way, but back in the olden days no one was certain if that was the case and if so, how closely related they were. It's taken hundreds of years of intensive study by thousands upon thousands of scientists and dedicated amateurs to get where we are today, not to mention lots of technological advances. But Linnaeus was the first to really attempt to codify different types of animals and other organisms depending on how closely they appeared to be related, a practice called taxonomy.
Linnaeus's system is beautifully simple. Each organism receives a generic name, which indicates what genus it's in, and a specific name, which indicates the species. This conveys a whole lot of information in just two words. A zoologist who hears the name Stenella longirostris will know that it belongs to the genus Stenella, which means it's a type of dolphin, which means it's in the family delphinidae. If they're familiar with dolphins they'll also know they're talking about the spinner dolphin, and in this case they can even get an idea of what it looks like, since the specific name longirostris means 'long beak.' To make things even clearer, a subspecies name can be tagged on the end, so Stenella longirostris centroamericana is a subspecies of spinner dolphin that—you guessed it—lives in the ocean around Central America.
Carl Linnaeus was a young man when he started working out his classification system. He was only 25 when he traveled to Lapland on a scientific expedition to find new plants and describe them for science. This was in 1732 so travel was quite difficult. Linnaeus traveled on horseback and on foot, which as you can imagine took a long time and gave him lots of time to think. Within three years he had worked out the system we still use today.
You know what else Linnaeus invented? The index card. He needed index cards to keep track of all the animals and plants he and other scientists named using his binomial nomenclature system.
Linnaeus named a whole lot of plants and animals himself—something like ten thousand of them during his lifetime. And naturally enough, some mistakes crept in that have since been corrected. But a couple of his mistakes have led to mysteries, and those are the ones we're going to look at today.
In 1753 Linnaeus got to examine a fetal elephant preserved in a jar of alcohol. Back then hardly anyone outside of Asia and Africa had seen an elephant, so Linnaeus was enormously excited about it and wrote to a friend that the specimen was as rare as a diamond.
Linnaeus described the species and named it Elephas maximus, also known as the Asian elephant today. But from records that still survive, the specimen was marked as having come from Africa. A Dutch pharmacist and collector had acquired the specimen around 1736, and after he died it was sold to King Adolf Frederick of Sweden, who let Linnaeus examine it. The auction catalog where it was listed for sale indicates that it was from Africa, but in his official description of the elephant Linnaeus wrote that it was from Ceylon, which is now called Sri Lanka, which is in Asia.
So ever since there's been a mystery as to whether the elephant specimen was actually an Asian elephant or an African elephant, and if Linnaeus even knew that there were elephants in Africa. Because the specimen is of a fetal elephant—that is, a baby that died before it was fully developed, probably when its mother was killed while she was pregnant—it's hard to tell just by looking if the specimen is an African or Asian elephant. We do still have the specimen, fortunately, which is held in the Swedish Natural History Museum's collection.
A mammal expert at the London Natural History Museum, named Anthea Gentry, got curious about the specimen in 1999, when she saw it on a trip to Sweden. Gentry's husband was a paleontologist who specialized in mammals, and later she showed him a photograph of the specimen and asked what he thought. He said he was pretty sure it was an African elephant, not an Asian elephant. Gentry got permission to do DNA testing on the specimen, but since it had been in alcohol for so long, not even the most advanced technology and the world's most experienced expert in ancient DNA could get a usable genetic sequence from the tissue.
The world's most experienced expert in ancient DNA was Tom Gilbert of the University of Copenhagen in Denmark. He did his best and failed, but he couldn't forget about the little mystery elephant. In 2009 he got an idea for extracting genetic material from the specimen in a new way that might yield results. It took years, but he and his team got it to work. In 2012 the mystery was finally solved. Linnaeus's little elephant was actually an African elephant.
But that's not the end of the story. When a scientist describes a new species and gives it its scientific name, the first specimen described is known as the type specimen. Linnaeus's elephant was the type specimen of the Asian elephant—but since it was proven to be an African elephant, it couldn't continue to be the type specimen of the Asian elephant. But that meant that there was no official type specimen of the Asian elephant. They needed a specimen that was still available and that had been described by someone who had examined it scientifically.
When an animal is described officially, it's a formal process. The International Commission on Zoological Nomenclature decides whether a suggested name is acceptable and makes decisions on type specimens and taxonomy. So researchers connected with the Commission started digging around for a new type specimen, preferably one from Linnaeus's time or earlier.
A type specimen isn't always a whole animal. A lot of times it's just a little piece of a skeleton or a partial fossil, although the more complete a specimen is, the better. Linnaeus had described a partial elephant tooth at some point which was still available in a Swedish museum, and taxonomists were considering using that as a type specimen when they got an email from a paleontologist who specialized in elephants. He sent a copy of a travel journal from an amateur naturalist named John Ray, who had visited Florence in 1664 and wrote his observations of an elephant skeleton and skin on display in the duke's palace.
And, it turned out, the elephant skeleton John Ray had described was in the collection of a museum in Florence. And it was definitely the skeleton of an Asian elephant—in fact, we even have what amounts to a photograph of the elephant when it was alive, because none other than the artist Rembrandt sketched it. So that skeleton was designated as the type specimen of the Asian elephant and all is well.
That brings us to the other mystery associated with Linnaeus, and this one is a lot less cute than a misidentified baby elephant. But before I tell you what the mystery animal is, let me tell you something that happened to Linnaeus before he'd even come up with his system of nomenclature. This happened in 1728, when Linnaeus was a broke college student staying with a professor and spending all his free time collecting botanical specimens in the marshes.
One day Linnaeus was searching for plants he didn't already have specimens of when something stung him on the neck. Since he was wading around in a marsh, this was not really that unusual. But this wasn't the usual insect sting or midge bite. Before long Linnaeus's neck was painfully swollen, and soon one of his arms had swollen up too.
These days we'd recognize this as an allergic reaction, but back in 1728 they didn't know what allergies were. By the time Linnaeus got home, he was in such bad shape that the doctor they called worried he wouldn't survive.
Fortunately for Linnaeus and for science and humanity in general, he survived and went on to invent his naming system only eight years later. Some thirty years after he almost died, he published the tenth edition of his book, Systema Naturae, and included a formal description of the animal that had almost killed him. He named it the fury worm, Furia infernalis.
But there was no type specimen of a fury worm. Linnaeus hadn't seen the one he believed had bitten him, and the only one anyone had shown him was a tiny worm so dried up and old that he couldn't see any details. But he knew the fury worm existed because it had bitten him, and anyway everyone knew it was a real animal.
The fury worm was supposed to be tiny and slender, so small that it could be picked up by the wind and blown to other places. If it landed on a person or an animal it would immediately bite them with its sharp mouthparts, breaking the skin, then burrow into the flesh through the wound. It would dig in so quickly and so deeply that it was impossible to find, and even if you did find it, it was impossible to get out because of the backward-pointing bristles on its tail that kept it anchored in place. A person or animal bitten by the worm was likely to die within a day, sometimes within half an hour, unless a poultice of cheese or curds was applied to the bite.
Fortunately for most of the world, this horrible worm only lived in swampy areas in northern Sweden and Finland, Russia, and a few other nearby areas. In one year, 1823, some 5,000 reindeer died from fury worm attacks, and the export of reindeer furs was banned so the worm wouldn't spread.
But. Where. Are. The. Worms??? And why would a parasitic worm kill its host so quickly? A parasite depends on its host staying alive for enough time that the parasite can benefit from whatever it's getting from the host, whether that's nutrients or a protected place to develop into its next life stage. This isn't going to happen in half an hour.
So we have all this anecdotal evidence of the fury worm's existence, even from such noted a scientist as Linnaeus himself, but no worms. And the symptoms reported from fury worm attacks varied quite a lot from patient to patient.
Doubts about the fury worm's existence were already common in the 19th century, and even back in the late 18th century Linnaeus started to have doubts. And as technology and scientific knowledge improved, the fury worm started to look less and less like a real animal and more and more like an explanation for things people had once not understood—like allergies, infection, and bacteria. The death of 5,000 reindeer in 1823 was finally traced to a disease called neurocysticercosis [neuro-cyst-iser-kosis], which is actually caused by a parasite, but not a fury worm. It's caused by tapeworm larvae that only kill its host after the larvae have matured and are ready to infect a new animal, which happens when something eats the meat of the animal that has died.
So was the fury worm ever a real animal? Almost certainly not. I tried to find out if people are still reporting fury worm bites in northern Sweden and Finland, but I didn't come up with anything. On the other hand, I did check and it doesn't look like there's a band named Furia infernalis, so if you were trying to think of a really cool name for your band, I got you.
You can find Strange Animals Podcast online at strangeanimalspodcast.com. We're on Twitter at strangebeasties and have a facebook page at facebook.com/strangeanimalspodcast. If you have questions, comments, or suggestions for future episodes, email us at strangeanimalspodcast@gmail.com. We also have a Patreon if you'd like to support us that way.
Thanks for listening!