Podcast: Play in new window | Download (Duration: 14:15 — 14.9MB)
This week we're going to look at three small mystery animals! Well, the mysteries are small. The animals are not particularly small.
Further Reading:
Long-Extinct Gibbon Found Inside Tomb of Chinese Emperor's Grandmother
Ancient Egypt's Mona Lisa? An elaborately drawn extinct goose, of course
A case of mistaken identity for Australia's extinct big bird
Bones of a mystery gibbon found in a noblewoman's tomb: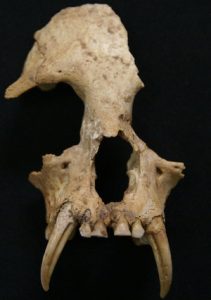 Gibbons painted about a thousand years ago by artist Yi Yuanji: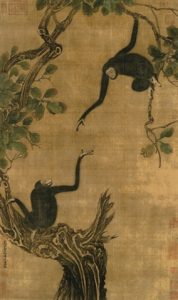 A couple of gibbons at MAX FLUFF: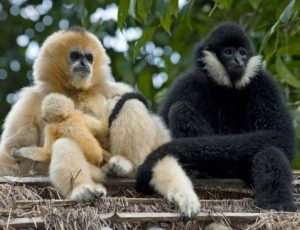 The mystery goose painting (left) compared with a modern version of the painting (middle) and a red-breasted goose (right):

All the geese from the painting: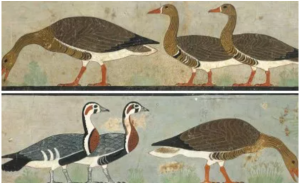 A red-breasted goose, not historically known from Egypt: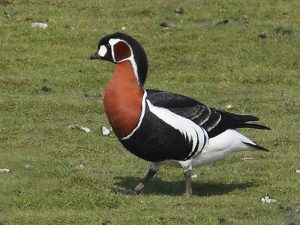 The mystery bird rock art: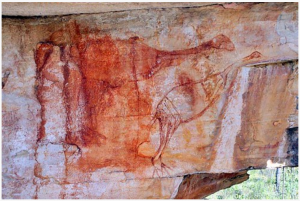 An emu (with babies):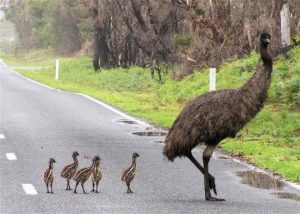 Genyornis compared to a human: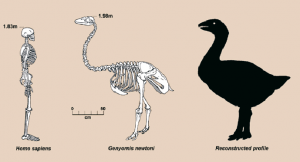 Genyornis leg bones compared to emu leg bones (right), but on left is a comparison of a so-called Genyornis (actually not) egg and an emu egg: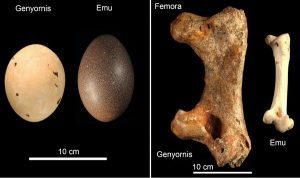 A couple of megapodes in their egg field: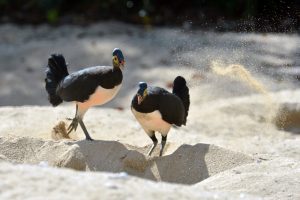 Show transcript:
Welcome to Strange Animals Podcast. I'm your host, Kate Shaw.
We're long overdue for an episode about a mystery animal, so this week let's look at not one, not two, but three mysteries! They're all small scientific mysteries, not big spooky ones, but I think you'll find them interesting.
We'll start at an archaeological dig in China. In 2004, archaeologists excavated a noblewoman's tomb in northwestern China, which they dated to about 2,200 to 2,300 years old. The tomb might have been for a woman called Lady Xia, who was the grandmother of the first emperor of China. So, kind of a big deal.
The archaeologists discovered twelve pits in the tomb, and each pit contained the skeletons of various animals, some of them domesticated animals but some of them wild. Having a private menagerie was a status symbol back then, as it sometimes has been in other cultures around the world. In pit #12, they found remains of a leopard, a black bear, a crane, a lynx, and a type of small ape called a gibbon.
The gibbon remains were a surprise, because today all species of gibbon in China live only in the very southern areas and are critically endangered by habitat loss and hunting. Either a gibbon had been transported hundreds of miles over difficult terrain 2,300 years ago, or gibbons lived in the area.
Gibbons are small apes and there are 16 species alive today. They all live in southern Asia. We talked about the siamang in episode 76, and the siamang is a type of gibbon. Many gibbons, including the siamang, have inflatable resonant chambers in the throat to amplify their calls, but all gibbons make loud, often musical sounds to communicate with each other. They spend most of the time in treetops and mostly eat fruit, along with other plant material.
Because this part of northwestern China is subtropical, and because it's been so long since the animals died, the skeletons aren't complete. The only gibbon bones left were part of a cranium and mandible. Obviously, scientists had to be careful with the bones and couldn't run any tests that might damage them. They made a 3D scan of the bones and used the scan to compare the gibbon's skull and jaw with those of living species of gibbon, to determine what species it was.
It turned out that not only was it a species unknown to science, it was different enough from other gibbons that it belonged in its own genus.
According to experts in Chinese history and literature, gibbons were considered noble animals that often appeared in paintings and poetry. Various species of gibbon lived throughout much of China until around the 14th century. After the 14th century, though, habitat loss and hunting drove the gibbons farther south until now there are almost no gibbons left in China. Lady Xia's pet gibbon is the first species known that definitely went extinct in the modern era, which makes it even more important that the gibbons still alive today are protected along with their habitats.
Speaking of ancient paintings of animals, 4,600 years ago, an artist made a painting of some geese for a tomb in Egypt. The painting is five feet long, or 1.5 meters, and is a fragment of a larger wall decoration that has been lost. It's called the "Meidum Geese." It's a lovely painting and the geese are incredibly lifelike—so lifelike, in fact, that it should be easy to identify them.
But maybe not quite so easy after all.
There are three species of geese in the painting. Two are probably the graylag goose and the greater white-fronted goose. The third looks similar to the red-breasted goose, but there are enough differences that researchers aren't sure. No red-breasted goose remains have ever been found in Egypt; it only lives in Europe and Asia.
It's quite likely that the mystery goose is an extinct species. Other animal species depicted in Egyptian art are extinct now, even though they were common when the art was made. Egypt's climate is much dryer than it was thousands of years ago, so naturally there were different animals back then even if you don't factor in human activity like hunting.
The painting was discovered in 1871. One Italian archaeologist named Francesco Tiradritti claims it's a hoax, painted by one of the curators at the Cairo Museum back when it was first found. One of the reasons he thinks it's a hoax is that the red-breasted goose isn't known in Egypt. This isn't a very good argument to me. First of all, the goose doesn't exactly match the red-breasted goose, while a hoaxer would probably work from a model or a picture to get the details right. Second of all, a hoaxer would probably have been careful to only include goose species that are known to live in Egypt. Tiradritti's argument basically seems to be that the Meidum geese are too good and therefore could only possibly be painted by someone who had trained in Italy. In reality, though, ancient people of all cultures were perfectly capable of being masterful artists even though they were not European.
Other experts have rebutted Tiradritti's claim and point out that he's not an art historian and that many actual art historians have studied the Meidum geese and declared them genuine. Not only that, but scenes carved in other tombs seem to depict the same types of geese that are in the painting.
Speaking of geese and artwork, let's move on to our final mystery animal. This one's complicated, because it's not just one mystery, it's two.
Ancient artwork sometimes gives scientists useful information about when and where an animal lived and what it looked like. Sometimes, though, the artwork reveals more mysteries than it solves. For instance, some rock art found in Australia's Northern Territory.
The art depicts two birds with long goose-like necks, drawn with a pigment called red ochre. It's sort of a rusty color. The birds have legs that are about as long as the neck, and small heads with short, blunt bills.
At first the archaeologists studying the site thought the art depicted emus. Then they took a closer look and realized the details were wrong for emus, but they did match a different bird. Genyornis newtoni was distantly related to modern ducks and geese, but was flightless and really big. It stood seven feet tall, or over two meters. It had strong but relatively short legs, a goose-like neck, tiny wings, and a short, blunt bill. It probably ate fruit and small animals.
The finding excited the palaeontologists, because Genyornis was supposed to have gone extinct around 45,000 years ago. That meant that if the art really did depict the bird, the art had to be that old too.
The reason that researchers dated the extinction of Genyornis to about 45,000 years ago is because that's when its eggshells stop being found, even though until then they were fairly common in ancient sand dunes.
But something didn't add up. Genyornis was a little taller but six times heavier than the emu, but its eggs were no larger than an emu's egg. A 2016 study suggested that the eggshells identified as Genyornis eggs were actually from a completely different bird, specifically a type of megapode.
Megapodes are birds that live in Australia and some nearby islands, including New Guinea. In fact, I think we'll learn about some megapodes in an upcoming episode about more weird New Guinea birds. One interesting thing about megapodes is the way they incubate their eggs. Instead of keeping the eggs warm by sitting on them, megapodes build nest mounds. Most make a big mound of leaves and other vegetation, because as vegetation decays, it releases heat. The female lays her eggs on the mound and the male guards and tends the eggs, placing more leaves over them as needed or sometimes removing it to keep the eggs from getting too hot. Other megapodes lay their eggs in warm sand or even in volcanic areas where the ground stays warm. In other words, it makes sense that lots of these old eggshells would be found in what were once sand dunes, since the eggs were most likely buried in the sand to start with. Researchers think the sand dune eggs belonged to an extinct species of megapode called the giant malleefowl.
So that's one mystery solved, but it leaves us with other mysteries. When did the Genyornis actually go extinct? How old is the rock art and does it really depict Genyornis?
Since its discovery around 2010, the so-called Genyornis rock art has been carefully studied. Geologists have determined the age of the rock face where the painting appears, and it's not nearly as old as 45,000 years. Right about 13,800 years ago, a rock overhang collapsed, exposing a rock surface. Then some people came along and decided that rock surface would be the perfect place to paint two birds. So the painting can't be any older than that.
A close analysis of the painting shows that there's more than meets the eye, too. The initial painting was of a person with animal characteristics, called an anthropomorph, and at some point later someone painted the birds over it. The painting also contains the image of a barbed spear piercing one of the birds. So whatever the birds are, they were birds that people hunted.
Meanwhile, other experts were studying Genyornis. The current determination is that it went extinct around 25,000 or 30,000 years ago.
So we have rock art that cannot be older than a tad under 14,000 years old, but it appears to be art of a bird that went extinct at least 25,000 years ago. What's going on?
It's probable that Genyornis actually lived a lot more recently than 25,000 years ago. Scientists can only make determinations of when an animal went extinct by the fossils and subfossil remains they find or don't find. There aren't a lot of Genyornis fossils to start with, but the ones we do have mostly come from the same area where the rock art was found.
If the rock art really is of Genyornis, and it does seem to be, then people were most likely hunting Genyornis less than 14,000 years ago and possibly much more recently. Hopefully soon researchers will find more recent evidence so we can get a better idea of when it really went extinct and why.
You can find Strange Animals Podcast at strangeanimalspodcast.blubrry.net. That's blueberry without any E's. If you have questions, comments, or suggestions for future episodes, email us at strangeanimalspodcast@gmail.com. If you like the podcast and want to help us out, leave us a rating and review on Apple Podcasts or just tell a friend. We also have a Patreon at patreon.com/strangeanimalspodcast if you'd like to support us that way.
Thanks for listening!