Podcast: Play in new window | Download (Duration: 15:26 — 16.0MB)
This week let's learn about a couple of dangerous birds of New Guinea! They're not what you might think.
Further Reading/Watching:
How Dangerous Are Cassowaries, Really?
Breakfast Club Ep. 34: Jack Dumbacher on Poisonous Birds (a long video but a really great deep dive into the pitohui)
The mighty cassowary with a mighty casque on its head, looking like a modern dinosaur, which it is: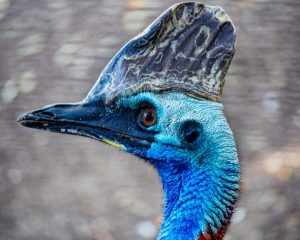 A cassowary and babies: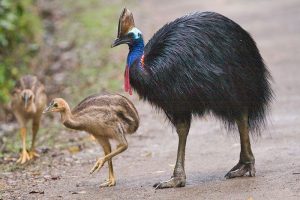 A hooded pitohui, looking surprised to learn it's toxic: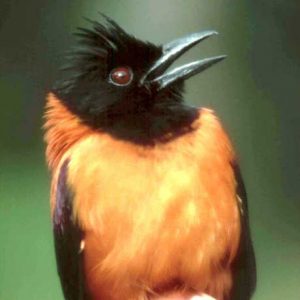 Show transcript:
Welcome to Strange Animals Podcast. I'm your host, Kate Shaw.
It's time to revisit New Guinea and its weird and amazing birds! This week we're going to look at two dangerous birds of New Guinea. Thanks again to M Is for Awesome for the suggestion.
Lots of birds are pretty or cute, and that's great. But some birds…are dangerous. For instance, the cassowary. There are three species alive today, all of which live in New Guinea along with some other nearby islands. The southern cassowary lives in northeastern Australia too.
It's a big, shy, flightless bird that lives deep in the rainforest. The biggest species is the southern cassowary, which can grow up to six and a half feet tall, or 2 meters. Its wings are small but it can run extremely fast, up to 30 mph, or 50 km/h. It can also jump and even swim extremely well. This is surprising not just because it's such a big bird but because it looks ungainly. It's shaped sort of like its relation, the emu, although its neck is shorter, with a big chunky body, long strong legs, and a little head in comparison. Females are larger than males on average with more brightly colored necks.
The cassowary's body is covered with black feathers while the legs are bare, as is the neck and head. The neck is bright blue in females, paler blue in males, with red wattles that hang down as decoration. The face is a lighter blue with a black bill. It has spine-like feathers that grow from its small wings, which appear to be for decoration too, or at least the cassowary doesn't seem to use those spiny feathers for anything. But the most unusual thing about the cassowary is the casque on its head.
The casque is a sort of plate that grows on the top of the bird's head. Different species of cassowary have different shaped casques, and there's some variation in size and shape of casques from individual to individual. The dwarf cassowary is the smallest, naturally, and has a relatively low casque. The northern cassowary has a larger, taller casque and the southern cassowary has the largest, tallest casque, shaped sort of like your hand if you keep it flat with all your fingers together, only instead of flat it's sticking up from the top of the bird's head. Looking at a cassowary is like looking at a dinosaur with a beak.
The casque consists of a bony core made up of two layers around an open space, and it's covered with a keratin sheath. This is similar in structure to the kind of horns many hoofed animals have, like cattle and sheep, but there are plenty of differences. The sheath isn't as hard as the keratin sheath on a mammal's horn, for one thing. It's actually a little bit leathery. It also contains a pocket inside the skull beneath the casque that's full of delicate tissue made up mostly of tiny blood vessels.
No one except the cassowary knows for sure what the casque is for. Over the years, researchers have suggested it might be used as a weapon, it might act as a shield to keep falling fruit from injuring its head when it's under a fruit tree, it might knock the casque against a tree to make fruit fall, it might use it to dig with, it might use the empty space inside as a resonant chamber to make noise with, or it might use the empty space inside to help it hear faint sounds.
Most likely, the casque is primarily for display. Since the cassowary does communicate with low-frequency booming sounds to attract mates, it might also help with resonance or amplification of its calls.
The cassowary mostly eats fruit, which it swallows whole, even large fruit like apples. This is good for the plants, since it poops out seeds which are then ready to sprout in their own little pile of fresh fertilizer. It will also eat flowers and other plant material, but if it can catch a frog or mouse, or other small animal, including insects and snails, it will eat them too. It even sometimes eats carrion.
A female's territory overlaps that of several males, and she seems to form a bond with all of them. In breeding season she makes deep, booming calls, which a male answers with a running dance. The female often chases the male into water and follows him in, where he then chases her out of the water before they mate. Then the male builds a nest on the ground, basically just a pile of grass and leaves, and the female lays her eggs in the nest. The male takes care of the eggs and the chicks when they hatch. Meanwhile, the female leaves and finds one of the other males in her territory. She will usually have a clutch of eggs with each male.
So, why is the cassowary considered dangerous? Because of its big, strong legs and big feet with claws. Its first claw is especially long and sharp. A cassowary will kick if it feels threatened or if it's protecting its eggs or chicks, and many people consider it the most dangerous bird in the world.
In reality, though, while many people have been injured by cassowaries, usually ones kept in captivity for their feathers, only a few have died. One 16yo boy died in 1926 when a cassowary kicked him in the neck, but that's the most recent death known. Dogs are in more danger.
These days, a lot of people are chased or injured by cassowaries demanding food. This happens when a cassowary is fed by tourists or even locals who think they're cute and maybe want to take selfies with them. The cassowaries lose their fear of humans and get aggressive. Don't feed wild animals and don't get too close to them. If you must take a selfie with a wild animal, the quokka is a lot less dangerous.
Next, let's talk about the hooded pitohui. It lives in forests throughout much of New Guinea and eats seeds, insects and other invertebrates, and fruit. It's related to orioles and looks very similar, with a dark orange body and black wings, head, and tail. Its eyes are red. It's a social songbird that lives in family groups where everyone works to help raise the babies.
Obviously, it's not kicking anyone to death. Instead, it's toxic.
The people who live in New Guinea know all about its toxicity, of course. They know not to bother killing the pitohui because it tastes nasty and will make you sick. They mentioned this to European naturalists as long ago as 1895. But ha ha ha, birds aren't toxic, obviously that's just superstition by "primitive natives," right? So it wasn't until 1989 that a grad student studying birds of paradise made a surprising discovery.
Jack Dumbacher was trying to net some birds of paradise to study but kept catching pitohuis in his nets. He would untangle the birds and let them fly away, but naturally they were upset and one scratched him. He was in a hurry so he just licked the cuts clean. His tongue started to tingle, then burn, and then it went numb. Uh oh.
Fortunately the effects didn't last long, but when he mentioned it to another researcher who turned out to have had the same thing happen, they realized something weird was going on. Dumbacher asked some of the local people what the cause might be, and they all said, "Yeah, don't lick the pitihui bird."
Dumbacher did, though, because sometimes scientists have to lick things. The next time his nets caught a pitihui, Dumbacher plucked one of its feathers and put it in his mouth. His mouth immediately started to burn.
Dumbacher was amazed to learn about a toxic bird, but it took a year for anyone else to take an interest, specifically Dr. John W. Daly, an expert in poison dart frogs in Central and South America. Back in the 1960s while he was studying the frogs, in order to determine which ones were actually toxic and which ones weren't, he frequently poked a frog and licked his finger, so Daly completely understood Dumbacher putting a feather in his mouth.
Maybe don't put random stuff in your mouth. Both Dumbacher and Daly were lucky they didn't die, because it turns out that poison dart frogs and pitihuis both contain one of the deadliest neurotoxins in the world, called batrachotoxin.
A chemical analysis determined that both animals excrete the exact same toxin. If you remember episode 204, where we talked about poison dart frogs, you'll remember that in captivity, poison dart frogs lose their toxicity. Daly was the one who figured this out, but he couldn't figure out why except that he was pretty sure they absorbed the toxins from something they were eating in the wild. He thought the same might be true for the pitihui.
Dumbacher agreed, and after he achieved his doctorate he started making expeditions to New Guinea to try to find out what. Both he and Daly thought it was probably an insect. But there are a lot of insects in Papua New Guinea and he couldn't stay there and test insects for toxins all the time. He came and went as often as he could, and to make his trips easier he left his equipment in a village rather than hauling it back and forth with him.
What he didn't know is that one villager, named Avit Wako, had gotten interested in the project. When Dumbacher was gone, he continued the experiments. In 1995 Dumbacher sent a student intern to the village, since he didn't have time to go himself, and Avit Wako said, "Hey, good to see you! I solved your problem. The toxin comes from this particular kind of beetle." He was right, too. The toxin comes from beetles in the genus Choresine.
We still aren't sure what beetle or other insect supplies toxins to poison dart frogs. Maybe they should get Avit Wako on the case.
The hooded pitohui, along with its close relation the variable pitohui, is the most toxic, but there are other species and many of them are toxic too. The pitohuis are separated into three different families that aren't as closely related as originally thought, although they all look pretty similar.
But the pitohui isn't the only toxic bird in New Guinea. The blue-capped ifrit is another little songbird that lives only in the rainforests of New Guinea. It's brownish-yellow with a yellow belly and black and white markings on the head. It isn't closely related to the pitohui but its skin and feathers contain the same toxin that the pitohui's does, which researchers think they also get from the same beetle.
There's also a bird called the rufous shrikethrush that lives in New Guinea and Australia. It's a little gray-brown bird with a reddish-brown breast, and it mostly eats insects. It is actually related to the pitohui, and like the pitohui its skin and feathers are toxic—but only in the subspecies that live in New Guinea. Australian shrikethrushes aren't toxic because the toxic beetles aren't found in Australia.
New Guinea undoubtedly has bird species that haven't been described scientifically yet. Who knows how many of them may also be toxic? Just to be on the safe side, don't lick any of them.
You can find Strange Animals Podcast at strangeanimalspodcast.blubrry.net. That's blueberry without any E's. If you have questions, comments, or suggestions for future episodes, email us at strangeanimalspodcast@gmail.com. If you like the podcast and want to help us out, leave us a rating and review on Apple Podcasts or Podchaser, or just tell a friend. We also have a Patreon at patreon.com/strangeanimalspodcast if you'd like to support us that way.
Thanks for listening!