Podcast: Play in new window | Download (Duration: 14:02 — 14.2MB)
This week's episode is about electric animals! There are so many of them that I could only touch on the highlights.
We start with the electric eel. It's not actually an eel but it is most definitely electric. This one has just read some disturbing fanfic: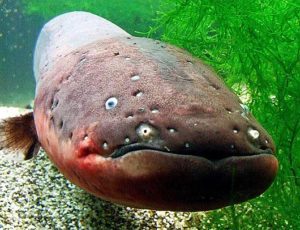 The oriental hornet is a living solar panel: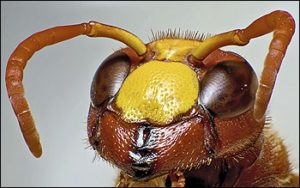 The platypus's bill is packed with electricity sensors. I couldn't make this stuff up if I tried: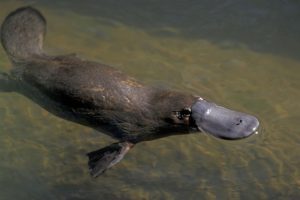 Amphisbaenids are not electric AS FAR AS WE KNOW. Bzzt.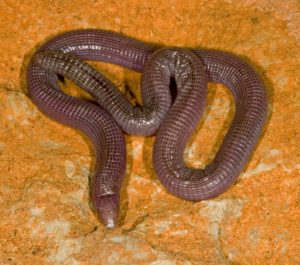 Thanks for listening! We now have a Patreon if you'd like to subscribe! Rewards include patron-only episodes and stickers!
Show transcript:
Welcome to Strange Animals Podcast. I'm your host, Kate Shaw.
This week we're looking at electric animals! You've probably heard of the electric eel, but you may not know there are a lot of fish, insects, and even a few mammals that can sense or generate electric impulses. This is a re-record of the original episode with some updated information.
All animals generate electric fields in their nerves and the contracting of muscles. Animals that can sense these fields are called electroreceptive. An electroreceptive animal can find hidden prey without using its other senses.
To take that a step further, many electroreceptive animals can also generate weak electrical fields, usually less than a single volt—small electrical pulses or a sort of wave, depending on the species, that can give them information about their environment. Like a dolphin using echolocation, a fish using electro-location can sense where potential prey is, where predators, plants, and rocks are, and can even communicate with other fish of its same species. Of course, those same electric pulses can also attract electroreceptive predators. It's hard being a fish.
But in some cases, the animal can generate an electric shock so strong it can stun or kill other animals. The most famous is the electric eel, so let's start with that one.
The electric eel isn't actually an eel. It's a type of knife-fish related to carp and catfish. Some other species of knife-fish generate electric fields, but the electric eel is the only one that uses it as a weapon.
The electric eel is a weird fish even without the electric part. It can grow over eight feet long, or 2.5 m, lives in freshwater in South America, and gets most of its oxygen by breathing air at the surface of the water instead of through its gills. It has to surface for air about every ten minutes or it will drown. That's a weird habit for a fish, but it makes sense when you consider that many electric eels live in shallow streams or floodplains with a tendency to dry up between rains. Oh, and electric eels frequently swim backwards.
A male electric eel makes a foam nest for females with his spit, and the female lays her eggs in it—as many as 17,000 eggs, although 1,200 is more common. The male defends the nest and hatchlings until the rainy season starts and the young electric eels can swim off on their own.
The electric eel has rows of some 6,000 specialized cells, called electrocytes, that act like batteries to store energy. When all the electrocytes discharge at the same time, the resulting shock can be as much as 860 volts, although it's only delivered at about one amp. I have no idea what that means because I don't understand electricity.
Since the electrocytes are all found in the animal's tail, and electric eels are mostly tail, the fish will sometimes curl up and hold its prey against its tail to increase the shock it receives. This honestly sounds like something a villain from a superhero movie would do. The electric eel will also sometimes leap out of the water to shock an animal it perceives as a threat.
You do not want to be in the water when an electric eel discharges. It probably won't kill you unless you have a heart problem, but it could stun you long enough that you drown. And if more than one electric eel discharges at the same time, the danger increases. There's a River Monsters episode about electric eels that shows a whole bunch of them in water so shallow that they're barely covered. Walking through that pond would probably be deadly. I also really love that show.
How does the electric eel not shock itself? Well, it probably does. All of its vital organs are in the front fifth of its body, and well insulated by thick skin and a layer of fat. But its discharges are extremely fast. Think taser, not sticking a fork in a wall socket, which by the way is something you should not do. The charge naturally travels away from its tail and into the nearest object, usually its prey.
There are three known species of electric eel, all of which live in the Amazon basin in South America. Two of the three species were only identified in 2019 after DNA studies of 107 specimens. One of the new species, Electrophorus voltai, can discharge up to 860 volts of electricity, higher than the well-known E. electricus. Researchers think E. voltai has evolved to generate higher jolts because it lives in the highlands of the Brazilian Shield, where the water is clear and doesn't conduct electricity as well as the mineral-rich water in other electric eel habitats.
One last thing about the electric eel. It can shock people who touch it up to eight hours after it dies.
Most electric animals are fish since water conducts electricity well. Some other notable electric fish are the stargazer, a venomous bottom-dwelling ocean fish that generates shocks from modified eye muscles; the paddlefish; the electric catfish; and of course sharks.
Sharks are the kings of electroreceptive animals. Some sharks can sense voltage fluctuations of ten millionths of a volt. Sharks only sense electricity; they can't generate it. But some of their cousins, the electric rays, can generate an electric shock equivalent to dropping a toaster in a bathtub, which by the way is another thing you shouldn't do although why would you even have a toaster in the bathroom?
Scientists are only just discovering electric use in insects. It's probably more widely spread than we suspect, and it's used in ways that are very different from fish. The oriental hornet, for instance, converts sunlight into energy like a tiny flying solar panel. Researchers think the hornet uses that extra energy for digging its underground nests.
Flying insects generate a positive charge from the movement of air molecules, which is basically what static electricity is. It also happens to moving vehicles, and which is why you should touch the metal of your car to discharge any static electricity before pumping gasoline so you don't spark a fire. This episode is full of safety tips. In the case of bees, this static charge helps pollen adhere to their bodies. You know, like tiny yellow socks stuck to a shirt you've just taken out of the dryer. When a bee lands on a flower, its charge also temporarily changes the electrical status of the flower. Other bees can sense this change and don't visit the flower since its nectar has already been taken.
Spiderwebs are statoelectrically charged too, which actually draws insects into the web, along with pollen and other tiny air particles. This helps clean the air really effectively, in fact, so if you have allergies you should thank spiders for helping keep the pollen levels down. The webs only become electrically charged because the spider combs and pulls at the thread during the spinning process.
Only three living mammals are known to be electroreceptive. The South American Guiana dolphin has a row of electroreceptors along its beak, visible dots called vibrissal crypts. They're basically pores where whiskers would have grown, except that marine mammals no longer grow whiskers. The vibrissal crypts are surrounded by nerve endings and contain some specialized cells and proteins. Researchers think the dolphins use electroreception to find fish and other prey animals in murky water when the animals are so close that echolocation isn't very effective. A lot of toothed whales, including other dolphins, show these dots, and it's possible that the Guiana dolphin isn't the only species that is electroreceptive.
The platypus and its cousin the echidna are the other two electric-sensing mammals. These two are both such odd animals that they're getting their own episode one day—and that episode is # 45! They are weird way beyond being the mammals that lay eggs deal. So I'll just mention that their bills are packed with electroreceptors. The platypus in particular uses electroreception as its primary means of finding prey in the mud at the bottom of ponds.
There are undoubtedly more animals out there that make use of electrical fields in one way or another. One possible addition to the list, if it exists at all, is called the Mongolian death worm.
Nomadic tribes in the Gobi Desert describe a sausage-like worm over a foot long, or 30 cm, and the thickness of a man's arm. Its smooth skin is dark red and it has no visible features, not even a mouth, which makes it hard to tell which end is the head and which is the tail. It squirms or rolls to move. It spends most of its life hidden in the sand, but in June and July it emerges, usually after rain, and can kill people and animals at a distance.
In his book The Search for the Last Undiscovered Animals, zoologist Karl Shuker discusses the death worm at length, including the possibility that it might be able to give electric shocks under the right conditions. Among the reports he recounts are some that sound very interesting in this regard, including that of a visiting geologist poking an iron rod into the sand, who dropped dead with no warning. A death worm emerged from the place where the geologist had been prodding the sand. I'm going to add "don't poke an iron rod into the sand of the Gobi Desert" to my list of warnings.
The Gobi is a cold desert and has bitter winters, but it's still a desert, which means it's arid, which means the death worm probably isn't a type of earthworm or amphibian—nothing that needs a lot of moisture to stay alive. On the other hand, two types of earthworms have recently been discovered in the Gobi, and there are a few amphibians, especially frogs, that have evolved to live in areas that don't receive much rain. In episode 156, about some animals of Mongolia, we talk about the Mongolian death worm again if you want to know a little more. Some parts of the Gobi get more moisture than others and may be where the death worm lives.
Shuker suggests it might be a kind of amphisbaenid. Amphisbaenids are legless lizards that look more like worms than snakes. They move more like worms than snakes too, and spend a lot of their lives burrowing in search of worms or insects. No known species of amphisbaenid can generate electric shocks, but then again, only one of the over 2,000 known species of catfish generates electricity.
It's not completely out of the realm of possibility that electrogenesis might develop in a reptile, assuming that's what the death worm is. Sand isn't a good conductor of electricity, but wet sand is. The death worm might ordinarily use weak electrical pulses to stun its small prey, but if it emerges after rain because its tunnels are temporarily flooded, it might feel vulnerable above ground and be more likely to discharge electrically as a warning when approached.
Of course, as always, until we have a body—until we know for sure that the Mongolian death worm is a real animal and not a folktale, we can't do more than speculate. But it is interesting to think about.
As far as I can find, no living reptiles or birds show any electrical abilities akin to those in fish and other aquatic animals. But electroreceptors in fish were only discovered in the 1950s. There's a lot we still don't know. Always another mystery to solve!
You can find Strange Animals Podcast online at strangeanimalspodcast.blubrry.net. That's blueberry without any E's. If you have questions, comments, or suggestions for future episodes, email us at strangeanimalspodcast@gmail.com. We also have a Patreon at patreon.com/strangeanimalspodcast if you'd like to support us and get twice-monthly bonus episodes.
Thanks for listening!