Podcast: Play in new window | Download (Duration: 12:59 — 13.1MB)
Thanks for Merike for suggesting the gastric brooding frog and to Hally for suggesting newly-discovered frogs!!
The Gastric brooding frog: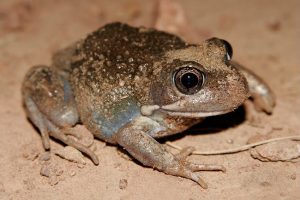 Darwin's frog, round boi: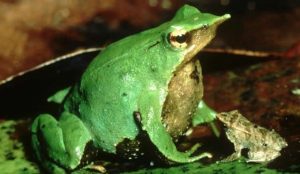 The Surinam toad carries her eggs and tadpoles in the skin of her back: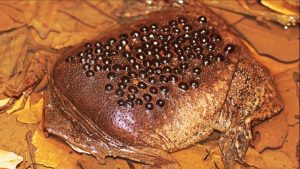 Kermit the frog and a newly discovered glass frog: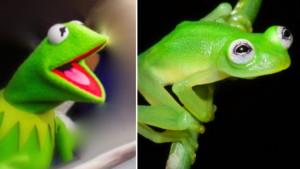 Show transcript:
Welcome to Strange Animals Podcast. I'm your host, Kate Shaw.
This week we have another fantastic listener suggestion, about frogs! Merike is a herpetologist from Estonia, who suggested the gastric brooding frog, and another listener, Hally, also wanted to learn about some of the new frog species discovered recently.
The gastric brooding frog is native to eastern Australia, specifically Queensland. There are two species, and both of them live in creeks in separate rainforests. The habitat is specific and small, and unfortunately both species went extinct less than forty years ago. Researchers aren't sure why they went extinct, but it was probably due to pollution and habitat loss.
The gastric brooding frog was a slender frog, with the northern gastric brooding frog being about three inches long, or about 8 cm, while the southern gastric brooding frog was about half that size. Females were larger than males. It was grey or brown-gray in color with some darker and lighter patches on the back with a lighter belly. During the day it spent most of its time at the water's edge, hidden in leaf litter or among rocks, although it generally only fully came out of the water when it was raining. It ate insects and may have hibernated in winter.
As you may have guessed from its name, the gastric brooding frog had a unique way of taking care of its eggs. After the eggs were fertilized, the female would actually swallow the eggs and keep them in her stomach while they developed. Even after the eggs hatched into tadpoles, they stayed in the mother's stomach. As they grew larger, the stomach also grew larger, until it pretty much filled up the mother's insides, to the point where she couldn't even use her lungs to breathe. Fortunately many frogs, including the gastric brooding frog, can absorb a certain amount of oxygen through the skin. Finally the tadpoles metamorphosed into little frogs, at which point the mother regurgitated one or a few of them at a time, or sometimes all of them at once if she felt threatened.
So how did the mother keep from digesting her own eggs or tadpoles? How did she eat when her stomach was full of babies? How did the babies eat?
The jelly around the gastric brooding frog's eggs contained prostaglandin E2, also called PGE2, which causes the stomach to stop producing hydrochloric acid. That's a digestive acid, so once the eggs were inside the stomach, the stomach basically stopped stomaching. There is some speculation that the first eggs the mother frog swallowed actually got digested, but then the acid production stopped and the rest of the eggs remained. Once the eggs hatched, the tadpoles also produced PGE2 in the mucus in their gills.
The tadpoles continued to live off the yolk sac from their eggs as they developed, and in fact their mouths weren't even connected to their gut yet. As for the mother, she just didn't eat until the babies were developed and released into the water on their own, which took about six weeks.
The gastric brooding frog is the only frog known to raise its babies this way, but other frog species have interesting variations of the usual way frogs reproduce. Most female frogs lay their eggs, and then the male fertilizes them. But about a dozen species of frog have developed internal fertilization, where the female retains the eggs in her body until the male fertilizes them. The tailed frog from California in the United States, in North America, gets its name from a structure that looks like a tail, but is actually an extension of the cloaca. That's the opening used for both excretion and reproduction. Only males have the tail, and it works like a penis to fertilize the female's eggs without her needing to lay the eggs first. Once they're fertilized, she can choose just the right spot to lay the eggs.
Another weird way frogs take care of their eggs is something that Darwin's frog does. Darwin's frog lives in Chile and Argentina in South America, and grows to a little over an inch long, or 3 cm. It has a pointy snout that gives its head a wedge  shape something like a leaf, which helps keep it camouflaged on the forest floor. The female lays her eggs in damp leaf litter, and after the male fertilizes them he guards them for several weeks. When they start to move as they develop, the male swallows them—but instead of his stomach, he stores them in his vocal sac. That's the expandable sac in the frog's throat that males use to make their croaking sounds by filling the sac with air.
The eggs hatch into tadpoles, which the male carries around as they grow. They live off their egg yolks, but they also eat secretions from the lining of the vocal sac. Once the tadpoles metamorphose into little frogs, they hop out of the male's mouth and are on their own. Until then, the male doesn't eat.
The Surinam toad is a species of frog. Remember that all toads are frogs but not all frogs are toads. It lives in wetlands and forests in northern South America, and has a radically different way of keeping its eggs safe. The Surinam toad is a flattened, broad toad that can grow up to 8 inches long, or 20 cm, and looks a lot like a dead leaf. It lives in slow-moving water. Unlike other frogs it doesn't have a tongue, so instead of catching insects with its sticky tongue, it grabs them with its hands. It's sometimes called the star-fingered toad because its long, thin fingers have tiny star-shaped appendages that help it catch prey. Instead of croaking, male Surinam toads make a clicking noise by moving a small bone in the throat back and forth.
When the female is ready to lay her eggs, a male clasps her around the middle like most frogs do while mating. But instead of just releasing her eggs and letting the male release sperm to fertilize them, the female makes a sort of flipping movement in the water as she releases a few eggs at a time. The male fertilizes them, then presses them onto her back. The skin of the female's back grows up over the eggs, embedding them in the skin in little pockets. When the tadpoles hatch they stay in these little pockets as they develop. They only leave when they've metamorphosed into tiny toads, at which point they emerge and live on their own. The mother then sheds the layer of skin on her back where her babies lived.
A frog described in 2014 that lives in parts of South Asia gives birth to tadpoles instead of laying eggs. It's a species of fanged frog, which are frogs that do actually have teeth unlike most frogs. Limnonectes larvaepartus grows about 1 ½ inches long, or just under 4 cm. The eggs are fertilized internally, but instead of laying them the female keeps them in her oviducts until they hatch. They remain inside her until they no longer have any yolk left to nourish them, at which point the mother releases them into a slow-moving stream.
Lots of other interesting frogs have been discovered recently. A new frog discovered in southern India in 2018 was recently determined to be a member of its own genus. It's called the narrow-mouthed frog and had gone unnoticed even though it lives in an area that's been extensively explored by scientists. It only comes out into the open for less than one week out of the year during the short breeding season, and the rest of the time it hides. Obviously, we don't know much about it yet.
In 2016 in the same area as the narrow-mouthed frog, researchers discovered a new species of frog with a tadpole that burrows through sand. It's a member of the Indian dancing frog family, and not only do the tadpoles burrow through wet sand at the bottom of streams, they have ribs that help them move around more easily. Tadpoles are usually just squidges without bones. Dancing frogs get that name because the males wave their feet to attract females during mating season.
There are so many recently discovered frog species that it's hard to know which ones to highlight. You know, like the new glass frog from Costa Rica described in 2015 that honestly looks just like Kermit the Frog, if Kermit had a translucent belly that showed his organs. Scientists don't know why glass frogs have no pigmentation at all on their bellies. Or the three tiny frog species discovered in Madagascar and described earlier in 2019, all of them smaller than your thumbnail, that belong to a new genus, Mini. Their scientific names are therefore Mini mum, Mini scule, and Mini ature. The three are related to one of Madagascar's biggest frogs, which grows over four inches long, or 10.5 cm, as opposed to the Mini frogs which top out at about 15 mm long. Hally sent me an article about eleven new species of frog discovered recently in the Andes, including the multicolored rain frog. It's sometimes yellow, sometimes brown, sometimes green, speckled, splotched, spotted–so variable that at first scientists thought they were different related species. All eleven of the Andes frogs lay their eggs on land, and instead of hatching into tadpoles the eggs hatch into tiny froglets.
Frogs and other amphibians are sensitive to environmental change, which means a lot of species have either recently gone extinct or are critically endangered. Habitat loss and an amphibian fungal disease that has spread around the world are also making things hard for frogs and their relations. Scientists have been working hard lately to find species that are rare, suspected to be extinct, or are unknown to science, to learn about them while we can and do our best to preserve the species, either in the wild or in captivity. There are even multiple genetic resource banks, or biobanks, to preserve genetic material of frogs and other animals so that future scientists might be able to clone them.
There's always the possibility that the gastric brooding frog isn't actually extinct. The southern gastric brooding frog hasn't been seen since at least 1981 despite extensive searches, though, with the last captive individual dying in 1983. The northern gastric brooding frog was only discovered in 1984 but hasn't been seen since 1985.
But even if there aren't any left in the wild, all hope isn't lost. The gastric brooding frog is a good candidate for de-extinction, and cloning has actually been successful to a limited degree already. In 2013 a living embryo was produced from preserved genetic material, although it didn't survive. Researchers are still working to clone the frogs and keep them alive. With luck the attempt will be successful, and not only can a population of the frogs be kept in captivity, they can be reintroduced to their former habitat one day.
You can find Strange Animals Podcast online at strangeanimalspodcast.blubrry.net. That's blueberry without any E's. If you have questions, comments, or suggestions for future episodes, email us at strangeanimalspodcast@gmail.com. We also have a Patreon if you'd like to support us that way.
Thanks for listening!