Podcast: Play in new window | Download (Duration: 10:06 — 12.0MB)
Thanks to Will and Henry for their suggestions this week! This episode is two bats out of five on the spookiness scale for monster month, so it's only a little spooky.
Further reading:
Does the Bunyip Really Haunt the Australian Wetlands?
A map and drawing of the original earth carving of a bunyip, from the mid-19th century: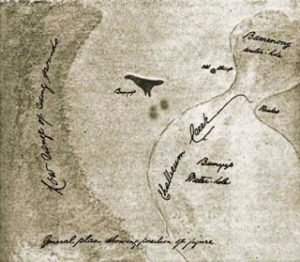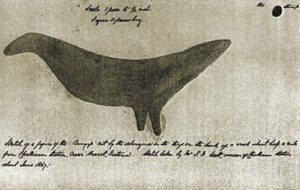 An elephant seal can really look like a monster:
So can a leopard seal [photo by Greg Barras and taken from this site]: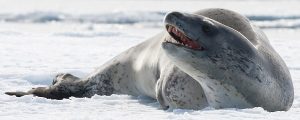 Show transcript:
Welcome to Strange Animals Podcast. I'm your host, Kate Shaw.
This week, as we get closer and closer to Halloween, we're taking a break from spooky bigfoot monsters. Instead, we're in the water with some spooky monsters suggested by Henry and Will! This episode is rated two bats out of five on our spookiness scale, so it's not too scary.
We'll start with Will's suggestion, the bunyip. We talked about it a long, long time ago in episode 36, so it's definitely time to revisit it.
The bunyip is supposed to be a monster that attacks and eats people who come too near the waterholes or lagoons where it lives. It's sometimes said to be gray and covered with feathers, or is described as a humongous starfish or snake, or is supposed to be yellow with black stripes, but the earliest reports in English, back in 1812, describe it as looking like a huge black seal. It was supposed to warn people away with a terrifying bellow or roar.
By about the 1850s the word bunyip had been adopted into Australian English as a term meaning something like humbug or poser. As early as 1933, at least one non-Aboriginal person suggested that the bunyip was inspired by seals that sometimes come up into rivers. If someone who had never seen or heard of a seal before saw one up close, it would definitely look like a monster.
That's mainly what we talked about in episode 36. An Aboriginal sacred site near Ararat, Victoria once had the outline of a bunyip carved into the ground and the turf removed from within the figure. Every year the local indigenous people would gather to re-carve the figure so it wouldn't become overgrown, because it symbolized an important event. At that spot, two brothers had been attacked by a bunyip. It killed one of the men and the other speared the bunyip and killed it. When he brought his family and others back to retrieve his brother's body, they traced around the bunyip's body.
The bunyip carving was 26 feet long, or 8 meters. Unfortunately it's long gone, since eventually the last Aborigine who was part of the ritual died sometime in the 1850s and the site was fenced off for cattle grazing. But we have a drawing of the geoglyph from 1867. A copy of it is in the show notes. It's generally taken to be a two-legged sea serpent type monster with a small head and a relatively short, thick tail. Some people think it represents a bird like an emu.
But if you turn it around, with the small head being the end of a tail, and the blunt tail being a head, suddenly it makes sense. It's the shape of a seal.
The Southern elephant seal lives around the Antarctic, but is a rare visitor to Australia. It's also enormous, twice the size of a walrus, six or seven times heavier than a Polar bear. The males can grow over 20 feet long, or over six meters, while females are typically about half that length. The male also has an inflatable proboscis which allows him to make a roaring or grunting sound, although he usually only does this when he's about to fight another male. This is what it sounds like:
[southern elephant seal sound]
The leopard seal also lives in the Antarctic Ocean but sometimes it's found around Australia, especially the western coast. It's not as big as the elephant seal but it can grow up to 11 ½ feet long, or 3.5 meters, the size of a walrus although it's not as heavy. It's an active, streamlined animal with large jaws. Its teeth that lock together to allow it to filter small animals from the water by pushing the water out of its mouth through its teeth and swallowing any tiny food that remains in its mouth. In addition to filter feeding, the leopard seal can kill and eat fish and even large animals like penguins and even other species of seal, including young southern elephant seals. Its only natural predator is the orca. It's a fast swimmer with large front flippers to help it maneuver. It's also quite vocal, especially the males, and even though it mostly makes sounds underwater, they're often loud enough to hear above the water too. This is what a leopard seal sounds like (admittedly it does not sound scary, unless perhaps you are a small fish):
[leopard seal sound]
Even though the bunyip carving was bigger than the largest known leopard seal or southern elephant seal, it's possible the carving was enlarged by accident over the years. Then again, maybe there really was a truly enormous seal or other animal that attacked two brothers centuries ago. But the bunyip is much more than this one event.
"Bunyip" isn't even the word that all Aboriginal Australians use for this monster, it's just the one that got picked up by English speakers and popularized. It probably came from the word "banib" from the Wemba-Wemba language spoken around what is now Victoria.
The monster known as the bunyip in English is a creature of folklore, religion, history, and storytelling to the people whose ancestors have lived in Australia for probably 50,000 years. That's an astounding amount of time, and naturally that means that the cultures of Aboriginal Australians are complex. All this is complicated because of how disrupted the Aboriginal cultures were when Europeans showed up and decided that they were just going to take Australia for themselves, leading to the often-deliberate and sometimes accidental destruction of the ancient cultures they encountered.
One aspect of the bunyip story is similar to many of the monster stories we've talked about this month. It was often used as a way to keep children away from dangerous places, especially water. A little kid might not understand that a placid-looking pond can be dangerous, but they do understand that monsters are scary.
That's the case for our other monster this week, the kelpie. That's Henry's suggestion, and one that we talked about briefly in episode 317. The kelpie is a Scottish water spirit that's supposed to appear as a pony wandering by itself, but if someone tries to catch the pony or get on its back to ride it, suddenly it drags the person into the water and either drowns them or eats them.
The story comes from the olden days when it was common to see ponies wandering around loose in Scotland and other parts of the British Isles. Some of the ponies in these areas were semi-feral, meaning they lived a lot of the time like wild animals. Some ponies were kept in stables and farmyards as working animals, but others were allowed to roam around and feed themselves as they liked. The problem is that many places where these ponies lived could be dangerous, especially boggy areas, swift-moving rivers, or lochs with deep water.
A typical kelpie story goes like this. Once some children were playing near the local loch when they saw a beautiful gray pony grazing by itself near the water. All the children wanted to ride the pony, so they climbed onto its back. Even though there were eight children, somehow they all fit on its back, all but the youngest boy who wasn't so sure that this was a good idea. He'd been told never to go near strange ponies near the water for fear of kelpies. The other children jeered at him and dared him to climb up. Against his better judgment, he started to do so but as soon as he brushed the pony's side with one finger he realized that finger was stuck fast to the animal. He stopped but it was too late. The kelpie, for of course that's what it was, took off at a gallop toward the water. The children on its back screamed and realized they were also stuck fast and couldn't jump off the pony even when it plunged into the water. Meanwhile, the youngest boy was dragged into the water too by his stuck finger.
Fortunately for him, the youngest boy had a pen-knife with him. He took it out of his pocket with his free hand and cut his own finger off, freeing him from the kelpie just in time. All the other children were drowned, but the youngest was able to swim to shore and run home to safety, but for the rest of his life he only had nine fingers.
And that's why this episode is two bats on the spookiness scale instead of just one. Next week is our big Halloween episode, so be prepared for a whole lot of spookiness, and while you're at it, it's probably best to stay away from the water and any strange ponies you encounter.
You can find Strange Animals Podcast at strangeanimalspodcast.blubrry.net. That's blueberry without any E's. If you have questions, comments, or suggestions for future episodes, email us at strangeanimalspodcast@gmail.com. We also have a Patreon at patreon.com/strangeanimalspodcast if you'd like to support us for as little as one dollar a month and get monthly bonus episodes.
Thanks for listening!