Podcast: Play in new window | Download (Duration: 6:29 — 6.7MB)
I feel like I'm coming down with a cold, so here's a short episode that I can get finished before I start to croak like a bullfrog or a raven. It's time for some astonishing bees! Thanks to Richard J. for the suggestion!
Wallace's giant bee compared to an ordinary honeybee: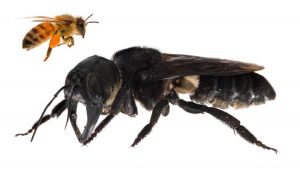 Osima avosetta makes her nest out of flower petals: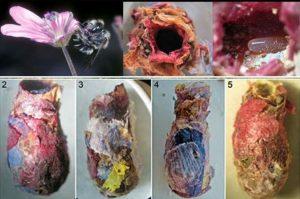 Show transcript:
Welcome to Strange Animals Podcast. I'm your host, Kate Shaw.
I think I'm coming down with a cold, so to avoid another potential bullfrog and raven episode where I croak to you for fifteen minutes in an increasingly hideous voice, this week we'll have a short episode that I can get ready to go quickly. Let's learn about two types of interesting bee!
The first is an insect called Wallace's giant bee, or the giant mason bee, which was suggested by Richard J. That's the Richard J who isn't my brother. Richard sent me an article about Wallace's giant bee, and it's amazing.
Wallace's giant bee (Megachile pluto) is an all-black bee that lives in Indonesia and is the largest species of bee known. The female is larger than the male, which is barely an inch long, or about 2.3 cm. The female's body is over an inch and a half long, or 4 cm, with a wingspan of about three inches, or 7.5 cm. The female also has huge jaws that she uses to burrow into termite nests, and to keep the termites from evicting her and her sisters, she lines the galleries inside with tree resin. The female gathers the resin from specific types of trees, forms it into large balls, and uses her jaws to carry the ball back to her nest.
The bee was described in 1858 and found in forests on three islands in Indonesia. But palm oil plantations have destroyed so much of the forests that it was thought to be extinct. Then, in 1981, an entomologist found six nests and determined that it was still hanging on—but that was the last anyone saw of it until 2018 when two specimens were listed on eBay. That prompted a scientific expedition.
In January 2019, a small team of scientists searched two of the islands where the bee had once been known to live. They searched every termite nest they could find without luck, but when they were about ready to give up and return home, they searched one last termite nest. It was in a tree about eight feet off the ground, or 2.4 meters. And one of the scientists spotted a giant-bee-sized hole in the nest. He poked around the hole with a blade of grass, and a single female Wallace's giant bee emerged from the hole.
The scientists caught the bee and observed her for a short time before releasing her so she could return to her nest. The lead scientist, an entomologist named Eli Wyman, said, "She was the most precious thing on the planet to us," which is exactly how a good entomologist should feel when rediscovering the world's biggest bee.
Hopefully Wallace's giant bee will be protected now that more people know how special it is.
Our other interesting bee is named Osima avosetta, and it's also a type of mason bee. Mason bees use mud, resin, or other materials to make or line their nests. In the case of O. avosetta, she uses flower petals to create nests for her babies. O. avosetta is a solitary bee instead of one that lives in colonies. It lives in southwest Asia and parts of the middle east. The female digs a small hole in the ground and lines it with overlapping flower petals, which she sticks together with mud, then pastes more petals on top of the mud. One hole may have a number of chambers in it, or the bee may make separate nests for each egg. She lays a single egg in each chamber, generally a total of about ten eggs. She makes a mixture of nectar and pollen and leaves it next to the egg, and when all the chambers are full she seals the top of the nest by folding petals over it and covering them with more mud. The mud hardens and protects the eggs from weather and from drying out. When the babies hatch, they eat the nectar and pollen their mother left them. About ten months later they emerge from the nest as fully grown bees.
No one knew about this behavior until around 2009, when two different research teams working in two different countries observed the bee making nests. But the great thing is, the two teams weren't associated. They only found out later that they'd both observed the same thing on the exact same day. The two teams got together and co-wrote a scientific article about O. avosetta, which is awesome. It seems pretty clear to me that people who like bees are pretty great.
You can find Strange Animals Podcast online at strangeanimalspodcast.blubrry.net. That's blueberry without any E's. If you have questions, comments, or suggestions for future episodes, email us at strangeanimalspodcast@gmail.com. We also have a Patreon at patreon.com/strangeanimalspodcast if you'd like to support us and get twice-monthly bonus episodes for as little as one dollar a month.
Thanks for listening!