Podcast: Play in new window | Download (Duration: 10:43 — 11.2MB)
It's the 2021 brood of 17-year cicadas! Thanks to Enzo (and several others) who suggested it!
Further listening:
Our local Brood X cicada (photo by me!):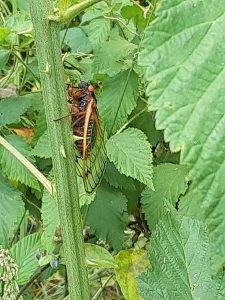 The holes that cicadas emerged from (photo also by me):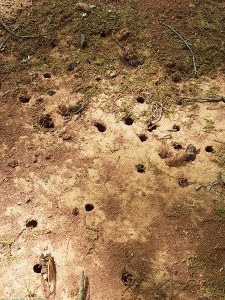 Discarded cicada shells. My work keys and Homestar Runner keychain for scale: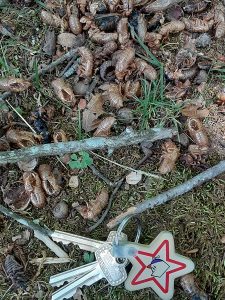 Show transcript:
Welcome to Strange Animals Podcast. I'm your host, Kate Shaw.
This week we're going to talk about cicadas, specifically the 17-year cicadas that you may have heard about in the news or in your own back yard, depending on where you live. Thanks to the several people who suggested the topic on Twitter, with special thanks to Enzo who emailed me about it.
I actually wasn't going to do a cicadas episode because we already talked about cicadas way back in episode 28. We didn't go into too much detail in that one, but Varmints! podcast did a great in-depth show about cicadas recently so I've been referring people to them, and check the show notes for a link if you don't already listen to Varmints. Besides, I hadn't heard any of the cicadas myself so I didn't see what the big deal was.
Then I returned to work after taking some time off to take care of my cat Poe, who by the way is doing really well now and thanks for all the well wishes! The second I got out of my car, I heard them. The cicadas. Now, we get cicadas every year where I live in East Tennessee, so the sound is familiar to me and I actually like it. I find it soothing and the quintessential sound of summer. But this was something else. At only 8am the trees along the edge of campus were filled with what I can only describe as a high-pitched roar.
I went out at lunch and the sound was even louder. I got some audio, so here's what a whole bunch of cicadas sound like when they're calling at once.
[cicada sounds]
I also got pictures, which you can see in the show notes.
The cicadas emerging in such numbers this year are 17-year cicadas. They spend almost all of those 17 years as nymphs underground, where they eat sap from the roots of trees and other plants. At the end of the 17 years, when the soil is warm enough, they emerge from the ground and molt into their final form, the full-grown adult cicada!
The adult cicadas have wings but aren't very good fliers. I can definitely attest to that because when I was taking pictures of them, I kept having to dodge as cicadas flew from bush to tree and either didn't see me standing there or thought I was a weird tree or maybe just couldn't maneuver well enough to avoid me. They're pretty big insects, up to two inches long, or five cm, with gray or black bodies and orangey-red legs and eyes. The wings have pale orange veins.
The first cicadas to emerge are mostly males, in such numbers that predators get too full to care when the females emerge a few days later. That way more females survive to lay eggs. At first the cicadas that emerge still look like nymphs, but within about an hour they molt their exoskeleton and emerge as full adults with wings. They're pale in color until the new exoskeleton hardens and the wings expand to full size, which takes a few days.
This, of course, leaves behind a cicada shell, which is the shed exoskeleton. When I was very small, I was terrified of cicada shells even though they're just empty and perfectly harmless. They look scary because of those big pointy legs and big round eyes. You can frequently find cicada shells still stuck to tree bark, and it's okay to pick them up and collect them if you like. The cicada doesn't need it anymore. You can see the slit along the back of the shell where the cicada climbed out.
The emerged cicadas climb or fly into trees where the males start singing. Males produce their loud songs with a structure called a tymbal organ in their abdomen. The abdomen is mostly hollow, which helps amplify the rapid clicking of a pair of circular membranes. The clicking is so fast, up to 480 times a second, that humans hear it as a continuous buzzing noise and not individual clicks. Some cicada songs are louder than 120 decibels, which is the same decibel level as a chainsaw.
A reminder: this is what they sound like:
[more cicada sounds]
A female finds a male by listening to his song. After a pair mates, the female makes little cuts in twigs at the end of a tree branch, usually new-growth twigs because they're softer. She lays her eggs in the cuts, then soon dies and falls to the ground.
Within a few weeks, all the adult cicadas have died. But around eight weeks later, the eggs hatch. The new nymphs are teensy, only a few millimeters long. They drop to the ground and burrow into the soil up to a foot deep, or 30 cm. There they stay for the next 17 years, growing larger very slowly until it's time to emerge.
The current big group of cicadas consists of three species that look very similar. It's called brood ten although I agree with Varmints who think it should be brood X because the Roman numeral ten is an X and every time I see it, I read it as Brood X. There are plenty of other cicadas, though, including some that emerge every 13 years instead of 17 years, and some that emerge every year or every few years.
Cicadas have been around for some 4 million years and most species live in tropical areas. Brood X is only found in the middle to northern areas of the eastern United States. It used to be even more widespread, but habitat loss has reduced its range considerably. Every time a forest is bulldozed to build a lot of houses, the nymphs underground either die outright or emerge later to find no trees to protect them and their eggs. Brood eleven went extinct in the 1950s, so even though there are millions of cicadas now, there may come a summer when no Brood X nymphs survive to emerge 17 years later.
The sudden emergence of thousands upon thousands of big loud insects in a short amount of time can be alarming, but cicadas are completely harmless to people, pets and other animals, and plants. They don't eat as adults and they only make noise for a few weeks. They also don't live everywhere. Even on the college campus where I work, the cicadas are only present in certain places. On the edge of the parking lot they're everywhere. If I walk down to the far end of the duck pond, nothing. So if you happen to have Brood X cicadas in your yard or on your street, just remind yourself that that makes your home special and they'll all shut up soon.
Of course, depending on where you live, in three years the enormous brood 19, called the great southern brood, will emerge throughout the southeastern United States, along with the smaller but just as loud brood 8, called the Northern Illinois Brood. But that gives you three years to buy a good pair of earplugs.
You can find Strange Animals Podcast at strangeanimalspodcast.blubrry.net. That's blueberry without any E's. If you have questions, comments, or suggestions for future episodes, email us at strangeanimalspodcast@gmail.com. If you like the podcast and want to help us out, leave us a rating and review on Apple Podcasts or Podchaser, or just tell a friend. We also have a Patreon at patreon.com/strangeanimalspodcast if you'd like to support us that way.
Thanks for listening!