Podcast: Play in new window | Download (Duration: 11:16 — 11.3MB)
Subscribe: RSS
Uh, yeah, not the legless lizard episode. But just as interesting! This week let's learn about the largest rodents in the world! Hint: way bigger than a rat.
Further reading:
Rodents of Uncertain Systematics
The mellow and photogenic capybara: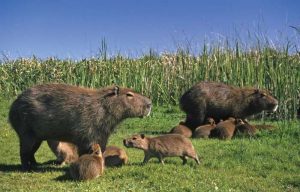 Oh to be a capybara in an open bath with an orange on its head: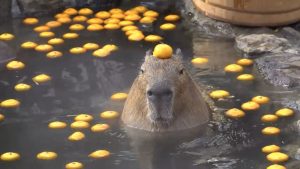 Hey, pacarana: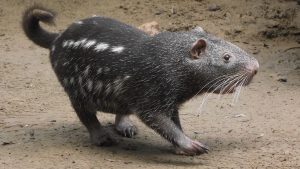 Oh to be a paca with half an orange: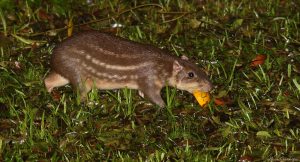 Oh to be a chevrotain with a piece of orange. (The chevrotain is not a rodent. It has hooves. Episode 116 explains this creature):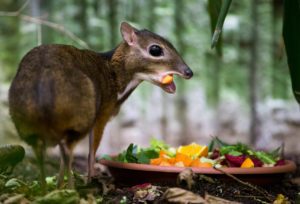 Show transcript:
Welcome to Strange Animals Podcast. I'm your host, Kate Shaw.
Yes, I know, last week I said we might have an episode this week about legless lizards and other snakey things that aren't snakes, but I got this episode ready first so instead, this week we're going to learn about some rodents of unusual size!
Rodents are mammals in the order Rodentia, and there are thousands of them throughout the world. Mice and rats are rodents, of course, but so are chipmunks and squirrels, hamsters and gerbils, prairie dogs and guinea pigs, and many others. But you may notice that all the animals I just mentioned are pretty small. That's because most rodents are on the small side. But not all of them.
The biggest rodent alive today may be one you've heard of, the capybara. It's native to much of South America and lives in forests, rainforests, and other areas, but always near water. It really likes water and eats a lot of aquatic plants, although it also eats grass, fruit, tree bark, and other plants. Like other rodents, its teeth grow throughout its life but constantly wear down as it eats tough plants.
So how big is the capybara? It grows to about two feet tall, or 62 cm, and four feet long, or 1.3 meters. Females are usually a little larger than males. Basically they're the size of a big dog, but a big dog with webbed toes, small ears, big blunt muzzle, basically no tail, and a calm outlook on life. Because unlike many rodents who tend to be nervous and quick-moving, the capybara is pretty chill.
The capybara is semiaquatic and likes to hang out in the water, often in social groups. It can hold its breath underwater for up to five minutes, and can even sleep while submerged with just its nose above water. That's why its nose, eyes, and ears are close to the top of its head, so it can be alert to predators while remaining safely underwater.
The capybara has a scent gland on its nose called a morillo. The female has a morillo but the male's is bigger since he scent marks more often by rubbing the gland on plants, trees, rocks, other capybaras, and so on. During mating season, the female capybara attracts a male by whistling through her nose, because who doesn't like a lady who can whistle through her nose? The capybara will only mate in water, so if a female decides she doesn't like a male, she just gets out of the water and walks away from him.
The female usually gives birth to four or five babies in one litter. If the female is a member of a group of capybaras, all the babies stay together in the middle of the group and all the females care for them. In most mammals, the female will only let her own babies drink her milk, but a female capybara will suckle any babies in the group who are hungry. Like I said, they're pretty chill.
There are actually two species of capybara, but some people consider the lesser capybara to be a subspecies of capybara and anyway, we don't know much about it. Other than that, though, the capybara is most closely related to the guinea pig. Like the guinea pig and like humans, the capybara can't synthesize vitamin C in its body and has to get it through its diet. That means if a capybara in captivity doesn't receive fruit and other plant material containing vitamin C, eventually it will show symptoms of scurvy.
The capybara is killed for its meat and hide, but it's also sometimes kept as a pet. It's not a domesticated animal and it's as heavy as a full-grown human, so while the capybara isn't specifically dangerous it's not really a good pet. Also, it will eat your garden and wallow in mud and if you don't have a pool it's going to wander around until it finds one. It's probably better to get a dog.
While the capybara is a strong swimmer, it can move fast on land when it wants to. It can run up to 22 miles per hour, or 35 km/hour. This is what a capybara sounds like.
[capybara sounds]
Big as the capybara is, even bigger rodents used to live in South America. Around 8 million years ago a rodent called Phoberomys pattersoni [foe-barommis] lived in what is now Venezuela and nearby areas, especially around the Orinoco River. It was discovered in 2000 when an almost complete skeleton was found, and it was really big. We're talking nine feet long, or 2.75 meters, and that doesn't even include its tail. It stood over four feet tall, or 1.3 meters. It was described in 2003 and is a relative of guinea pig and the capybara.
But since then, paleontologists have found fossils of rodents that are estimated to be even bigger. Around 3 million years ago an animal called the giant pacarana grew to an estimated five feet tall, or 1.5 meters, with a body ten feet long, or 3 m. But we don't know for sure if it was bigger or smaller than that estimate, since so far all we have is a fossilized skull discovered in 1987 and described in 2008. Another closely related rodent is only known from some teeth. Some researchers think it used its massive teeth like elephants use their tusks, to fend off predators and fight each other.
So if there was once a giant pacarana, what's a regular pacarana? It's another South American rodent, and while it's not exactly capybara size it's much larger than a mouse. It grows more than 3 ½ feet long, or 100 cm, and is shaped sort of like a capybara with a tail, although its head is more rodent-like. It's dark brown-gray with rows of white spots down its sides and a thick tail covered with fur. It's the only living member of the family Dinomyidae and it has many unusual features compared to other rodents. I'd tell you what they are but they're all things like "it has a flatter sternum," which wouldn't mean a whole lot to most of us. Shout-out to any rodent experts listening, though.
The pacarana was discovered by scientists in 1873 when a Polish nobleman traveling in Peru shot one and sent its skin and skeleton home, where it was studied by the director of the Berlin Zoo. But after that one specimen was killed, the pacarana seemed to vanish. Then in 1904 someone sent two pacaranas to a museum in Brazil. The museum's director gave them to the local zoo where they could be taken care of, although the female died after giving birth shortly afterwards.
It turns out that the pacarana isn't all that rare, but it's shy and hard to spot in its habitat, forested mountains in South America. But because it's seldom seen, not very many zoos have them, but zookeepers all report that pacaranas are docile and friendly. I can confirm that they are very, very cute although I haven't seen one in person.
The pacarana is named after another rodent called the paca, which looks similar but has a shorter tail and is smaller than the pacarana, although still a pretty big rodent. The paca grows up to about two and a half feet long, or 77 cm, not counting its 9-inch tail, or 23 cm, and is dark brown with rows of white spots on each side. It looks kind of like a chevrotain, which as you may remember from episode 116 is also called the mouse deer even though it's not a mouse or a deer. The paca lives in a burrow that can be ten feet long, or 3 meters, usually with two entrances that it covers with leaves to hide it. It likes fruit, leaves, flowers, fungi, and other plant material, but it will also eat insects.
The paca likes to swim and can stay underwater even longer than the capybara, as much as 15 minutes. It usually mates in the water too. It's mostly nocturnal, although some populations may be crepuscular, and it lives in much of Central and South America, although it's also present in southern Mexico.
After her babies are born, the mother paca tucks her babies in a hole she digs that's too small for predators to enter. But the hole is also too small for her to enter. To let the babies know it's safe to come out, she calls to them in a low trill. The paca, in fact, makes a lot of sounds, and its voice is way louder than you'd think. It has resonating chambers in its cheeks to make its voice even louder.
Here are some sounds that a paca makes:
[paca calls]
Ages ago, Llewelly sent me a link to an article about some interesting rodents of South America. I've included a link to it in the show notes in case you want to learn more about South American rodents that aren't quite as big as the ones we've covered today, but which are just as interesting.
You can find Strange Animals Podcast online at strangeanimalspodcast.blubrry.net. That's blueberry without any E's. If you have questions, comments, or suggestions for future episodes, email us at strangeanimalspodcast@gmail.com. We also have a Patreon if you'd like to support us that way.
Thanks for listening! Oh, and this is what a baby capybara sounds like.