Podcast: Play in new window | Download (Duration: 16:56 — 20.2MB)
Happy Halloween! We have a super spooky episode for you this week, a full five out of five bats on the spookiness scale, all about the not-deer of modern folklore!
Join our Patreon and get bonus episodes and other perks! You can also buy copies of the Beyond Bigfoot & Nessie book and Kate's other books!
Further reading:
Days before Halloween, creepy trail photo reveals deer standing on 2 legs in NC woods
Sharon A Hill's Spooky Geology (not about the not-deer but a lot of fun even so)
The white-tailed deer uses its bright white tail to warn other deer of danger: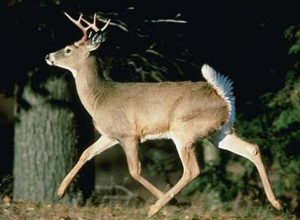 White-tailed deer sometimes stand on their hind legs to reach vegetation or fight: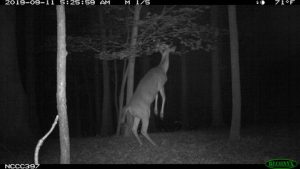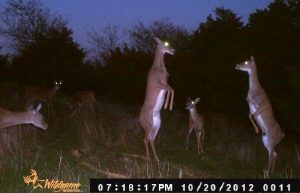 Show transcript:
Welcome to Strange Animals Podcast. I'm your host, Kate Shaw.
Happy Halloween! It's time for our spookiest episode of the year! It's rated five out of five bats on our spookiness scale. If you like scary stories on Halloween, make some cocoa and popcorn and sit back to be spooked. If you're not really a fan of the scarier stuff, you might want to skip this one. Some people also really don't like hearing about diseases, and that's one of the things we'll be discussing. We're going to talk about a really weird cryptid called the not-deer.
Before we get started, though, we have a little bit of housekeeping, as the big podcasters call it. First, I want to reassure everyone who has sent me suggestions that I'm trying to get to them as soon as possible. I love how many people listen and want to share their enthusiasm about animals, but I do feel bad that some people have been waiting a really long time for their suggestion to make it off of the massive humongous ever-growing ideas list into an episode.
At the same time, I've been thinking of ways to make money off the podcast without running ads. I make Strange Animals Podcast because I love helping people learn about animals and science, and I also really value the people who are able to support the podcast through Patreon. But I do put an awful lot of work into each episode, so much that it's basically a second job. I thought about it, and decided to make a new Patreon tier that's a little different from the others. It's called the terror bird tier, and when I drew the art for it I forgot that terror birds didn't have actual teeth, but we'll call that artistic liberty. It's a $25 a month tier, and not only do you get access to the bonus episodes that all patrons can listen to, after three months at that tier you can message me your episode idea AND tell me what week you'd like that episode to run. I've limited the new tier to 25 backers, to make it fair for people who don't have the money for that, and honestly I don't expect to get very many people at that level at all, because that's a lot of money, but I thought I'd give it a try.
Finally, the Beyond Bigfoot & Nessie book is still available, as are my other books, and in 2024 I'm planning to attend some conventions again to sell copies of the book. I'll let you know where I'll be as I find out, in case you want to come say hi. I'm also very slowly working on a sequel to the book, tentatively titled Small Mysteries, which is all about mystery animals that are really small, like frogs and insects and teeny fish. It probably won't be ready to publish for a few years, so I'm working hard to make sure it's got a whole lot of footnotes with references. That's one of the things I regret not doing for Beyond Bigfoot & Nessie.
Now, with all that out of the way, on to the spookiness!
The not-deer is a cryptid, or mystery creature, that's mostly reported from the Appalachian region of the United States. I live in the southern Appalachians near the Smoky Mountains, but I'd never heard of the not-deer until a few months ago. I subscribe to Sharon Hill's Strange Times newsletter, and also love her Spooky Geology website where you can learn all the science behind weird events like earthquake lights. There's a link in the show notes, but you can search for https://spookygeology.com/ to find it. Sharon Hill wrote about the not-deer in mid-2023 in her newsletter, where she said the not-deer "looks like a deer until you REALLY look and find that it's not a deer. It displays unsettling characteristics that scare the heck out of people."
Reports vary, but in general, the not-deer is supposed to look like an ordinary deer at first glance, but then the witness realizes it's really weird in some ways. Some people report that the deer appears to have extra joints in its legs, a misshapen or overly large head, an overly long neck or legs that are too long or too short, eyes that are close together on the front of its head instead of on the sides of its head as is normal with hoofed animals, and so on. It might walk on its hind legs like a human, and sometimes people say the creature appears to be unusually intelligent and not afraid of people.
The not-deer became popular online around the summer of 2020, especially on TikTok, with the term not-deer apparently coined in August 2019 on Tumblr, but the idea goes back several decades at least. According to Sharon Hill, Jerry Clark, the editor of Fate Magazine, collected two accounts of not-deer in 1971, although he didn't call them not-deer because that term wasn't invented yet.
To give you an idea of what we're talking about, here are three accounts from a Reddit thread. I've reworded the stories to make them shorter and more appropriate for a general audience, but I haven't changed any details.
First is a 2020 report from a Redditor in northern Georgia:
"I live at the foothills of the Appalachian mountains halfway in between Chattanooga and Atlanta and sometimes my family takes trips to the mountains. One day up there me and my cousin drove around to just take in the views. At around 8pm we were headed back and were nearly at our cabin when we saw a deer on the side of the road. We slowed down but as we got close, it walked into the road. I hit the brakes and then it stood up and started walking around on its back legs. My cousin and I have been out in nature with animals our whole lives but we'd never seen anything like it. It just looked so wrong! Its joints didn't move right and it had arms not front legs, and its upper half was like a human excluding the head."
The next story is from a Redditor in Virginia, who at the time of their encounter was riding a motorcycle slowly along the Skyline Drive in Shenandoah National Park at night, although when they encountered the deer they stopped to get a better look.
"It was like a deer drawn by someone who had never seen a deer after someone else described it to them. It stood on the left side of the road on the mountainside, and I saw the eyes long before my headlight showed it fully. It was easily the biggest deer I've seen, and the lack of any antlers that time in the year suggested that it was a doe. The head was almost bovine in shape, the legs seemed too long in proportion to the body (think maned wolf proportions), and the body was extremely barrel chested.
"As soon as I crossed into the other lane, it rose up onto its hind legs. It took two jerky, unnatural steps towards the center of the lane on 2 legs and froze again, staring directly at me. It suddenly shook its head wildly like a dog with a toy, took another short step, then HOPPED on two legs several times until it disappeared into the darkness on the right side of the road.
"I turned the light towards the side of the road. On that side, there was a sheer drop off compared to the roadway, and the deer's head was just peeking over the edge, still looking at me. The drop off was about 40 to 50 feet [that's about 12 to 15 meters], so there's no way it was standing at the base of the mountainside."
Finally, in June of 2023 a Redditor wrote:
"I believe I saw a not-deer 3 weeks ago on KY 10 just outside of Lenoxburg. I was driving home to Cincinnati and decided to take the back route. It was dusk and the deer were out and moving. I looked out to my driver's side and saw a few deer in the field, however there was one closer to the road that was…off. It had small squatty hind legs and long almost ape-like front legs and its neck was too long. The second I laid eyes on it my stomach dropped and I felt a fear I've never experienced before. My dogs began to tremble and whine and the feeling didn't go away until I got back across the river to Ohio."
The most common deer in the Appalachian Mountains is the white-tailed deer. It's common throughout most of North and Central America down into northern South America. It's also an invasive species in some parts of the world where people have introduced it as a game animal. Different populations and subspecies vary in size, but the Virginia subspecies found in Appalachia generally grows up to 4 feet tall at the shoulder at most, or about 1.2 meters. Males are larger than females on average. It's crespuscular, meaning it's most active at dawn and dusk.
In summer the white-tailed deer is reddish-brown, and in winter its coat is more gray-brown. It gets its name from the underside of its tail, which is bright white. When a deer feels threatened, it raises its tail to warn other deer to be alert, and to warn a potential predator that the deer has spotted it. Baby deer, called fawns, are born in spring and have white spots that help camouflage them in dappled sunlight and shade under trees.
The male white-tailed deer, called a buck or stag, starts growing a new set of antlers in the summer. Antlers are made of bone, but they grow faster than any other mammal bones. While they're growing, they're covered in a special type of highly vascularized skin called velvet. The velvet supplies nutrients and oxygen to the antler as it grows, and since the antlers grow so fast, they need a whole lot of nutrients. A deer in poor health or who can't find enough to eat will grow small antlers, while a healthy deer who has lots to eat will grow larger antlers. Older males usually have bigger antlers than younger males too. The female deer, called a doe, is attracted to bucks with bigger antlers because she can be sure he's healthy.
Once the antler has finished growing, it actually dies. The velvet dries up and the deer will rub his antlers on a branch or other object to help remove it. Because there are so many blood vessels in the velvet, sometimes a deer who is shedding the velvet has his antlers, head, and face splattered in blood, but he's not hurt, just messy. Bucks use their antlers to fight each other, although they also use them to attack potential predators. Around the end of winter or early spring, the buck sheds his old antlers in preparation for growing a new set.
Many sightings of not-deer are probably due to people seeing diseased or injured deer. Two diseases that are especially hard on deer are Epizootic Hemorrhagic Disease, or EHD, and Chronic Wasting Disease, or CWD.
EHD is a virus spread by biting flies and midges, and while many species of deer can catch it, white-tailed deer are especially vulnerable to it. Humans can't catch it, so don't worry unless you are a deer. Symptoms of EHD include lameness, swelling of the head and neck, a lack of fear of humans, drooling and a runny nose, panting, and fever, which leads to sick deer sometimes lying down in water to cool off. Many deer who catch EHD eventually recover.
CWD is a more serious disease, sometimes called zombie deer disease. It's related to the so-called mad cow disease found in cattle, and scrapie found in sheep and goats, and it can affect various species of deer. It's always fatal but it can take a long time to develop, up to two years after exposure until the first symptoms. It's caused when a protein in the animal's nervous system is abnormally folded, a condition that spreads and causes neurodegeneration and holes in the brain. CWD is spread from animal to animal, but it can also spread through the environment in water and soil. So far the disease hasn't been found to spread to humans.
Variations of CWD have been around for a very long time in various animals, but it was first identified in 1967 in a population of captive mule deer in Colorado. By 1981 it had spread to wild elk and it continues to spread in both wild and captive deer, although it's still very rare. Symptoms include trembling and staggering, repetitive motions like walking in circles, grinding of teeth, drooling, confusion, and loss of fear of humans.
In addition to all this, perfectly healthy deer can have unusual behavior that isn't witnessed by humans very often. Deer can and do stand and even walk short distances on their back legs, mostly to reach food growing up high. Does in particular will sometimes fight by standing on their hind legs and boxing each other with their front hooves. I own an amazing book called The Deer of North America by Leonard Lee Rue III, and here's an interesting quote from that book:
"The oddest example of deer locomotion I ever heard of…was witnessed by five people. In July of 1967, the group had been out looking for deer when their trip was cut short by heavy rain. On the way home they saw two deer in a field of high weeds. Suddenly one of the deer raised both of his hind feet in the air, as if it were doing a handstand, balancing and walking on its forefeet. They thought the deer was injured and had to walk that way, but then the second deer did the same thing. Both deer walked on just their front legs for a distance of about 75 feet to where they could no longer be seen. […] We are constantly learning new things about deer."
Leonard Lee Rue III suggested that the deer were just playing around and having fun.
Most people don't know a whole lot about deer behavior. Most not-deer reports come from people who witnessed the creature while driving in the dark, so they didn't get a very good look at it. Plus, as I've said over and over, people see what they expect to see. The not-deer has become popular online over the last few years, which means when someone is driving along and sees a deer behaving in what they think is an unusual manner, they remember the not-deer stories. Their brain automatically fills in details they can't really see, leading to the person remembering things like a deer with human arms or six eyes.
In addition, people like telling spooky stories to scare each other. It's probable that at least some of the scariest not-deer accounts are fiction. So if you see a deer, you don't have to be scared. Just observe it and you might just learn something new about deer behavior. (Or something spooky will happen, in which case you have a great opportunity for a TikTok video.) Happy Halloween!
You can find Strange Animals Podcast at strangeanimalspodcast.blubrry.net. That's blueberry without any E's. If you have questions, comments, or suggestions for future episodes, email us at strangeanimalspodcast@gmail.com. We also have a Patreon at patreon.com/strangeanimalspodcast if you'd like to support us for as little as one dollar a month and get monthly bonus episodes.
Thanks for listening!