Podcast: Play in new window | Download (Duration: 8:04 — 8.1MB)
I hope you're all well and not too bored if you're one of the millions who are having to stay inside right now! This week let's learn about a fishy mystery, fish with fur!
Further reading:
Mirapinna esau – a Furry Fish from the Azores
The so-called fur-bearing trout: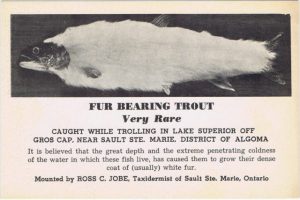 A hairy frogfish: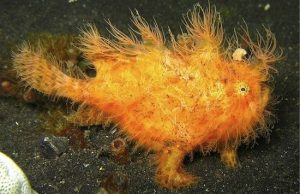 The hairyfish (I couldn't find any actual photos of one):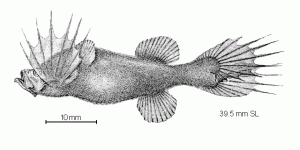 This man is serious about moldy fish. He wants the mold to think about what it's done while it's in time out: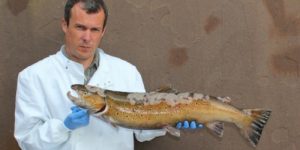 Show transcript:
Welcome to Strange Animals Podcast. I'm your host, Kate Shaw.
This week let's learn about a fishy mystery, if not an actual mystery fish. Are there any fish with hair?
Sometimes you'll see a mounted fish that has fur, usually decorating a restaurant. It may be the same type of restaurant that also has a stuffed jackalope, which we talked about in episode 113. Fur-bearing trout are jokes by taxidermists, who usually attach rabbit fur to a stuffed fish.
But some cultures have stories about fish with hair. This includes the Japanese story of big river fish with hair on their heads like people, although since these fish are supposed to come out of the water at night to fight and play, they're probably not actual fish. There's also an Icelandic legend about an inedible trout with fur that shows up in rivers where people are not being nice enough.
Could these stories be based on a real animal? Are there any fish that grow fur or hair?
Mammals are the only living animals that grow actual hair from specialized cells, but lots of animals have hair-like coverings. Baby birds have downy fuzzy feathers that look like hair and many insects have hairlike structures called setae [see-tee], made of chitin, that make them look furry.
Some fish grow hairlike filaments that help camouflage them among water plants and coral. We've talked about the frogfish and its relatives, the anglerfish, many times before, because they're such weird-looking fish, many of them deep-sea species that are seldom seen. The hairy frogfish isn't a deep-sea species, though. It lives in warm, shallow waters, especially around coral reefs, and grows to about 8 inches long, or 20 cm. The hairlike filaments that cover its body help it blend in among seaweed and anemones. It's usually brownish-orange or yellowish, but it can actually change its color and pattern to help it blend in with its surroundings. This color change doesn't happen fast, though. It takes a few weeks.
Like other frogfish, it has a modified dorsal spine called an illicium with what's called an esca at the end. In deep-sea species of anglerfish, the esca contains bioluminescent bacteria, but in the hairy frogfish it just looks like a worm. The fish sits immobile except for the illicium, which it twitches around. When a fish or other animal comes to catch what looks like a worm swimming around in the water, the frogfish goes YOMP and gulps the animal down. Like other frogfish species, the hairy frogfish has large, strong pectoral and pelvic fins that it uses to walk across the sea floor instead of swimming.
Another fish that looks like it has hair is called the hairyfish. The hairyfish barely grows more than two inches long, or 5.5 cm. It eats copepods and other tiny crustaceans that live near the ocean's surface and it's covered with small hairlike filaments. Its close relations are equally small fish called tapetails because its tail fin has a narrow extension at least as long as the rest of its body called a streamer. The tapetail was described in 1956 but scientists were confused because no one had ever found an adult tapetail, just young ones. It wasn't until 2003 that a team of Japanese scientists discovered that the DNA of tapetails matched the DNA of a deep-sea fish called the flabby whalefish. There are lots of whalefish species, but the largest only grows to about 16 inches long, or 40 cm. It looks very different from its larval form, with loose skin without scales or hair-like filaments or the tail streamer. But even after researchers figured out that the tapetail and hairyfish are larvae of whalefish, there was still another mystery. All the whalefish ever found were females. Where were the males? Finally they identified yet another deep-sea fish called a bignose fish as the male of the species. The bignose fish has a huge liver but its mouth doesn't go anywhere—it doesn't have a throat or stomach. It gets its name from a bulge on its snout that gives it a keen sense of smell.
It turns out that after a larval whalefish develops into an adult, the male doesn't need to eat. It lives off the fat and nutrients stored in its huge liver and uses its sense of smell to find a female in the depths of the ocean. The female remains a carnivore, eating any small animals it can catch, and it often migrates at night from the deep sea to nearer the surface, then returns to the depths during the day. So far we don't know which species the hairyfish develops into as an adult.
But the hairy frogfish and the hairyfish are both rarely seen marine fish. Are there hairy-looking freshwater fish that might have inspired the legends of furry fish?
There is a disease called cotton mold that infects fish and makes them look like they have white or grayish spots of fur. Saprolegnia is the name of the mold, which lives in water and can infect fish in the wild and in aquariums. It mostly prefers cold fresh water and usually infects fish that are already injured. It spreads across the fish's skin and makes it look fuzzy, and eventually it kills the fish. Salmon and trout are common targets of this mold, which may be the source of the Icelandic story.
As for the Japanese story about the hairy fish creatures that come out of the river at night, zoologist Karl Shuker suggests the legend may be based on sightings of the northern fur seal. While seals are mammals, not fish, they do look superficially like fish, and while seals also usually live in the ocean, they occasionally stray into rivers.
So that seems to cover the hairy fish mystery. But next time you go on a fishing trip or just hang out in a boat, keep an eye out for fish with fur just in case.
You can find Strange Animals Podcast online at strangeanimalspodcast.blubrry.net. That's blueberry without any E's. If you have questions, comments, or suggestions for future episodes, email us at strangeanimalspodcast@gmail.com. We also have a Patreon at patreon.com/strangeanimalspodcast if you'd like to support us and get twice-monthly bonus episodes for as little as one dollar a month.
Thanks for listening!