Podcast: Play in new window | Download (Duration: 5:12 — 5.3MB)
It's a bonus episode because some people are too disturbed by the thought of diseases to listen to this week's regular episode. I'm really sorry about that! To make it up to you, here are two adorable fluffy animals that live in Mongolia and other parts of Asia.
Super floof! Pallas's cat, AKA the manol or manul (photo by Julie Larsen Maher, looks like):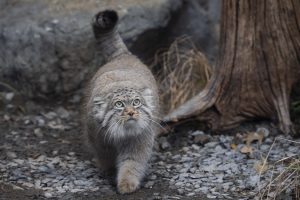 I would deny you nothing, round boi: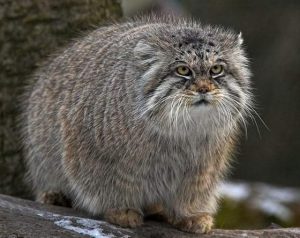 we all died of cute right here:
The handsome corsac fox would break your heart in an instant if it felt like it: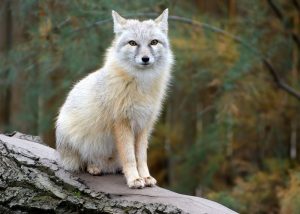 Show transcript:
Hello, it's a bonus episode of Strange Animals Podcast, because it turns out that some people couldn't listen to this week's episode because they get too creeped out about diseases. I feel terrible about that so I've put together a short bonus episode to make up for it. Let's learn about two more Mongolian animals, because I am still completely obsessed with the Mongolian band The Hu and in fact I have tickets to see them live in May in Lexington! If you're going to be there too, let me know so we can hang out.
Our first animal is called the manol or Pallas's cat, a type of wildcat native to parts of central Asia. It's about the size of a domestic cat with plush grayish-brown fur that gets very thick in winter. It has black spots and stripes, including a long ringed tail, and ears that are set low on the head. It is magnificently fluffy, especially in winter, with especially long fur on its belly.
In fact, it gets so fluffy that it looks a lot like a longhaired domestic cat. The zoologist Peter Pallas, who first described the manol in 1776, thought it must actually be the ancestor of the Persian breed of domestic cat, especially since the manol has a relatively short nose and flat face like Persian cats, and has a stocky build like Persians. But the manol is actually not very closely related to domestic cats, and is in its own genus instead of the genus Felis. For one thing, its pupils are round instead of vertical like a domestic cat's pupils.
The manol is solitary and doesn't get along well with other manols, not even family members. One zoo was concerned about a litter of manol kittens that had just been born, since it sounded like they were making little wheezing noises. But a closer inspection revealed that the kittens were just growling at each other.
The manol eats small animals, especially a small rabbit relative called a pika, but also gerbils, voles, insects, and other animals. It lives in the steppes of central Asia and often lives at high elevations. It mostly lives in dry habitats where there isn't much snow, especially rocky areas or grassland. Because its rounded ears are set so low on its head, the cat can hide among rocks and among plants without its ears giving away its position by sticking up too far. If it feels threatened, it will flatten itself to the ground and freeze, where it looks kind of like a fluffy gray rock.
Our other Mongolian animal is the corsac fox, which lives in very similar habitats as the manol and which also grows a lovely fluffy coat in winter. In the summer its coat is much shorter. It's yellowish-gray or pale gold in color, paler underneath and with a dark stripe down the back in winter.
The corsac fox isn't very big, a little over two feet long, or 65 cm, not counting the tail, which adds another 14 inches, or 35 cm, to its length. Since it lives in areas where it's usually dry, it doesn't need to drink water very often. It gets most of its water from its diet, which is very similar to the manol's diet—mostly small animals like hamsters, gerbils, and pikas, although it also eats insects, carrion, and fruit and other vegetation. Its teeth are small compared to other foxes.
Unlike many fox species, which are mostly solitary, the corsac fox usually lives in small packs. The pack lives in a series of shallow burrows that the foxes either dig themselves or take over from other animals. The burrows are usually connected to each other and have several entrances. The corsac fox is also a good climber because of its claws, which are more hook-shaped than most canid claws.
Both the corsac fox and the manol are threatened by habitat loss and poaching. People hunt both animals for their fur. But they're both still doing well otherwise, with the corsac fox in particular given a conservation rating of least concern. The manol is considered near threatened, but it's protected in most countries where it lives with a captive breeding program in place across a number of the world's zoos.
That's all for this bonus episode. Again, I apologize to anyone who had trouble with this week's regular episode. I hope you feel better now thinking about these adorable fluffy animals!
Thanks for listening!