Podcast: Play in new window | Download (Duration: 16:33 — 12.7MB)
We're going to learn about the colossal squid in this episode, with bonus info about the giant squid…and then we're going to learn about the massive things that eat this massive squid!
A giant squid, looking slightly guilty for eating another squid: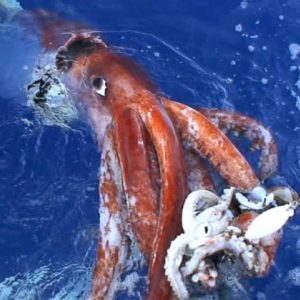 A colossal squid, looking less than impressive tbh:
THAT EYEBALL: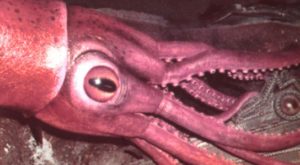 A sperm whale looking baddass: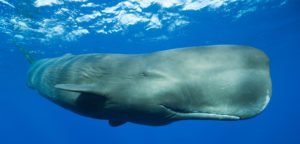 A southern sleeper shark, looking kind of boring: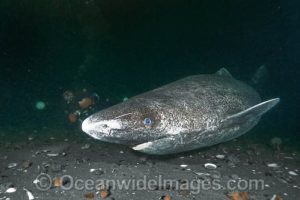 Show transcript:
Welcome to Strange Animals Podcast. I'm your host, Kate Shaw.
This week we're going to learn first about the colossal squid, and then we're going to learn about what eats the colossal squid.
You've probably heard of the giant squid, but maybe you haven't. Let's start with it, because the giant squid and the colossal squid are both massive, amazing deep-sea animals.
Stories of huge squid go back to ancient times. Aristotle and Pliny wrote about it, the legend of the kraken may be at least partially inspired by it, and sailors have told stories about it for time out of mind. Naturalists of the mid-19th century knew it must exist because whalers had found enormously long tentacles and huge beaks in sperm whale stomachs. But except for the occasional badly damaged specimen washed up on shore, no one had seen a giant squid. Certainly no one had seen a living giant squid.
It wasn't until 2001 that a live giant squid was caught on film, and then it was only a larval squid. In 2002 a live adult giant squid was caught off the coast of Japan. It wasn't especially big, just 13 feet long, or 4 meters, but up until then an adult giant squid had never been captured or even photographed. Its body is now on display at the National Science Museum of Japan. It wasn't until 2004 that a research team got photographs of a live giant squid in its natural habitat, also off the coast of Japan. Since then researchers have taken more photographs and footage of giant squid, and we're starting to learn more about it.
Squids in general have a body called a mantle, with small fins at the rear and eyes near the base above the arms, eight arms, and two long tentacles. The arms and tentacles are lined with suction cups that contain rings of serrated chitin, which allows the squid to hang on to its prey. Chitin is the same stuff lobster shells and fish scales are made of. It's the invertebrate version of keratin. In the middle of the arms, at the base of the mantle, is the squid's mouth, which looks for all the world like a gigantic parrot beak, also made of chitin. Instead of actual teeth, the squid has a radula, which is basically a tongue studded with chitinous teeth that it uses to shred its prey into pieces small enough to swallow.
Most of the length of a giant squid comes from its tentacles. Researchers estimate that the longest giant squid's mantle is about 7 ½ feet long, or 2.25 meters. The longest giant squid's mantle and arms together reach around 16 feet long, or 5 meters. That's still pretty huge, but it's not until you add in the tentacles that the length just gets ridiculous. The longest giant squid known—and this is an estimate based on the size of the biggest beak ever found—was 43 feet, or 13 meters. Females are typically much bigger than males and can weigh twice as much.
The giant squid is a deep-sea animal, probably solitary, and eats fish and smaller squid, including other giant squid. It's an active hunter and catches prey by grabbing it with its super-long tentacles, reeling it in to hold it more securely with its arms, then biting it with its beak and shredding it into pieces with its radula.
The giant squid has the largest eye of any living animal, as big as 11 inches in diameter, or 27 cm. Since it mostly lives in the deep sea, it probably needs such big eyes to see bioluminescent light given off by the animals it eats and to detect predators. Only ichthyosaurs had larger eyes. Well…except for the colossal squid, which may have eyes even bigger than the giant squid's.
So if the giant squid can grow to some 43 feet long, is the colossal squid even longer? Only a little. Researchers estimate the colossal squid can grow to around 46 feet long, or 14 meters, but it has shorter tentacles and a much longer mantle than the giant squid so is an overall much bigger and heavier animal.
But that size estimate is only that, an estimate. We know very little about the colossal squid. It was first described from parts of two arms found in the stomach of a sperm whale in 1925, and for more than 50 years that was pretty much all we had. Then a Russian trawler caught an immature specimen in 1981 off the coast of Antarctica. Since then researchers have been able to study a few other specimens caught or found dead, mostly from the Antarctic seas.
As far as we know, the colossal squid is an ambush predator rather than an active hunter like the giant squid. It lives in the deep seas in the Southern Ocean, especially around Antarctica, as far down as 7,200 feet or 2.2 km beneath the surface of the ocean, and it mostly eats fish. While its tentacles are much shorter than the giant squid's, they have something the giant squid does not. Its suckers have hooks, some of them triple-pointed and some of which swivel. When it grabs onto something, it is not going to let go until somebody gets eaten.
The largest colossal squid ever found was caught in 2007 in the Antarctic. It was caught by a trawler when they hauled in a fishing line. The squid was eating an Antarctic toothfish caught on the line and wouldn't let go, so the fishermen hauled it aboard in a net and froze it. It was 33 feet long, or ten meters, and by the time it was thawed out for study, its tentacles had shrunk so that it was even shorter. Its eye was 11 inches across, or 27 cm, but when the squid was alive its eye was probably bigger, maybe as much as 16 inches across, or 40 cm—in which case, it wins the biggest eye category and deserves a trophy. With an eyeball on it.
So if the biggest colossal squid we've ever seen is only 33 feet long, how do we know it can grow to 46 feet long? Because whalers have found colossal squid beaks in the stomachs of sperm whales that are much larger than the 33-foot squid's beak.
And that brings us to the first predator of the colossal squid, the sperm whale. Lots of things eat young colossal squids, from fish and albatrosses to seals and bigger squids, but today we're talking about predators of full-grown colossal squid. There aren't many. In fact, there are only two that we know of.
The sperm whale eats pretty much anything it wants, frankly, but mostly what it wants is squid. It eats both giant and colossal squid, and we know because squid beaks aren't digestible. They stay in the whale's stomach for a long time. Specifically they stay in the whale's second stomach chamber, because sperm whales have a four-chambered stomach like cows and other ruminants do. Sometimes a whale will puke up squid beaks, but often they just stay in the stomach. Some whales have been found with as many as 18,000 squid beaks in their stomachs. 18,000! Can you imagine having 18,000 of anything riding around in your stomach? I wouldn't even want 18,000 Cap'n Crunches in my stomach and I really like Cap'n Crunch cereal.
Sometimes squid beaks do make it deeper into the whale's digestive system, and when that happens, researchers think it stimulates the body to secrete a greasy substance called ambergris to coat the beak so it won't poke into the sides of the intestines. Small lumps of ambergris are sometimes found washed up on shore after the whale poops them out, and it can be valuable. Once it's been out of the whale for a while it starts to smell really good so has been traditionally used to make perfume, but these days most perfume companies use a synthetic version of ambergris.
The sperm whale can grow to at least 67 feet long, or 20.5 meters, and may possibly grow much longer. It's an active hunter and a deep diver, with the biggest whales routinely diving to almost 7,400 feet or 2,250 meters to catch that tasty, tasty squid. It can stay underwater for over an hour. It has teeth only in the lower jaw, which is long and thin. The upper jaw has holes in the gum called sockets where its lower teeth fit into, which is kind of neat. But because male sperm whales sometimes fight by ramming each other, occasionally a whale's jaw will become broken, dislocated, or otherwise injured so that it can't use it to bite squid. But that actually doesn't seem to stop the whale from eating squid successfully. They just slurp them up.
Sperm whales use echolocation to find squid, but researchers also think the whale can use its vision to see the squid silhouetted against the far-off water's surface. Sperm whales have big eyes, although not nearly as big as squid eyes, and a whale can retract its eyeballs into its eye sockets to reduce drag as it swims. It can also protrude its eyes when it wants to see better. Researchers have tagged sperm whales with radio transmitters that tell exactly where the whale is and what it's doing, at least until the tag falls off. The tags occasionally show that a sperm whale will hunt while swimming upside down, which researchers think means the whale is looking up to see squid silhouettes.
You'll often hear people talk about sperm whales and giant squids battling. Sperm whales do often have sucker marks and scars from giant and colossal squid arms, but that doesn't mean the squid was trying to drown the whale. Squid have no real defense against getting eaten by sperm whales. All a squid can do is hang on to the whale in hopes that it won't actually end up in the whale's belly, which is not going to happen, squid. Some researchers even theorize that the sperm whale can stun prey with a massive burst of powerful sonar impulses, but so far there's no evidence for this frankly pretty awesome hypothesis.
The other main predator of full-grown colossal squid are a few species of sharks called sleeper sharks. They're slow-moving deep-sea sharks that mostly live in cold waters around the Arctic and Antarctic. We don't know much about a lot of sleeper sharks species. Many of them were only discovered recently, and some are only known from one or a few specimens. Sleeper sharks are generally not much to look at. They don't have great big mouths full of huge teeth like great whites, they don't have weird-shaped heads like hammerheads, and they're just plain grayish all over, maybe with some speckles.
The Greenland shark is one type of sleeper shark. It's the one with the longest known lifespan of any vertebrate, as much as 500 years old. The Greenland shark is also one of the largest sharks alive, up to 24 feet long, or 7.3 meters, and possibly longer. But the Greenland shark isn't one of the sleeper sharks that eat colossal squid, since it lives around the Arctic and the colossal squid lives around the Antarctic. But the Southern sleeper shark lives around the Antarctic and is so closely related to the Greenland shark that for a long time many researchers thought it was the same species. The Southern sleeper shark is overall shorter, only around 14 feet long, or 4.4 meters, although since we don't know a lot about it, we don't really know how big it can get. It's probably an ambush predator and it definitely eats colossal squid because colossal squid beaks are sometimes found in its stomach.
In 2004 a team of researchers examined the stomach contents of 36 sleeper sharks that had been accidentally killed by fishing trawlers around and near Antarctica. They found remains of at least 49 colossal squid, bigger on average than the squid sperm whales typically eat.
Just going by what we know about the Greenland shark, it's safe to say that the southern sleeper shark is an extremely slow swimmer, barely exceeding more than two miles an hour, or 3.5 km per hour. That's about the speed you walk if you're not in any particular hurry. It may also be prey to the same parasitic copepod, which is a type of crustacean, that infests a lot of Greenland sharks. The parasite attaches itself to the shark's EYEBALL. But some researchers think the parasite actually gives something back to the shark, by glowing with a bioluminescence that attracts prey, which the shark then eats. Greenland sharks don't appear to need to see in order to find prey anyway. That doesn't make it any less gross.
I'm very sorry to end this episode with an eyeball parasite, so here's one last thing to take your mind off it. As long as there have been reports of gigantic squid, there have been reports of gigantic octopuses. The largest octopus currently known is the giant Pacific octopus with a 20 foot legspan, or 6 meters. But there may be a gigantic octopus much larger than that. In 1928, six octopuses were sighted off the coast of Oahu in Hawaii by a sailor in the US Navy, who estimated their legs spanned 40 feet across, or 12.5 meters. In 1950, a diver in the same area reported seeing an octopus with a body the size of a car, and with tentacles estimated as 30 feet long each, or 9.3 meters.
Remember the study I mentioned earlier, about researchers finding lots of colossal squid remains in sleeper shark stomachs? They found something else in one of the sharks, remains of a huge octopus. Species unknown.
You can find Strange Animals Podcast online at strangeanimalspodcast.com. We're on Twitter at strangebeasties and have a facebook page at facebook.com/strangeanimalspodcast. If you have questions, comments, or suggestions for future episodes, email us at strangeanimalspodcast@gmail.com. If you like the podcast and want to help us out, leave us a rating and review on Apple Podcasts or whatever platform you listen on. We also have a Patreon if you'd like to support us that way.
Thanks for listening!