Podcast: Play in new window | Download (Duration: 10:39 — 7.8MB)
This week we're going all goth in April for the vampire squid and the vampire bat. They're so awesome I want to die.
The vampire squid looking all menacing even though it's barely a foot long.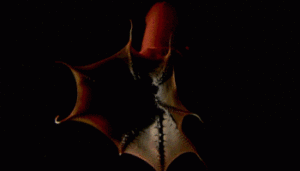 "I love you, vampire bat!!" "I love you too, Kate."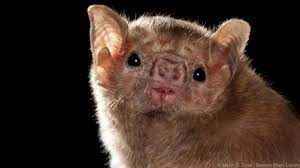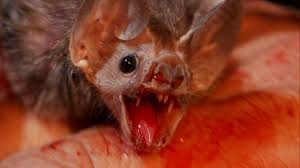 Thanks for listening! We now have a Patreon if you'd like to subscribe! Rewards include patron-only episodes and stickers!
Show transcript:
Welcome to Strange Animals Podcast. I'm your host, Kate Shaw.
I thought about waiting to run this episode in October, but that's a really long way away. So we'll have Halloween in April and talk about the vampire squid and the vampire bat.
The vampire squid has one of the coolest Latin names going, Vampyroteuthis infernalis, which means "vampire squid from hell." It's a deep-sea squid and until recently, not a lot was known about it. It was discovered in 1903 and originally classified as an octopus. Its body is about six inches long [15 cm], with another six inches or so of tentacles, which are connected with webbing called a cloak. Actually I'm not sure if scientists refer to this as a cloak, but if you've called your animal the vampire squid from hell, you can't complain if podcasters, for instance, refer to web-connected octopus legs as a cloak.
So is it an octopus or a squid? It's both, in a way. The vampire squid is the last surviving member of its own order, Vampyromorphida, which shares similarities with both.
The vampire squid's color varies from deep red to velvety black. The inside of its cloak is black and the parts of its legs inside the cloak are studded with spines. Its beak is white. Basically the only thing this little guy needs to be the world's ultimate goth is a collection of Morrissey albums.
It lives in the lightless depths of the ocean below 3,000 feet [914 meters]. There's not a lot of oxygen down there so there aren't very many predators. The vampire squid doesn't need oxygen because it's a vampire—or at least it can live and breathe just fine with oxygen saturations as little as 3%. Its metabolic rate is the lowest of any cephalopod.
The vampire squid doesn't move a lot. It drifts gently, aided in buoyance because its gelatinous tissues are roughly the same density as seawater. Adults have two small fins sticking out from their mantle, which they flap to propel them through the water.
If something threatens a vampire squid, it brings its legs up to expose the spiny insides of its cloak and hide its body. If something really threatens a vampire squid, even though it doesn't have ink sacs, it can eject a cloud of bioluminescent mucus, and can flash its photophores in a dazzling display of lights. These photophores are concentrated on the outside tips of its arms. If the end of an arm is bitten off, the vampire squid can regenerate it.
So we have a creepy-looking, if small, cephalopod that lives in the deep, deep sea called a vampire squid. WHAT. DOES. IT. EAT?
I hate to disappoint you, but the vampire squid eats crap. In fact, it eats the crap of animals that eat crap. There's not a lot of food in the ocean depths. Mostly there's just a constant rain of fish poop, algae, bits of scales and jellyfish, and other waste. Lots of little creatures live on this stuff and their poop joins the rain of barely-food that makes it down to the abyssal depths where the vampire squid waits.
The squid had two retractable filaments—not the same thing as the two feeding tentacles true squids have, but used for feeding. The filaments are extremely long, much longer than the vampire squid itself. It extends the filaments, organic detritus falls from above and sticks to them, and the vampire squid rolls the detritus up with mucus from its arm tentacles into little sticky balls and pops the balls into its mouth.
That's not very goth. Or it might be incredibly goth, actually.
Most cephalopods only spawn once before they die. A 2015 paper in Current Biology reports that the vampire squid appears to go through multiple spawning phases throughout its life. It may live for a long time too, but we don't know for sure. There's still a lot we don't know about the vampire squid.
Because squids and octopuses are soft bodied, we rarely find them in the fossil record. In 1982, though, a beautifully preserved octopus body impression was found in France in rocks dating to 165 million years ago. And guess what kind of octopus it turned out to be! Yes, it's related to the vampire squid.
If the vampire squid is the kind of pensive goth who listens to The Smiths and reads Poe in cemeteries, the vampire bat is out clubbing with its friends, blasting Combichrist, and spending its allowance in thrift shops. There are three species of vampire bat, but they're different enough from each other that each belongs to its own genus. They're native to the Americas, especially tropical and subtropical environments, although they haven't been found any further north than Mexico. And yes, vampire bats do actually feed on blood. It's all they eat.
Vampire bats are small, active, and lightweight. They're only about 3 ½ inches long [9cm] with a 7-inch wingspan [18 cm], and weigh less than two ounces [57 grams]. They live in colonies that consist of big family groups: a small number of males and many more females and their babies. Males without a colony hang out together and probably never clean up their apartments.
Vampire bats belong to the leaf-nosed bat family, and like other leaf-nosed bats they sleep during the day and hunt at night. But the vampire bat doesn't actually have a nose leaf. That's a structure that aids with echolocation, and vampire bats don't need the high level echolocation ability that insect-eating bats do. They get by with a reduced ability to echolocate, but they have another highly developed sense that no other mammal has: thermoreception. They use it to determine the best place to bite their prey. The warmer, the better. That's where the blood is.
The vampire bat also has good eyesight, a good sense of smell, and hearing that's attuned to the sound of breathing. A bat frequently remembers the sound of an individual animal's breathing, and returns to it to feed night after night. What vampire bats don't have is a very good sense of taste. They don't really need it. In fact, they don't have the kind of bad food avoidance that every other mammal has. In a study where vampire bats were given blood with a compound that tasted bad and made them throw up, the next time they were offered the bad-tasting blood, they ate it anyway.
Most bats are clumsy on the ground. They're built for flying and for hanging from perches. But vampire bats are agile. They crawl around and even run and jump with no problems.
Two species of vampire bat prey mainly on birds, while the third—the common vampire bat—feeds on mammals. Bird blood has a much higher fat content than mammal blood, which is higher in protein. But results of a study released in January 2017 found that hairy-legged vampire bats, which usually prey on large wild birds, had started feeding on domestic chickens as their wild prey became scarcer—and then they started feeding on human blood.
A vampire bat doesn't suck blood. It makes a small incision with extremely sharp fangs and laps up the blood with its grooved tongue. It may even trim hair from the bite site first with its teeth. Its saliva contains an anti-coagulate called draculin that keeps the blood flowing. The bat doesn't eat much, because let's face it, it's just a little guy. In order to hold more blood, as soon as it starts to feed its digestion goes into overdrive. Within some two minutes after it starts to eat, the bat is ready to urinate in order to get rid of the extra fluid so it can hold more blood. A feeding session may last about 20 minutes if the bat isn't disturbed, and the bat may drink about an ounce of blood in all.
A vampire bat needs to eat at least every two days or it will starve. A bat that hasn't found prey in two nights will beg for food from its colony mates, which often regurgitate a little blood for the hungry bat to eat. New mother bats may be fed this way by her colony for as much as two weeks after she's given birth so that she doesn't have to hunt. Baby vampire bats drink their mother's milk just like any other mammal.
If a mother bat doesn't return from hunting, other colony members will take care of her baby so it won't die. Colony members groom each other and are generally very social. Even the male bats that aren't part of the colony are allowed to roost nearby. Nobody fights over territory. These are nice little guys.
Vampire bats do sometimes carry rabies, but it's pretty rare compared to infection rates in dogs. They are more dangerous to livestock than to humans. Attempts to kill off vampire bat colonies to stop the spread of rabies actually has the opposite effect, since bats from a disturbed colony will seek out another colony to join.
Vampire bats have considerable resistance to rabies and frequently recover from the disease, after which they're immune to reinfection, and there's some preliminary evidence to suggest that native human populations in areas where vampire bats are common may also have developed some resistance to rabies. Researchers hope that this finding will lead to better treatment of rabies in the same way that the draculin anticoagulant in vampire bat saliva led to advances in blood-thinning medications.
I like to imagine a vampire bat hanging out with a vampire squid. The bat would sip blood from a tiny wineglass and fidget with its jewelry while it tries to conversation. The squid would just stare at the bat. Then it would eat a globule of crap. The bat would pee on itself and the whole evening would just be a bust. Also, one of them would drown but if I can imagine a tiny wineglass I can imagine a tiny bat-sized bathysphere or something. Never mind.
You can find Strange Animals Podcast online at strangeanimalspodcast.blubrry.net. That's blueberry without any E's. If you have questions, comments, or suggestions for future episodes, email us at strangeanimalspodcast@gmail.com. We also have a Patreon at patreon.com/strangeanimalspodcast if you'd like to support us and get twice-monthly bonus episodes for as little as one dollar a month.
Thanks for listening!