Podcast: Play in new window | Download (Duration: 9:43 — 10.8MB)
Thanks to Kari for suggesting this week's topics! Definitely check out her book Butt or Face?, which is funny and has lots of animal information!
Further reading:
GBIF: Araneus praesignis [the spider pictures below come from this site]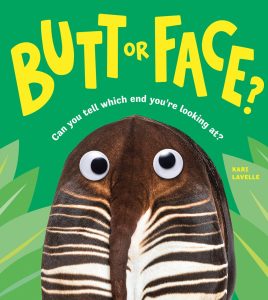 The turtle ant's body is flattened and the soldier caste ants have specialized head shapes to block the nest entrances: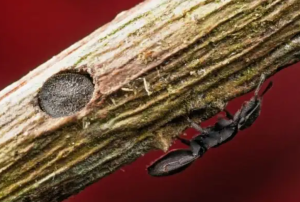 The alien butt spider has a butt that looks like an alien's face!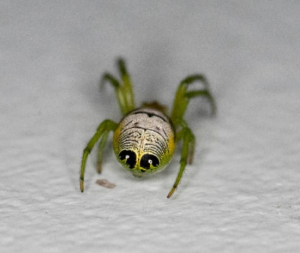 The alien butt spider hides during the day in its leaf fort: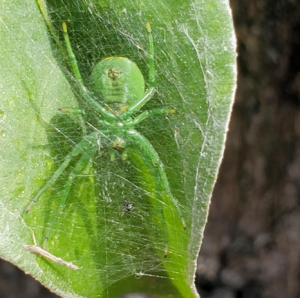 Show transcript:
Welcome to Strange Animals Podcast. I'm your host, Kate Shaw.
This week we're going to learn about two really weird invertebrates suggested by Kari. One of these two animals is her favorite and the other is a weird ant from a book she wrote. Kari's full name is Kari Lavelle and her book is for kids, called Butt or Face? It actually releases tomorrow as this episode goes live, so if you're listening to this episode on Monday, July 10, 2023, you still have time to preorder the book, or you can just wait a day and run out to your local bookstore or library to get a copy.
Kari was nice enough to send me a copy of the book and it's really funny and interesting. It's partly a game where you look at a picture and decide whether it shows an animal's butt or its face. It's a lot harder than you'd think! You make your guess and turn the page to find out if you're right and learn about the animal. It's very fun and I actually guessed wrong on one animal, but I'm not telling you which one. There's a link in the show notes if you want to learn more about the book and maybe order a copy for yourself.
Anyway, let's talk about the ant first, because it's actually one I've had on the list to talk about for a while. I was really excited to see it in Kari's book. It's called the turtle ant, sometimes called the "door head" ant. That gives you a clue as to whether its picture in the book features its butt or its face.
The turtle ant is any of the well over 100 species of ant in the genus Cephalotes, which are native to the Americas. Most live in Central and South America, especially in tropical and subtropical areas. Almost all species live in trees, nesting in cavities originally made by beetle larvae.
For the most part, turtle ants are pretty typical compared to other ant species. They have a generalized diet, eating pretty much anything they find. This includes plant material, dead insects and other animals they find, bird poop, nectar, and even pollen in some species. Each colony has a single queen that mates with multiple males and lays all the eggs for the colony. Worker ants tend the eggs and larvae, gather food, and keep the colony clean. But as in some other ants, many species of turtle ant have a soldier caste. These are worker ants who are specialized to defend the nest. We talked about army ants recently, in episode 328, and also back in episode 185, and army ant soldiers have massive sharp mandibles that can inflict painful bites. But the turtle ant soldiers don't have sharp mandibles and aren't aggressive. They have one job, and that job is to stand at the nest's entrances and stop them up with their heads, only moving when another ant needs to get through.
As a result, turtle ant soldiers have weird-shaped heads. The head shape varies from species to species, with some looking more normal and some being heavily armored and strangely shaped. Well, they're not strangely shaped except in comparison to an ordinary ant head. They're shaped exactly right to do the job they've evolved to do, be a door. In some species, the top of the soldier's head is completely round and flattened, just the right size and shape to block the entrance.
Turtle ants have another ability that they share with some other ants. If an ant falls from the twig or branch it's climbing on, instead of just falling to the ground, it can glide back to the tree trunk. Turtle ants have flattened bodies, which helps catch the air like a tiny ant-shaped parachute. Unlike other ants that do this, which glide head-first, the turtle ant glides abdomen-first. It uses its legs and head to adjust which way it's gliding, and most of the time it lands safely on the tree trunk.
There are undoubtedly more turtle ant species than we know about so far, and we actually don't know very much about most of the species we have discovered. Most turtle ants live in trees, and that makes them hard to study.
There's actually a spider called the ant-mimicking crab spider that eats turtle ants. It looks so much like a turtle ant worker that it can get close to the actual ants before it's recognized as a predator, at which point it has a good chance of grabbing an ant to eat before the ant can run away. But that's not actually the type of spider we're talking about next.
The other animal we're talking about today isn't one from the book, it just happens to be one of Kari's favorite animals *cough*sequel*cough*. It's called the alien butt spider and it is completely awesome, as you can tell from the name.
The alien butt spider lives in Queensland, Australia, and it gets its name because—maybe you should just guess. I'll wait.
Yes, you're right! The abdomen of the spider has black or dark blue-green markings that look for all the world like the face of a tiny space alien from a movie. The spider itself is mostly green and very small, with a big female only growing about 8 mm long, although its legspan can be 20 mm across. Males are smaller, mostly because the male has a much smaller abdomen.
Its scientific name is Bijoaraneus praesignis, changed in December 2021 from Araneus praesignis. It's also called the outstanding orbweaver or green orbweaver. Like many spiders, especially orbweavers, it's mostly active at night. It spins a big round web that looks like the kind you see on Halloween decorations, because that's the kind of web most orbweavers make, and at night it waits on or near the web for an insect to get stuck in it. During the day, though, the alien butt spider needs to hide. It makes what's called a retreat in a leaf that's partially closed or curled. The spider spins a thick layer of silk across the edges of the leaf that turns it into basically a little leaf fort, then crawls inside. The underside of the spider is plain greenish-yellow with no markings, so it's hard to see against the leaf, especially through the layer of silk.
The spider's abdomen is green with a yellow or white pattern on top, with black eye spots visible from the rear. The eye spots show up really well against the yellow or white pattern. But the spider also has black markings at the front of its abdomen, which also look like eyespots from some angles. The rest of its body is green, greeny-yellow, and brown, which helps it blend into leafy backgrounds.
Naturally, the alien butt spider is not actually trying to look like an alien. That's something humans have decided it looks like because it's green and the eyespots are so large. The spider just wants potential predators to see the eyespots and think, "Darn, that animal already saw me so I can't sneak up on it. I won't waste my energy trying to grab it." Or maybe, "Uh oh, look at the size of that animal's eyes! I must be looking at the head of a very large animal that might eat me, plus it's looking right at me. I'd better run."
Even though it looks kind of spooky, the alien butt spider is completely harmless to humans. We also don't know much about it, so while it seems to be a common spider within its range, we don't know for sure if it's potentially endangered. It's best to leave this little alien alone no matter how cute it is (and it is very cute).
You can find Strange Animals Podcast at strangeanimalspodcast.blubrry.net. That's blueberry without any E's. If you have questions, comments, or suggestions for future episodes, email us at strangeanimalspodcast@gmail.com. If you like the podcast and want to help us out, leave us a rating and review on Apple Podcasts or Podchaser, or just tell a friend. We also have a Patreon at patreon.com/strangeanimalspodcast if you'd like to support us for as little as one dollar a month and get monthly bonus episodes.
Thanks for listening!