Podcast: Play in new window | Download (Duration: 15:57 — 16.1MB)
This week we venture into the land of CUTE to learn about hamsters, ferrets, and some other small domesticated animals. Thanks to Kim and the Angel City Ferret Club for the suggestions!
Hamsters are SO CUTE: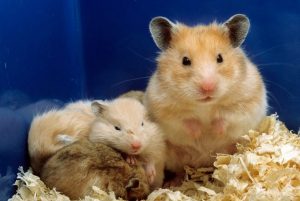 Hamsters have giant cheek pouches to carry food in: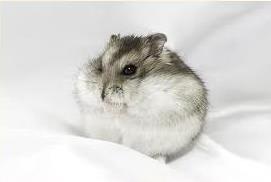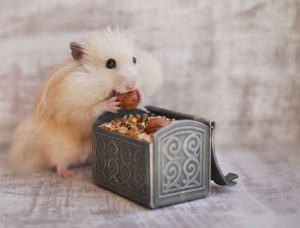 Gerbils are also SO CUTE: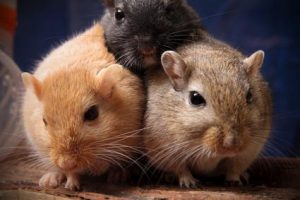 Ferrets are SO CUTE in a totally different way: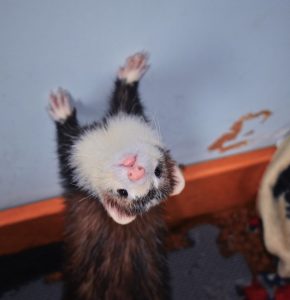 The black-footed ferret does not want anything to do with the domestic ferret, thank you: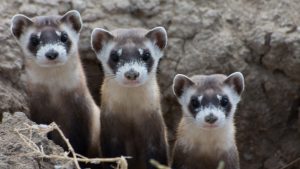 An extremely complicated but neat way to use your pet's exercise wheel to generate power:
Show transcript:
Welcome to Strange Animals Podcast. I'm your host, Kate Shaw.
Back in episode 106 we learned about domestication, especially the domestication of dogs and other canids. But recently, Kim suggested an episode about the domestication of other animals, like hamsters and ferrets. Then the Angel City Ferret Club suggested I talk about ferrets too. So this week, let's learn about hamsters, gerbils, and ferrets.
Hamsters are rodents, and there are lots of different species. The most common domesticated hamster is the golden hamster, also called the Syrian hamster, which is indeed from Syria. A DNA study of domesticated golden hamsters indicate that they're all descended from a single female captured in Syria in 1930 and kept as a laboratory animal. It wasn't long before some of her babies became pets, because hamsters are incredibly cute.
The golden hamster is about five inches long, or 13 cm, and is a chunky little rodent with a little nub of a tail, short legs, and rounded ears. And a little pink nose and shiny black eyes. I had a pet hamster named Wembley when I was little. It's a golden tan in color with lighter fur underneath, and some breeds of domesticated golden hamsters may have white spots on the body or long fur.
Some other hamster species, most of which aren't kept as pets, can grow much larger than the typical golden hamster. The European hamster, which lives in parts of eastern Europe, can grow up to 14 inches long, or 35 cm. It's mostly brown with white patches. One of the smallest hamster species is Campbell's dwarf hamster, which is sometimes kept as a pet but is originally from Mongolia. It grows about three inches long, or 8 cm. It's brown-gray in color with a darker stripe down the middle of its back and pale gray fur underneath.
All hamsters have cheek pouches that extend down to their shoulders. In the wild, a hamster tucks food into its cheek pouches to carry back to its burrow, where it pushes the food out by pressing its forefeet against its sides and pushing them forward. Campbell's dwarf hamster has cheek pouches that are big even compared to other hamsters. They extend all the way down the sides of its body.
Hamsters in the wild like warm areas without a lot of rain, like deserts and dry grasslands. They dig well and spend most of their time underground when they're not out searching for food. They're most active at dawn and dusk, although they're nocturnal to some degree also. In cold weather some species hibernate for short periods of time, generally only a few days. A hamster's burrow can be pretty elaborate, with several entrances, a cozy sleeping burrow, a pantry where the hamster stores food, and even a bathroom where the hamster urinates. Hamsters are hindgut fermenters, and like some other rodents and rabbits, some of the poops they produce aren't waste material, they're partially digested food that the hamster eats again to gain as much nutrients from it as possible.
Hamsters are omnivores, eating seeds and other plant material as well as insects and other small animals. Occasionally wild hamsters hunt together to catch insects, although in general the hamster is a solitary animal. In addition to its ordinary diet of hamster food, a pet hamster likes seeds and nuts, green vegetables, root vegetables like carrots, a little bit of fruit, and other plant foods, but shouldn't be given people food since it can contain too much salt, sugar, or other additives that can harm it. Give your hamster deep bedding that it can burrow into to sleep and dig around in, but cedar shavings can be bad for their lungs. Paper bedding made for small pets is safest. And, of course, your hamster needs to chew to keep its teeth from growing too long, since like other rodents its teeth continue to grow throughout its life. It also needs an exercise wheel and toys designed for hamsters so it can get exercise and have fun. You can find good books about how to care for a hamster in the library. I mean you can find a book on hamster care in the library, not how to turn your hamster into a tiny furry librarian.
Hamsters don't see very well but have a good sense of smell and hearing, and in fact they communicate mostly in the ultrasonic range—too high-pitched for humans to hear most of their calls. Generally hamsters only call to each other during courtship, when a male and female are trying to decide if they've found a good mate.
I tried to find audio of hamster calls, pitched down so humans could hear it, but had no luck. I guess the sound of their calls is a secret only hamsters know.
Gerbils are also closely related to mice and therefore to hamsters, and have a lot in common with the hamster. Both are about the same size but the gerbil is smaller, less chunky, and has a much longer tail. The tail has fur on it and helps the gerbil retain its balance while climbing.
There are a lot of gerbil species, all of them native to dry areas like deserts and grasslands in parts of Asia and Africa. The Mongolian gerbil was domesticated in the late 19th century but wasn't well known until the 1950s when it became a popular pet. In the wild the Mongolian gerbil is a gray-brown color but pets have been selectively bred to produce colors from white to black with various patterns. Unlike the hamster, the gerbil is a social animal and is healthier when it lives with at least one other gerbil. It also likes to burrow in its bedding and needs to chew to keep its teeth from growing too long. It's important to get an exercise wheel that's solid instead of having rungs, since otherwise the gerbil could catch its tail between the rungs and get injured.
In the wild, gerbils live in groups with extensive burrows, sometimes connected with the burrows of other groups. It has a good sense of smell and if a gerbil whose smell it doesn't recognize approaches, the two will probably fight. The Mongolian gerbil grows about 2 ½ inches long, or 6 cm, not counting its tail, which is about the same length as its body. But the biggest species of gerbil is the great gerbil from central Asia. It grows up to 8 inches long, or 20 cm, not counting its tail. That's the size of a squirrel.
If a gerbil feels threatened or nervous, it may thump its hind legs on the ground to warn other gerbils. Other gerbils that hear the thumping may also start thumping. Sometimes pet gerbils will start thumping in response to rhythmic sounds in a house, like a washing machine on a spin cycle. This is hilarious, but of course if your pet gerbil is thumping you should look around to see if there's something near its cage that it finds frightening, like a pet dog or a light that's too bright. This is what a gerbil sounds like when stamping its tiny feet.
[gerbil thumping sound]
Next, let's look at the ferret. The ferret isn't a rodent. It's a type of weasel called the European polecat, which has been domesticated. Unlike the hamster and gerbil, which are small and somewhat delicate animals, the ferret is much larger and more robust. It grows nearly two feet long, or almost 60 cm, with a long, slender, flexible body, long neck, and short legs.
The ferret is generally a crepuscular animal, meaning it's most active at dawn and dusk. It's solitary in the wild, but domesticated ferrets are much more social. It likes to burrow, and in the wild it sleeps in a burrow during the day.
No one is sure when the ferret was domesticated, but it may be descended from animals kept to hunt for rats and rabbits. Like other members of the weasel family, ferrets are carnivores and evolved to be slender and short-legged to fit into burrows of smaller animals. There's even a term for hunting with a ferret, called ferreting. It was also used to keep mice and rats out of grain stores. Ferret breeders selected for white or albino ferrets because they were easier for their handlers to see, so many pet ferrets are albinos.
The ferret makes a good pet although it's an intelligent, active animal and will get into all sorts of mischief if it doesn't have enough to do. It likes to climb, explore, and solve puzzles, and needs lots of exercise and a safe place to play. The ferret can be litter trained like a cat and trained to wear a harness and walk on a leash like a dog. It's sociable so it's always better to have more than one ferret if you can.
The ferret needs to eat frequently, so it's a good idea to keep a feeder full of ferret kibble where your pet can eat whenever it's hungry even if you're not home. Since ferrets are carnivores like cats are, your pet's diet should be high in animal-based protein and fat. If you can't find ferret food in your area, you can feed high-quality cat kibble, but food formulated just for ferrets is best. For treats, ferrets like cooked eggs, freeze-dried liver treats that you can get for dog training, and small pieces of cooked meat. You shouldn't feed fruit to your ferret, since it can lead to digestive issues.
Ferrets are illegal to own in some areas because escaped and released ferrets can breed in the wild and cause a lot of problems as an invasive species. This is particularly true in small, fragile ecosystems like islands, so it makes sense that Hawaii doesn't allow ferrets or many other animals as pets, including gerbils and hamsters.
Ferrets occupy the same ecological niche as the black-footed ferret, and the black-footed ferret is the most endangered mammal in North America. It was even declared extinct in 1979, but a small population was re-discovered in 1981 in Wyoming. Some of these animals were captured for a captive breeding program, so even though the black-footed ferret was declared extinct in the wild in 1996, the breeding program was able to reintroduce ferrets in parts of its original range in the western part of North America. It's now considered an endangered species, which is still pretty bad but not as bad as extinct.
The black-footed ferret primarily eats prairie dogs, and prairie dogs are also on the decline due to habitat loss, poisoning and killing of them by ranchers and farmers, and disease. So saving the black-footed ferret also means saving the prairie dog. However, pet prairie dogs are legal to own in most states even though they're not really domesticated animals and they can spread diseases fatal to humans, like bubonic plague. And since prairie dogs don't breed well in captivity many animals sold as pets were captured in the wild, and many of them die soon after being captured.
But while feral domesticated ferrets are a problem in some areas, there don't seem to be any feral populations of ferrets in the United States. It looks like ferret owners in North America take good care of their pets and make sure they don't get out and cause problems for wildlife.
California has a lot of restrictions about what animals can be kept as pets. Ferrets are not allowed. Neither are gerbils, prairie dogs, or hedgehogs. But you can keep hamsters and chinchillas as pets in California, rabbits, camels, wolf-dog hybrids, and most birds including ostriches. The only reason I even mention California's restrictions on pets is because the Angel City Ferret Club is working to get the ferret ban changed, and they told me all about it.
I don't live in California so I don't want to get involved in the debate. But wherever you live and whatever pet you have, always make sure that you know how to take care of it properly and that you only buy your pet from an ethical and reputable breeder. And, of course, never release a pet into the wild if you can't take care of it anymore. Most of the time your pet will die of cold, starvation, injury, or predation from a wild animal. If you can't find someone who can take your pet, contact your veterinarian who can give you information about rescue services in your area.
That is a super depressing way to end an episode, so let's finish up with something cute and interesting. If you've ever watched a hamster or other small pet run on an exercise wheel, you may have wondered how much energy the little fuzzball was generating and if it could charge your phone or power a light. Well, other people have wondered the same thing. I found a how-to article at Otherpower.com detailing how they made a working power generator from a hamster wheel. Their pet hamster Skippy was easily able to power a nightlight while running on his wheel. I've put a link to the article in the show notes. It looks really complicated but if you're an engineer type of person you might look at it and think, "Oh, that's simple and fun! Let's try it!"
There's even a new company based in Taiwan that's marketing exercise equipment that generates energy as people use it. People are a lot bigger and stronger than hamsters, so we can generate a lot more energy by running on a treadmill or working out on a stationary bike, enough to power the lights in the room where the equipment is. Gyms that have installed the equipment report that users feel more motivated to exercise longer and harder when they know they're generating power. That's good for the person and helps reduce energy use for the gym. And that's good for everyone, including our small pets.
You can find Strange Animals Podcast online at strangeanimalspodcast.blubrry.net. That's blueberry without any E's. If you have questions, comments, or suggestions for future episodes, email us at strangeanimalspodcast@gmail.com. We also have a Patreon if you'd like to support us that way.
Thanks for listening!