Podcast: Play in new window | Download (Duration: 16:11 — 18.4MB)
Sign up for our mailing list! We also have t-shirts and mugs with our logo!
A big birthday shout-out this week to Yori!!!
I was fortunate enough to visit the country of Belize in December and saw lots of amazing animals! I've chosen four to highlight in this week's episode.
Further reading:
There may be more bird species in the tropics than we know
The adorable proboscis bat, my favorite: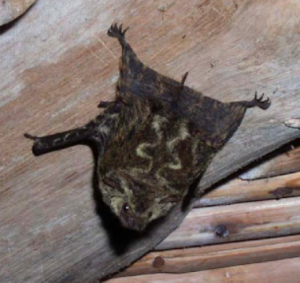 Proboscis bats all in a row (photograph by me!):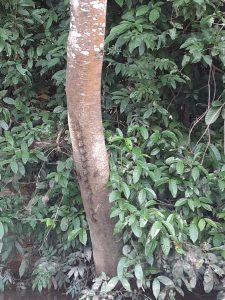 The black howler monkey has a massive hyoid bone that allows it to make big loud calls: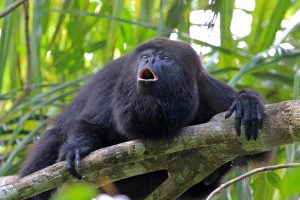 The white-crowned manakin is impossibly cute: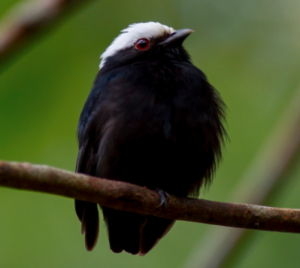 The mealy parrot is cheerful and loud: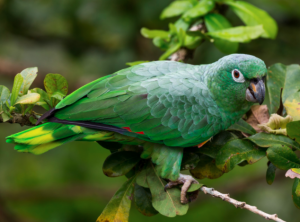 A morning view and night view from our villa balcony, photos by me!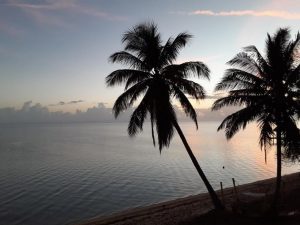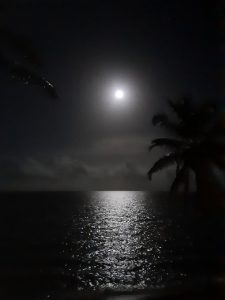 Show transcript:
Welcome to Strange Animals Podcast. I'm your host, Kate Shaw.
Let's start the new year off right with an episode about some animals I saw in person recently during my vacation to Belize!
But first, we have our first birthday shout-out of the year! A very happy birthday to Yori, whose birthday is on the 8th of January! I hope you have a great day!
Belize is a country on the eastern coast of Central America on the Caribbean Ocean, just south of Mexico and north of Guatemala. It used to be called British Honduras but has been an independent country since 1981. The coast is protected by a series of coral reefs that are so little studied that there are probably dozens if not hundreds of animals and plants waiting to be discovered around them. Belize is serious about protecting the reefs and about conservation in general, which is great because it has some of the highest animal and plant life diversity in the Americas.
My brother and his family had made vacation plans for Belize in spring of 2021, about the time the Covid-19 vaccine was rolling out and things were looking up. They rented a big villa with more bedrooms than they needed so they generously invited me and one of my cousins to join them. I didn't mention the trip on the podcast because I was worried it would end up canceled. But we were able to visit in mid-December, with negative Covid tests coming and going, and wearing our masks appropriately in all public areas.
Belize is absolutely gorgeous. We stayed right on the coast in an upstairs flat with a big balcony that overlooked the ocean. We spent most of the time relaxing on the beach or the balcony and eating amazing food, but we did go on two excursions.
We all went on a riverboat wildlife tour of the Monkey River, and a few days later my brother and cousin and I went on a birdwatching expedition to the nearby Cockscomb Basin Wildlife Sanctuary. We had to get up at 5am for that one but it was worth it. In both excursions we saw lots of animals of all kinds, so many that it was hard for me to choose which ones to highlight in this episode.
One animal that I fell in love with on the Monkey River is the proboscis bat. Belize has a lot of bat species but I didn't expect to see any, much less up close.
The proboscis bat lives throughout Central America and the northern half of South America. It's only about 2.5 inches long, or 6 cm, and gets its name from its pointed nose. It lives near water, especially wetlands, because it eats insects that live around water like mosquitoes and caddisflies. It's so small that it sometimes gets caught in spiderwebs, especially of the big spider Argiope submaronica, [ar-JY-opee] a species of orbweaver spider that holds its legs in an X pattern while it's on its web. Different species live throughout the world, especially in warm places. It does actually eat the bats it catches, which is hard on the bat but a nice big meal for the spider. There's two sides to every story.
How, you may ask, did I manage to see a bat up close during broad daylight while on a boat? The proboscis bat spends the day on a tree trunk or branch or log near the water, especially in shady areas, and our guide was able to ease the boat up to not one but two different trees with bats asleep on them. The proboscis bat is gray-brown with darker and lighter markings that help it blend in against bark, and it sleeps perched on the side of the tree with its head pointing down. It literally looks like a little bump on a log that way. But it's not usually alone. It lives in small groups and everyone roosts on the same tree during the day, and the best thing is that they roost in a row one above the other, head to tail. Nothing to see here, just a row of bumps on this log.
The second group of proboscis bats we saw we got a little too close to and suddenly all the bats took off in all different directions. Everyone else in the boat yelped and ducked except me, although I think they were mostly just startled. I could tell the bats were about to fly and just sat there thinking, "Oh no, we've disturbed the bats!" and then their amazing little wings unfolded and they all flew away. I'm still sorry we bothered them but it was a wonderful sight. Bats are so great.
Another animal we saw and heard on our Monkey River trip was the black howler monkey. It gets its name from the male's appearance because males have mostly black fur while females are more golden.
It's pretty big for a monkey, with a big male growing over two feet long, or 65 cm, not counting its tail. Females are smaller. The black howler's tail is as long as its body and is prehensile to help it navigate through the trees. Its tail only has hair on the upper side, with the lower side bare to help it grab onto tree limbs more securely. Part of the reason the black howler monkey uses its tail so much to climb around in trees is that its arms can't move as far as the arms of many primates, and that's because of something called the hyoid bone.
The hyoid bone is found in a whole lot of animals, not just howler monkeys. In humans it's shaped like a little horseshoe and it's found near the top of the throat. While everyone has a hyoid bone, it's larger and more prominent in men, and it causes the bump in the throat sometimes called an Adam's apple. A lot of muscles attach to the bone, including the tongue, and it helps us talk and breathe properly. But in howler monkeys, the hyoid bone is much larger and shaped more like a cup. Air resonates in the cup, which is how howler monkeys make such loud, deep, booming calls. Male howler monkeys have much larger hyoid bones than females, but having such an enlarged hyoid bone restricts the range of motion in the arms.
The black howler monkey is really loud. It's especially noisy at sunrise when males in a troop roar together to let other troops know where they are and to announce that they're the biggest, baddest males around and no one better mess with them. These sounds can be heard three miles away, or 5 km.
The black howler monkey lives in forests and spends most of the time in the trees, eating fruit, leaves, and flowers. Its diet isn't all that high in caloric energy, though, so unlike many species of monkey, the black howler spends a lot of time just lazing around in trees, resting or napping.
We only saw two howler monkeys on our Monkey River trip even though they're common throughout the area. We all got out of the boat and our guide grabbed a machete, which I think was pretty much just for show because the trail we were on was obviously well traveled and wide. We were going to hike 15 or 20 minutes into the rainforest to find a troop of howlers, but there had been so much rain in the last week that the trail was ankle-deep in mud. We were all sliding around and my sister-in-law actually lost a shoe and had to fish it out of the mud. We were all relieved when after only about five minutes we came across a young male howler and stopped to watch him.
He was sitting way way up high in the treetops, naturally, and there were definitely other monkeys around him that we couldn't see because after a few minutes we spotted an even younger monkey walking along a branch. It was mid-morning by then and the male was eating, so when our guide banged his machete on a tree trunk and imitated the territorial call of a male howler, the male up in the tree only responded half-heartedly. I got audio and you should be able to tell which call is our guide and which call is the monkey because the guide was so much louder, since he was so close to me.
[guide and howler monkey sounds]
We also saw a LOT of birds! As you may know, birdwatching is one of my hobbies, so I was excited and amazed at the variety of birds in Belize. I did some birding on my own with my cousin along, and my brother came with us one early morning on an actual birdwatching trip with a local guide. I'm going to be on the Casual Birder podcast soon talking about the birds I saw on the trip, although I'm not sure yet when it will air. I'll let you know or you could just subscribe to the Casual Birder Podcast now and beat the rush.
Anyway, one bird we saw is a tiny adorable little floof called the white-crowned manakin. It only grows about 4 inches long at most, or 10 cm, and has red eyes, a short tail, and looks superficially like a wren in shape. The female is olive-green with a gray head but the male is glossy black with a bright white cap that he can raise up in a fluffy crest. He looks like the lead singer of an edgy indie band.
The white-crowned manakin is a common bird throughout parts of Central and South America. The reason I decided to talk about it in this episode is because of a study released in November 2021 that discovered the white-crowned manakin isn't actually a single species. Genetic studies found that some isolated populations of the bird are different enough from the others to be considered a completely different species. These populations may look similar but their plumage patterns and songs are very different from the main population too. Since there are so many birds in South America that aren't very well studied, conservationists are concerned that other known bird species may actually have genetically different populations that look very similar. If we don't know what birds are rare, we don't know how to protect them.
The last animal we'll cover today is another bird, the mealy parrot, also called the southern mealy Amazon parrot. It's a big parrot, mostly green, that lives in rainforests in parts of Central and South America. Like other parrots, it's a smart, social animal that lives in flocks. It gets its name because many individuals have paler feathers on their back and upper wings that make them look like they've been dusted with flour, and meal is another word for flour. It mostly eats fruit, nuts, berries, and other plant material, including flowers. It's still a common parrot but habitat loss, hunting, and trapping of birds to sell as pets on the black market has caused their numbers to decline recently. If you decide you want a pet parrot, make sure you buy yours from a reputable breeder who is selling domesticated parrots, not wild-caught ones.
Because we started birding so early, we were lucky enough to hear the mealy parrots calling, something they do early in the day and at night. We also heard some howler monkeys in the distance. But while we kept hearing a whole flock of mealy parrots, they were always just out of sight. We would hurry as quietly as we could up the trail and they would retreat ahead of us, calling cheerfully as though taunting us. It was actually really funny. Then, finally, just when I'd started to assume I would never see the wild parrots we kept hearing, there they were! And there were lots of them! We also saw a small flock of red-lored parrots that look similar but have a red band just above their upper bill, lots of keel-billed toucans, the national bird of Belize, and lots lots more!
This is some audio I took of the mealy parrots calling while we were trying to spot them.
[mealy parrot calls]
We didn't see a jaguar or a manatee during our visit to Belize, but I did learn how to properly pronounce the word spelled T-A-P-I-R. There are lots of different pronunciations throughout the world, but from now on I'm going with the Belizean one of TAP-eer. We didn't see a tapir either but we did see crocodiles and green iguanas and a couple of basilisks and lots more. I was even brave enough to get in a kayak and paddle around ON THE OCEAN, admittedly in very calm, shallow water with my family around to encourage me, and saw some kind of small rays, moon jellies, and a crab. I'm scared of the ocean but as soon as I started seeing jellies from my kayak I got a lot less scared and a lot more interested, so I'm proud of myself for facing my fears.
You can find Strange Animals Podcast at strangeanimalspodcast.blubrry.net. That's blueberry without any E's. If you have questions, comments, or suggestions for future episodes, email us at strangeanimalspodcast@gmail.com. If you like the podcast and want to help us out, leave us a rating and review on Apple Podcasts or Podchaser, or just tell a friend. We also have a Patreon at patreon.com/strangeanimalspodcast if you'd like to support us for as little as one dollar a month and get monthly bonus episodes.
Thanks for listening!