Podcast: Play in new window | Download (Duration: 15:10 — 15.8MB)
Subscribe: RSS
This week let's learn about two birds of New Guinea, bowerbirds and the Victoria crowned pigeon! Both are beautiful and the bowerbird is kind of weird. Thanks to M Is for Awesome for the suggestion!
Further Reading:
The Women Who Removed Birds from People's Hats
Various bowers made by various species of bowerbird: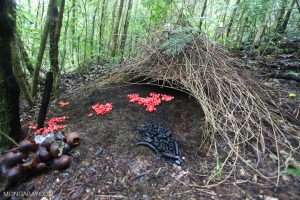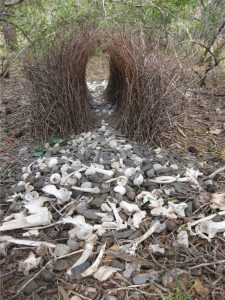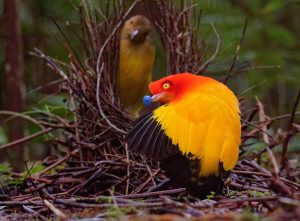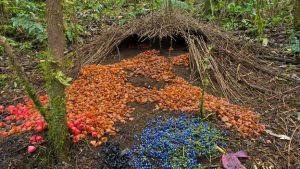 The golden-fronted bowerbird: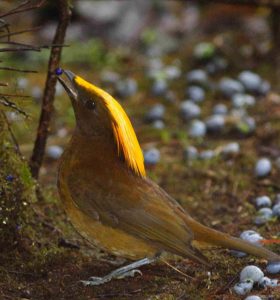 Not a bowerbird but a close relation, a dead bird of paradise from New Guinea, decorating an old-timey lady's fancy hat. I would not want to put this on my head: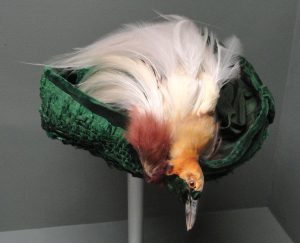 A Victoria crowned pigeon, wearing a built-in fancy hat: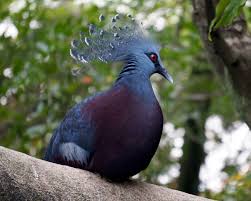 A Victoria crowned pigeon baby. Such miniature floof: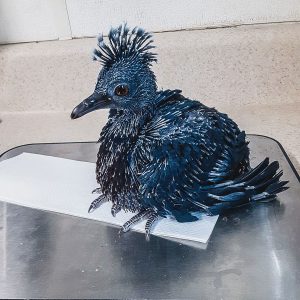 Show transcript:
Welcome to Strange Animals Podcast. I'm your host, Kate Shaw.
This week we are finally going to look at some birds of New Guinea, a topic suggested ages ago by M Is for Awesome! There are so many weird and amazing birds in New Guinea that instead of trying to talk about a bunch of them very briefly in one episode, I'm going to make this another ongoing series throughout the year. Every so often we'll revisit New Guinea (in our minds, anyway) and learn about a few more birds. In this episode we'll learn some basic information about New Guinea and then learn about two really interesting birds that live there.
New Guinea comes up in lots of episodes because so many animals live there. It's almost the world's largest island, second only to Greenland. Australia is considered a continent, not an island. New Guinea is actually pretty close to Australia so there's a lot of overlap between animals that live in Australia and animals that live in New Guinea.
A big reason New Guinea has so many animals is its geography. It has everything from ridiculously high mountains with glaciers to lowland rainforests, savannas, wetlands, mangrove forests, rivers, lakes, alpine tundra, and coral reefs off the coast. About the only thing it doesn't have is a desert. Most of the island is warm and humid with lots of rain.
Of course people live in New Guinea too, and have for at least 40,000 years, possibly as long as 60,000 years. Back then, New Guinea was connected to Australia by a land bridge similar to the one that has connected North America with Asia when sea levels were low. Some of the earliest humans to migrate out of Africa settled in New Guinea, and the people there developed agriculture independently of the people who settled in the Middle East. More people arrived much later, only around 3,500 years ago, from parts of Asia. But because the land is so hard to navigate due to the mountains and rivers and so forth, people who moved to a new part of the island were largely isolated from the people in other parts. Some 7,000 languages are spoken on the island right up to the present day, with several hundred more languages once spoken.
Unfortunately, as happens so often, after European explorers discovered the island in the 16th century, they decided they would like to have it for themselves. So they took it, which is just rude. The eastern half of the island is now independent as of 1975, called Papua New Guinea, while the western half, usually just called Papua, is now part of Indonesia. Indonesia is an Asian country and unfortunately, they're being just as bad to the indigenous people of the area as Europeans were.
There are still lots of places in New Guinea that scientists haven't explored, mostly in the mountains, and undoubtedly lots and lots of animals and birds that are completely unknown to science. Some of the animals and birds of the mountains may never have been seen by any person at all.
M specifically wanted us to cover bowerbirds, so let's start with them. Bowerbirds live in Australia and New Guinea along with a few smaller islands, with twenty species known. You may have heard about them before, because a male bowerbird builds what's called a bower and decorates it with items he selects to attract a female. A bower is a nice little shady area where you'd like to have a picnic, unless you're a female bowerbird in which case you'd like to examine all the things a male has collected and evaluate his elaborate courtship dance.
Because the female builds a nest and takes care of her eggs and chicks by herself, she's really picky about who she mates with. She wants the strongest, healthiest male she can find so her babies will be healthy too. She looks for a male who has the energy to build a bower, collect pretty items to decorate it, and then perform an elaborate courtship dance when the female shows up. She will visit numerous bowers before she makes a decision, narrowing them down over the course of several days or even weeks until she chooses between the best candidates.
Researchers think the bowerbird is most closely related to corvids, which as you may remember includes birds like crows, magpies, and jays, but they're also closely related to birds of paradise. Some bowerbirds are plain black or brown, some are mostly black or brown with green or other colored markings, while some are brightly colored overall. For instance, the male flame bowerbird that lives in rainforests in New Guinea has a bright orangey-red head and shoulders shading to bright yellow body and wings, with a black tail tipped with yellow. The female is more brown but she has a bright yellow belly.
The species most people have heard of is the satin bowerbird, where the male has black feathers that shine iridescent blue in sunlight and who collects almost exclusively blue items to attract a female. The satin bowerbird lives in Australia, not New Guinea. The bowerbirds that live in Australia are more well studied than the ones in New Guinea because it's easier to find them.
Not all bowerbirds build bowers, though. The catbirds of Australia and New Guinea are mostly green, and instead of the males building bowers to attract a mate who then goes off to lay her eggs and take of the babies herself, both parents take care of the babies.
Let's talk a little more about these bowers. There are two main types, the maypole bower and the avenue bower, and a particular species of bowerbird will only ever build one or the other. A male who builds a maypole bower chooses a sapling tree or large fern and places sticks against it all around. Some maypole bowers look like little huts. An avenue bower is made of two walls of sticks with a walkway between. These structures can be big, sometimes up to three feet high, or about a meter, although most are smaller. Most bowerbirds are fairly big too, about the size of a jay or magpie.
Once he's built the bower, the male finds and places items around it that he hopes a female will like. He will spend hours arranging and rearranging them. Some species put light-colored objects down first, then display colored items on top. Some birds will place smaller items in front, larger items in back, so that when the female is inside the bower all the items appear to be about the same size. Different species of bowerbird prefer different colors of item.
The items a male chooses for decoration vary from bird to bird depending on what he can find, or what he can steal from other males, and can include shells, stones, coins, pieces of glass, berries, feathers, bones, flowers, leaves, bottle caps, dead beetles, fungus, moss, snail shells, bark, nuts, and many other things.
Bowerbirds mainly eat fruit, but they also eat insects and some also eat nectar and flowers.
Let's look into the story of a particular bowerbird before we move on to another type of bird. The male golden-fronted bowerbird is a rusty reddish-brown with a long golden crest, while the female is olive brown. The species was described in 1895 from skins imported to decorate hats.
In the 19th century women wore fancy hats, at least in Europe and America and other places that were influenced by this fancy-hat-wearing trend, and the more well-to-do a woman was, the fancier she wanted her hats. This was before synthetic dyes, so the brightest, fanciest, and most expensive way to decorate a hat was with the feathers of exotic birds. Sometimes it wasn't just a few feathers or even a lot of feathers, but an entire wing or a bunch of bird wings. As the style grew more and more elaborate, often it was an entire dead bird, stuffed and mounted on a hat. I am not known for my sense of style, but that just seems really gross. But it was the style at the time and it meant hat-makers would pay a lot for exotic birds, especially ones with brightly colored feathers. The demand for feathers was so high, it nearly drove some species to extinction.
When an American woman named Harriet Hemenway heard about the slaughter of birds happening all around the world just so women could have fancier and fancier hats, she and her cousin Minna Hall started spreading the word to all the women they knew: stop buying and wearing hats with dead birds on them. The women attracted more and more supporters, both among hat-wearing ladies and people who just liked birds, and Hemenway and Hall pushed for a boycott of the feather trade. They even started the Massachusetts Audubon Society, the forerunner of the National Audubon Society that's still around today.
You would think that this would be an obvious law to put into place. I mean, yes, don't kill millions of rare birds just for hat decorations. But there was a lot of money involved in feather imports back then. People who were getting rich off dead birds called the Audubon Society extremists who wanted to put people out of jobs. Fortunately, the women persisted, and in 1900 the first federal conservation act was put into place in the United States to stop the import of feathers.
But before the feather trade was banned, some scientists made a habit of looking through imports of feathers and bird skins to find new species. That's how one ornithologist discovered the golden-fronted bower bird, but he didn't know where it was from. He described the species from the skin and that's where the story ended for almost a century.
In 1979, a biologist named Jared Diamond was hired to survey New Guinea for the site of a national park. He spent a month hiking through areas where no scientist had ever been before, and returned in 1981 for another few weeks to look for bowerbirds specifically. And as you may have guessed, he saw golden-fronted bowerbirds alive and well in the Foja Mountains. The mountains are steep and inaccessible, which has helped protect the bird from hunters and habitat loss. The first photographs of the bird were only taken in 2005.
Next, let's look at a pigeon that lives in New Guinea. New Guinea has a whole lot of pigeons and doves, something like 60 species although some are now extinct due to habitat loss and other factors. The Victoria crowned pigeon is a beautiful bird that lives in the lowlands and swampy forests. It's increasingly threatened in the wild due to habitat loss and hunting, but it's so pretty that many people keep it in captivity. Unfortunately that also means people trap the wild birds to sell, even though it's illegal and the birds are hard to take care of properly, although they do tend to be easy to tame. Some zoos let them wander around the grounds the same way peacocks often do.
The Victoria crowned pigeon is indeed a pigeon. It's a soft blue-grey all over with a reddish patch on its breast, lighter blue wing bars and tail tip, red eyes in a dark blue mask, and a gorgeous spray of feathers on its head that are tipped with white. It's just lovely. It's the sort of bird that people would have put on hats in the olden days, but I'm glad they don't anymore. It's an especially large bird, too, at least twice as big as ordinary pigeons you see in cities. Basically it's the size of a big chicken. It mostly eats fruit, especially figs, although it will also eat seeds and small animals like insects, and it doesn't fly much. It mostly eats fruit that has fallen from trees.
Like all pigeons it's a sociable bird that usually forages in a small flock or in pairs. It only lays one egg at a time and its baby is blue with white streaks. Both parents feed the baby with crop milk, which we've talked about before in various episodes. It's not actually milk, just a nutritious shed lining of the crop.
During courtship, the male dances for the female to show off his crest, and he also makes a loud booming noise that doesn't actually sound like a pigeon call. It sounds more like a special effect from a movie set in space. This is what it sounds like:
[pigeon booming]
You can find Strange Animals Podcast at strangeanimalspodcast.blubrry.net. That's blueberry without any E's. If you have questions, comments, or suggestions for future episodes, email us at strangeanimalspodcast@gmail.com. If you like the podcast and want to help us out, leave us a rating and review on Apple Podcasts or just tell a friend. We also have a Patreon at patreon.com/strangeanimalspodcast if you'd like to support us that way.
Thanks for listening!