Podcast: Play in new window | Download (Duration: 10:43 — 12.3MB)
Sign up for our mailing list! We also have t-shirts and mugs with our logo!
Thanks to Enzo for suggesting this week's topic, newts from least dangerous to most dangerous!
Further reading:
One snake's prey is another's poison
The Corsican brook salamander is not toxic (photo by Paola Mazzei, from iNaturalist):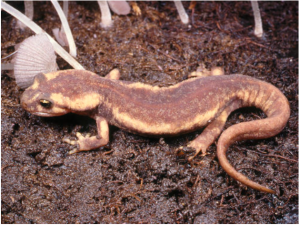 The smooth newt is a little bit toxic (photo by Fred Holmes and taken from this site) – this is a male during breeding season: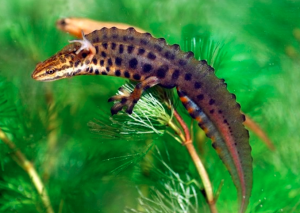 The Hong Kong warty newt has an orange-spotted belly and is toxic: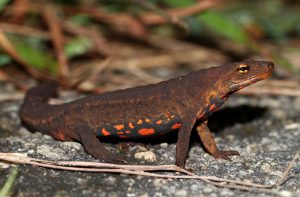 The chonky Spanish ribbed newt will stab you with its own toxin-covered bones (photo by Eduardo José Rodríguez Rodríguez, taken from this site):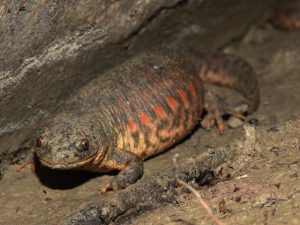 Yeah maybe don't touch the Japanese fire belly newt if you don't need to: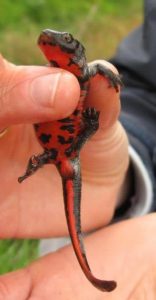 Warning! Do not eat the California newt: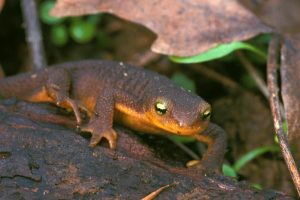 The safest newt to handle is this toy newt. I really want one: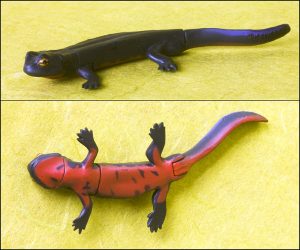 Show transcript:
Welcome to Strange Animals Podcast. I'm your host, Kate Shaw.
This week's topic is a suggestion from Enzo, who wants to learn about newts "from least dangerous to most dangerous." There are at least 60 species of newt known with more being discovered every year, but I'll do my best to hit the highlights.
A newt is a type of salamander, specifically a semi-aquatic salamander in the subfamily Pleurodelinae. All newts are salamanders but not all salamanders are newts. Newts live throughout much of the northern hemisphere, including northern Africa and the Middle East, Eurasia, and North America.
Female newts lay their eggs in freshwater, usually attaching them to vegetation or in little crevices in rocks. A few weeks later, the eggs hatch into larvae with external gills. The larvae are called tadpoles like frog larvae, and they mostly eat algae and tiny insects. They metamorphose over several months just like frogs do when they develop from tadpoles, but where frogs develop their hind legs first, newt tadpoles develop front legs first. The newt tadpole finally absorbs its gills and grows lungs instead, at which point it emerges from the water as an immature newt called an eft. Efts are juvenile newts and live exclusively on land, although like other amphibians they have to keep their skin damp so you'll usually find them in leaf litter and under rotting logs. Efts that live in North America return to the water when they become full adults, but most newts in other parts of the world stay on land the rest of their lives except during breeding season. Efts and adult newts eat worms, insects and insect larvae, slugs, frog tadpoles, and any other small animals they can catch.
The Corsican brook salamander is a type of newt that lives on the island of Corsica in the Mediterranean Sea. It grows about five inches long at most, or 13 cm, and is brown or olive-green, sometimes with a mottled pattern of orange or red on its back. It's an exception to the rule that newts outside of North America usually live their adult lives on land. Not only does the Corsican brook salamander live in freshwater most of the time as an adult, it doesn't even have working lungs. It spends most of its time in fast-moving streams and rivers in higher elevations, where it absorbs oxygen from the water through its skin.
As Enzo undoubtedly knows, many newts produce toxins. This is why it's not a good idea to handle a newt, or any other amphibian for that matter, unless you're absolutely certain it's a species that's not toxic. In most cases, a newt's toxin won't hurt you if it just touches your skin, but if it gets in a cut or if you have some of the toxin on your finger and then rub your eye or put your finger in your mouth, the toxin can make you really sick. Some newts are even deadly.
The Corsican brook salamander we just talked about is not toxic, so we'll call it the least dangerous newt. The smooth newt, on the other hand, produces a relatively mild toxin. You'd have to actually eat a bunch of smooth newts to get sick from its toxins, and why are you eating newts at all? Stop that immediately and have a banana instead.
The smooth newt lives throughout much of Europe and parts of Asia. It grows just over 4 inches long, or 11 cm, and most of the time it's brown with darker spots. The male also has a bright orange stripe on his belly. During breeding season, though, the male develops a wavy crest down his spine and brighter colors. Both males and females move into the water during breeding season, so both males and females develop tail fins on the top and bottom of their tails to help them swim.
The males of many newt species develop brighter colors and crests during breeding season to attract females. In the case of the Hong Kong warty newt, in breeding season the male develops a white stripe on his tail. He attracts the attention of females by wagging his tail in the water, where the white stripe shows up well even in dim light. The Hong Kong warty newt lives in Hong Kong and grows up to 6 inches long, or 15 cm. It's brown with orange patches on its belly and its skin appears bumpy like the skin of an orange. If it feels threatened, it sometimes rolls onto its back and pretends to be dead, which not only may deter some predators, it shows off the bright orange markings on its belly. This signals to a potential predator that this newt is toxic, and another thing it does when it plays dead is secrete toxins from its skin. In other words, don't bite this newt or touch it. It's also a protected species in Hong Kong so you shouldn't be trying to eat it anyway. Its eggs are toxic too.
Some newts deliver their toxins to potential predators in a way you might not expect. If an animal tries to bite the Spanish ribbed newt, it secretes toxins from special glands on its sides and then pushes the sharp points of its own ribs out through the tubercles where the poison glands are located. The pointed ribs become coated with toxins as they emerge and are sharp enough to stab a predator right in the mouth. The toxin causes severe pain when injected and can even cause death in small animals. The newt itself isn't injured by this process, which it can do repeatedly whenever it needs to. Newts, like all amphibians, heal extremely quickly.
The Spanish ribbed newt lives in the southern Iberian Peninsula in Europe and Morocco in northern Africa. It's larger than the newts we've talked about so far, growing up to a foot long, or 30 cm. It's dark gray with rusty-red or orange spots on its sides, one spot per poison gland. It actually spends most of its adult life in the water and especially likes deep, quiet ponds and wells.
Finally, we've reached the most dangerous newt in the world. I'm nominating two newts for this honor because they both secrete the neurotoxin tetrodotoxin, which we've talked about before. It's the same kind of toxin found in pufferfish and some frogs. The toxin can irritate your skin even if you only touch it, and if a little of the toxin gets into a scratch or cut, it can cause numbness, shortness of breath, and dizziness. If you accidentally swallow any of the toxin, you can die within six hours. There's no antidote.
Our two most dangerous newts are the Japanese fire belly newt and the California newt. The Japanese fire belly newt grows about 5.5 inches long, or 14 cm, and lives in parts of Japan in ponds, lakes, and ditches. It has pebbly skin and is brown or black with red speckles, but its belly is bright orange or red. The California newt has slightly bumpy gray or gray-brown skin on its back but a bright orange or yellow belly. It can grow up to 8 inches long, or 20 cm. It lives in parts of California, especially near the coast and in the southern Sierra Nevada Mountains.
The reason the California newt has such a potent toxin is that its main predator, the common garter snake, has a great resistance to the toxin. Only the most toxic newts are more likely to survive if a garter snake grabs it, and only the most resistant snakes are more likely to survive eating it. It's a predator-prey arms race that's been going on for at least 40 million years, resulting in a newt that is boss fight level toxic to most predators but just barely ahead of the game when it comes to garter snakes. It's likely that something similar has occurred with the Japanese fire belly newt.
If you live in the areas where these toxic newts also live, be especially careful with your pets. Keep your dog on a leash so you can be sure it doesn't try to bite or play with one of these newts. Some people actually keep the Japanese fire belly newt as a pet, but obviously if you do this you need to be extremely careful, especially if you have pets or small children. Maybe you should get a toy newt instead.
You can find Strange Animals Podcast at strangeanimalspodcast.blubrry.net. That's blueberry without any E's. If you have questions, comments, or suggestions for future episodes, email us at strangeanimalspodcast@gmail.com. If you like the podcast and want to help us out, leave us a rating and review on Apple Podcasts or Podchaser, or just tell a friend. We also have a Patreon at patreon.com/strangeanimalspodcast if you'd like to support us for as little as one dollar a month and get monthly bonus episodes.
Thanks for listening!