Podcast: Play in new window | Download (Duration: 16:54 — 17.0MB)
This week we're going to revisit a suggestion from Damian and follow up on episode 96, our strangest big fish episode. This time let's find out about some weird small fish!
The teeny, newly-discovered American pocket shark: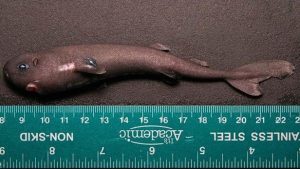 The brownsnout spookfish wears its mirror sunglasses on the INSIDE: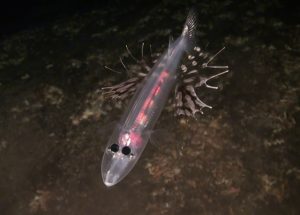 The goblinfish with a dangerous head and basically a dangerous everything else too: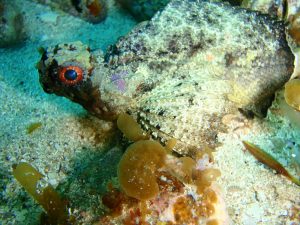 Two teeny pygmy seahorses. Can you spot them? Hint: they're the ones with eyes.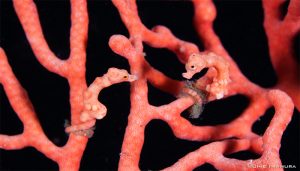 The razorfish. Just another sea urchin spine, no fish to see here: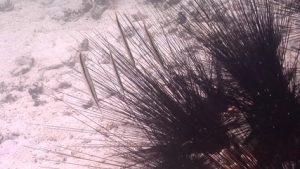 The much-maligned candiru: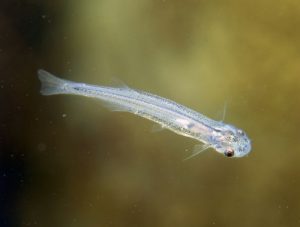 The red-lipped batfish: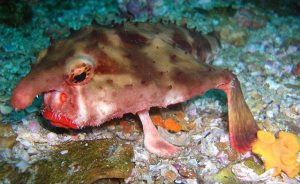 Gimme kiss: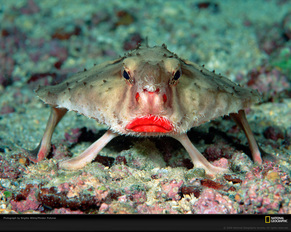 Show transcript:
Welcome to Strange Animals Podcast. I'm your host, Kate Shaw.
Ages ago, Damian suggested an episode about weird fish. We covered some weird big fish in episode 96, but now it's time for some weird little fish.
So, think about sharks for a second. Big, scary, sharp teeth, fast swimmers, black eyes of a pitiless killer of the deep.
But have you perhaps considered that maybe the world needs a very small shark? One that actually kind of looks like a tiny whale? Like, a tiny shark, only about 5 ½ inches long, or 14 cm. Almost, you know, pocket sized. Oh, and it should glow in the dark.
That's the American pocket shark, a real animal that was only discovered in 2010! It's called a pocket shark not because it's pocket sized, although it is, but because it has a sort of pocket on each side near its gills that produces luminous fluid. Researchers aren't sure whether the shark uses the fluid for attracting prey or avoiding predators. Maybe both. Its head is bulbous and rounded, which kind of makes it look like a tiny whale.
The American pocket shark was discovered in the Gulf of Mexico while scientists were observing sperm whales and tracking them with sonar. When a whale surfaced from a dive, the research team dropped nets to the depth the whale had dived to, hoping to catch the same kind of prey the whales were eating. And one of the things they found in the net was a tiny shark new to science, found at a depth of 3,000 feet, or 914 meters.
In 2013 the tiny shark, which had been frozen for later study, was finally examined. The expert who looked at it had only seen one other shark like it before, a shark discovered in the eastern Pacific in 1979. But this tiny shark had some differences from that tiny shark, and after examining both specimens carefully, they've been classified as different species.
So that's a cute start, but it's still just a rare little shark that glows. Not really that unusual, right? Let's look at a really weird fish next. Like, seriously weird.
It's called the brownsnout spookfish, which is a really terrible name, but it's not a terrible fish. I mean, it couldn't hurt you. It grows about 7 inches long, or 18 cm, and eats copepods and other tiny crustaceans. Its snout is long and kind of pointy, its body is slender, and it has elongated pelvic fins. Because it lives in the deep sea, it has eyes that point upward, which help it see predators and prey that might be silhouetted against the far-distant surface of the ocean. But it also has something only one other fish is known to have, an extra structure to the side of the eyeball. It's called a diverticulum and it does two things. First, it allows the fish to see downward in addition to upward, and second, it allows it to see across a really wide angle. The diverticulum does this because it contains a mirror that reflects light from the main eyeball onto the retina of the diverticulum. A MIRROR IN ITS EYEBALLS. The mirror is made up of tiny crystalline plates.
Some invertebrates like clams and crustaceans contain reflectors in their eyes, but except for the brownsnout spookfish, the only other vertebrate known to have mirrored eyeballs is the glasshead barreleye. Also a terrible name. The glasshead barreleye is a little smaller than the brownsnout spookfish, and not surprisingly, they're related. But surprisingly, they're not that closely related and the mirrored diverticulum appears to have evolved independently in each species.
Although the fish has been known to science for over a century, no one realized it had mirrors in its eyes until 2008 when a live one was caught by a deep-sea scientific expedition off the island of Tonga in the Pacific Ocean. Researchers took pictures of the brownsnout spookfish and got a shock when they looked at the photos. The upward-pointing parts of the eye reflected light normally, the typical eyeshine you get when you use a flash to photograph most animals. But the lower parts of the eyes reflected bright light. Researchers think the fish uses its downward-pointing eyes to see the faint bioluminescent flashes of its prey, while the upward-pointing eyes watch for predators approaching from above.
Oh, and I forgot to mention. The brownsnout spookfish is mostly transparent. You can see right through it. Yeah.
After that, the goblinfish that lives around reefs off the southern coast of Australia seems practically normal. It grows up to 8 inches long, or 20 cm, and spends most of its time resting among rocks on the seabed. It hunts at night, eating small crustaceans, and instead of swimming it usually walks along the sea floor with its large pectoral fins.
The goblinfish gets its name from its appearance, which is frankly ugly unless you are another goblinfish. Its head looks sort of turtle-like, including a dip in its body behind its eyes and in front of its dorsal fin that looks like a turtle's neck. Its eyes are large and orange in color. Its dorsal fin is spiny and runs most of the length of its back. It also has broad pectoral fins that it sometimes spreads like fans. It can change color to blend in with the rocks around it, which makes it hard for divers to see, which is too bad because it's also venomous.
It's a type of waspfish, related to scorpionfish and stonefish, all of which are venomous. Like many of those other fish, the goblinfish has venomous spines on its fins, but it also has a spine on each side of its head, underneath its eyes. Only these spines are hidden inside the fish's head. The spine is called a lachrymal saber, and it acts like a switchblade that the fish can extend with its cheek muscles. The lachrymal saber isn't venomous, but if you've just picked one up by the head and those switchblades come out, you probably aren't going to be happy anyway. Also, why did you just pick that fish up by its head? What is wrong with you?
Next, let's talk about the seahorse. It's a fish although it doesn't look like an ordinary fish. And in fact nothing about the seahorse is ordinary.
Unlike most fish, the seahorse has a flexible neck. Also unlike almost all other fish it swims vertically, with its head up and its tail down. It has a prehensile tail made up of 36 bony segments, and each segments is made of four pieces connected by tiny joints. The joints make the segments incredibly strong and able to withstand considerable pressure without breaking. The seahorse uses its tail to hold onto seaweed or other items to keep from being swept away in currents, since it isn't a strong swimmer. It propels itself through the water by fluttering its dorsal fin, using its pectoral fins to steer. Males also fight each other by tail-wrestling and bopping their heads together. The seahorse's body is protected with an external skeleton of bony plates, which take the place of ribs. The seahorse doesn't have ribs. It also doesn't have scales, just the bony plates with thin skin over them.
The seahorse lives in warm, shallow oceans throughout the world, especially in coral reefs and seagrass beds where there's plenty of cover. The largest seahorse species grow to about 14 inches long, or 35 cm. The smallest species are barely more than half an inch long, or 15 mm. The smallest species are mostly new to science since they're so hard to find and identify. Seahorses are well camouflaged to blend in with the plants and coral they live in.
The seahorse's mouth is at the end of a long, tubelike snout, and it actually sucks its prey into its snout like a straw. It eats small crustaceans, larval fish, and other small animals. Oh, and its eyes can move independently of each other.
Seahorses don't mate for life, but they do form bonds that last throughout the breeding season, and it has a long courtship period while the female develops her eggs. The pair participate in courtship dances and spend most of their time together. When the eggs are ready, the female deposits them in a special brood pouch in the male's belly, where he fertilizes them. They then embed themselves in the spongy wall of the brood pouch and are nourished not only by the yolk sacs in the eggs, but by the male, who secretes nutrients in the brood pouch. So basically the male is pregnant. The female visits him every day to check on him, usually in the mornings. When the eggs hatch after a few weeks, the male expels the babies from his pouch and they swim away, because when they hatch they are perfectly formed teeny-tiny miniature seahorses.
If you're wondering why I said the seahorse is almost the only fish that swims vertically, there's some evidence that the oarfish does this too. We talked about the oarfish way back in episode 6, about sea monsters. But there's another fish that swims vertically, the razorfish—but it swims with its head pointed down and its tail pointed up. It's a slender fish that grows about six inches long, or 15 cm, with a pointy nose and tiny fins. Its back is protected by bony plates that extend past the tail fin in a spine. It eats tiny animals, including brine shrimp, AKA sea monkeys. When it feels threatened, the razorfish swims to the nearest sea urchin and hides among its spines, blending in with them. Schools of razorfish will swim around together, all of them head-down, because that's just what they do.
Not all weird fish live in the ocean. A lot of freshwater fish are weird too. For instance, the candiru [kan-DEE-roo]. You've probably heard of this one although you may not know what it's called. It's native to the Amazon and Orinoco Rivers in South America and it's actually a type of catfish. Some species grow over a foot long, or around 40 cm, but the species we're talking about today, Vandellia cirrhosa, grows less than two inches long, or 5 cm. Like the brownsnout spookfish, it's mostly translucent so it's hard to see in the water. It has short spines on its gill covers that point backwards.
Unlike other catfish, the candiru eats blood, which gives it its other name of the vampire fish. It parasitizes other fish by lodging itself in their gills and sucking their blood. But the candiru is supposed to do something else, something that happens by accident. The story goes that if someone pees while in the water and a candiru is around, it'll swim up the stream of urine, attracted by the smell, and lodge itself in the urethra of the person peeing. It's supposed to do this thinking it's entering the gills of a fish. Its spines keep it locked in place, causing intense pain to the person, followed by infection and, if the fish isn't surgically removed, death.
At least, that's the story. There's even a 1997 video of a man who had to have a candiru removed from his penis after he peed while wading in a river in Brazil. The doctor filmed the surgery and even kept the fish he removed, preserved in formaldehyde. So it must be true, right?
Maybe not. One study determined that the candiru isn't interested in the chemicals present in urine and in fact it hunts by sight, not smell. And a study of medical reports throughout South America only found a single instance of anyone reporting a candiru attack. That instance is the same one from 1997 where the surgery to remove the fish was filmed.
But a further study of the surgery, photos, and preserved candiru specimen tell a different story. The human urethra is extremely narrow and the preserved fish was much too large to enter without squishing itself to death, not to mention that the candiru is just not strong enough to muscle its way into anything but a larger fish's gills. The doctor also said he'd had to cut off the candiru's spines before removing it, but the specimen is fully intact, spines and all. It sounds like the video may be a hoax of some kind.
Reports of candiru attacks are common in parts of South America today and have been common as far back as recorded history, but they seem to be more of a legend than something that happens a lot or maybe even at all. Still, probably better not to pee into the Amazon River, just in case.
Let's finish with the red-lipped batfish, a type of anglerfish only found around the Galapagos Islands in the Pacific Ocean. It lives on the ocean floor where the water is fairly shallow, and it grows about 8 inches long, or 20 cm. It's usually a mottled brown, green, or grey with a white stomach, but its mouth is bright red. It looks like it's wearing lipstick. It eats fish and other small animals, which it attracts using a lure on its head, a highly modified dorsal fin called an illicium.
The weirdest thing about the red-lipped batfish is actually its fins. It prefers to walk on the bottom of the ocean instead of swim, and it has modified pectoral fins called pseudolegs. The pseudolegs make it look a little bit like a weird frog with a tail, a unicorn horn, and lipstick. It's like something out of a fever dream, honestly.
Researchers think the red lips may be a way to attract potential mates, presumably ones who are hoping for a big smooch.
You can find Strange Animals Podcast online at strangeanimalspodcast.blubrry.net. That's blueberry without any E's. We're on Twitter at strangebeasties and have a facebook page at facebook.com/strangeanimalspodcast. If you have questions, comments, or suggestions for future episodes, email us at strangeanimalspodcast@gmail.com. We also have a Patreon if you'd like to support us that way.
Thanks for listening!