Podcast: Play in new window | Download (Duration: 12:55 — 14.4MB)
Thanks to Eva and Anbo for suggesting the harpy eagle!
Further reading:
Crested Eagle Feeding a Post-Fledged Young Harpy Eagle
Harpy eagle with a food [By http://www.birdphotos.com – Own work, CC BY 3.0, https://commons.wikimedia.org/w/index.php?curid=3785263]: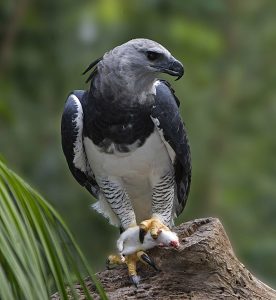 The harpy eagle has great big feet and talons: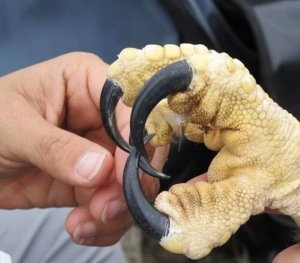 The harpy eagle with its feather crown raised [photo by Eric Kilby]: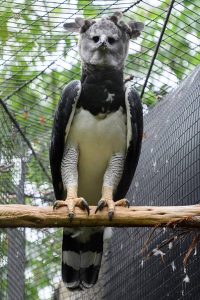 The New Guinea harpy eagle looks similar to its South American cousin [By gailhampshire from Cradley, Malvern, U.K – New Guinea Harpy Eagle. Harpyopsis novaeguineae, CC BY 2.0, https://commons.wikimedia.org/w/index.php?curid=86187611]: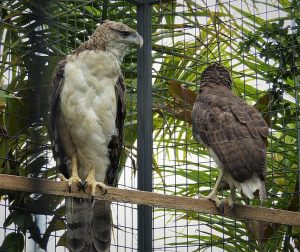 Ruppell's griffon vulture: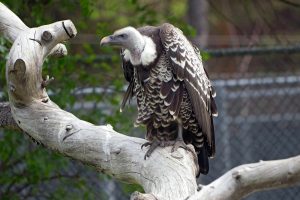 Show transcript:
Welcome to Strange Animals Podcast. I'm your host, Kate Shaw.
We've been talking about a lot of mammals lately, so let's have an episode about birds. Anbo suggested the harpy eagle not too long ago, and a much longer time ago Eva suggested the harpy eagle and other raptors.
The word raptor can be confusing because it refers to a type of small theropod dinosaur as well as a type of bird. When referring to a bird, the term raptor includes eagles, hawks, vultures, owls, and other birds of prey. And that includes the harpy eagle.
The harpy eagle lives throughout much of Central and South America, although not as far south as Patagonia. It has a wingspan up to about seven feet across, or over 2 meters, and like other raptors, females are larger than males. This isn't an especially big wingspan for an eagle, but that's because the harpy eagle hunts in forests and needs short, broad wings that allow it to maneuver through branches.
The harpy eagle is a beautiful bird. It has a light gray head and darker gray or black body, and is white underneath with delicate black stripes on its leg feathers, with broader stripes on its tail and wings. It has a black ring around its neck, huge yellow feet with enormous talons, and a black bill. Each talon, which is the term for a raptor's claws, can be over 5 inches long, or 13 cm, while its feet in general are bigger than a grown man's hand, even if the man has especially big hands.
Most striking of all is the harpy eagle's crest, also sometimes referred to as a crown. The crown is made of long, rounded feathers and most of the time they don't show very much. When a harpy eagle is alarmed, it raises the feather crown and poofs out the feathers on its face, which makes its head look bigger and sort of owl-shaped.
The harpy eagle mostly lives in lowland rainforests. It mates for life and doesn't have babies every year. Every two or three years a harpy eagle pair will build a huge nest out of sticks in the top of the tallest tree they can find. The female lays two eggs, which the parents care for together. The female spends most of her time incubating the eggs while the male brings her food, although he will also take a turn incubating while she goes out to stretch her wings and do a bit of hunting herself. When the first egg hatches, the parents bring the baby lots of food and give it lots of attention–but they ignore the other egg at that point, which usually doesn't hatch as a result. A harpy eagle chick is all white at first, and although it can fly at around 6 months old, its parents will keep feeding it for almost another year.
The harpy eagle is increasingly threatened due to habitat loss and poaching. Because it's such a big bird, many people shoot it because they think it's dangerous to livestock or children. But it mostly eats monkeys, sloths, kinkajous and coatis, iguanas, and other medium-sized animals. It's rare that it attacks livestock since it mostly hunts within the tree canopy for arboreal animals. If your lambs and chickens are sitting on tree branches, you already have a bigger problem than harpy eagles eating them.
A captive breeding program has been started in various zoos around the world, while conservationists work to protect the harpy eagle's natural habitat so that individuals can be released back into the wild.
We don't actually know all that much about the harpy eagle, but we know even less about its close relation, the New Guinea harpy eagle. It resembles the harpy eagle but instead of being mostly gray and white, it's mostly brown and cream in color. It has longer legs and tail but is smaller overall than the harpy eagle, with a wingspan closer to 5 feet across, or 1.5 meters. It has a smaller crest than the harpy eagle too.
Like its South American cousin, the New Guinea harpy eagle hunts in forests, especially rainforests, and spends most of its time perched in a tree, watching for small animals to happen by. Sometimes it will shake a branch to startle any animals in the area to run or fly away, at which point the eagle flies after them. It will even climb around in a tree and poke around in any potential hiding places it finds. It eats tree kangaroos, possums, and other small to medium-sized mammals, but it also eats a lot of birds and reptiles.
While it's closely related to the harpy eagle, the New Guinea harpy eagle is placed in a different genus. This is also the case for another closely related bird, the crested eagle, which lives in parts of South America. It's a little smaller than the harpy eagle of South America, with a wingspan of not quite 6 feet across, or 1.8 meters, with a black mask marking over its eyes and a black spot on its crest. Other than that it's mostly gray.
The two species look enough alike that sometimes people confuse the crested eagle for a young harpy eagle where their ranges overlap. But in at least one documented case, the birds seemingly got confused too.
In early 2004, a team of scientists observing a harpy eagle nest noticed something odd. The nest had one baby in it that was about a month old when the scientists first observed it, and they noticed a crested eagle perched nearby. Every time the scientists visited the nest, the crested eagle seemed to be nearby, although the harpy eagle parents were also around and seemed just fine. The scientists observed the crested eagle adding branches to the nest and even bringing food to the harpy eagle baby. This continued for almost a year. The baby actively solicited food from the crested eagle and happily ate what it brought. At the same time, the harpy eagle parents allowed the crested eagle to approach, although generally the crested eagle didn't come very close when the harpy eagle parents were around.
The scientists published a short paper about these observations in 2006, including a few hypotheses about the crested eagle's behavior. They suggested that the crested eagle might have lost her own chick and transferred her maternal instincts to another eagle chick nearby, or she might have just been responding to the eagle chick's requests for food. She might even have wanted to use that tree for her own nest, but when the bigger, stronger harpy eagles moved in, she abandoned her nest but hung around. A male crested eagle wasn't observed, so it's also possible she had lost her mate.
Sometimes different species of raptor do feed each other's nestlings, although we don't know why. It also occasionally happens with other types of birds, often male birds whose own nests are still being incubated by the female or by birds whose nest is very close to another nest with babies in it.
Another raptor that hunts animals that live in trees is the crane hawk, also from South America. It lives in forests that are near water and usually hunts by sitting in a tree and watching for potential prey. A lot of the time, though, it hunts like the New Guinea harpy eagle, climbing around in a tree and poking through any nooks and crannies to find animals that are hiding. In the case of the crane hawk, though, it actually has double-jointed legs that allow it to reach a foot into a little hole in a tree to grab prey. Most birds don't have legs that are flexible enough to allow this behavior. The crane hawk eats a lot of nestling birds, bats, frogs, and other small animals that hide in tree cavities, including some larger invertebrates like cicadas and snails. The only other raptor known to both hunt like this and have double-jointed legs is a genus of African harrier-hawks that aren't related to the crane hawk. Yes, it's convergent evolution, at it again!
Let's get out of the trees now and finish with another raptor Eva suggested. We talked about Ruppell's griffon vulture in episode 159, but only very briefly.
Ruppell's griffon vulture is a critically endangered vulture that lives in parts of central and eastern Africa. Unlike the raptors we've talked about so far in this episode, it spends a lot of its time soaring at high elevations, so it has really big wings. Its wingspan is as much as 8 and a half feet across, or 2.6 meters. It's mostly brown and black and like other vultures, it doesn't have feathers on its head, just a little bit of thin fluff. It will travel enormous distances to find the dead animals it eats, sometimes following herds of migrating animals to scavenge individuals that die of injury or illness. It doesn't just eat the yummy soft parts of a carcass, it will also eat bones and even the hide of a dead animal. It has a long neck that helps it get to the best bits of its food, uh, from the inside of the carcass. It sometimes even climbs completely inside the rib cage of a dead animal to more easily get every scrap of food.
The way vultures eat is gross, which makes it fun for me to talk about, but vultures are incredibly important. They actually help stop the spread of diseases like rabies and anthrax by eating animals that died of the diseases. The vulture's digestive tract is so effective that it kills off any viruses that caused the animals to die.
Ruppell's vulture mates for life. It nests in cliffs, with hundreds of vulture pairs nesting very close together. The female lays one egg, and both parents take care of the baby when it hatches. Even after it can fly, the parents take care of their chick for almost a year while it learns how to find food on its own. Most vultures have relatively weak feet since they don't use them to catch prey like other raptors, but Ruppell's vulture has strong feet to help it perch on the cliffs where it nests.
Ruppell's griffon vulture is one of the highest-flying birds known. It's been recorded flying as high as 37,000 feet, or 11,300 meters, and we know it was flying at 37,000 feet because unfortunately it was sucked into a jet engine and killed. There's so little oxygen at that height that a human would pass out pretty much instantly, but the vulture's blood contains a variant type of hemoglobin that's more efficient at carrying oxygen than ordinary hemoglobin.
As if all that weren't enough for one bird, Ruppell's vulture can also live to be 50 years old. That's pretty good for an animal that mostly eats rotting and diseased meat.
You can find Strange Animals Podcast at strangeanimalspodcast.blubrry.net. That's blueberry without any E's. If you have questions, comments, or suggestions for future episodes, email us at strangeanimalspodcast@gmail.com. If you like the podcast and want to help us out, leave us a rating and review on Apple Podcasts or Podchaser, or just tell a friend. We also have a Patreon at patreon.com/strangeanimalspodcast if you'd like to support us for as little as one dollar a month and get monthly bonus episodes.
Thanks for listening!