Podcast: Play in new window | Download (Duration: 18:39 — 19.2MB)
Thanks to Nick and Richard from NC for their suggestions this week! Let's learn about A BUNCH OF MONKEYS!
Further reading:
How we solved the Green monkey mystery–and found an important clue to Bronze Age world
Field Notes: Singing Titi Monkeys (with a video of them singing)
Dracula monkeys and Dracula: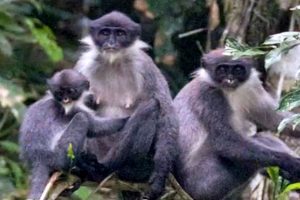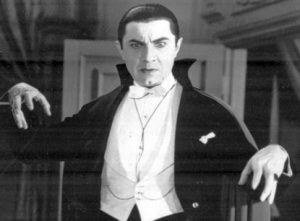 The Dracula monkey orchid (not a vampire, not a monkey, but it is an orchid):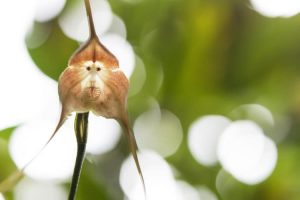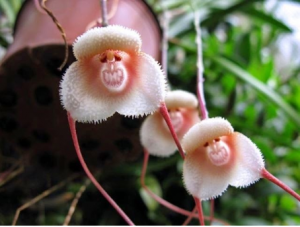 A capuchin monkey insisting a friend "see no evil":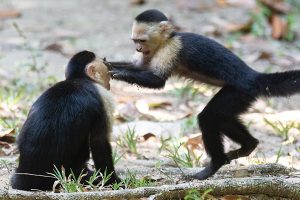 Abu!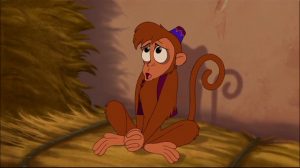 Mandrills gonna get as colorful as monkily possible: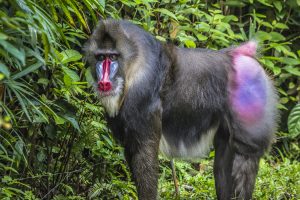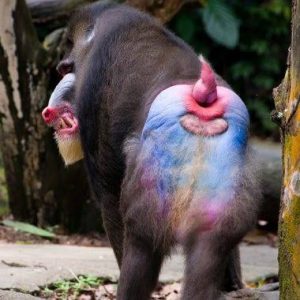 Rafiki! Why is your tail so long?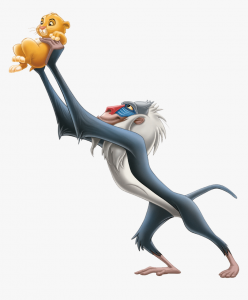 One of the "blue monkey" wall frescos and some grey langurs: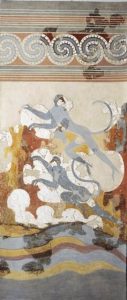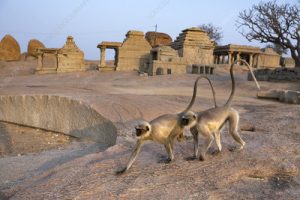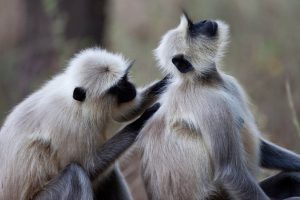 The fluffy titi monkey: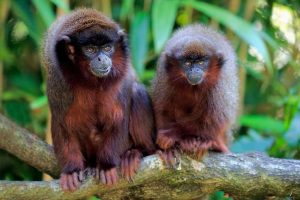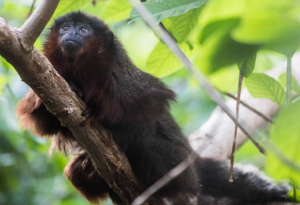 Show transcript:
Welcome to Strange Animals Podcast. I'm your host, Kate Shaw.
Halloween is over for another year, but that doesn't mean things get boring. This week let's learn about some monkeys, including a few monkey mysteries that were solved with science! Thanks to Nick and Richard for their suggestions.
We'll start with the Dracula monkey, suggested by Richard from North Carolina, who also sent me an article a while back about the monkey. I meant to include this topic in an episode before October but got distracted by all the other awesome animals that have been suggested lately.
The Dracula monkey is also called Miller's Grizzled langur, but that's a mouthful and Dracula monkey is funnier. It's not called the Dracula monkey because it has fangs, but because its body is gray with a white ruff that sticks out on either side of the neck like the collar of Dracula's cape in the movies. Its face is also gray except for a white U-shaped marking under its nose like a little white mustache. It grows up to 22 inches long, or 56 cm, not counting its tail which is even longer than its body.
The Dracula monkey eats young leaves and unripe fruit, along with flowers, seeds, and sometimes eggs. It spends most of its time in trees and is endangered by habitat loss and hunting, and it only lives in one place, in rainforests on the island of Borneo in South Asia. It was spotted by scientists in 2012 after it was suspected to be extinct, but that was the last anyone saw of it for years.
An Animal Planet show called "Extinct or Alive" was filming in Borneo in spring of 2019, unless it was 2018, it's not clear from the article, searching for the Dracula monkey. The host and his team set up camera traps in the forest, braving literally hundreds of bee stings as they did so. But it worked, catching the monkey on camera and proving it wasn't extinct. When an animal is declared extinct, conservationists lose funding to help it and it's removed from the list of protected animals, so it's important to search for animals that are suspected to be extinct but might not be.
While I was researching the Dracula monkey, I learned about a rare orchid called the Dracula monkey orchid. It has fuzzy reddish-brown and white flowers that look remarkably like a monkey's face. It doesn't actually look like Dracula or a Dracula monkey, though. Who names these organisms? In this case, scientists. The orchid's scientific name is Dracula simia, and the genus Dracula is named because some of the orchids in the genus are red or black and white and the long spurs supposedly hang down like fangs. The Dracula monkey orchid is found in southeastern Ecuador in South America, and only grows in moist high-altitude forests. The flowers smell like oranges. This has been your bonus plant fact of the week.
The Dracula monkey orchid actually looks more like a capuchin monkey than a Dracula monkey, so let's learn about the capuchin next.
You probably know what the capuchin monkey looks like because it's so common in movies. The monkey in Raiders of the Lost Ark (you know, the "bad dates" monkey) was a capuchin, but the noises he makes in the movie are actually voiced by a human actor named Frank Welker. Welker also voiced the monkey Abu in Disney's Aladdin from 1992. In the live-action remake from 2019, he's still a capuchin but computer-animated.
The capuchin monkey lives in forests in Central and South America, but there are lots of species. Most are dark brown with cream-colored markings on the face and around the neck. It lives in trees and unlike many monkeys, it's an omnivore. It eats leaves, fruit, nuts, flowers, and other plant parts, but it also eats insects, frogs, crabs, shellfish, and other small animals. It's about the same size as the Dracula monkey, up to 22 inches long, or 56 cm, with a tail the same length as the body.
The reason so many capuchin monkeys are used in movies and TV shows is because they're one of the most intelligent monkeys known, social, adaptable, and easy to train. But they're wild animals and they don't make great pets. They can be dangerous if they're upset, and to be happy they need the company of other capuchin monkeys in a situation as much like their social structure in the wild as possible. In the wild, the capuchin lives in groups of up to 35 individuals that travel around the group's territory throughout the day, looking for food. Their social structure is complicated, which is usually the case with intelligent animals, and members of the group interact constantly, whether they're grooming each other, playing, gathering food, or watching for danger.
The capuchin monkey is a tool user, which was well known to locals but wasn't observed in the wild by scientists until 2004. It uses rocks to break open shellfish and nuts, and it will use different sized rocks to break different kinds of nuts. For really hard nuts it will use large, heavy rocks, but for smaller nuts it will use a smaller, lighter rock. This sounds like a duh moment, but that's because humans are the ultimate tool users and we understand that of course you shouldn't smash open a cashew with a gigantic rock because you'd just pulverize the nut, while tapping at a really hard nut with a little pebble won't do anything to break it open.
Not only do the capuchin monkeys in Brazil use different sized rocks to break open nuts, they select the rocks carefully and prefer ones that are rounded and easy to handle. They're called cobbles. They set the nuts on a hard surface like another rock or an exposed tree root and use the cobbles to break the nuts open.
In 2016, researchers chose a site where capuchin monkeys have been using these stones to open nuts for many years. They treated it as an archaeological site and excavated it by digging carefully and documenting what they found. They found that the site had been used for at least 3,000 years, with some evidence that the monkeys' diet had changed from eating smaller nuts to larger, harder nuts. Researchers aren't sure if the diet change came from changes in the foods that were available or if the monkeys became better at breaking open hard nuts so were able to eat more of them.
This is what a capuchin monkey actually sounds like, including the little birdlike trills:
[monkey sounds]
Nick suggested that we learn about the mandrill, so let's do that next. The mandrill is a big monkey that lives in forests and rainforests in parts of the west coast of central Africa. Not only is it a big monkey, it's the biggest monkey, or at least the heaviest. Males are much larger than females and a big male can weigh as much as 119 lbs, or 54 kg, and possibly more. It's a muscular, compact animal that looks more like an ape than a monkey, and it spends most of its time on the ground instead of in trees. It's dark gray or greeny-brown with a white belly, a long muzzle, and a little stub of a tail.
And, of course, the mandrill is really colorful. A dominant male develops bright blue and red markings on his muzzle and blue, pink, and purplish colors on his bare bottom. Females and subordinate males are less colorful. During mating season, females who are in estrus, which means they're fertile and can have a baby, develop enlarged red bottoms to attract a male.
All this is interesting, and cheerfully colorful, but if you stop and think about it for a moment, how many mammals can you think of that have skin that is bright blue or purple? Not very many. For a long time researchers weren't sure what caused the color. It's not a pigment, so it has to be caused some other way. The blue coloring of many birds is caused by the way light reflects off the black pigment in the feathers. It turns out that in mammals with blue and purple skin, the same is true. Skin contains a protein called collagen, which is very tough and which grows in a random pattern. But in the areas where a mandrill's skin is blue or purple, the collagen fibers grow in a parallel pattern. This means that when light reflects off the skin, only the blue wavelengths of light bounce off. The other wavelengths are canceled out. The closer together the collagen fibers are, the brighter the blue.
The mandrill lives in much larger groups than other monkeys do, sometimes numbering several hundred. One group had over 1,300 members. Generally, each group is made up of females and their babies, with a dominant male that lives on the outskirts of the group most of the time. The exception is during mating season, which lasts from June to October. During this time the females allow males to join the group so they can mate. A female usually only has one baby every two years, and a mother mandrill's female relatives help care for the baby. When male babies grow up they leave the group and live on their own, while females remain in the group.
The mandrill is an omnivore although it most eats fruit and other plant material, but it will eat insects and other invertebrates, eggs, and small vertebrates like frogs, rats, and birds. It has long canine teeth that help it kill small animals and even larger animals if it can catch them. It even has cheek pouches so it can carry food around to eat later. It mostly feeds on the ground but will climb trees to get food and it also sleeps in trees at night.
Since we were talking about movie monkeys earlier, the character of Rafiki in the Lion King is a mandrill.
Next, let's look at a couple of monkey mysteries that were recently solved. The Greek island of Santorini, once called Thera, is famous for its murals, which were uncovered by archaeologists around 50 years ago and are studied to learn about the people who lived on the island 3,600 years ago. The frescos, or wall paintings, were preserved by volcanic ash that destroyed the city of Akrotiri. Some of the frescos depict monkeys of various kinds, including one type of monkey that's been a mystery for years. Historians assumed the monkeys had to be from Africa, since the Aegean people of the island traded with Egypt. But the paintings didn't quite match any monkey known from Africa. Finally, the historians studying the frescos called in some primatologists to see if they could figure out the mystery.
The monkeys are depicted as blue-grey with long tails carried upward in a curve like a big question mark. This detail gave the primatologists the clue they needed. The mystery monkeys were Hanuman langurs, also called the gray langur, which carry their tails in exactly this way. They're from India, not Africa, which means that the Aegeans must have had trade routes that were far more extensive than previously known.
The gray langur lives throughout the Indian subcontinent and there are several species. They mostly eat leaves, along with seeds, lichen, fruit, moss, and lots of other plant materials, but they'll occasionally eat insect larvae and spider webs. I do not know why they eat spider webs. Seems like it would get caught in their teeth.
The gray langur is an adaptable monkey and lives in forests, rainforests, deserts, mountains, and villages. Human villages, I should add. The monkeys don't make little villages of their own. They even live in large cities, where they will steal food from people and sometimes bite.
For our other monkey mystery, let's finish up with an unusual monkey that once lived on the island of Jamaica in the Caribbean. Like many island animals, it had no predators and evolved many unique traits. Also like many island animals, it went extinct after humans moved in. The Jamaican monkey, Xenothrix mcgregori, probably only went extinct around 500 years ago, and it was pretty weird-looking. We mostly only know anything about it because of remains found in caves.
The Jamaican monkey had a long tail but short legs compared to most other monkeys. It had leg bones that look more like the legs of a rodent than a monkey. It did live in trees like most monkeys do and probably ate fruit, nuts, and other plant materials. But it didn't have very many teeth and it moved slowly, which is not a typical monkey trait. It was about the size of the capuchin monkey, up to 22 inches long, or 56 cm.
Scientists had no idea what kind of primate it was until a team managed to extract DNA from some bones. Results of the genetic study were published in 2018 and reveal that the Jamaican monkey was most closely related to the titi monkey.
The titi monkey lives in South America and spends almost all of its time in trees. Its fur is long and soft, and depending on the species it can be brown, gray or black, or even reddish, sometimes with white markings. Unlike the other long-tailed monkeys we've talked about today, its tail is not prehensile.
The titi lives in family groups, basically just parents and their children, and pairs mate for life. This is pretty unusual among monkeys. The female usually only has one baby a year and the male cares for it most of the time. If something happens to the parents, sometimes another pair of monkeys will adopt the baby.
This is what the titi monkey sounds like, specifically the black-fronted titi monkey. There's a link in the show notes if you want to watch the whole video, which goes on for a full minute and is hilarious and adorable.
[monkey sounds]
You can find Strange Animals Podcast at strangeanimalspodcast.blubrry.net. That's blueberry without any E's. If you have questions, comments, or suggestions for future episodes, email us at strangeanimalspodcast@gmail.com. If you like the podcast and want to help us out, leave us a rating and review on Apple Podcasts or just tell a friend. We also have a Patreon at patreon.com/strangeanimalspodcast if you'd like to support us that way.
Thanks for listening!