Podcast: Play in new window | Download (Duration: 12:19 — 12.9MB)
This week's episode is about nonhuman musicians. It's rarer than you'd think.
The palm cockatoo. Nature's drummer. In possibly related news, I know what my next tattoo is going to be.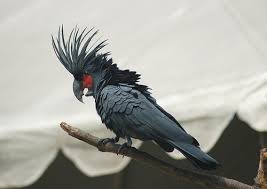 Snowball the Dancing Cockatoo.
Members of the Thai Elephant Orchestra at the Thai Elephant Conservation Center: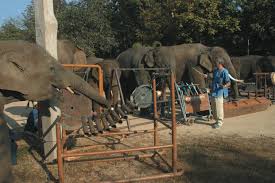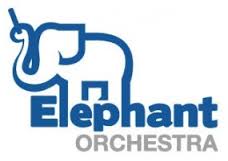 Further reading:
Kinship with Animals by Dave Soldier
Show transcript:
Welcome to Strange Animals Podcast. I'm your host, Kate Shaw.
This week's episode about nonhuman musicians was inspired by an article about palm cockatoos. The male cockatoos drum on tree trunks or hollow logs as part of their courtship display, which doesn't sound all that unusual until you learn that they use special crafted sticks to drum. A male will select a stick, trim it down the way he wants it, and hold it in his claw to drum. Sometimes he'll use a hard seedpod instead. The resulting beats are not only consistently in rhythm, each individual has a personal style. Some drum quickly, some slowly, some throw in little flourishes. Sometimes females will drum too, and if a female likes a male's drumming, she may imitate him or join in.
Here's a little clip of a male drumming. He's also whistling.
[palm cockatoo drumming]
The palm cockatoo is an awesome-looking bird. It looks like a drummer. It's up to two feet long, or 61 cm, smoky gray or gray-black with a heavy gray beak, red cheek patches that flush when the bird is upset or excited, and a messy crest of feathers. It's native to Papua New Guinea, Indonesia, and the very northern tip of Australia, Cape York Peninsula. Only the Australian birds are known to drum. Unfortunately, the Australian birds are the ones most threatened in the wild due to habitat loss.
The palm cockatoo eats nuts and seeds, and like all parrots it can live a long time. And yes, you can get them as pets—and now I'm desperate for one even though the last thing I need is a pet cockatoo. I have a coworker with a pet parrot who she says is incredibly neurotic. He tends to get overexcited and starts screaming, and she has to put him in his cage and cover it so he'll shut up. Her kids found the parrot when they were young. He plopped down in her yard when they were playing outside, and they put an empty laundry basket over him to trap him. No one claimed him, so my coworker has now been stuck with a neurotic parrot for over twenty years. She's pretty sure he survived in the wild by hanging out with crows, because one of the things that will set off his excited screaming is hearing crows outside. And while cockatoos and parrots in general are typically affectionate and make good pets, palm cockatoos are not. They're considered "difficult." When parrot fanciers call a type of bird difficult, it's difficult.
Anyway, the really unusual thing about the palm cockatoo's drumming isn't its tool use, which is well known among many types of birds, especially parrots and their relations. It's the rhythm.
Most animals can't keep a beat. Synchronization to an external rhythm is called rhythmic entrainment. Humans are really good at it and recognize a beat automatically, but responding in time to a rhythm is a learned skill. Small children have to learn to keep a beat by moving their bodies, speaking, or singing, and they learn it best in social settings. That's why music, dance, and rhythmic play activities are so important to preschool children. And as a drummer myself, I promise you, humans of any age can learn to improve their rhythm.
But most animals don't seem to have the ability to distinguish rhythmic beats, although it hasn't been studied all that much until fairly recently. Some researchers think it may have something to do with the ability to mimic vocal sounds.
That would explain why many birds show rhythmic entrainment, varying from species to species. A sulfur-crested cockatoo named Snowball was internet-famous for a while in clips where the bird danced to music. As a result, Snowball became the subject of a rhythmic entrainment study that shows he can adapt his dancing to changing tempos.
But not all animals who show rhythmic entrainment can mimic vocally. California sea lions aren't exactly the parrots of the sea animal world, but they can be trained to move to a beat. On the other hand, closely related seals are vocal learners. In fact, one famous harbor seal who was raised by a fisherman who found the orphaned pup could imitate the fisherman so well he was known as "Hoover the Talking Seal."
Here's the only clip I would find of Hoover. The first time I listened to it, I couldn't figure out when the seal was talking. All I could hear was some gruff-sounding guy talking really fast. Well, that's Hoover.
[Hoover the talking seal]
That is Hoover the talking seal talking. It's creepy as heck.
It's possible that sea lions still retain neural pathways that allow vocal mimicking even if they no longer use them. Then again, some researchers now believe that vocal mimicking ability may only be a skill related to rhythmic entrainment, not the source of the ability, and that the neural pathways for rhythmic entrainment may be very old. Some species can express entrainment, others appear to have lost it.
Studies on human brains show that when music plays, pretty much the entire brain lights up in response. That's because we have special neural connections that help coordinate motor planning, speech, and other skills with the perceived beat. Brains of parrots and other birds are very similar. But monkeys are not. Monkeys can't dance. Poor monkeys.
One study with rhesus monkeys who were trained to tap in rhythm with a metronome determined that they couldn't anticipate the beat but could tap just after it, responding to it, even after years of training. Many rhythmic entrainment studies focus on great apes, since it's reasonable to suppose that humans' close cousins might share our rhythmic ability.
Patricia Grey, a bio-music researcher at the University of North Carolina at Greensboro, taught a group of captive bonobo apes to play a drum along with a beat. But it wasn't as simple as showing a bonobo how a drum worked and seeing if it could keep a beat. She had to encourage the apes in a social setting, just like with human children. Also, she had to design a drum that could take a whole lot of abuse. I love that she went to Remo, a company that manufactures drums and drumheads, to have the drum made.
Her experiment started by accident. In 2010, Grey was at the Great Ape Research Center in Des Moines waiting for an experiment to be set up, and while she waited she idly tapped the glass on the bonobo enclosure. A bonobo named Kanzi came over and tapped her hand on the glass in response, matching Grey's tempo. Intrigued, Grey continued tapping to see how long Kanzi would keep it up. Kanzi didn't stop, even when her snack time came. She ate her snack lying on her back so she could continue to tap with her feet.
Wild chimpanzees and bonobos drum on logs and their own bodies to make rhythmic noise during play and dominance activities. Dominant male chimps do a particularly exaggerated slow display when thunderstorms approach, called a rain dance by researchers, that involves drumming. A variation of the rain dance has been seen when wildfires are approaching a troupe of chimps. Naturally it's called a fire dance, and it includes a vocalization heard at no other time.
Chimps are pretty chill when it comes to fire, by the way. They understand how it spreads and how to avoid it without panicking.
Another animal that can keep the beat? Elephants! Asian elephants are vocal mimics and their ability to keep a beat is extremely precise. In 2000, the Thai Elephant Orchestra was created with elephants at a conservation center in Thailand, who learned to play oversized versions of traditional Thai percussion instruments.
The elephants learned the instruments easily, taking to it so quickly and so well that the orchestra's founders were astonished. The great thing is, the elephants actually create much of the music themselves. The orchestra's founders, neuroscientist Dave Soldier and elephant conservationist Richard Lair, wanted the elephants to have fun and enjoy making music. So for most songs, the animals are only signaled when to start and stop playing. Occasionally human musicians play along.
The orchestra released three albums between 2002 and 2011, which were all well received—not as novelty albums, but as actual improvisational compositions. Some of the songs are arranged, with the elephants trained to play traditional Thai music. The orchestra performs live for visitors at the conservation center.
The orchestra varies in size from five to fourteen elephants. One particularly talented drummer, Luk Kop, could play three drums at the same time and set up complex rhythms. Unfortunately he was also a dangerous elephant, and that's not good for a band or an elephant orchestra, so he had to drop out.
The elephants prefer non-dissonant tones and learn to strike the properly resonant parts of their instruments without even being taught. The elephants at the center also enjoy playing harmonicas. The tip of an elephant's trunk has a fingerlike projection, so an elephant can hold a harmonica and blow through it with its trunk. Soldier reports that one morning he arrived at the center early when the elephants were heading down to the river for their morning bath. Almost all the elephants had brought their harmonicas and were playing together as they walked.
Most of the elephants at the center are former logging animals, and many of their handlers, known as mahouts, once worked with them when they were logging. Mahouts traditionally sing to their elephants, which is supposed to keep them calm. So the elephants in the orchestra are familiar with traditional Thai music.
Locals who have heard the orchestra play say the music sounds like the music in Buddhist temples. Soldier, a musician and composer himself, transcribed an original elephant piece which was then played by a human orchestra in New York. The audience didn't know it was composed by elephants. Some guesses as to who the composer might be included John Cage, Dvorak, and Charles Ives.
Whether or not you like improvisational Thai music played by elephants, or you think it's just a stupid gimmick, it's clear the elephants are having a lot of fun. Here's a clip of some of their music recorded at the conservation center. That's some mighty fine percussion for animals who don't even have hands.
[elephant orchestra]
You can find Strange Animals Podcast online at strangeanimalspodcast.blubrry.net. That's blueberry without any E's. If you have questions, comments, or suggestions for future episodes, email us at strangeanimalspodcast@gmail.com. We also have a Patreon at patreon.com/strangeanimalspodcast if you'd like to support us and get twice-monthly bonus episodes for as little as one dollar a month.
Thanks for listening!