Podcast: Play in new window | Download (Duration: 16:47 — 17.3MB)
Subscribe: RSS
Happy new year! This week we'll learn about the oldest mass extinction event, some 450 million years ago, and also sea scorpions.
Further reading:
Coming up for air: Extinct sea scorpions could breathe out of water, fossil detective unveils
Sea scorpions could get really, really big: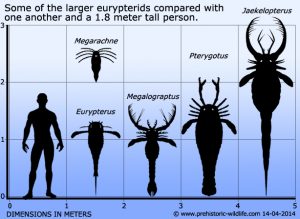 A fossil Eurypterus: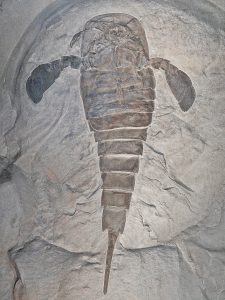 Show transcript:
Welcome to Strange Animals Podcast. I'm your host, Kate Shaw.
Hello, 2021, please be better than 2020 was. I've got lots of fun, interesting episodes planned for this year, but let's start the year off right with an episode about, uh, a major extinction event. Specifically it's the Late Ordovician mass extinction, which occurred around 450 million years ago. This is the first of a series of episodes about extinction events I have planned for this year, which I hope you'll find interesting. We'll also learn about an animal called the sea scorpion.
If you've listened to episode 69, about the Cambrian explosion, you may remember that the fossil record shows that around 540 million years ago life on earth evolved from simple organisms into much more complicated ones. This happened relatively quickly in geologic terms, about 15 to 25 million years for life to go from microbial mats, simple worms, and single-celled animals to fantastical creatures with shells and spikes and novel ways of feeding as animals adapted to fit new ecological niches.
But what happened after that? A series of extinction events, that's what.
The first extinction event researchers can identify from the fossil record is called the End-Botomian extinction event, which happened around 510 million years ago in two phases. We're not sure what caused the extinctions, but the main theory is that a series of massive volcanic eruptions caused climate changes that led to acidification of the oceans and a resulting loss of oxygen from the water. This was followed by another extinction event around 500 million years ago. All told, during these ten million years or so, about 40% of all species of animal went extinct.
But remember, all we have to work with is the fossil record. Researchers know how old particular rock strata are, strata being the term for layers, so when they find a fossil embedded in a rock they know roughly how long ago it lived. Only a small percentage of animals that ever live end up fossilized, and only a small percentage of fossils are ever found by humans, and only a small percentage of fossils found by humans get studied by experts. So while scientists do their best, they're working with a limited amount of data to determine what happened half a billion years ago. It's like trying to determine the rise and fall of empires from a series of random photographs.
But when older rocks show a whole lot of fossils of various kinds, and then slightly younger rocks show way fewer or no fossils, researchers can be pretty sure that something catastrophic happened to kill off a lot of animal life in a relatively short amount of time. If they find the same changes in rocks of the same age in different parts of the world, the catastrophe was probably worldwide and serious enough to impact life on Earth for thousands or even millions of years. That's what happened in the late Ordovician.
Around 460 million years ago, about the time that life was getting back to normal after the last extinction event, glaciers started to form across the land. Most of the continents at this time were smushed together into a supercontinent called Gondwana, which was mostly in the southern hemisphere. Much of the rest of the Earth was one big ocean, and it was hot and tropical just about everywhere. But that changed when temperatures dropped drastically. Glaciers formed, sea levels fell, and some 60% of all life on Earth went extinct, all possibly within about one million years.
We don't know why, but we do have some clues and some theories. We know there was a major meteor event around 467 million years ago, which can be pinpointed because of the craters and specific minerals and bits of meteorites found that can only come from meteors hitting the earth. The impacts kicked dust into the atmosphere that then reflected sunlight back into space, causing less light to reach the earth.
Another cause might have just been a cyclical movement of the Earth in space. As you hopefully know, Earth rotates on its axis in a 24 hour period, giving us day and night, and at the same time it's moving in an elliptical orbit around the sun in a 12-month period, which of course is a year. The sun and the other planets and everything else in our solar system are also moving in space in a larger orbit, and there are other even larger orbits that our solar system is part of within our galaxy, which is moving too. With all this movement all the time, it's not surprising that Earth's climate is affected in very long cycles, together with the effects of the moon's gravitational pull making the Earth's orbit just slightly wobbly. A combination of events, including where the Earth was in its orbit, might have caused the Earth to cool just enough that it set off an ice age. If this happened at about the same time that the meteor event also caused the Earth to cool a little, that would explain why the onset of glaciation happened so quickly in geological terms.
Whatever the cause or causes, it had serious repercussions. The cooling climate and drop in ocean levels as ice formed caused rapid extinctions of animals that lived in shallow water and were adapted to tropical climates.
But the extinction event was a one-two punch. The cold didn't kill off every animal, of course, and those that remained evolved to take advantage of ecological niches that were suddenly empty. This is always how life manages after an extinction event. But these new species were adapted to the cold. And then, almost as suddenly as they formed, the glaciers melted.
Sea levels rose dramatically. The Earth warmed again, although not to its former levels. As the glaciers melted, cold fresh water flowed into the ocean and may have caused deep ocean water to rise to the surface, a process called upwelling. The deep ocean water brought nutrients with it that then spread across the ocean's surface, and this would have set off a massive microbial bloom.
Microbial blooms sometimes happen today in small areas of the ocean or in lakes, especially in places where fertilizers make it into the water. Algae or bacteria that feed on certain nutrients suddenly have a whole lot of food, and they reproduce as fast as possible to take advantage of it. But the microbes use up oxygen, so much of it that the water can become depleted. This leads to massive die-offs of fish and other animals. But these modern microbial blooms are relatively small. The ones 450-odd million years ago might have been worldwide. As the glaciers melted they exposed more land, which meant more nutrients flowing into the ocean, feeding the microbial blooms that continued to deplete oxygen from the ocean.
The result was a severe lack of oxygen in the water that would have driven more species to extinction. Some researchers think it took three million years for the oceans to recover.
There are many other possible causes for the Late Ordovician mass extinction, although right now the cooling and then warming of the earth seems to be the most widely accepted among scientists. But whatever the causes, the results were dramatic. Entire families of animal went extinct, probably around 100 of them, and many others were affected. Some 70% of trilobite species went extinct, for instance.
The Late Ordovician mass extinction marks the end of the Ordovician era and the beginning of the Silurian around 443 million years ago. Remember that these names for eras are just the way that geologists and other scientists can indicate the age of an event or rock or fossil. It's not like trilobites and brachiopods had little calendars and on one particular day that calendar said "Extinction" and everyone died. It was a gradual process, no matter how fast it occurred in geologic terms. If you had a time machine and could travel back to 450 million years ago, whatever day you arrived, the world would just look normal. You'd have to observe for at least hundreds of years to understand that the Earth was in the process of an extinction event.
You'll be glad to know that the Silurian lasted almost 25 million years and was nice and quiet geologically. Life rebounded after the extinctions, as it always does, and more animals and plants adapted to live on land. Fish evolved rapidly during this time, developing bony skeletons and jaws. The Earth was comfortably warm but stormy, since the warm water and massive oceans would have spawned hurricanes that make the ones today look puny. But for the most part life was good in the Silurian.
The ocean was populated with lots of animals, including early fish, trilobites, crinoids, corals, leeches, and shelled animals called brachiopods as well as the more familiar mollusks. Sea levels were high and the land was mostly flat. There weren't many mountains. So around Gondwana were lots of islands that were barely higher than the water level.
In the shallow oceans around what is now North America, an arthropod called the eurypterid was incredibly common, with some 250 species known. Many of them persisted until about 250 million years ago and they lived throughout the world. Eurypterids are often called sea scorpions, but they didn't look much like modern scorpions. The typical Eurypterid looked a lot like the modern horseshoe crab, but with a longer segmented body and tail. But even though it looked sort of like a horseshoe crab, it may have been more closely related to modern scorpions.
The earliest sea scorpion known was Pentecopterus, which has been found in the fossil record in rocks dated to about 467 million years ago. It grew up to five feet 7 inches long, or 1.7 meters. One interesting thing to note is that it lived in a particular round basin some three miles across, or a bit over 5 km, in what is now Iowa in the United States. Researchers think it was actually a crater from a meteor impact near the ocean's shore, and that the water in it was probably brackish. Remember how there was a major meteor event 467 million years ago? Pentecopterus was probably living in a crater made by one of those pieces of meteorite. It would have been the apex predator in that small environment, eating anything it could catch with its crablike legs. Later sea scorpions developed a pair of crab-like pincers at the front, along with a flattened tail that sometimes had a pointed barb at the end.
Eurypterids lived in the water. While some grew less than an inch long, or a few cm, some grew quite large. One species of Jaekelopterus could grow 8 ½ feet long, or 2.6 meters. That doesn't even include the claws at the front that could extend at least another 18 inches, or 45 cm. It was probably a freshwater animal, and despite its size it was streamlined and lightweight, so it would have been an active predator. We even have fossilized fish bones that show puncture wounds that might have been made by its claws. Some eurypterids weren't very good swimmers, though, and probably spent more time walking along the bottom of the shallow ocean.
So between Jaekelopterus in fresh water and the earliest known sea scorpion, Pentecopterus, in possibly brackish water, it's obvious that from the very beginning the sea scorpion could adapt to various environments that other animals couldn't. This adaptability is probably why the sea scorpion survived the extinction event that killed off so many other animals, and it continued to thrive for hundreds of millions of years afterwards.
Not only that, one fossil takes its adaptability a step farther. A geology professor named James Lamsdell heard about a strange eurypterid found in France that had been in a Scottish museum for 30 years. He arranged to have the fossil imaged with a CT scanner, which revealed its gills. And to Lamsdell's surprise, the gills contained structures found in modern scorpions and spiders, which keep the gill plates from collapsing when it's out of water. These structures have been retained in modern arachnids from their marine ancestors, and finding them in a eurypterid was shocking. It means that particular eurypterid could spend time on land. Lamsdell and his team think it came out of the water to lay its eggs, either in sheltered pools or in wet sand.
Eurypterids died out eventually, but their cousins, modern scorpions, are doing just fine after surviving many other extinction events. So try to be more like a scorpion, because obviously they're doing something right.
You can find Strange Animals Podcast at strangeanimalspodcast.blubrry.net. That's blueberry without any E's. If you have questions, comments, or suggestions for future episodes, email us at strangeanimalspodcast@gmail.com. If you like the podcast and want to help us out, leave a rating and review on Apple Podcasts or just tell a friend. We also have a Patreon at patreon.com/strangeanimalspodcast if you'd like to support us that way.
Thanks for listening!