Podcast: Play in new window | Download (Duration: 15:56 — 16.2MB)
What better way to start out the new year than by learning about some animals that fly (or glide) without wings! Thanks to Llewelly for suggesting the colugo!
Colugo looking startled:
A colugo, flying, which startles everyone else: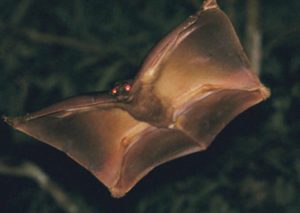 Flying fish! ZOOM!
A flying gurnard, not flying: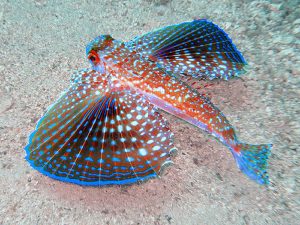 Flying squid! ZOOM!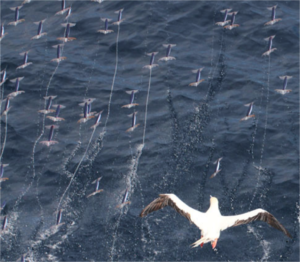 Flying squid close-up, mid-zoom: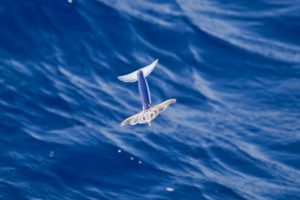 Show transcript:
Welcome to Strange Animals Podcast. I'm your host, Kate Shaw.
It's the first week of a new year, so let's start it off right and learn about some animals that fly without wings.
The first of our non-winged flying animals is a suggestion from Llewelly, who sent me some links about it and we both freaked out a little because it's such an awesome animal. It's called the colugo, and technically it doesn't fly, it glides. It looks kind of like a big squirrel and kind of like a small lemur, and in fact it's also sometimes called a flying lemur. But it's not closely related to squirrels or lemurs. It's actually not related closely to anything alive today.
Before we learn about the colugo specifically, let me explain a little bit about gliding animals. Gliding animals have a flap of skin called a gliding membrane or patagium. In the case of gliding mammals, like the flying squirrel or the colugo, the patagium connects each foreleg with the hindleg on that side. When the animal wants to glide, it stretches its legs out, which also stretches out the patagium. For a long time scientists assumed that the patagium was just skin and didn't do anything except increase the animal's surface area and act as a sort of parachute. But it turns out that the patagium contains tiny muscles like those recently discovered in the membranes of bat wings. And the skin between the fingers of the bat's forelimbs, which creates the wings, are actually considered patagia. In fact, any gliding membrane, even if it's part of a real wing, is considered a patagium, so birds actually have them too.
The colugo has a patagium between its legs like other gliding mammals, but it also has a patagium between its hind legs and its tail, and even its fingers and toes are connected with small patagia. It's the most well-adapted mammal known for gliding, so well-adapted that it can glide incredible distances. One was measured as having glided almost 500 feet in one jump, or 150 meters. This is almost the length of two football fields.
The colugo lives in South Asia and is endangered mainly due to habitat loss. It grows to about 16 inches long, or 40 cm, with a small head, big eyes, and little round ears. It's gray with some mottled white and black markings that help hide it against tree trunks, and its legs are long and slender. It eats plants. We don't know a whole lot about the colugo, because it's shy and lives in the treetops of tropical forests, but what we do know is really weird.
For instance, its babies. If you listened to episode 45 about monotremes, where we also discuss the differences between marsupial and placental mammals, you may remember that placental mammal babies are born mostly developed while marsupial mammal babies are born very early and finish developing outside of the mother, either in a pouch or just clinging to the mother's fur. Well, the colugo is a placental mammal, but its babies are born extremely early, more like a marsupial. They finish developing outside of the mother, which takes six months or so, and the mother colugo keeps her tail curved up most of the time so that her patagium is wrapped around her babies like a pouch.
The colugo has weird teeth, too. The front teeth, or incisors, are shaped like tiny combs. This is similar to the incisors of lemurs, which look like tiny combs because the lemur uses them as tiny combs to groom its fur. But unlike any other mammal known, some of the colugo's upper incisors have two roots instead of just one. Why? No one knows.
So what is the colugo related to? For a long time, no one was sure. Researchers even thought it might be a close relation of bats. These days, the two species of colugo make up their own order, Dermoptera. Order is the classification right below mammal so that's kind of a big deal. While they're not closely related to anything alive today, researchers place them in the same general group of animals that gave rise to the primates. But they're about as closely related to rabbits as they are to monkeys.
In 2017 a team of scientists surveying bats in Malaysia picked up a recording of some unusual ultrasonic calls. They weren't bat calls. Eventually they determined the calls came from colugos in the trees around the microphones, although some researchers have doubts and think the calls may actually be from other animals known to make ultrasonic sounds, like the tarsier. The colugo has been recorded making sounds audible to humans in other studies. There's no evidence that the colugo uses echolocation like bats do.
Mammals took to gliding very early on. A few years ago, two fossils discovered in China and dated to about 160 million years ago—you know, 100 million years before the dinosaurs died out—show two different species of mammal that were able to glide. We know they could glide because the fossils are so well preserved that researchers can see the patagium between the front and hind legs of both. They're the earliest known gliding mammals. Both the fossils belonged to a branch of mammals that have completely died out, so they're not related to the colugo or anything else.
So what other animals fly, or glide, without real wings? You've heard of flying fish, of course. Do they really jump out of the water and glide on their fins? They do, and it's a lot more awesome even than it sounds.
There isn't just one species of flying fish but over 60, all of them with elongated pectoral fins that act like an airplane's wings when they jump out of the water. Some species have two pairs of elongated fins. Back in the early 20th century, engineers studied flying fish fins to help design better airplane wings. But the flying fish has a lot of other adaptations that make it good at gliding, including a stiffened body and robust spine, and strong muscles that allow it to jump out of the water at high speeds.
So how well does the flying fish glide? This is where it gets crazy amazing. The longest recorded flight of a flying fish was 1,300 feet, or 400 meters. That's way better than the colugo. It's been recorded as reaching 20 feet, or 6 meters, above the water's surface and flying at speeds of about 45 mph, or 70 km/h. And as if this wasn't amazing enough, when the fish starts to descend, it can choose to slide back into the water or it can put its tail down and push off against the surface of the water to get back in the air for another glide. It can even change directions when it pushes back off. It will sometimes flap its fins like wings, but so far researchers haven't found any evidence that this helps it fly. It may just flap its fins to stabilize its flight.
Most flying fish species are fairly small, although the biggest is a respectable 1 1/2 feet long, or about half a meter. Most flying fish live in the ocean, usually in warmer waters, and they're all extremely slender and streamlined. They mostly eat plankton.
Sometimes flying fish land in boats or even on the decks of small ships. It's considered a delicacy, with a taste similar to that of a sardine, and many species have started to decline as a result of overfishing.
Gliding flight has evolved in fish more than once in species that aren't related, so there are more flying fish than there are flying fish, if you see what I mean. No, you don't. That only made sense to me. The earliest known flying fish is a fossil dated some 240 million  years old, totally unrelated to the flying fish of today. And there are species alive today not related to the various flying fish species that can glide, if not as well as actual flying fish.
One fish that may or may not glide is called the flying gurnard. It's a bulky fish that grows more than a foot and a half long, or 50 cm, and can weigh four lbs, or 1.8 kg. It lives in the warmer parts of the Atlantic Ocean in shallow coastal areas, where it mostly stays on the seafloor and eats crustaceans, bivalves, and other small invertebrates. It will also eat small fish if it can catch them. It has a face sort of like a frog's and can be reddish, brown, or greenish, with spots and patches of other colors. But most importantly, its pectoral fins are extremely large, looking more like fan-like wings than fins. The so-called wings are shimmery, semi-transparent, and lined with bright blue. They sort of look like butterfly wings and can be more than 8 inches long, or 20 cm. The fins actually have two parts, a smaller section in front that looks more like an ordinary fin, and the larger wing-like section behind.
The flying gurnard's popular name refers to its wing-like fins, which it uses to scare potential predators and to walk around on the sea floor with and poke into the sand to find food. But there are stories dating back thousands of years that not only can the flying gurnard jump out of the water to fly, its flight resembles a swallow's swooping flight. But it's much too heavy to fly, so those stories are only tall tales. OR ARE THEY? At least one ichthyologist, a Dr. Humphrey Greenwood, reports having seen a flying gurnard leap out of the water, spread its fins, and glide in a controlled manner for a short distance.
The last animal that flies, or glides, without wings is one I bet you would never guess. It's the flying squid. And yes, I thought it was a made-up animal when I first heard about it. Squid can't fly! But there one squid that does regularly leap out of the water and glide for short distances.
The Japanese flying squid lives near the ocean's surface in schools, where it eats fish and crustaceans. Despite its name, it doesn't just live around Japan but throughout much of the Pacific Ocean. It doesn't live very long, less than a year, but has a complicated migratory life. Not as complicated as an eel, but pretty complicated. A squid hatches only five days or so after its mother lays the eggs. The baby squid, called a paralarva, eats plankton and doesn't yet have arms or tentacles, since they're fused together at first. The fused tentacles split once the baby has grown to about half an inch long, or some 10 mm, which gives you an idea of how tiny it is when it first hatches.
As the baby squid grows, it begins its migration with the other baby squids that hatched at the same time. The migration follows the ocean surface currents and different subspecies have different migration patterns. Males mature first and transfer their packets of sperm, called spermatophores, to the females for later. Then the males die and the females continue their migration back to the same area where they were hatched. They lay a few hundred to a few thousand tiny eggs and then die, leaving the eggs to hatch only a few days later and start the whole process again.
I can hear you thinking, Why yes, Kate, this is all very interesting BUT YOU HAVE NOT TOLD US HOW SQUIDS FLY. Okay, I'll do that now.
The Japanese flying squid has a mantle, or main part of the body and head, with a pair of fins at the end that stick out quite a bit. Its eight legs and two feeding tentacles are relatively short, shorter than its mantle length of about a foot and a half long in a big female, or 50 cm. Males are smaller. Like all squids and octopuses, the flying squid moves by shooting water out of its siphon, making it jet-propelled. It travels mantle first with the legs trailing behind.
Well, the Japanese flying squid jumps out of the water and shoots through the air this way, with the fins on its mantle helping to stabilize the squid when it's in the air and keep it flying straight. It also holds its legs and tentacles out so that the membrane between the legs is stretched taut, making a flat surface that it can angle to catch the most air. It can "fly" some 150 feet, or 50 meters, per jump, traveling at about 25 mph, or 11 meters per second. Researchers used to think it only jumped out of the water to avoid predators, but more recent studies show that it's also a more efficient way to travel long distances than just staying in the water. Oh, and no one knew for sure that the Japanese flying squid could actually fly until about 15 years ago when researchers caught video of it happening.
Like other squids, the Japanese flying squid can change colors and release a cloud of ink to confuse predators. It also has three hearts.
There are other gliding animals and they're all weird and interesting, so I'll probably revisit this topic again in the future. In the meantime, if you want to learn about flying snakes, you can go back and listen to episode 56 about strange snakes. Since that's currently my 8th most popular episode, you may have listened to it already. Thanks.
You can find Strange Animals Podcast online at strangeanimalspodcast.com. We're on Twitter at strangebeasties and have a facebook page at facebook.com/strangeanimalspodcast. If you have questions, comments, or suggestions for future episodes, email us at strangeanimalspodcast@gmail.com. We also have a Patreon if you'd like to support us that way.
Thanks for listening!