Podcast: Play in new window | Download (Duration: 16:20 — 17.3MB)
We'll have a real episode next week but for now, here are two Patreon episodes smashed together into one!
Happy birthday to Speed!
Further reading:
Yi qi Is Neat But Might Not Have Been the Black Screaming Dino-Dragon of Death
Yi qi could probably glide instead of actually flying: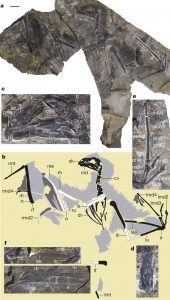 The Dayak fruit bat [photo by Chien C. Lee]: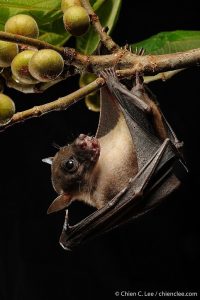 Show transcript:
Welcome to Strange Animals Podcast. I'm your host, Kate Shaw.
I've finally finished moving, although I'm still in the process of unpacking and finding places for all my stuff. I haven't had the chance to do any research this week, so this episode is actually two repurposed Patreon episodes, one from June of 2019 and one from May of 2021. They're both short episodes so I put them together. I apologize to patrons for not getting something new this week, but I think everyone else will find these animals interesting.
But first, we have a birthday shout-out! A great big happy birthday to Speed! I hope this next year is the very best one yet for you!
Please excuse the varying quality of audio.
Listener Simon sent me an article about a recently discovered dinosaur with batlike wings, only the second batwinged dinosaur ever discovered. I thought that would make a really neat episode, so thank you, Simon!
These are really recent discoveries, both from the same area of northeastern China. In 2007 a small fossil found by a farmer was bought by a museum. A paleontologist named Xing Xu thought it looked interesting. Once the fossil had been cleaned and prepared for study, Xing saw just how interesting it was.
The dinosaur was eventually named Yi qi, which means strange wing. It was found in rocks dated to about 163 million years ago. Yi qi was about the size of a pigeon and was covered with feathers. The feathers were probably fluffy rather than the sleek feathers of modern birds. But most unusual was a long bony rod that grew from each wrist, called a styliform element. Yi qi also had very long third fingers on each hand. The long finger was connected to the wrist rod by a patagium, or skin membrane, and another patagium connected the wrist rod to the body. So even though it had feathers on its body, it probably didn't have feathered wings. Instead, its forelimbs would have somewhat resembled a bat's wings.
Paleontologists have studied the fossilized feathers with an electron microscope and discovered the structures of pigments that would have given the feathers color. Yi qi was probably mostly black with yellow or brown feathers on the head and arms. It probably also had long tail feathers to help stabilize it in the air.
Ambopteryx longibrachium was only discovered in 2017, also in northeastern China. It also lived around 163 million years ago and looked a lot like Yi qi. The fossil is so detailed it shows an impression of fuzzy feathers and even the contents of the animal's digestive tract. Its body contained tiny gizzard stones to help it digest plants but also some bone fragments from its last meal, so paleontologists think it was an omnivore. Its hands have styliform elements, although not a wrist rod like Yi qi, and there's a brownish film preserved across one of its arms that researchers think are remains of a wing membrane.
Paleontologists think the bat-winged dinosaurs were technically gliders. Careful examination of the wrist rods show no evidence that muscles were attached, so the dinosaurs wouldn't have been able to adjust the wings well enough to actually fly. Modern bats have lots of tiny muscles in their wing membranes to help them fly.
Yi qi's wrist rod isn't unique in the animal world. The flying squirrel has styliform rods made of cartilage that project from the wrists, with the patagia attached to them. When a squirrel wants to glide, it extends its arms and legs and also extends the wrist rods, stretching the patagia taut. It can even control its glide to some extent by adjusting the wrist rods.
These two bat-winged dinosaurs were related, but they aren't direct ancestors to modern-day birds. They're scansoriopterygids,[scan-soarie-OPterigid] which are related to the group of dinosaurs that gave rise to birds. We only have five scansoriopterygid fossils, all found in the same area of China, but they're all exceptionally well preserved fossils. Scansoriopterygids all appear to have been good climbers. They probably mostly lived in trees and mostly ate insects and small animals, gliding from branch to branch like modern flying squirrels do.
Researchers suggest the bat-winged dinosaurs might have gone extinct when bird ancestors evolved true flight with feathered wings, outcompeting the bat-winged dinosaurs' more limited gliding flight. But with so few fossils, it's impossible to say how successful the bat-winged dinosaurs were. All we know is they are rare in the fossil record and left no descendants.
So were scansoriopterygids related to pterosaurs? Nope. Pterosaurs weren't even dinosaurs. They were reptiles and the first vertebrates we've found that could actually fly instead of just glide. Pterosaurs first appear in the fossil record around 228 million years ago and they all went extinct about 66 million years ago in the Cretaceous-Paleogene extinction event.
When Yi qi's description was first published in 2015, the media acted as though it was a radical new find that would change the way we looked at dinosaurs forever. Some people even claimed the fossil was a fake, either a deliberate fraud by Xing and the other paleontologists that worked on the specimen, or that Xing and the others actually had a fossil made up of more than one animal with the bones jumbled together, which they had mistaken for a single animal. But this isn't the case. Yi qi has been studied extensively with all the technology paleontologists have available these days. It's the fossil of a single animal and it hadn't been touched up or altered or messed with in any way before it was prepared by an expert. But while it is a radical new finding, it's not as radical as some articles made it seem.
In 2008, the description was published of another scansoriopterygid called Epidexipteryx. Epidexipteryx appears to be closely related to Yi qi. It doesn't have a wrist rod, but its arms were long and its fingers were especially elongated. It had forward-pointing teeth in the front of its jaw and probably had long tail feathers. Paleontologists think it was most likely a strong climber that may have spent most of its time in and around trees. But after that publication, paleontologist Andrea Cau published a paper suggesting that Epidexipteryx's elongated arms and fingers might have been connected with patagia that allowed it to glide short distances. This was before the first paper about Yi qi was published and before Ambopteryx was even discovered. So the idea of a dinosaur with gliding membranes was already out there.
Hopefully, more scansoriopterygid fossils will be found and studied soon, which will give us more knowledge about what these little animals really looked and acted like. I want one as a pet.
Next, let's go from bat-winged dinosaurs to some actual bats, specifically an unusual feature found in at least one species of bat, and something of a mystery.
As you probably know, only female mammals lactate. That just means that after a mammal gives birth, the mother produces milk for her baby to drink until it's old enough to eat the same food that its parents do. All mammals do this, from whales to vampire bats, from humans to kangaroos, from mice to lions. The word mammal actually comes from mammary gland, which is the gland that allows a mother animal to produce milk after she has a baby.
Researchers have examined the genes that allow for milk production and determined that the genes probably developed over 200 million years ago in the common ancestor of all mammals alive today. The genes responsible for making egg yolk proteins started to be lost around 70 million years ago, except in monotremes that still lay eggs. Monotremes are platypuses and echidnas, and while they're mammals, they retain some features that modern mammals have lost, like egg-laying. But even monotreme mothers produce milk.
Once our far-distant mammal ancestors evolved the ability to feed its babies with milk, the babies didn't need as much yolk in their eggs. Gradually, over millions of generations, mammals lost the ability to produce egg yolks completely. I mean, except for the monotremes. From now on just assume that any time I talk about modern mammals, in this episode at least, I'm excluding monotremes, because they're weird.
Ancient mammals laid eggs like reptiles and birds do, with a shell protecting the yolk and other fluids inside, that in turn protected and nourished the growing baby. But eventually a mammal mother retained her eggs in the body, which meant they didn't need an eggshell since they were safely inside her, and because she was able to feed them nutritious, easy to digest milk as soon as they were born, they didn't need an egg yolk either. So mammals eventually lost the ability to produce eggs at all.
This gets confusing, of course, because we use the same word, "egg," to refer to the egg that a chicken or turtle lays, and to refer to the cell that a mother animal produces that can develop into a baby if it's fertilized by sperm. Obviously I'm just talking about the first kind of egg here.
Anyway, milk production is a complex process that can be hard on the mother's body, since she has to produce enough nutrients to feed all her babies, whether that's just one human infant or twin fawns or a whole litter of puppies or kittens. Researchers have compared the genes associated with milk production and discovered that it's pretty standard across all mammals. While the nutrients available in milk vary from species to species, since not every mammal has the same nutritional needs, how the body produces milk is pretty much identical across the board. All female mammals produce milk after they give birth, but only the females.
If that's the case, though, why do male mammals have nipples? It turns out that nipples are just part of the basic body plan of a mammal. Some researchers think that originally both males and females lactated, but over the generations males lost the ability.
Except in one case. In that species, the females produce milk…and so do the males.
The Dayak fruit bat lives in parts of southeast Asia and is quite rare. It lives in rainforests and mostly eats fruit, especially figs. It has short, gray-brown fur and only weighs a little more than three ounces, or 95 grams. That's about the same weight as a deck of cards. Its wingspan is about 18 inches across, or 46 cm. It's a nocturnal bat but it's also a megabat, which if you remember episode 88 means that it doesn't have the advanced echolocation ability that microbats have. It may only navigate through the trees using its vision, since it has large eyes, but it may have some form of echolocation ability we don't know about yet. There's a whole lot we don't know about the Dayak fruit bat.
What we do know is that in summer, female Dayak fruit bats give birth to one or two babies. We also know that in summer, when researchers net bats to examine, both males and females have enlarged breasts that produce milk. The bat, by the way, has breasts toward the sides of its body, basically in the armpits of its wings because that's most convenient for the baby bats to grab hold of.
That's all we know so far. We don't know for sure that the males actually nurse their babies. They don't produce nearly as much milk as females do, only about 1/10th as much. Some researchers think the father bat may take care of his babies while the mother finds food, but that she takes care of them the rest of the time. That's just speculation, though, because so little is known about the bat.
Sometimes various diseases, genetic issues, or pollutants in the environment will cause a male animal to produce a little milk, but that's rare. All the male Dayak fruit bats caught in summer were lactating, as were the females. Males and females caught at other times of the year weren't lactating. Since mammals stop producing milk after their babies no longer need it, that means both males and females are probably producing milk for babies.
There may be one other bat where males lactate, although I can't find enough information to verify it. The Bismarck masked flying fox, which sounds like an old-timey superhero, is related to the Dayak fruit bat, since they're both megabats, but they're not closely related.
The Bismarck masked flying fox lives in Papua New Guinea and eats fruit and other plant material. Like other flying foxes, it probably finds its food by smell and can't echolocate. We don't know much about it either, though, and until 2001 researchers thought it was a subspecies of Temminck's flying fox. If you do a search for it online, every entry you find will mention that the males lactate, but never with any documentation to back up the claim. So that's a mystery for now, although I'll keep trying to find out more.
You can find Strange Animals Podcast at strangeanimalspodcast.blubrry.net. That's blueberry without any E's. If you have questions, comments, or suggestions for future episodes, email us at strangeanimalspodcast@gmail.com. If you like the podcast and want to help us out, leave us a rating and review on Apple Podcasts or Podchaser, or just tell a friend. We also have a Patreon at patreon.com/strangeanimalspodcast if you'd like to support us for as little as one dollar a month and get monthly bonus episodes.
Thanks for listening!