Podcast: Play in new window | Download (Duration: 8:25 — 9.5MB)
Thanks to Liesbet for this week's suggestion, about two mammals that have evolved to be hairless!
Happy birthday this week to Declan and Shannon!
The hairless bat has a doglike face and a doglike tail but (and this is important) it is not a dog [photos from this site]: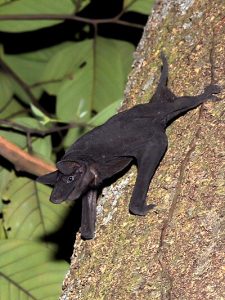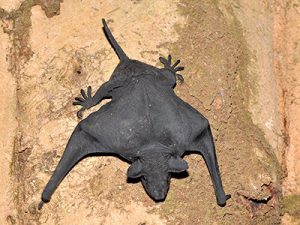 The naked mole-rat's mouth is behind its teeth instead of the usual "my teeth are in my mouth" kind of thing: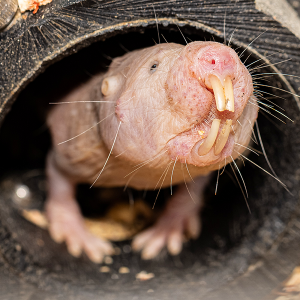 Show transcript:
Welcome to Strange Animals Podcast. I'm your host, Kate Shaw.
This week we have a suggestion from Liesbet, who asked about furless animals. We're going to learn about two mammals that don't have fur, and they're not ones you may be thinking of.
But first, we have two birthday shout-outs! Happy birthday to Declan and Shannon! I hope both your birthdays are so amazing that whatever town you live in finishes off the day by giving you the key to the city. What do you do with the key? I don't know, but it sounds like something to brag about.
Mammals are famous for having hair, but not all mammals actually have hair. Cetaceans like whales and dolphins have lost all their hair during their evolution into marine animals, although before a baby whale is born it has a little bit of fuzzy hair on its head. Other mammals, like humans, pigs, walruses, and elephants, have evolved to only have a little hair. There are also domesticated mammals that have been bred to have no hair, like sphynx cats and Chinese crested dogs.
There are other domesticated hairless mammals, though, including two types of guinea pig. The skinny pig only has a little bit of fuzzy hair on its face and ears, while the baldwin pig only has a tuft of hair on its nose. But the animals we're going to talk about today are hairless animals you may not have heard of.
For instance, the hairless bat, which lives in parts of Southeast Asia. Its dark gray body is almost completely hairless, although it does sometimes have little patches of fuzz on the head and tail, and longer bristles around the neck. It's nocturnal and eats insects, but since it's a fairly large bat, around 6 inches long, or 15 cm, it can eat fairly large insects. It especially likes grasshoppers, termites, and moths.
The hairless bat roosts in colonies of up to a thousand individuals, and it lives in caves, hollow trees, or rock crevices. Although it uses echolocation, it doesn't have a nose leaf like many microbats have, but instead has a little doglike snout. Its tail is skinny like a little dog's tail instead of being connected to the hind legs or body by patagia. It has a little throat pouch that secretes strong-smelling oil.
It also has a sort of pocket on either side of the body. Originally people thought that mother bats used these pouches to carry their babies, since hairless bats usually have two babies at a time. Instead, it turns out that mother bats leave their babies at home when they go out to hunt, and the pockets are used for something else. The pockets are formed by a fold of skin and the end of the wing fingers and membranes fit into them. The bat uses its hind feet to push the wings into the pockets, sort of like stuffing an umbrella into the little cover that it comes in when you first buy it. This allows the bat to run around on all fours without its wings getting in the way. Since most bats can't walk on all fours at all, this is pretty amazing.
Our other hairless animal today is the naked mole-rat, which is not a mole or a rat. It is a type of rodent but it's more closely related to porcupines than to rats. It lives in tropical grasslands in parts of East Africa and spends almost its entire life underground. It lives in colonies of up to 300 individuals, and the colony's tunnels and nesting burrows are extensive, often covering up to 3 miles, or 5 km. It eats roots of plants and the colony carefully only eats part of each root so that they don't kill the plant. The roots continue to grow, providing the colony with lots of food.
The naked mole-rat grows about 4 inches long, or 10 cm, although dominant females are larger. It has tiny eyes and doesn't see very well, since most of the time it doesn't need to see, and it has a chonky body but short, spindly legs. It pretty much has no hair except for whiskers and some tiny hairs between the toes, and its skin is so pale it's almost translucent. It digs with its protruding front teeth, and these teeth are not in its mouth. They grow out through the skin and the animal's mouth is actually behind the teeth. This way the mole-rat can dig without getting dirt in its mouth, but it sure looks weird to us.
But that's not even close to the weirdest thing about the naked mole-rat. We haven't even scratched the surface of weirdness!
The naked mole-rat lives underground in a part of the world where it's always warm, and its tunnel system has no exits to the surface except for temporary exits when new tunnels are being excavated, because the dirt has to go somewhere. Its environment is so consistent in temperature that it doesn't need to regulate its body temperature like every other mammal known. It's ectothermic, which is sometimes called cold-blooded. Reptiles and amphibians are ectothermic but all other mammals known are endothermic. It's kind of our thing. But the naked mole-rat is different. Its metabolism is extremely low, and as a result it can live for more than 30 years when most rodents the same size are lucky to live 2 or 3 years.
The naked mole-rat's skin isn't just hairless, it also lacks neurotransmitters. This means its skin doesn't feel pain. The animal also lives in an environment that's remarkably low in oxygen, and scientists think this contributes to the fact that the mole-rat never shows evidence of cancer except in captivity where its environment is higher in oxygen.
The naked mole-rat's colony is led by a dominant female, called a queen, and she's the only female in the colony that has babies. When a female achieves dominance, either by founding a new colony, taking over after the current queen dies, or defeating the current queen in a fight, she then grows larger and becomes able to reproduce. Only a few males in the colony mate with her. All the other members of the colony are unable to reproduce. They're considered workers and help take care of the queen's babies, maintain tunnels, forage for food, or act as soldiers to keep snakes and other predators out. If this sounds like the way some insect colonies are structured, especially bees and ants, you're right. It's called eusociality and the mole-rat is the only type of mammal known with this sort of social structure. There's another type of mole-rat from southern Africa that's also eusocial, but it has fur.
All that is so weird that I almost forgot the mole-rat is hairless. That now seems like the most normal thing about it.
You can find Strange Animals Podcast at strangeanimalspodcast.blubrry.net. That's blueberry without any E's. If you have questions, comments, or suggestions for future episodes, email us at strangeanimalspodcast@gmail.com. If you like the podcast and want to help us out, leave us a rating and review on Apple Podcasts or Podchaser, or just tell a friend. We also have a Patreon at patreon.com/strangeanimalspodcast if you'd like to support us for as little as one dollar a month and get monthly bonus episodes.
Thanks for listening!