Podcast: Play in new window | Download (Duration: 10:33 — 12.2MB)
Sign up for our mailing list! We also have t-shirts and mugs with our logo!
Don't forget the Kickstarter, as if I'd let you forget it: https://www.kickstarter.com/projects/kateshaw/beyond-bigfoot-and-nessie
Let's pre-game Halloween and monster month with an episode about some Halloween-y bats and rats! Thanks to Connor for the suggestion!
Further reading:
Hyorhinomys stuempkei: New Genus, Species of Shrew Rat Discovered in Indonesia
The orange-furred bat is Halloween colored!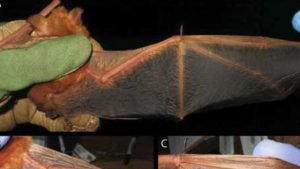 The hog-nosed rat has a little piggy nose and VAMPIRE FANGS: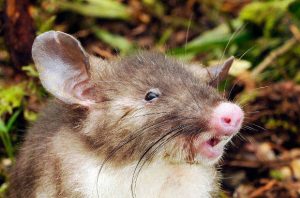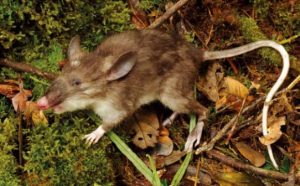 The fish-eating bat has humongous clawed feet: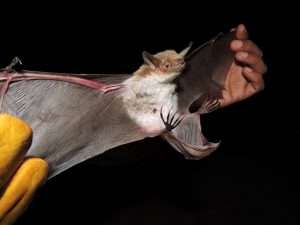 The crested rat does not look poisonous but it is: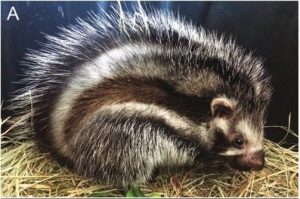 Show transcript:
Welcome to Strange Animals Podcast. I'm your host, Kate Shaw.
This week we're getting ready for October by talking about a bat suggested by Connor, along with another type of bat and two rats. It's the bats and rats episode ushering us into Monster Month with style!
Don't forget that our Kickstarter for the Strange Animals Podcast book goes live in just over a week! I know, it hasn't even started yet and I'm already shouting all about it, but I'm excited! There's a link in the show notes if you want to click through and bookmark that page.
Also, I have a correction from our recent squirrel episode. Nicholas wrote to let me know that vitiligo isn't actually a genetic condition, although some people are genetically slightly more likely to develop it. I think that's what caused my confusion. Vitiligo can be caused by a number of things, but it's still true that you can't catch it from someone. I'll include a more in-depth correction in next year's updates episode.
Okay, let's start this episode off with Connor's suggestion. Connor told me about a newly discovered bat called Myotis nimbaensis, and it's not just any old bat. It's a Halloween bat! Its body is orange and its wing membranes are black. It's called the orange-furred bat and it lives in the Nimba Mountains of Guinea in West Africa.
The orange-furred bat was only discovered in 2018, when a team of scientists was exploring abandoned mine shafts in the mountains, looking for the critically endangered Lamotte's roundleaf bat. The team was surveying the bats in cooperation with a mining company and conservation groups, because they needed to know where the bats were so the old mine shafts could be repaired before they fell in and squished all the bats.
Then one of the team saw a bat no one recognized. It was orange and fluffy with big ears and tiny black dot eyes, and its wings were black. They sent a picture of the bat to an expert named Nancy Simmons, and Dr. Simmons knew immediately that it was something out of the ordinary. Sure enough, it's a species unknown to science. The team described the bat in 2021.
Next, let's talk about a rat. It was also discovered recently, in this case in 2013 and described in 2015. It's usually called the hog-nosed rat. It lives in a single part of a single small island in South Asia, specifically in North Sulawesi, Indonesia. This is one of the same places where the babirusa lives, if you remember episode 218.
The hog-nosed rat is a rodent but it's not actually that closely related to other rats and mice. It's even been assigned to its own genus. It's a soft brown-gray on its back and white underneath, with big ears, a very long tail, and a pink nose that does actually look a lot like a little piggy nose. Its eyes are small but its incisors are extremely long and sharp. In fact, they look like vampire fangs!
In 2013, a team of scientists was studying rodents living in the area. To do this they would put special traps out at night and check them in the morning. This isn't a regular rat trap that kills rats, of course, but a box that keeps the rodent safe inside so it can be examined before being released again. One day they checked a trap and inside was a rodent no one recognized. Surprise rat!
So, what does the hog-nosed rat eat with those vicious fangs? Earthworms and beetle grubs! Terrifying, I know.
Next, let's learn about another bat, Myotis vivesi. It's called the fish-eating bat or the Mexican fishing bat. It lives around the Gulf of California on the west coast of North America, mostly on small islands. It's brown on top, white or cream-colored underneath, and it has big ears because it's a bat. Almost all bats have big ears.
Fish eating is unusual in bats, and marine fish eating is even more unusual. Only one other species of bat, the fisherman bat of Central and South America, catches marine fish regularly, but the two species belong to completely different families. The Mexican fishing bat's closest relatives don't eat fish at all.
Because it lives exclusively around the ocean and feeds mostly on fish and crustaceans, although it will occasionally eat insects and algae, the Mexican fishing bat has other unusual adaptations. It drinks seawater instead of fresh water, for one thing. During the day it hides in crevices in rocks, sometimes in cliffs but more often in the rocky ground. It actually wriggles its way about three feet underground, or a meter, where it's dark and cool.
Why are we talking about this particular bat in our pre-October episode? Because it has humongous feet with long, pointy claws. The bat itself is only about 5 ½ inches long, or 14 cm, but its feet are almost an inch long, or 2.5 cm. It uses its big feet to snag tiny fish out of the water.
We'll finish with another rodent, the maned rat, or African crested rat. It doesn't actually look much like a rat, since its tail is furry and it has a short, blunt muzzle sort of like a porcupine's face. It's mostly gray and black with white-tipped hairs that make it look frosty, and it has a crest of longer hairs along its back. It also has white stripes along its sides. It grows about 14 inches long, or 36 cm, not counting its thick, furry tail.
The crested rat mostly eats plants, especially fruit and leaves, but will sometimes eat insects and meat too. Its stomach is divided into multiple chambers and is more like a ruminant's stomach than a rodent's, which allows it to use a form of foregut fermentation to digest plant material more efficiently.
Also, the African crested rat is POISONOUS.
The crested rat chews on the bark of the poison arrow tree, which contains toxins that can kill most animals. The crested rat isn't affected by the toxins, though. After it chews the bark, it licks the long hairs of its crest, which are unusually absorbent. The hairs absorb the poison-filled spit so that any animal that tries to take a bite of African crested rat gets sick or even dies. It probably also tastes terrible but that's just a guess.
The poison arrow tree is a type of milkweed, and most plants in this family contain toxins. North American milkweed plants are the ones that monarch butterfly caterpillars eat, and the caterpillars absorb toxins from the milkweed that keep birds and other animals from eating them. Researchers aren't sure how the crested rat keeps from getting sick from the toxins, but one theory is that its stomach contains specialized bacteria that break down the toxins.
If an African crested rat feels threatened, it will raise its crest of long hairs. The crest actually parts down the middle of the back, exposing the white section of the hair and warning predators away.
In case you're too scared by this poisonous fuzzy rodent, you can relax knowing that the African crested rat is a sociable animal that makes purring sounds while it grooms its family members. Just don't lick it.
You can find Strange Animals Podcast at strangeanimalspodcast.blubrry.net. That's blueberry without any E's. If you have questions, comments, or suggestions for future episodes, email us at strangeanimalspodcast@gmail.com. If you like the podcast and want to help us out, leave us a rating and review on Apple Podcasts or Podchaser, or just tell a friend. We also have a Patreon at patreon.com/strangeanimalspodcast if you'd like to support us for as little as one dollar a month and get monthly bonus episodes. There are links in the show notes to join our mailing list and to our merch store.
Thanks for listening!