Podcast: Play in new window | Download (Duration: 12:03 — 12.5MB)
Thanks to Nicholas for this week's suggestion! Let's learn about the Australian stingless bee and its relatives!
Listen to BewilderBeasts if you want more fun, family-friendly animal facts!
Further reading/watching:
Women Work to Save Native Bees of Mexico (I really recommend the short video embedded on this page! It's utterly charming!)
House of the Royal Lady Bee: Maya revive native bees and ancient beekeeping
A Maya beekeeper's hut and some Central/South American stingless bees (pictures from the last link, above):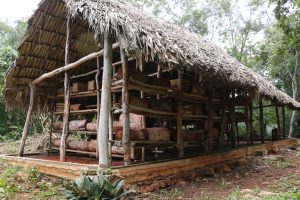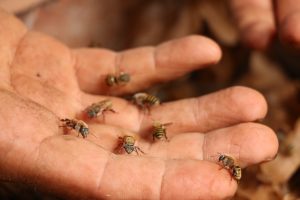 Stingless bees build their combs in a spiral shape: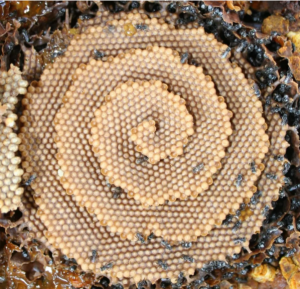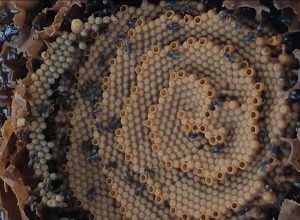 An Australian stingless bee collecting nectar and pollen: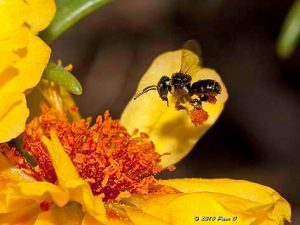 Show transcript:
Welcome to Strange Animals Podcast. I'm your host, Kate Shaw.
Last year Nicholas emailed me with a correction to episode 183 and a suggestion. In that episode I said that only honeybees make honey, but Nicholas pointed out that the Australian stingless bee also makes honey. In fact, he keeps some of these bees himself! So let's learn about Tetragonula carbonaria and its close relations, as well as some other interesting bee information!
Stingless bees don't just live in Australia. Different species live in parts of Australia, Africa, Asia, and Central and South America. Most produce honey, although not very much of it compared to the European honeybee. They don't sting but some species will bite.
Stingless bees are much smaller than European honeybees. Some look more like a flying ant than a bee unless you look closely. A stingless bee worker only grows around 4 mm long, while a European honeybee worker grows about 15 mm long. Different species have different markings, but Tetragonula carbonaria, which is sometimes called the sugarbag bee, is black all over.
Stingless bees have a lot in common with honeybees, which makes sense because they're closely related. The stingless bee lives in a social colony with a caste structure of the queen who stays home and lays eggs, male drones that mate with new queens, and infertile female workers. Young worker bees keep the hive clean and take care of the brood, or developing larvae, while older worker bees are the ones who fly out and forage for pollen and nectar. While stingless bees only have one queen laying eggs at any given time, some species will have a few backup queens in case of an emergency. These backup queens don't produce eggs because they only mate with the drones if the reigning queen dies.
In a few species of stingless bee, there's actually another caste in addition to the ordinary queen, drone, and worker. It's the soldier caste. Soldier bee larvae get extra food, and they grow to be larger and stronger than other bees to help them guard the colony, especially the hive entrance. Before the stingless bee soldier castes were discovered, no one realized that any bees ever had soldiers, although some ant and termite species have them.
The stingless bee builds a nest in tree cavities, preferably in the tops of large trees because that keeps the hive warm and protected. It's a tropical bee so it needs to stay warm. If any insect or other small animal gets into the hive, the bees can't sting it because as their name implies, they don't have working stingers. Instead, they swarm the intruder and attempt to smother it with anything they can find, including wax, resin, and mud.
The stingless bee builds honeycombs, but they're spiral shaped. They're made from beeswax mixed with resin that the worker bees collect from certain plants. The combs can be yellow like ordinary honeycombs, or they can be black, brown, or reddish. The word honeycomb isn't actually accurate because it's not where the bees store honey. The honey is stored in large chambers in the nest called honeypots. The combs are properly called brood combs because they're used for baby bees. Worker bees fill the cells about three-quarters full of honey and pollen and the queen lays one egg in each cell. The workers then cap the cell. When the egg hatches, the bee larva has plenty of nutritious honey and pollen to eat. Once the larva has metamorphosed into an adult bee, it chews a hole through the cell's cap and emerges.
If you're wondering whether you can eat the honey of the sugarbag bee, yes! It's runnier than ordinary honey but it smells wonderful and according to Nicholas, it has a tangy citrusy flavor. It sounds really good. Stingless bees don't produce nearly as much honey as European honeybees, though, which makes sense since honeybees have been selectively bred over centuries to produce more honey than the hive could possibly need. The beekeeper takes the extra to eat, but naturally leaves plenty for the hive to live on.
People in Australia only started keeping stingless bees around the early 1980s, but it's growing more and more popular. Since the bees are native to Australia, they're much better for the environment than the European honeybee. They're also incredibly good at pollinating crops, and if the weather's warm enough, they'll happily pollinate year round. A lot of people who keep stingless bees don't even bother to harvest the honey, just use the bees as pollinators and as weird pets.
Before European honeybees became popular all over the world, many cultures kept stingless bees. This includes the ancient Maya, who kept stingless bees for their honey and wax. There was even a god associated with the bees, and the bees themselves were called "royal lady bees." They look like tiny honeybees with striped abdomens, but their eyes are blue. It's a forest bee that will pollinate flowers growing at the tops of tall trees as well as low-growing flowers, which is good for the environment and helps the native trees in particular.
Some modern Maya still keep stingless bees, but so few traditional beekeepers are left that the stingless bees in the Yucatan are endangered. Fortunately, a women's collective in the area has started teaching local women how to keep the bees. The new beekeepers can sell honey on the gourmet market for extra money, and the bees have help competing with introduced European honeybees. It's also a source of local pride to have royal lady bees around again.
When a stingless bee worker finds flowers producing a lot of nectar, she marks the area with pheromones. Other bees from her nest detect the pheromones and arrive to help harvest all the nectar and pollen. Pheromones are chemicals that correspond to scents, and although humans can't detect them, bees have a really sensitive sense of smell. Their sense of smell is so good, in fact, that people in Croatia have trained European honeybees to find a particular scent for a surprising purpose.
Croatia is a country near Italy on the Adriatic Sea, and while it's an independent country now, its independence only came after a whole lot of fighting. During the war, soldiers hid landmines all over the country and now, decades later, no one remembers where they are. There may be as many as 90,000 mines in the country, and they're still deadly if a person or animal steps on one.
Obviously, Croatia needs to disarm the landmines—but finding them is the hard part. That's where the bees come in.
The bees in question are ordinary European honeybees. Scientists train the bees by mixing nectar with tiny traces of the chemical signature of TNT. The bees quickly learn to associate TNT with food, and the scientists follow the bees with drones to see where they go.
I learned about these bomb-sniffing bees from a podcast called BewilderBeasts, which I highly recommend. There's a promo for it at the end of this episode and I'll put a link in the show notes. BewilderBeasts's logo and their first episode both feature the bomb-sniffing bees.
Let's finish with some interesting folklore associated with honeybees. Many bee-keeping cultures across the world have a superstition that you have to tell the bees about important events in the family. In English it's literally called "telling the bees." If you don't, the bees may swarm and leave you. Some cultures especially stress that the bees must be told about the death of the beekeeper, and that they need to be invited to the funeral too or at least given cake or wine from the service afterwards.
This particular superstition ties into the association with bees and honey with the afterlife. In ancient Egypt and many other cultures across Asia and Europe, honey was a funerary gift for the dead, and tombs were sometimes decorated with images of bees and beehives. Honey isn't just good to eat, it's been used as a medicine for millennia and as an ingredient in skin cream and other cosmetics, so it has always been valuable. Every single bee-keeping culture in the world—literally every single one—gives religious significance to honey to some degree or another.
Humans all agree: honey is good, bees are good, and bee-keeping is worth the effort.
You can find Strange Animals Podcast at strangeanimalspodcast.blubrry.net. That's blueberry without any E's. If you have questions, comments, or suggestions for future episodes, email us at strangeanimalspodcast@gmail.com. If you like the podcast and want to help us out, leave us a rating and review on Apple Podcasts or just tell a friend. We also have a Patreon at patreon.com/strangeanimalspodcast if you'd like to support us that way.
Thanks for listening!