Podcast: Play in new window | Download (Duration: 11:19 — 12.4MB)
This week's episode rates one out of five ghosts on the spookiness scale. It's not too spooky unless the thought of being ENTOMBED IN STONE creeps you out! Which it might, if you are a frog.
Further reading:
Further watching:
A frog supposedly found mummified in a stone: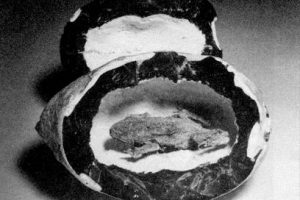 The Texas horned lizard kind of looks like a pointy toad with a tail: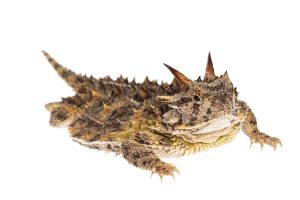 Show transcript:
Welcome to Strange Animals Podcast. I'm your host, Kate Shaw.
We're getting really close to Halloween and our 300th episode, and it's going to be a spooky one! This week, though, I rate this episode as one ghost out of five on our spookiness scale, meaning it's not very spooky at all…unless you're a frog!
Most of us know this story. A worker helping to demolish a building finds a mysterious box hidden in the building's cornerstone. He opens the box and discovers a living frog—a frog that can sing and dance! But only when no one else is looking!
That's the classic Looney Tunes cartoon "One Froggy Evening," and while it's really funny, it's also based on many stories about frogs, toads, and other animals supposedly discovered entombed but alive, or only recently dead, in clay, bricks, tree trunks, coal, and even rocks.
For example, in 1782, the American politician and naturalist Benjamin Franklin was living in France, and while he was there he heard about some workmen in a quarry who had found some living toads encased in stone. I'll quote from Franklin's writing:
"At Passy, near Paris, April 6th, 1782, being with M. de Chaumont, viewing his quarry, he mentioned to me, that the workmen had found a living toad shut up in the stone. On questioning one of them, he told us, they had found four in different cells which had no communication; that they were very lively and active when set at liberty; that there was in each cell some loose, soft, yellowish earth, which appeared to be very moist. We asked, if he could show us the parts of the stone that formed the cells. He said, No; for they were thrown among the rest of what was dug out, and he knew not where to find them. We asked, if there appeared any opening by which the animal could enter. He said, No. […] We asked, if he could show us the toads. He said, he had thrown two of them up on a higher part of the quarry, but knew not what became of the others.
"He then came up to the place where he had thrown the two, and, finding them, he took them by the foot, and threw them up to us, upon the ground where we stood. One of them was quite dead, and appeared very lean; the other was plump and still living. The part of the rock where they were found, is at least fifteen feet below its surface, and is a kind of limestone. A part of it is filled with ancient seashells, and other marine substances. If these animals have remained in this confinement since the formation of the rock, they are probably some thousands of years old."
Since limestone generally takes about a million years to form, and requires considerable pressure and lots of chemical reactions to do so, we can be certain that the toads were not in the limestone for all that long. But limestone is porous, and the mention of damp yellow earth inside the capsules of stone suggests that there were significant fissures in the stones where the toads were found. Limestone dissolves in water, although it takes a long time. That's how caves form. Maybe over many years, tiny cracks and holes had formed in the limestone, large enough for some well developed tadpoles or young toads to end up in the holes, maybe during a rainstorm or flood.
Then again, the whole thing might have been a mistake. The toads might not have actually been inside the stones, only nearby when the stones were broken open. The workers might have thought they were inside. Or it might just have been a hoax made up by a bored quarry worker.
Stories of animals found encased in stone or other impossible conditions go back hundreds of years, in many parts of the world, but for some reason they got really popular around the mid-19th century in England. Suddenly people were finding toads and other animals in all sorts of weird places, or said they had. The Rev. Robert Taylor of St. Hilda's Church, Hartlepool, for instance, exhibited a toad and the stone it was found in, with the chamber inside the stone being exactly the size and shape of the toad before it was broken open and freed in April 1865. But a geologist who examined the stone found obvious chisel marks where it had been hollowed out and shaped to look like the toad had been inside.
It wasn't just toads found in rocks, of course, although those were the most popular. A mouse was supposedly found in a rock in 1803, three salamanders of a presumed extinct species were supposedly found in a rock sometime before 1818, and a horned toad was supposedly found in a building cornerstone in 1928. The horned toad is actually a lizard, in this case a Texas horned lizard that lives in various parts of the south-central United States and northeastern Mexico.
The Texas horned lizard does actually resemble a toad in some ways. Its body is broad and rounded and its face has a blunt, froglike snout. A big female grows about 5 inches long, or almost 13 cm, not counting its tail, while males are smaller. It's covered with little pointy scales, and if it feels threatened, it will puff up its body so that the scales stick out even more. It also has true horns on its head, little spikes that are formed by projections of its skull.
The Texas horned lizard eats insects, especially a type of red ant called the harvester ant. The harvester ant is venomous but the horned lizard is resistant to the venom and is specialized to eat lots and lots of the ants. Its esophagus produces lots of mucus when it's eating, which collects around the ants and stops them from being able to bite before they die.
The horned lizard supposedly found in a cornerstone of a building was nicknamed Ol' Rip after Rip Van Winkle, the main character in a short story by Washington Irving who fell asleep and woke up 20 years later. Ol' Rip the Texas horned lizard was supposedly placed into the hollow cornerstone brick as part of a time capsule when the Eastland County Courthouse was being built in 1897.
In 1928, the courthouse was torn down and a newspaper reporter advertised the opening of the time capsule, including the story about the horned lizard. Sure enough, a live horned lizard was removed from the cornerstone when it was opened, which by the way was the inspiration for the "One Froggy Evening" cartoon.
Ol' Rip became a celebrity and was displayed all over the United States, and the Texas horned lizard became such a popular pet that the population declined severely, since people went out and caught them to sell as pets. Since the horned lizard eats a lot of insects that damage crops, its decline in numbers actually led to farmers losing money to insect damage. The Texas horned lizard is still endangered, for that matter, and is now a protected species that isn't allowed to be kept as a pet. Ol' Rip died less than a year after he was supposedly discovered in the cornerstone.
Even at the time, a lot of people were skeptical that Ol' Rip had really been in the cornerstone brick for 31 years. It's much more likely that one of the officials presiding over the time capsule's opening brought a horned lizard with him and pretended to find it in the brick.
For one thing, the Texas horned lizard needs bright sunshine to survive. Its body can only produce vitamin D when it gets a lot of sunshine, and without vitamin D it will eventually die. It spends a lot of time sunbathing and while it does dig a burrow to sleep in at night, as soon as the sun's out in the morning, the lizard comes out to bask in the sunshine. A Texas horned lizard trapped in a brick without food, water, air, or sunshine wouldn't survive long.
The weirdest animal ever supposed to have been found in a stone was reported in the Illustrated London News in 1856. According to the article, during the construction of a railway tunnel in France, a huge block of stone was dislodged with dynamite. The workers were breaking it into smaller pieces when they exposed a chamber inside the rock. A creature emerged that looked something like an enormous bat, but was obviously not a bat. It had a long neck, sharp teeth in its mouth, four long legs with long claws on its talons, and its front and hind legs were connected with flying membranes. It was black with bare skin.
The animal shook its wings but promptly dropped dead, and was sent to a naturalist who identified it as Pterodactylus anas, which had died 64 million years before. Its wingspan was measured as 10 feet, 7 inches across, or 3 meters, 22 cm.
There is no species of pterodactyl named Pterodactylus anas, but anas is Latin for duck. The word for duck in French is canard, which in English means something more like "a hoax or tall tale."
You can find Strange Animals Podcast at strangeanimalspodcast.blubrry.net. That's blueberry without any E's. If you have questions, comments, or suggestions for future episodes, email us at strangeanimalspodcast@gmail.com. If you like the podcast and want to help us out, leave us a rating and review on Apple Podcasts or Podchaser, or just tell a friend. We also have a Patreon at patreon.com/strangeanimalspodcast if you'd like to support us for as little as one dollar a month and get monthly bonus episodes.
Thanks for listening!