Podcast: Play in new window | Download (Duration: 11:56 — 13.6MB)
Thanks to Pranav for this week's suggestion!
Happy birthday to MaxOrangutan! Have a great birthday!
Further reading:
Scarlet macaw DNA points to ancient breeding operation in Southwest
The glorious hyacinth macaw: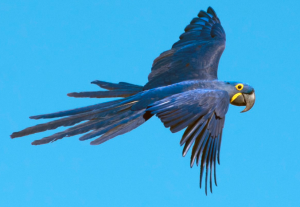 Roelant Savery's dodo painting with not one but TWO separate mystery macaws featured: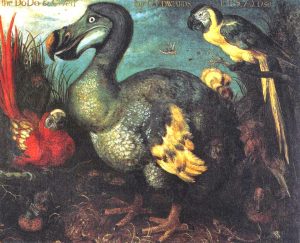 The blue-and-gold macaw: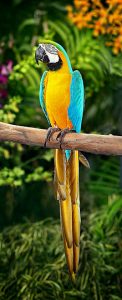 Eleazar Albin's mystery macaw: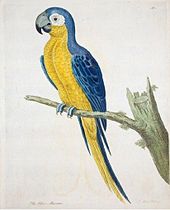 Detail from Jan Steen's painting of a mystery macaw: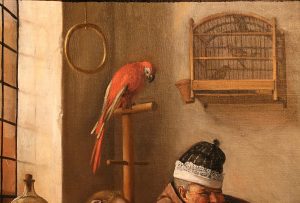 The scarlet macaw: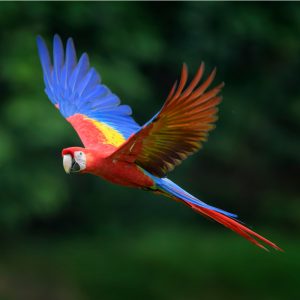 Show transcript:
Welcome to Strange Animals Podcast. I'm your host, Kate Shaw.
Recently, Pranav suggested the topic of mystery macaws. As it happens, that's a topic I researched for the book, which by the way is now FORMATTED! And hopefully by the time you hear this I'll have been able to order a test copy to make sure it looks good before I order enough copies for everyone who backed the Kickstarter at that level. Whew!
I've used the mystery macaw chapter from the book as a basis for this episode, but it's not identical by any means—I've added some stuff.
Before we learn about some mystery macaws, though, we have a birthday shout-out! Happy birthday to MaxOrangutan! Max! I bet you like bananas and climb around a lot! I hope you have a fantastic birthday, maybe with a banana cake or a cake banana, which I think is a thing I just made up but it sounds good, doesn't it?
Macaws are a type of parrot native to the Americas. They have longer tails and larger bills than true parrots and have face patches that are mostly white or yellow. There are six genera [original incorrectly stated six species] of macaw with lots of living species, but many other species that are extinct or probably extinct. The largest living species is the hyacinth macaw, which is a beautiful blue all over except for yellow face markings. It can grow over 3 feet long, or about 92 centimeters, including its long tail. It mostly eats nuts, even coconuts and macadamia nuts that are too tough for most other animals to crack open, but it also likes fruit, seeds, and some other plant material. Like other parrots, macaws are intelligent birds that have been observed using tools. For instance, the hyacinth macaw will use pieces of sticks and other items to keep a nut from rolling away while it works on biting it open.
The story of a mystery bird sometimes called the Martinique macaw starts almost 400 years ago, when Jacques Bouton, a French priest, visited the Caribbean in 1639 and specifically Martinique in 1642. Bouton wrote an account of the people and animals he saw, including several macaws that don't quite match any birds known today. One of these is the so-called Martinique macaw, which he said was blue and saffron in color. Saffron is a rich orangey yellow.
We have some paintings that might be depictions of the mystery macaws. An artist named Eleazar Albin painted a blue and yellow parrot with a white face patch in 1740 that's supposedly the Martinique macaw, although Albin would have seen the bird in Jamaica when he visited in 1701, not Martinique. The two islands are about 1,100 miles apart, or almost 1,800 kilometers.
A similar blue and yellow macaw appears in Roelant Savery's 1626 painting of a dodo. The dodo lived on the island of Mauritius in the Indian Ocean, nowhere near the Americas. Savery just liked to paint dodos and included them in a lot of his art. In another 1626 painting, called "Landscape with Birds," he included a dodo, an ostrich, a chicken, a turkey, a peacock, ducks, swans, cranes of various kinds, and lots of other birds that don't live anywhere near each other. On the far left edge of the painting there's a blue macaw with yellow underparts.
In the early 20th century, a zoologist named Walter Rothschild read Bouton's account and decided those birds needed to be described as new species, even though there were no type specimens and no way of knowing if the birds were actually new to science.
He described the Martinique macaw in 1905 but reclassified it when he published a book named Extinct Birds in 1907. He got an artist to paint a depiction of it based on Bouton's account and it actually doesn't look all that similar to Albin's and Savery's birds. It's dark blue above, bright orange underneath, and only has a small white patch next to its lower mandible instead of a big white patch over the eye.
In other words, Albin's macaw might be a totally different bird from the Martinique macaw.
There is a known bird that might have inspired Albin's painting. The blue-and-gold macaw lives in many parts of northern South America. It has rich yellowy-gold underparts and is a brilliant aqua blue above. It matches the colors of Albin's painting pretty well, but not the facial markings. The blue-and-gold macaw has a white face but a large stripe of black, outlining the white patch, that extends under its chin. Albin's macaw doesn't have any black markings and its white patch is much smaller than the blue-and-gold macaw's.
Of course, Albin may have gotten details wrong in his painting. Even though he was probably painting from sketches and notes he took during his visit to Jamaica, about forty years had passed since he actually saw it. As for Savery's paintings of a similar macaw, he never traveled to the Americas and probably based his paintings on pet birds brought to Europe by sailors and missionaries. He was known for his meticulous detail when painting animals, though, and his birds clearly show the white face and black stripe under the chin of a blue-and-gold macaw, even though the blue plumage appears much darker than in living birds. This is probably due to the paint pigments fading over the centuries.
Savery's birds lack one detail that blue-and-gold macaws have: a small patch of blue under the tail. This would be an easy detail for an artist to miss, though, especially if he finished the painting's details without a real bird to look at. Albin's painting also lacks the blue patch.
That still leaves us with two bird mysteries. Was Albin's macaw a real species or just a blue-and-gold macaw with incorrect details? And what bird did Bouton see in Martinique?
These aren't the only mystery macaws, though. Roelant Savery painted another one in the same dodo picture where the mystery blue and yellow macaw appears. This macaw is bright red all over except for some yellow markings on the wing and a white face patch. He painted that one in 1626, and in 1665 a Dutch artist named Jan Steen painted a very similar bird in the background of a painting. It's also red except for yellowish markings on its wings and a yellowish or white face patch.
There are many reports of a big red macaw seen on the Guadaloupe islands in the Caribbean that date all the way back to 1493 when Christopher Columbus visited. Back then the bird was common but by the end of the 17th century it was rare. It was supposed to look a lot like the scarlet macaw, which is common in parts of Central America and northern South America, but it was smaller with a shorter tail. It was mostly red with blue and yellow markings on the wings and a white patch on its face. Its tail was all red, whereas the scarlet macaw has a red and blue tail.
Savery's and Steen's paintings don't show any blue markings, so either the artists got that detail incorrect or they were painting birds that didn't have blue wing markings—meaning that there's potentially yet another mystery red macaw.
There are, in fact, a whole lot of mystery macaws, maybe as many as 15. Some of these may be species or subspecies of macaw that went extinct before any scientist could examine them, while some may have just been known macaw species outside of their natural range.
People have been trading macaws and parrots as a type of currency for thousands of years, since their large, brightly colored feathers were in high demand for ceremonial items. They're relatively easy to tame and can be kept as pets. A genetic study of scarlet macaw remains found at archaeological sites in New Mexico revealed that the birds were all relatively closely related even though the remains came from birds who lived at different times over a 300-year period. Researchers think there must have been a captive breeding program in place somewhere in the area about a thousand years ago. It wasn't at the sites where the bird remains were found because there were no macaw eggshells in the whole area.
Similarly, remains of scarlet macaws and Amazon parrots have been found in archaeological sites in the Atacama desert. The remains date back to almost a thousand years ago also. But the Atacama is in northern Chile on the western coast of South America, not the southwestern United States. To reach it from the scarlet macaw's natural range in northern South America you have to travel more than 300 miles, or 500 kilometers, at minimum and cross the Andes Mountains. But that's exactly what people did, bringing macaws and parrots to oasis communities in the Atacama by llama caravan.
If any of these mystery macaws ever existed, they seem to be extinct now—but they might not be. Many macaws live in South America in sometimes hard to explore terrain. While many known species of macaw are threatened with habitat loss and hunting for feathers or for the pet trade, there's always a possibility that an undiscovered species still thrives in remote parts of the Amazon rainforest.
You can find Strange Animals Podcast at strangeanimalspodcast.blubrry.net. That's blueberry without any E's. If you have questions, comments, or suggestions for future episodes, email us at strangeanimalspodcast@gmail.com. If you like the podcast and want to help us out, leave us a rating and review on Apple Podcasts or Podchaser, or just tell a friend. We also have a Patreon at patreon.com/strangeanimalspodcast if you'd like to support us for as little as one dollar a month and get monthly bonus episodes.
Thanks for listening!