Podcast: Play in new window | Download (Duration: 18:31 — 19.4MB)
Here's a 2020 retrospective episode that looks at the bright side of the year! Thanks to Page for the suggestion! Let's learn about some animals discovered in 2020 (mostly).
Further reading:
Watch This Giant, Eerie, String-Like Sea Creature Hunt for Food in the Indian Ocean
Rare Iridescent Snake Discovered in Vietnam
An intrusive killer scorpion points the way to six new species in Sri Lanka
What may be the longest (colony) animal in the world, a newly discovered siphonophore: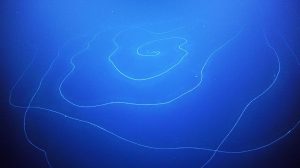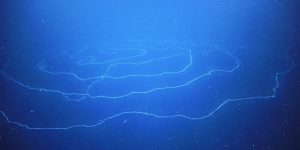 New whale(s) just dropped: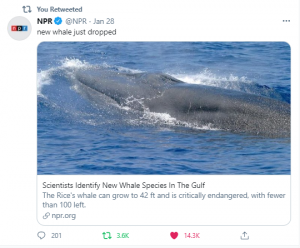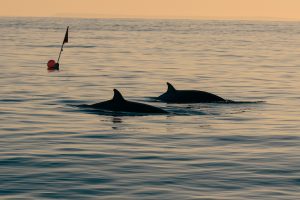 A newly discovered pygmy seahorse: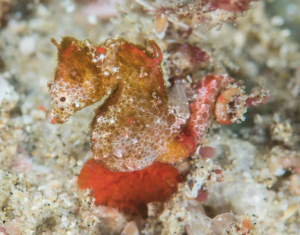 A newly discovered pipefish is extremely red: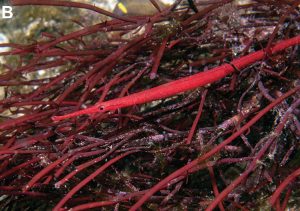 So tiny, so newly discovered, Jonah's mouse lemur: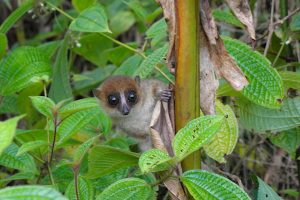 The Popa langur looks surprised to learn that it's now considered a new species of monkey: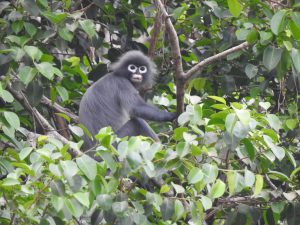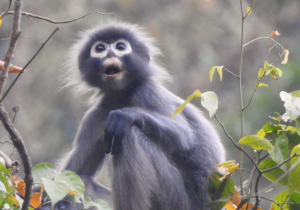 The newly rediscovered devil eyed frog. I love him: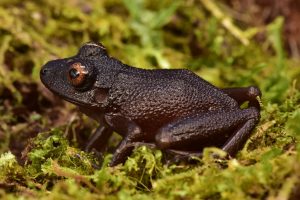 The newly discovered Lilliputian frog looks big in this picture but is about the size of one of your fingernails: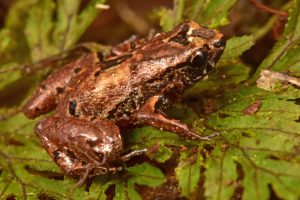 This newly discovered snake from Vietnam is iridescent and shiny: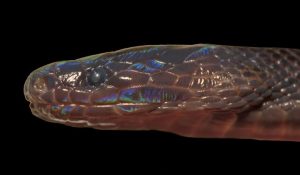 A new giant scorpion was discovered in Sri Lanka and now lives in our nightmares: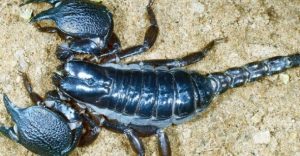 The Gollum snakehead was technically discovered in 2019 but we're going to let that slide: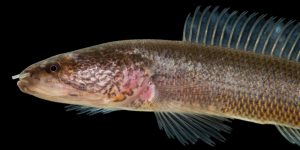 Show transcript:
Welcome to Strange Animals Podcast. I'm your host, Kate Shaw.
Very recently, Page suggested the topic "animals discovered in 2020." Since I was already thinking of doing something like this, I went ahead and bumped his suggestion to the top of the list and here we go!
You'd think that with so many people in the world, there wouldn't be too many more new animals to discover, especially not big ones. But new scientific discoveries happen all the time! Many are for small organisms, of course, like frogs and insects, but there are still unknown large animals out there. In fact, 503 new animals were officially discovered in 2020. Every single one is so amazing that I had a hard time deciding which ones to highlight. In most cases we don't know much about these new animals since studying an animal in the wild takes time, but finding the animal in the first place is a good start.
Many of the newly discovered species live in the ocean, especially the deep sea. In April of 2020, a deep-sea expedition off the coast of western Australia spotted several dozen animals new to science, including what may be the longest organism ever recorded. It's a type of siphonophore, which isn't precisely a single animal the way that, say, a blue whale is. It's a colony of tiny animals, called zooids, all clones although they perform different functions so the whole colony can thrive. Some zooids help the colony swim, while others have tiny tentacles that grab prey, and others digest the food and disperse the nutrients to the zooids around it. Many siphonophores emit bioluminescent light to attract prey.
Some siphonophores are small but some can grow quite large. The Portuguese man o' war, which looks like a floating jellyfish, and which we talked about way back in episode 16, is actually a type of siphonophore. Its stinging tentacles can be 100 feet long, or 30 m. Other siphonophores are long, transparent, gelatinous strings that float through the depths of the sea, snagging tiny animals with their tiny tentacles, and that's the kind this newly discovered siphonophore is.
The new siphonophore was spotted at a depth of about 2,000 feet, or 625 meters, and was floating in a spiral shape. The scientists estimated that the spiral was about 49 feet in diameter, or 15 meters, and that the outer ring alone was probably 154 feet long, or 47 meters. The entire organism might have measured 390 feet long, or almost 119 meters. It's been placed into the genus Apolemia although it hasn't been formally described yet.
Another 2020 discovery off the coast of Australia was an entire coral reef a third of a mile tall, or 500 meters, and almost a mile across, or 1.5 km. It's part of the Great Barrier Reef but isn't near the other reefs. A scientific team mapping the seafloor in the area discovered the reef and undoubtedly did a lot of celebrating. I mean, it's not every day that you find an entirely new coral reef. They were able to 3D map the reef for study and take video too. Best of all, it's a healthy reef with lots of other animal life living around it.
Another big animal discovered in 2020 is one Patreon subscribers already know about, because we started out the year with an episode all about it. It's a new whale! In 2018 scientists recording audio of animal life around Mexico's San Benito Islands in the Pacific Ocean heard a whale call they didn't recognize. They thought it probably belonged to a type of beaked whale, probably a little-known species called Perrin's beaked whale.
In late 2020 a team went back to the area specifically to look for Perrin's beaked whales. They did see three beaked whales and got audio, video, and photographs of them, but they weren't Perrin's beaked whales. The whale specialists on the expedition didn't know what these whales were. They don't match any species of known cetacean and appear to be a species new to science.
And speaking of new species of whale, guess what. Don't say chicken butt. You can say whale butt, though, because the discovery of another new whale species was just announced. This one's a 2021 discovery but there's no way I was going to wait until next year to talk about it. It lives in the Gulf of Mexico and can grow over 41 feet long, or more than 12 meters. It's a baleen whale, not a beaked whale, and it was hiding in plain sight. It looks a lot like the Bryde's whale and was long thought to be a subspecies, but new genetic testing shows that it's much different. It's been named Rice's whale, and unfortunately it's extremely rare. There may only be around 100 individuals alive. It's mostly threatened by pollution, especially oil spills like the 2010 Deepwater Horizon oil spill, and by collisions with ships. Hopefully now that scientists know more about it, it can be further protected.
Let's move on from new gigantic animal discoveries to a much, much smaller one. A new pygmy seahorse was discovered off the coast of South Africa in May 2020. It's brownish-yellow with pinkish and white markings and is only 20 mm long at most. A dive instructor who had seen the fish but didn't know what it was told researchers about it and they organized a team to look for it. Its closest known relation lives in southeast Asia almost 5,000 miles away, or 8,000 km. Like other seahorses, it lives in shallow water and uses its flexible tail to hang onto underwater plants, but the area where it lives is full of huge waves rolling in from the ocean. It's called the Sodwana Pygmy Seahorse after the bay where it was discovered, and officially named Hippocampus nalu. "Nalu" means "here it is" in the local Zulu and Xhosa languages, and it also happens to mean "surging surf" in Hawaiian, and it also happens to be the middle name of the dive instructor who spotted the fish, Savannah Nalu Olivier. Sometimes fate just says "this is the right name."
A new species of pipefish, which is closely related to the seahorse, was also described in 2020, Stigmatopora harastii. It lives off the coast of New South Wales, Australia and can grow up to 5 ½ inches long, or 14 cm. It was first spotted by scuba divers in 2002. These divers know their fish. It lives among a type of red algae and is the same color red for camouflage. It's surprising how long it took for scientists to discover it, because it's not exactly hard to confuse with anything else. Except, you know, algae.
Not all newly discovered animals live in the ocean. In August of 2020 researchers discovered a new mouse lemur in Madagascar. We talked about a different type of mouse lemur in episode 135, that one discovered in 1992 and only growing to 3.6 inches long, or 9 cm, not counting its long tail. The newly discovered Jonah's mouse lemur is only a little bigger than that. Mouse lemurs are the smallest members of the primate family. They're also super cute but endangered due to habitat loss.
Another primate discovered in 2020 is one that researchers already knew about for more than a hundred years, but no one realized it was its own species, just like Rice's whale. In 2020, genetic analysis finally determined that the Popa langur is a new species. It's a beautiful fuzzy gray monkey with bright white markings around its eyes like spectacles. It lives on an extinct volcano in Myanmar and is critically endangered, with only an estimated 250 individuals left in the wild.
A 2020 expedition to the Bolivian Andes in South America led to the discovery of twenty new species of plant and animal, plus a few re-discoveries of animals that were thought to be extinct. The rediscoveries include a species of satyr butterfly not seen for 98 years, and a frog seen only once before, twenty years ago. The frog is called the devil-eyed frog because of its coloring. It's purplish or brownish black with red eyes and only grows about an inch long, or 29 mm.
Another frog the team found is one of the smallest frogs in the world. It's been identified as a frog in the genus Noblella and it only grows about ten mm long. As one article I read pointed out, that's the size of an aspirin. It's a mottled brown and black and it lives in tunnels it digs in the leaf litter and moss on the forest floor. It's being referred to as the Lilliputian frog because of its small size.
In the summer of 2019, a team of scientists surveying the karst forests in northern Vietnam spotted an unusual snake. It was so unusual, in fact, that they knew it had to be new to science. It was dark in color but its small scales shone an iridescent purplish, and it was about 18 inches long, or almost 46 cm. It belongs to a genus referred to as odd-scaled snakes, and we don't know much about them because they're so hard to find. They mostly burrow underground or under leaf litter on the forest floor. The new species was described in late 2020.
A new species of giant scorpion was discovered in Sri Lanka in 2020. It lives in the forests of Yala National Park and is nocturnal. The female is jet black while the male has reddish-brown legs, and a big female can grow up to 4 inches long, or a little over 10 cm. It's called the Yala giant scorpion after the park and is the sixth new scorpion species discovered in the park.
One thing I should mention is that all these scientific expeditions to various countries are almost always undertaken by both local scientists and experts from other places. Any finds are studied by the whole group, resulting papers are written with all members contributing, and any specimens collected will usually end up displayed or stored in a local museum or university. The local scientists get to collaborate with colleagues they might never have met before, while the visiting scientists get the opportunity to learn about local animals from the people who know them best, who also happen to know the best places to eat. Everybody wins!
Let's finish with an astonishing fish that was technically discovered in 2018 and described in 2019, but was further studied in 2020 and found to be even more extraordinary than anyone had guessed. In 2018, after a bad flood, a man living in the village of Oorakam in Kerala, South India, spotted a fish in a rice paddy. He'd never seen a fish like it before and posted a picture of it on social media. A fish expert saw the picture, realized it was something new, and sent a team to Oorakam to retrieve it before it died or something ate it. It turned out to be a new type of snakehead fish.
There are lots of snakehead species that live in rivers and streams throughout parts of Africa and Asia. But this snakehead, which has been named the Gollum snakehead, lives underground. Specifically, it lives in an aquifer. An aquifer is a layer of water that occurs underground naturally. When rain soaks into the ground, some of it is absorbed by plant roots, some seeps out into streams, and some evaporates into the air; but some of it soaks deeper into the ground. It collects in gravel or sand or fractured rocks, or in porous rocks like sandstone. Sometimes an aquifer carves underground streams through rock, creating caves that no human has ever seen or could ever see, since there's no entrance to the surface large enough for a person to get through. In this case, the heavy rain and floods in Oorakam had washed the fish out of the aquifer and into the rice paddy.
The Gollum snakehead resembles an eel in shape and grows abound four inches long, or 10 cm. Unlike fish adapted for life in caves, though, it has both eyes and pigment, and is a pale reddish-brown in color. This may indicate that it doesn't necessarily spend all of its life underground. Aquifers frequently connect to springs, streams, and other aboveground waterways, so the Gollum snakehead may spend part of its life aboveground and part below ground.
When it was first described, the researchers placed the fish in its own genus, but further study in 2020 has revealed that the fish is so different from other snakeheads that it doesn't just need its own genus, it needs its own family. Members of the newly created family are referred to as dragonfish.
Other snakeheads can breathe air with a structure known as a suprabranchial organ, which acts sort of like a lung, located in the head above the gills. Not only does the Gollum snakehead not have this organ, there's no sign that it ever had the organ. That suggests that other snakeheads developed the organ later and that the Gollum snakehead is a more basal species. It also has a small swim bladder compared to other snakeheads.
Researchers think that the dragonfish family may have separated from other snakehead species as much as 130 million years ago, before the supercontinent of Gondwana began breaking up into smaller landmasses. One of the chunks that separated from Gondwana probably contained the ancestor of the Gollum snakehead, and that chunk eventually collided very slowly with Asia and became what we now call India.
The Gollum snakehead isn't the only thing that lives in the aquifer, of course. Lots of other species do too, but it's almost impossible to study them because they live underground with only tiny openings to the surface. The only time we can study the animals that live there is when they're washed out of the aquifers by heavy rain. It turns out, in fact, that there's a second species of dragonfish in the aquifer, closely related to the Gollum snakehead, with a single specimen found after rain.
So, next time you're outside, think about what might be under the ground you're walking on. You might be walking above an aquifer with strange unknown animals swimming around in it, animals which may never be seen by humans.
You can find Strange Animals Podcast at strangeanimalspodcast.blubrry.net. That's blueberry without any E's. If you have questions, comments, or suggestions for future episodes, or just want a sticker, email us at strangeanimalspodcast@gmail.com. If you like the podcast and want to help us out, leave us a rating and review on Apple Podcasts or just tell a friend. We also have a Patreon at patreon.com/strangeanimalspodcast if you'd like to support us that way.
Thanks for listening!